After I became a parent, two things became very apparent (haha) –
1. I would never sleep again
2. I would always be rushed to eat
Forevermore, I thought, these two things would  remain certain.
Except, life changes, and it doesn't have to be this way for me anymore.
I actually DO sleep, sort of, even if I'm "on call" while I do it.  The eating thing though, now that has become a habit.
I was never really a slow eater, but my food scarfing skills might have been elevated to a competitive level during my time as a mom.  For years I was usually eating while doing something else, often nursing a child and maybe spoon feeding another one, or nursing, cleaning, and moderating a tantrum.  All fun things, and none of it is conducive to eating "mindfully."  I laugh.  I get my food in and move on with life.  Nothing about it is mindful!
I want to change this now that my life has changed.  Meal times are still pretty chaotic ("relative" is an interesting thing), but, I am eating way faster than I need to, because old habits die hard, I suppose.  Now it's time to practice slowing the eff down, which I believe will make my days and food that much more enjoyable.
And now onto what I ate over the course of Monday.  I think my goal should be to spend at least as much time eating the food as it takes to prepare it!  Thanks for the WIAW link-up Jenn!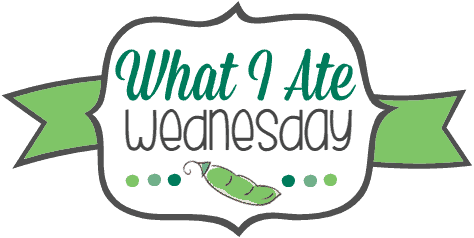 Breakfast – This goes right along with my Monday post about not having time.  I DO have an extra 5 minutes to chew my food, I swear it must be there!  I still enjoy my breakfasts anyway, no matter how fast they're gone.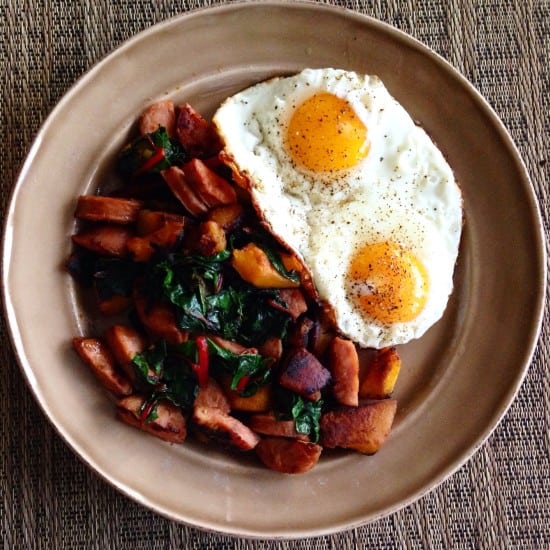 It was pre-roasted kabocha squash, fried in my cast iron with coconut oil, pre-cooked chicken apple sausage, swiss chard and a couple of eggs.   While I ate I read blogs and then got Drew dressed, and we all went off to school.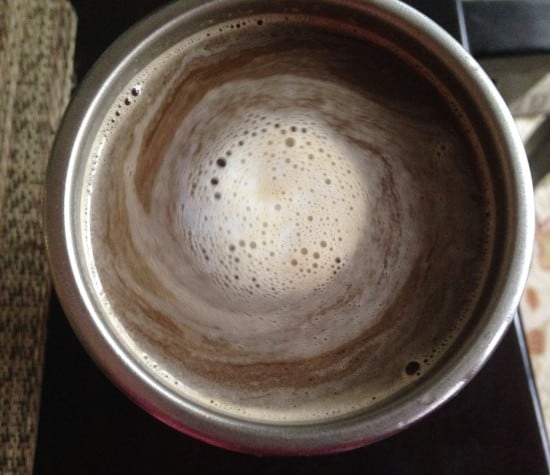 Don't forget coffee!  I make coffee at home in the morning and stir in some full fat canned coconut milk that I pre-blend and store in the fridge.  Okay, now we can leave for school 🙂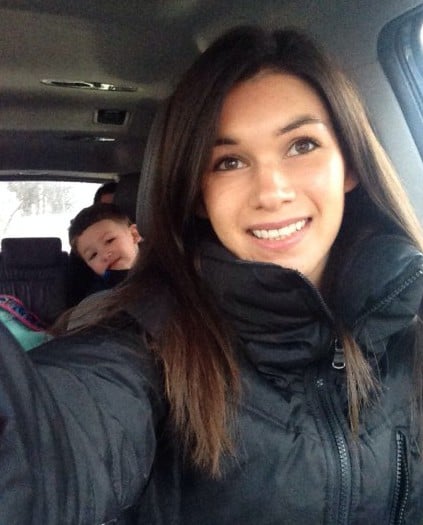 There we are all set to leave!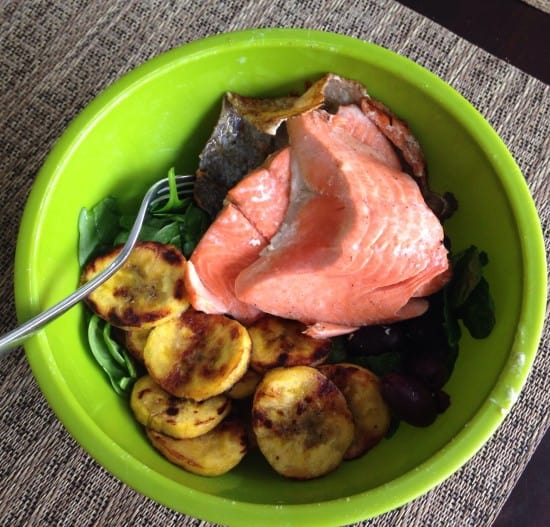 Here's my lunch, made and eaten after yoga and before I picked up Drew (typically what I do.)  I never leave enough time to eat this slowly, but I'm so hungry I never want to wait until after I get him.  Also, it's nice to eat one meal by myself each day.  Hard to let that go.
This is wild caught salmon, seasoned with salt and pepper and pan fried in coconut oil.  I make the skin very crispy and it's my favorite part.  Also fried sweet plantain, spinach, and kalamata olives.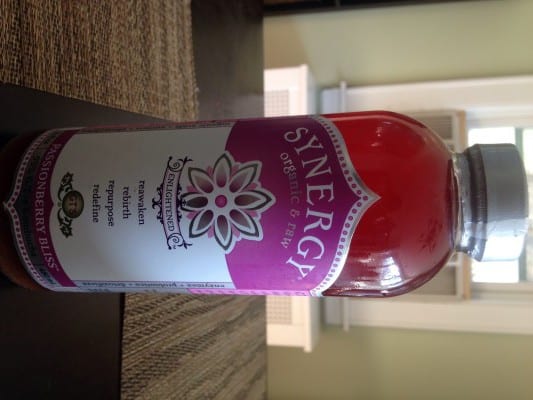 You know I love my Kombucha and this, I do savor!  Passionberry has been my favorite flavor lately, yum.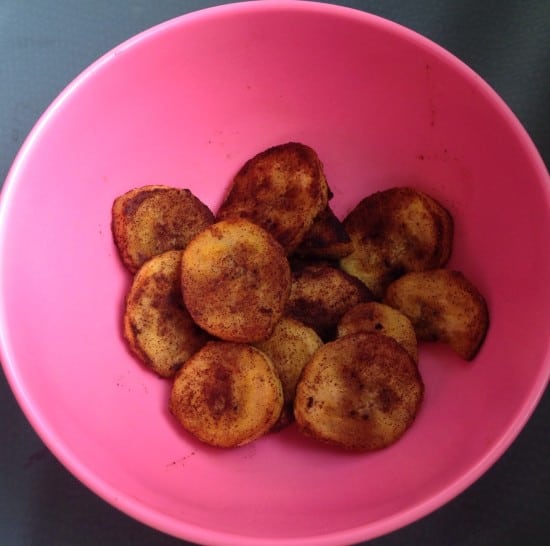 At 3:30, after picking the girls up from school, I cooked the rest of my plantain with coconut oil and cinnamon.  It was a very ripe plantain so the cinnamon worked well.  Oops, I ate it so fast it burned my mouth. Need to learn the skill of patience!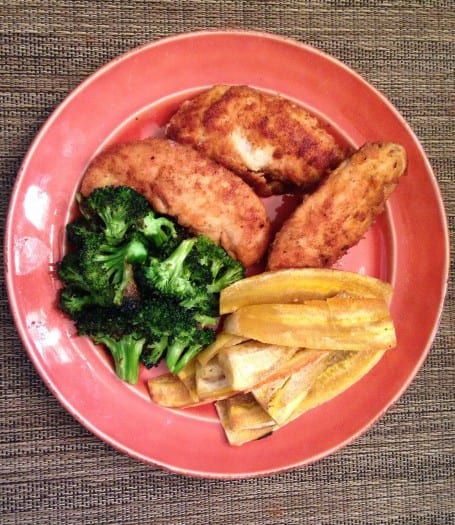 Me?  Eat plantains all day every day?  No way!  That's a lie of course.  I do eat a lot of plantains, in various stages of ripeness and with different seasonings/combos.   They're just good, so if you've never tried them you must do that, like probably right now.
Dinner was my "breaded" chicken tenders (coconut flour, spices, egg) with roasted broccoli and plantain fries. Delicious and SUPER filling.  So much so that I was completely done eating for the night with my last bite of dinner, which is pretty rare.
Since completely changing my eating all at once would probably make me mad, my goal is to just choose one meal a day to slow down with and see how that goes.   If I can do that, hopefully I can add another into the mix, and who knows?  Maybe it'll feel so good that I'll want to eat more mindfully at every meal.  I have a feeling dinner will be the toughest one to tackle.  Dinner time just feels insane in my house and I don't see that changing anytime soon.
Do you eat mindfully?
Are some meals more rushed than others?
Any parents who know that feeling of "get the food in now and move on"?