Another Wednesday and more food to show and tell you all about!   Last Wednesday, my day of eats was all about fueling and refueling without making myself sick.  I'm happy to report that I'm by no means needing to force myself to eat this week.  Nope!  This week, my WIAW is all about lots of hunger, cravings, and wacky snacks that sort of feel like extended meals that last all day.  Have you been there?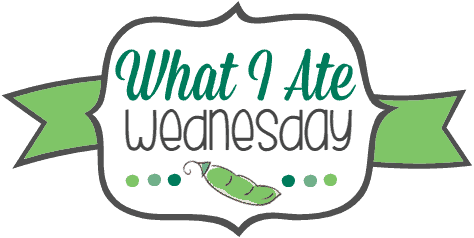 A funny thing happens after a marathon, or really I suppose any time you take a total break from exercise after working out intensely for a while.  The thing, is that your body wants to feed itself as if you're about to up and run another marathon at any point.  You know, because why not – humans have done crazier things, that's for sure.
Our bodies don't have brains the way our brains do, you know?  As far as my body is concerned, it's preparing for another potential 4+ hours of running on nothing but a banana and Larabar.  It's only been a bit over a week since Boston, and in my experience this whole FEED ME period lasts a solid 2-3 weeks post marathon.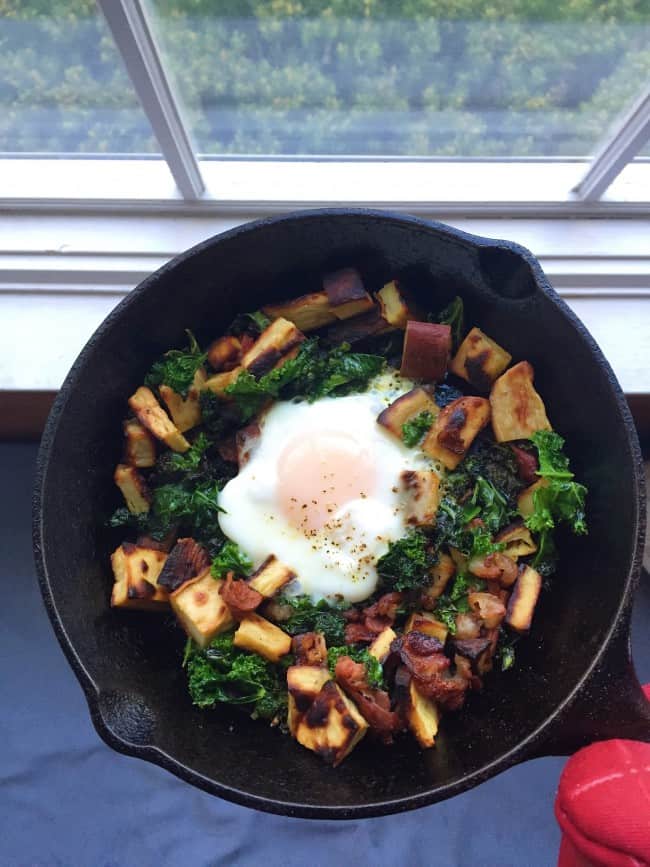 Breakfast has been as per usual – in fact I'm literally eating the same exact thing every morning – and it's because I'm craving it like whoa.  Japanese sweet potatoes (or any sweet potatoes) with bacon, kale, and an egg.  Oh, and more than enough salt.  I'm not sure what it is but I can't NOT have this for breakfast right now.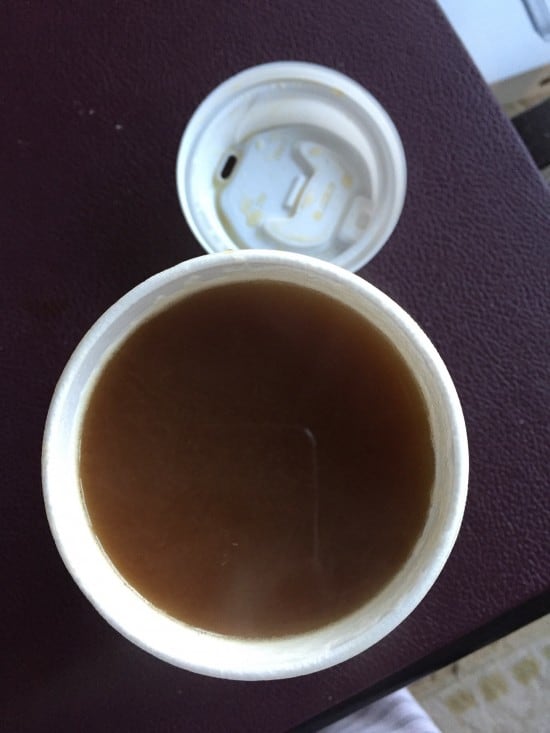 Coffee is definitely back, and then some.  Adam is DD obsessed and more mornings than not, he's been getting me a large dark roast which I've actually been putting almond milk in.  A little break from coconut milk!  No particular reason except that I didn't feel like opening a can of coconut milk and had a carton of almond milk that I'd bought to hopefully use for a pancake recipe.  Lots of details, I know.  In short, I'm loving my coffee this way.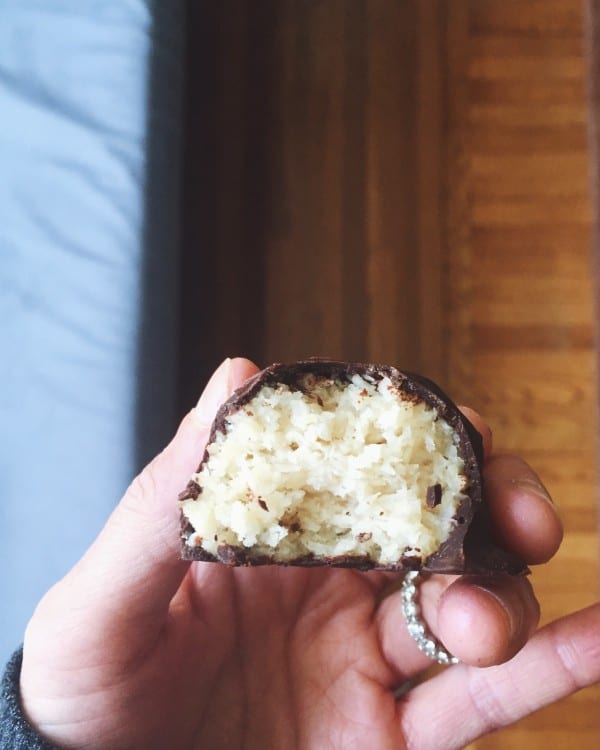 You would be eating these chocolate dipped coconut macaroons too (and hiding a few in the freezer) if you had extras from the weekend like I do.  I think this was the only one I ate, BUT it's very possible I had another to follow.  I've been craving sweets a bit more this week and I'm not sure if it's just that I've been eating more of them and get used to the taste, or if it's just part of the post – marathon hunger/craving train.  Probably both.  Luckily I bake at least twice per week so I'm never looking too hard for something to eat.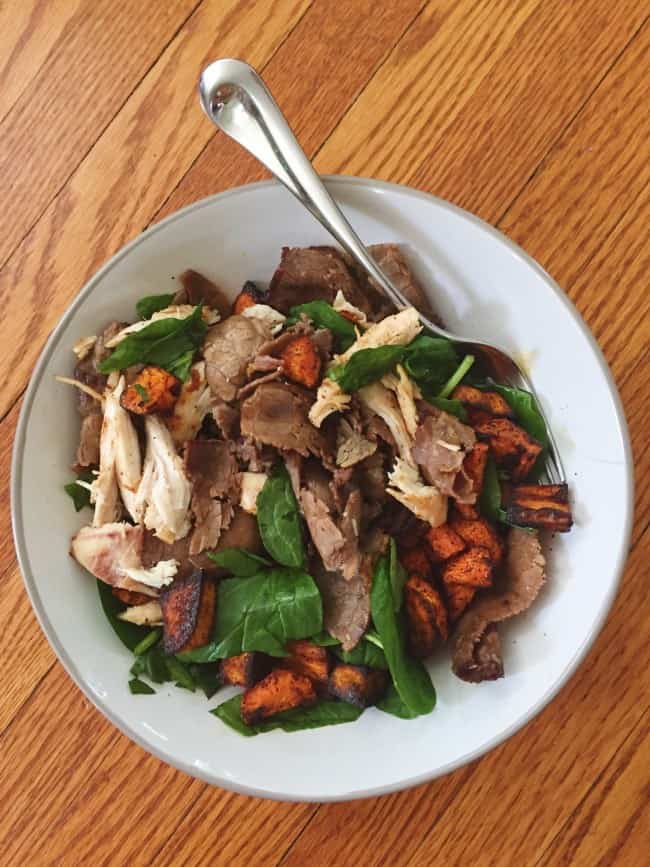 Many many leftovers were consumed on this day as I'm recalling now.  My mom ordered roasted chicken and beef brisket for Passover and of course she ordered probably 3 times too much, so I happily took some home.  Lunch was spicy roasted sweet potatoes and carrots (I was trying out a potential recipe) with spinach and both of the leftover meats heated in my cast iron.
Leftovers as the basis for wacky snacks is sort of my jam.  Forget a protein bar, I'm eating a leftover meatball in sauce with leftover roasted brussels sprouts cooked with an egg.  Double this and add potatoes and it would be breakfast, so I guess it's not really that strange.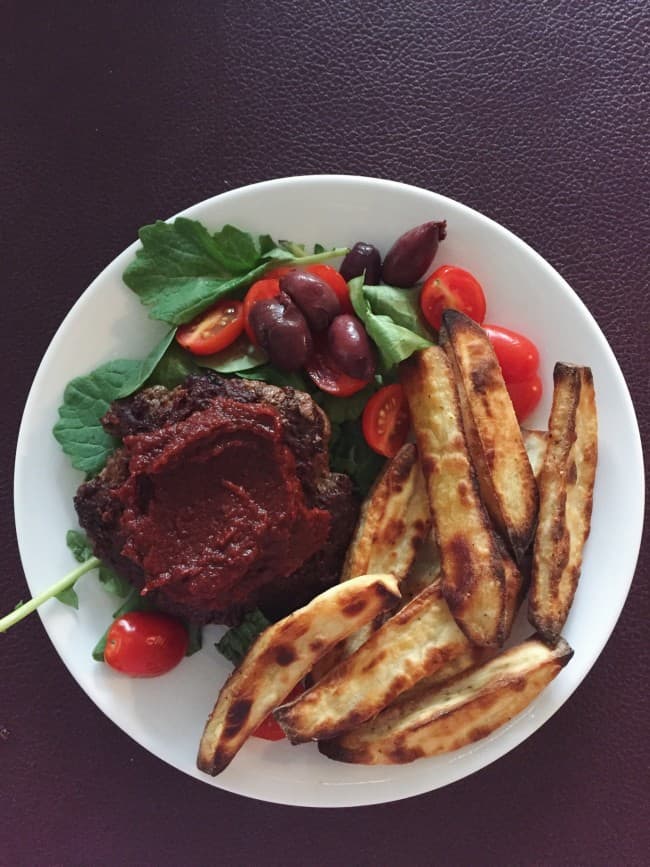 Dinner was more of the usual.  If it was acceptable to the rest of my family, I could just cook and eat this every night.  A grass fed beef burger over greens, tomatoes, and kalamata olives, topped with my homemade bbq sauce  and served with crispy Japanese roasted sweet potato fries seasoned with salt and pepper.
Not pictured – I drank an actual homemade kombucha after probably 3 weeks of being too lazy to brew a new batch!  I got it started prior to leaving for Boston and it was finally ready to drink on Monday.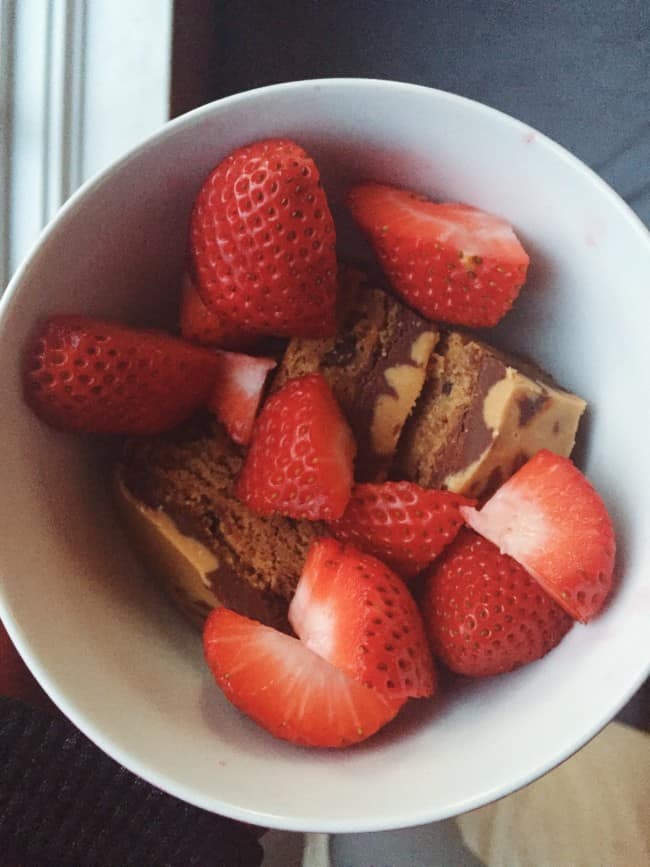 Dessert/snack was fudge topped chocolate chip cookie cake with strawberries – YUM!  The cake was based on this recipe but I tweaked it and will make it into something similar but new and even more delicious very soon.  Maybe I will go back to my super dark chocolate soon, we'll see.
What's the most unusual snack combo you've had recently?
How long does it take for your appetite to decrease when taking a break from exercise?
What dinner would you eat every single night if you could?