I'm kind of losing my mind and nearly hit the "publish" button on this post when there was nothing on the page except "WIAW."  How disappointing would that be for everyone, right?  You all at least deserve a WIAW Hashtag Paleo in the title.  And we all need to see a post chock full of bacon-fat-fried eggs and various #safestarches.
I find the #safestarch hashtag really funny because it makes me picture all the dangerous starches trying to rob banks, burglarize big homes, and hide in dark alleys.  Whole wheat noodles covered in black stockings running from the cops or something.  Stay away from those starches kids, they're bad news!  It's all about #plantainlove people! #Jerf!  Okay, shut up, that's enough.
My mind wandered and we're way off topic.  Must be because I've been attempting to put together 6 costumes for my daughters' performance on Thursday night for the end of their 3 weeks of performance arts camp.  Their drawers and closets are so messy and desperately need some organization, yet this is one of those things I never seem to get around to doing.  #Cleaninghurts.  But enough about my clutter, let's forget about all of it and just EAT! WIAW, here we go.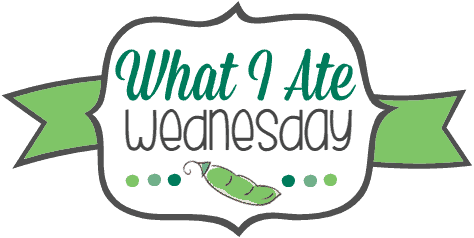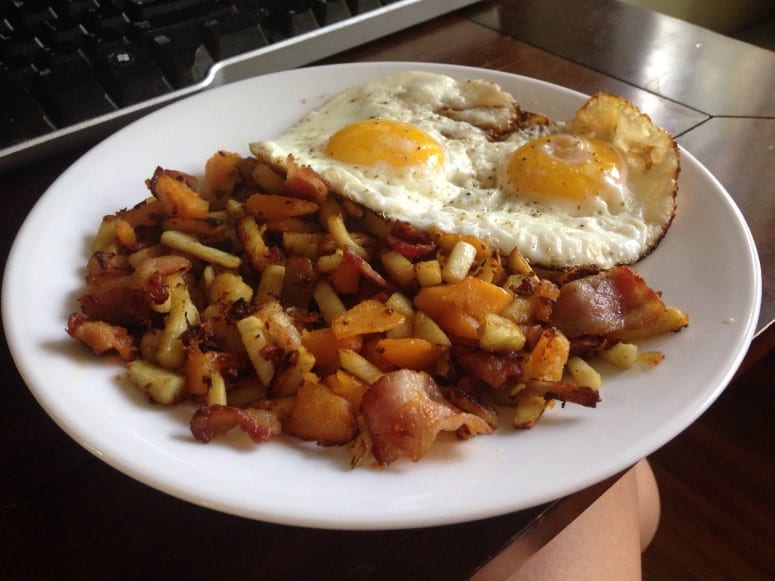 Yup, we've now gotten to the point where I'm not even sure what day this was from because they all start to blend.  I'm going with last Thursday, to me this looks like a Thursday.  It's a mix of orange and white sweet potatoes fried in a hash with bacon plus eggs.  Wasn't joking about my bacon-fried eggs, they're the best!  Pretty much every morning I eat my breakfast in front of the computer while reading blogs.  My kids eat their breakfast and yell at each other and Adam hides in the basement getting ready for work.  Everyone's happy!  No joke, this is totally our routine.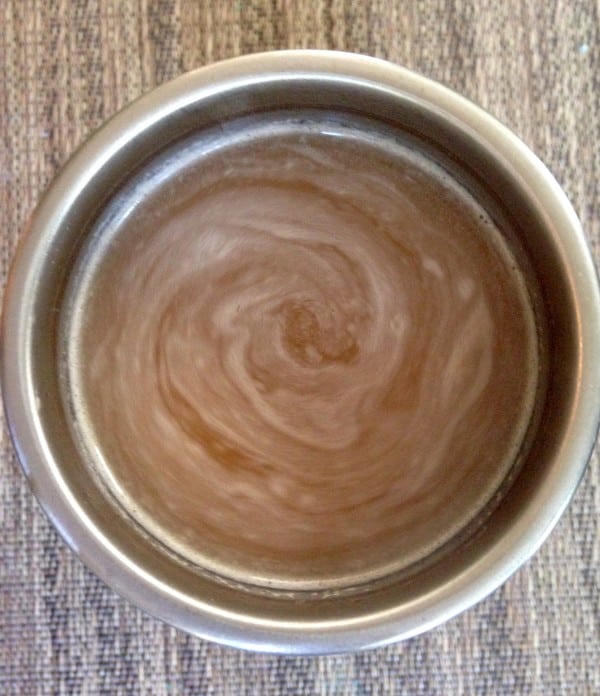 I have coffee sometime around 8:30 when I leave to take the kids to camp.  I haven't gotten into iced coffee this summer, even with the 90 degree days we've been having!  I'm sweating anyway, and I like the hot version better.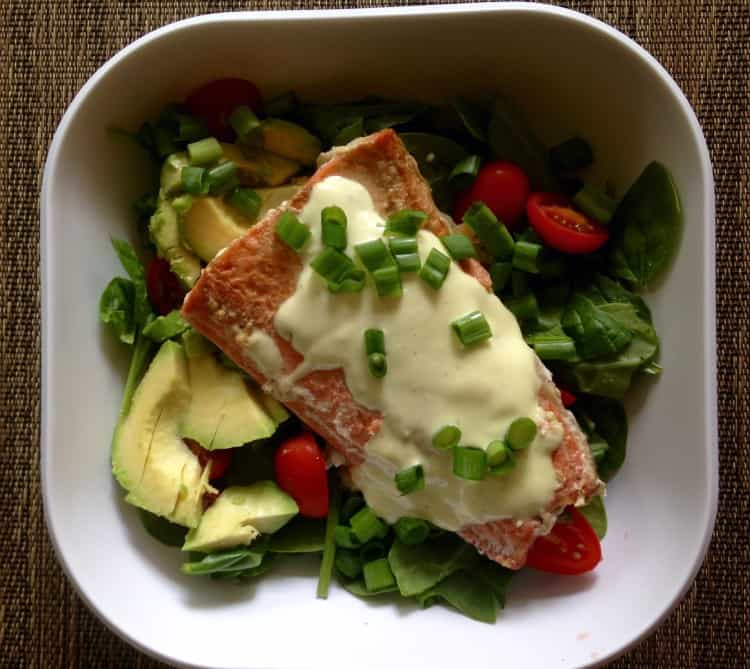 I'm getting hungry now just looking at my lunch.  Too bad I'm out of salmon! This was wild caught salmon (frozen portion) that I defrosted and then pan fried, and topped with a dressing of homemade mayo mixed with extra fresh lemon juice.  Topped it with scallions and ate it over a salad with spinach, grape tomatoes and half an avocado.
After lunch I had a GT's Kombucha but took no picture.  I've been really slacking on my kombucha pictures, mainly because I think we all know what that bottle looks like by now.  I drink a mix of flavors but my current favorites are still the ginger, passionberry, strawberry serenity, and guava is also really good too.  Can't really pick a favorite, I love most of them.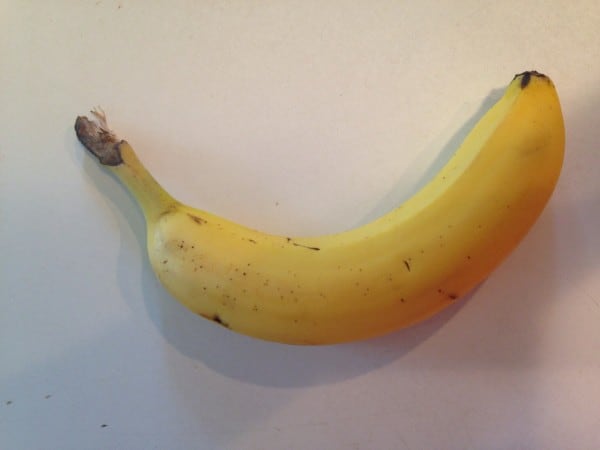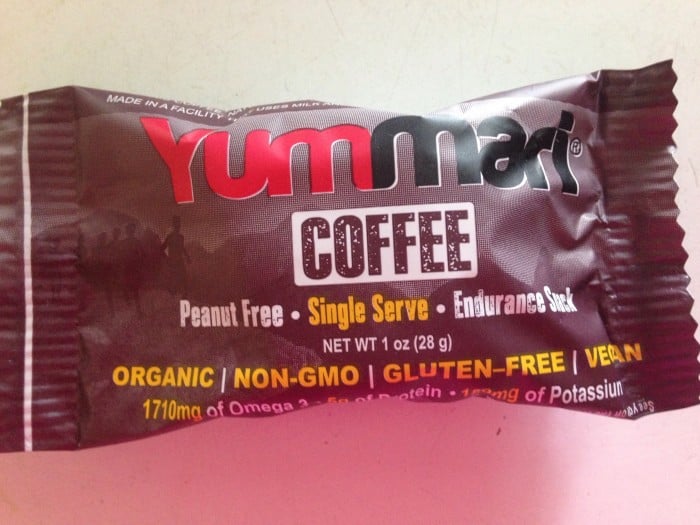 At about 4pm I had a banana and a coffee flavored Yummari  (check out my review if you missed it!)  I'm usually pretty busy with the kids, errands, laundry, dinner prep and blog stuff around this time lately so the easier and quicker my snack, the better.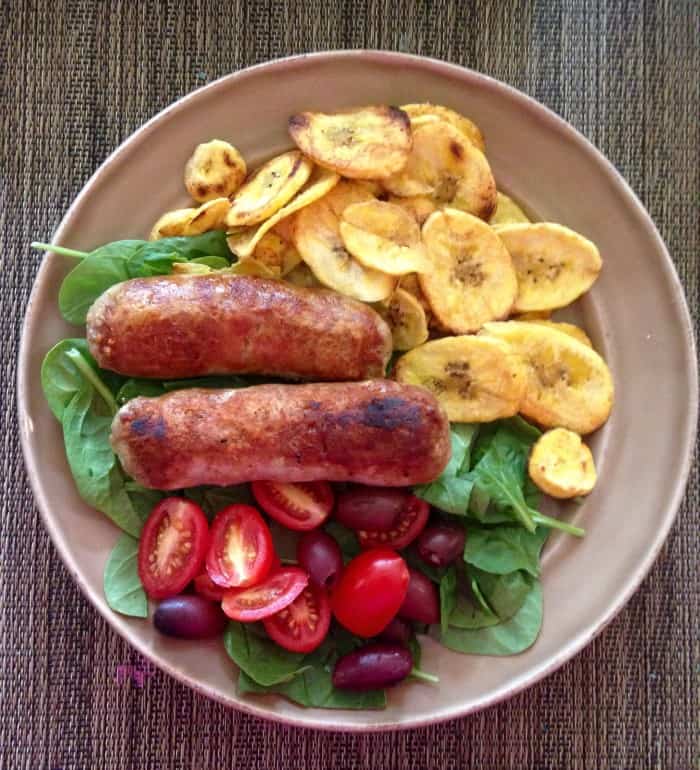 This seems to be everyone's favorite dinner lately – store made sweet Italian pork sausage (local) pan fried and homemade plantain chips fried in coconut oil.  I fry up 2 large green plantains, sliced thin, to feed all of us which turns into about 3 batches of frying on the stove.  It's worth the work because they come out so delicious! I ate my sausage over some spinach and a few olives and tomatoes.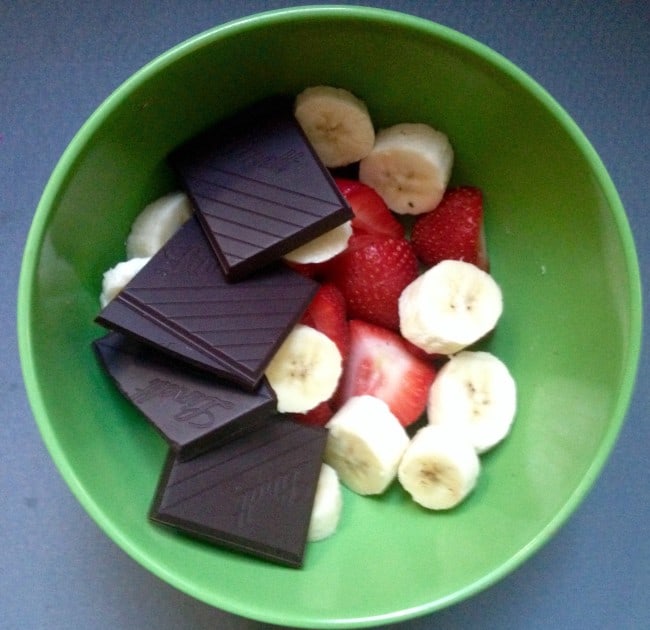 For dessert it was more of the usual – fruit and dark chocolate, this time Lindt 85%.  I've tried their 90% and I have to say, it's too dark for me, I guess my line is drawn at 85%!  Usually around this time is when I realize I'm dying of thirst and start drinking a lot of water.  Just when I sit down to unwind, I realize that although I'll probably never forget to eat, drinking water is another story.
How often do you eat salmon?  I wish I ate it more, it's one of my favorites!
What's one hashtag that makes you laugh/cringe/roll your eyes?