Hey all!  I'm still over here entertaining Drew who's home with pinkeye.  Interesting way to start a post that's all about what I ate, yes.  But that's what happened – welcome to WIAW!
One thing I will say – when children are at home all day they want to eat constantly.  The struggle is real, right moms?  They have no concept of time or if they're hungry or full.  It's just snack, meal, more snacks, etc.
Anyway, Drew has eaten probably 5 bananas today and 3 applesauces.  So, probably no banana treats happening for us in the near future, since he has those covered.  He has also covered plain vanilla yogurt and strawberries like a champ.  At 4pm today he told me he wanted lunch.  I just give up.
Moving on though, this post is about what I ate, not my kids.   I made some of my favorite ranch dressing a few days ago and I've been putting it on nearly everything.  I also made a "sorbet" out of random leftovers.  Sounds disgusting, but it's totally not!  Let's see what I ate!
Welcome to WIAW!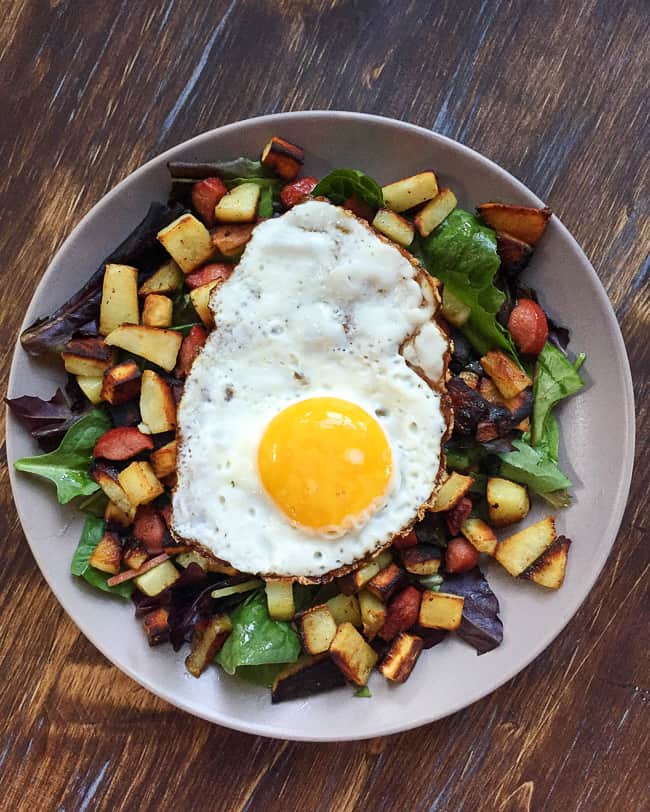 Breakfast!  Yes, I did eat a hotdog in my breakfast, weird, I know.  I ran out of sausage and wanted something meaty!  So an Applegate grass fed hotdog, Japanese sweet potatoes and an egg went on my plate with some mixed greens for a "breakfast salad."
Followed by coffee, which I have no picture of since I drank it while frantically running from the doctor's office, to the girls' camp, to the drugstore to pick up Drew's eye drops.  This was from Monday, by the way!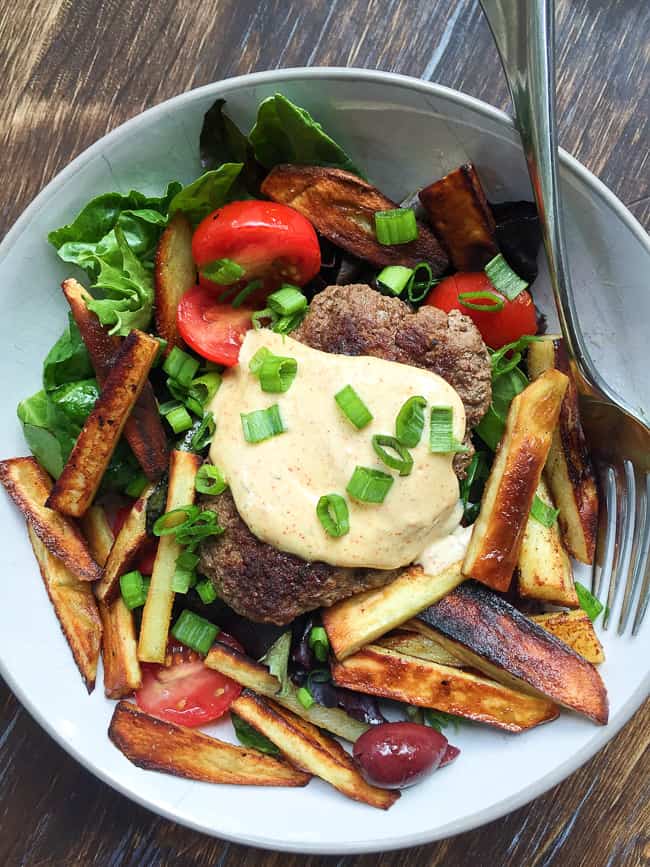 Lunch involved my favorite ranch, over a grass fed beef burger, more sweet potatoes in fry-form, greens, tomatoes, olives, and scallions.  I could eat this all the time.  ALL THE TIME.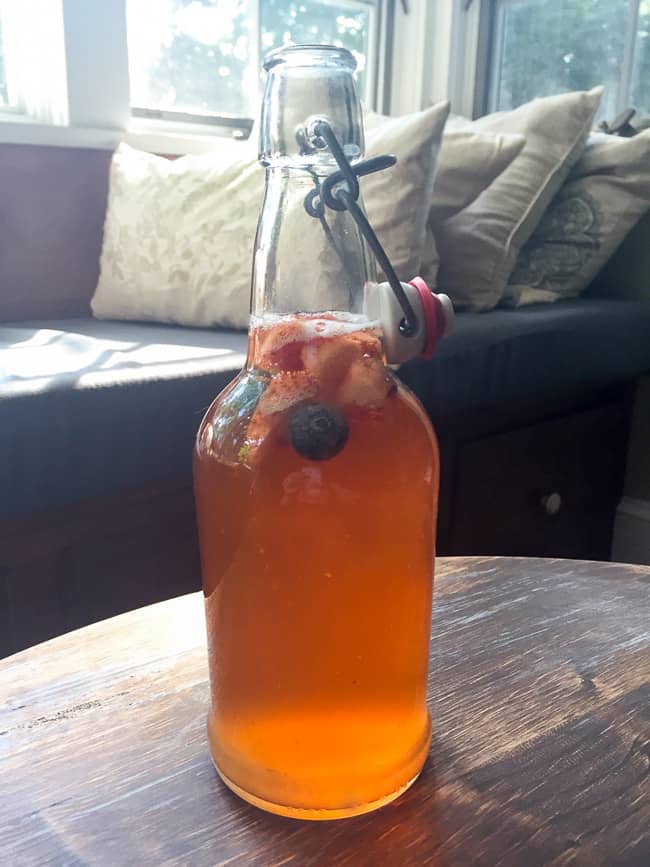 After lunch I had a homemade kombucha – extra fizzy with all this hot weather – flavored with strawberries and blueberries.  Better than store bought – seriously!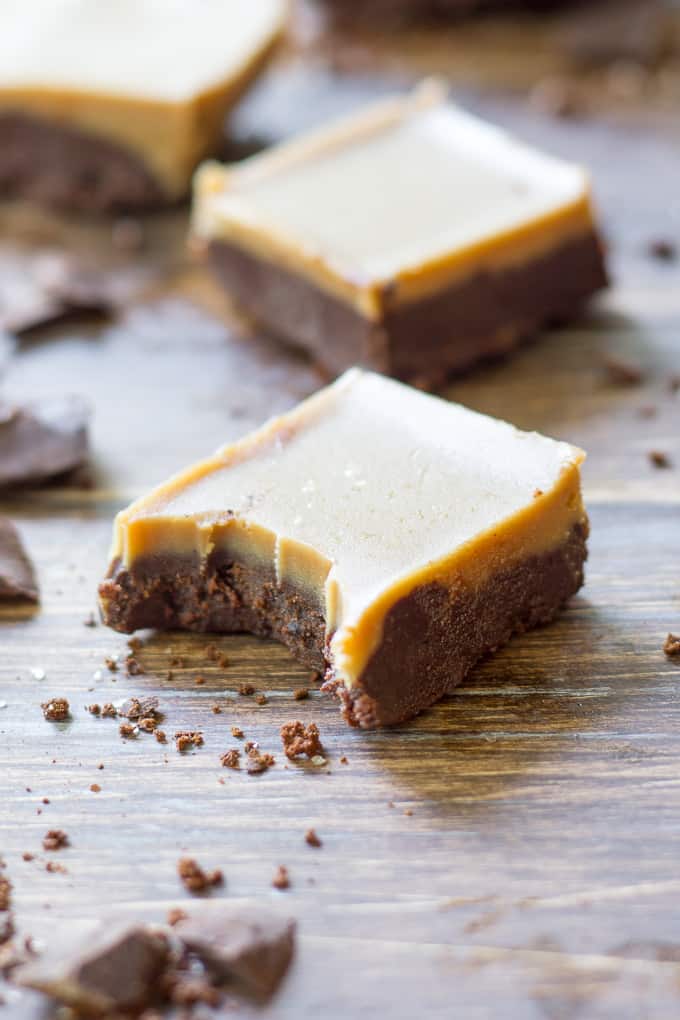 Okay – so I made this salted caramel mocha freezer fudge, and dang, this stuff is good.  Even the kids like it!  I had probably one and a half-ish squares for a snack around 4pm.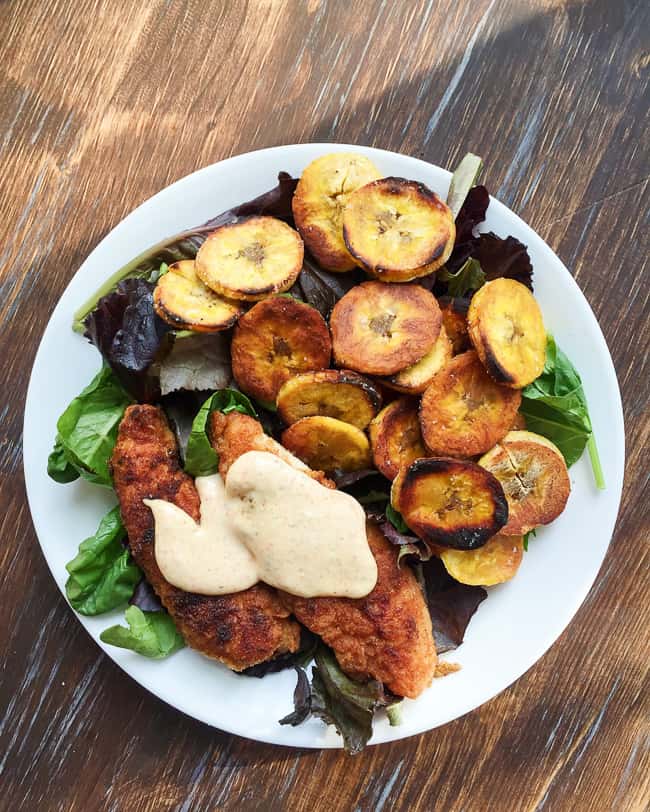 Dinner – the ranch came out again!  It's so good.  Also notable about dinner was the chicken I made – this might be turned into an "official" recipe because it was so yummy.  I "breaded" chicken tenders with cassava and coconut flour, added smoked paprika, salt, pepper, and onion powder and fried in light olive oil.  Huge hit – cassava flour is seriously amazing – from cookie dough to fried chicken 🙂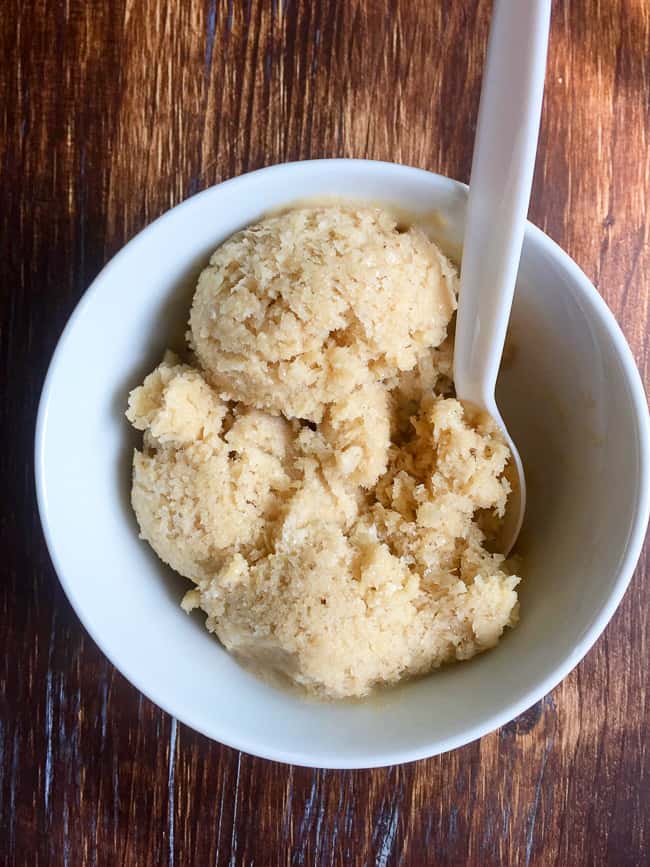 Dessert tonight involved that sorbet made of leftovers that I mentioned earlier.  Not so gross, right?  The "leftovers" were actually frozen bananas, leftover pineapple from grilling on Sunday night, and the "water part" of a can of coconut milk.  Blended, then frozen in an 8 x 4 loaf pan – so easy.
It was an experiment, and I figured it was the best way to make use of leftovers given the heat (90s!) and the fact that I need lots of frozen things at night now.  I'm sorta hooked 🙂
So, do you ever make random frozen concoctions and hope for the best?
What's your favorite dressing/sauce/topping right now?
Ever eat a hot dog for breakfast or am I alone here?