This might be a long one so we should probably get right to it.  I have this urge to apologize in advance for some reason about this very honest (and mostly boring) WIAW day in the life – which is clearly coming from some of my own guilt and issues about how my time is spent, and not about how the day actually went.
I think it can be hard to take an honest look at how you spend your time – for me at least – because I tend to feel like "I have no time" and yet doing a full on day-in-the-life post shows me spots where there IS time, and where I can prioritize what's important and give up what's not.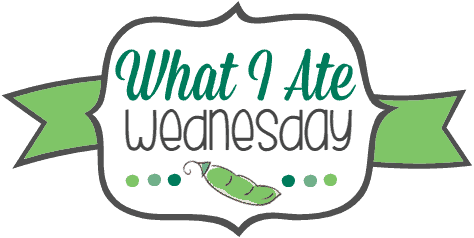 I tried to take pictures of most of the "events" that took place this past Monday, but really wound up with mostly food pictures, since that's what I'm used to taking.  And since it's also a WIAW post, I'm happy to go with it.  I did record what happened though (thank you "notes" app) so this will be scarily accurate.  Enjoy!
Although I'll resist the urge to "apologize", I will premise this to explain that Adam's work schedule was different Monday and he had to leave at 6:45 instead of 7:30ish.  That meant I had to wake up extra early to get my 7 mile run in, which unfortunately meant I woke up every hour after 1am thinking it was time to get up.
5am – Get out of bed, grab running clothes ready to go and head downstairs.  I get ready in the basement so I don't wake anyone up.  Feed the cat, bathroom, blog reading/commenting (on my phone), change into running clothes.
5:30 – Have a sip of water and head out the door for 7 easy miles.  I'm guessing my pace was 9:15ish but didn't time it.
6:40 – Adam leaves for work and I get in the shower – kids are still asleep.  Since I'm still on my cleaning spree, I sprayed Tilex all over the shower as I was showering, which in retrospect was not smart since I inhaled bleach fumes for the remainder of my shower #impulsiveandstupid.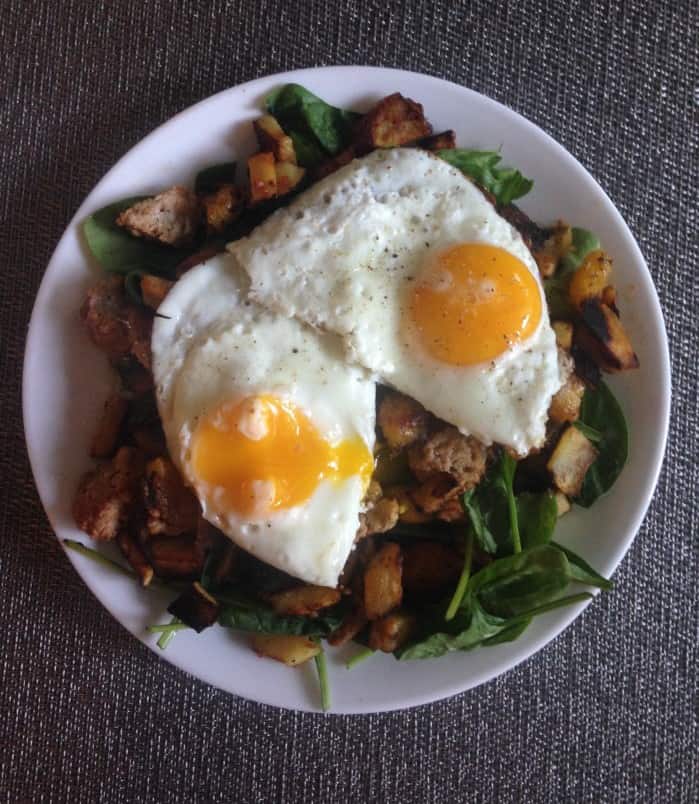 7:15 – After getting dressed and putting makeup on, my kids are awake and ready for breakfast.  I am usually starving at this point!  Still, they always get fed first.  I made Diana bacon and fried plantains and Drew and Emily had Cereal with a banana, milk, and leftover watermelon.
I had a plate of spinach, leftover roasted sweet potatoes with a leftover meatball and some of Diana's plantains, plus 2 fried eggs.   While I ate I did some blog reading/social media sharing/emails and then made some coffee.
I've been making my own coffee creamer lately with canned coconut milk, 2 tsp maple syrup, and a tsp vanilla.  It's perfect and I keeps about 4 days in the fridge.   While my coffee's brewing, I clean up the kitchen, unload and reload the dishwasher, and the kids play, dance, and listen to music on their iPad.  I also also go back to the computer and finish up my morning blog reading/commenting.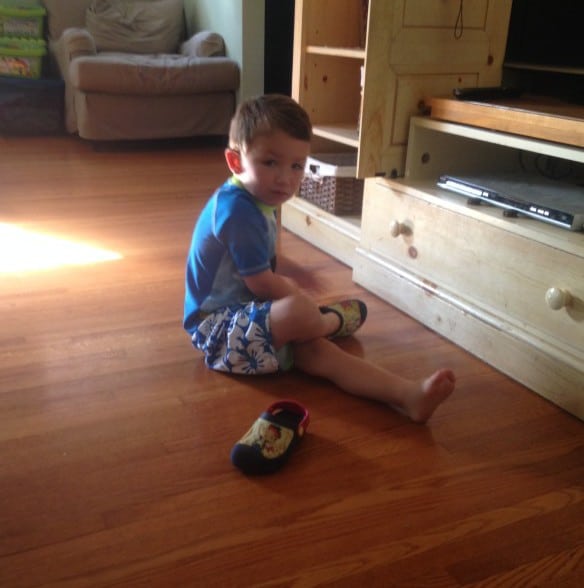 8:30 – Time to take Drew to camp (his last week) the girls finished their camps and are home this week.  He loves camp but hates getting dressed in the morning, and, most of all, hates putting on shoes.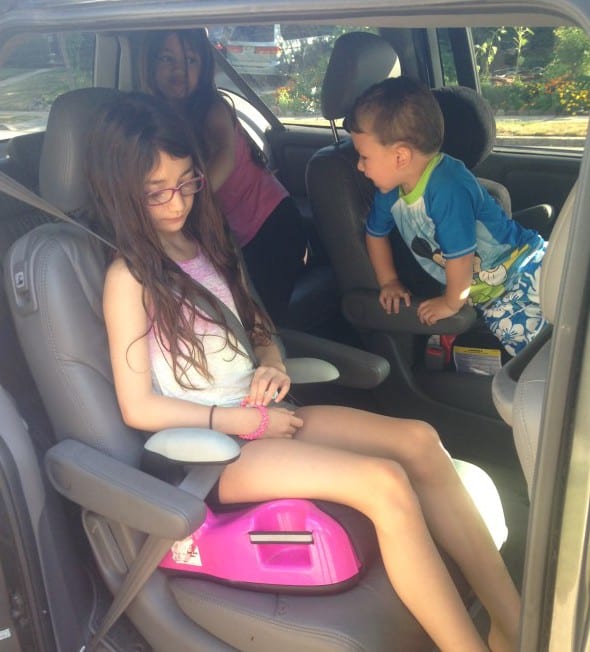 We leave the house, coffee, purse, and backpack in tow, and Drew yells at Emily to get in the back seat, as he does every. single. morning.
9:00 – Drew is dropped off and the girls and I head to Shoprite for our 3-4 days worth of groceries.  It's a big store and seems to take forever!  They were relatively well behaved and each got a gumball from the machine on the way out with their own quarters they brought from their tooth fairy savings.  This is a big deal to them and a huge incentive!
10:00 – Denny's (kids clothing store) is right next to the supermarket and we go in to pick out backpacks and lunch bags for each of them.   Can't believe school is right around the corner!  Here's what they picked: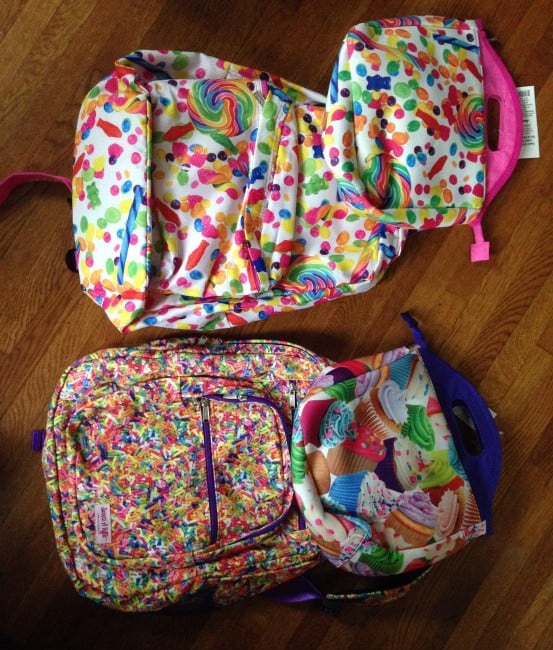 10:30 –  We get home and I bring the groceries in and unpack while the girls fight over glitter putty (silly putty with glitter.)  I tell them to go play in the backyard while I unpack the groceries and they do, but fight the entire time.
11:00 – I start writing up my recipe post for Vanilla Maple Nut Fudge  and the girls play gymnastics and dance together.  They've been making up dances and doing "shows" basically every day this summer!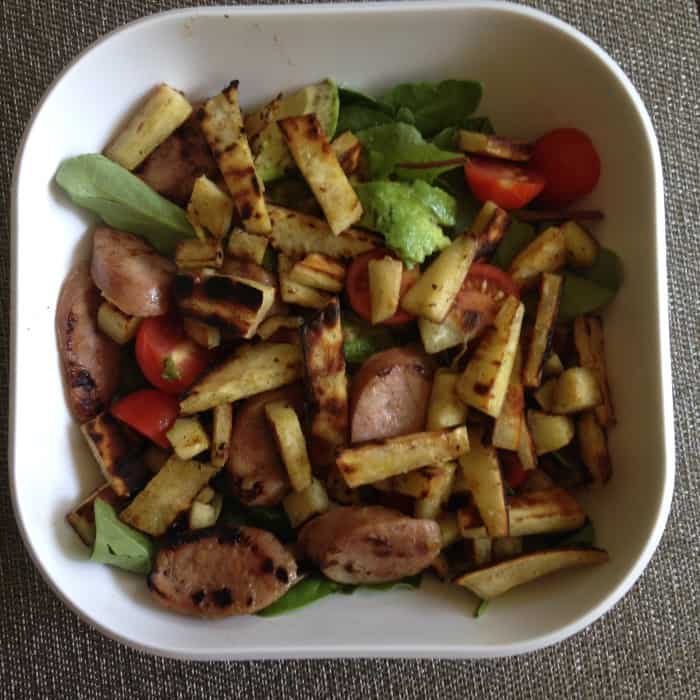 12:30 – Lunchtime!  I make the girls Applegate hot dogs, raw carrots, leftover mac & cheese and they also have some fruit.  Apparently we missed snack time in the morning because they were both starving, oops!
For myself, I chopped up a japanese sweet potato and threw it in a pan with bacon fat, then added Aidell's chicken apple sausage.  I put some greens in a bowl with tomato and avocado and then the cooked potatoes and sausage on top.  Relatively quick lunch!  By the time I ate it was about 1pm.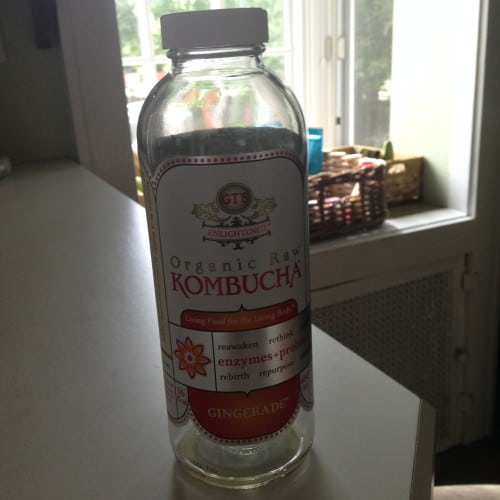 After lunch I read/wrote emails, more blog reading, and responded to my own blog comments while drinking my GT's gingerade kombucha.  Lots of blog/computer time, I guess I knew this already though!
1:45pm – The girls and I leave to pick Drew up at camp.  When we get home, he's thrilled that we bought glitter putty at the store, but of course there's more fighting over it.  All 3 of them ate a ridiculous amount of grapes and blueberries while I was not looking – fruit is seriously not safe in our house!
2:30pm – While they fight/play/eat fruit together I vacuum and dust the bedrooms upstairs.  I was officially DONE cleaning after this – I was flipping exhausted.  So what do I do when I'm exhausted?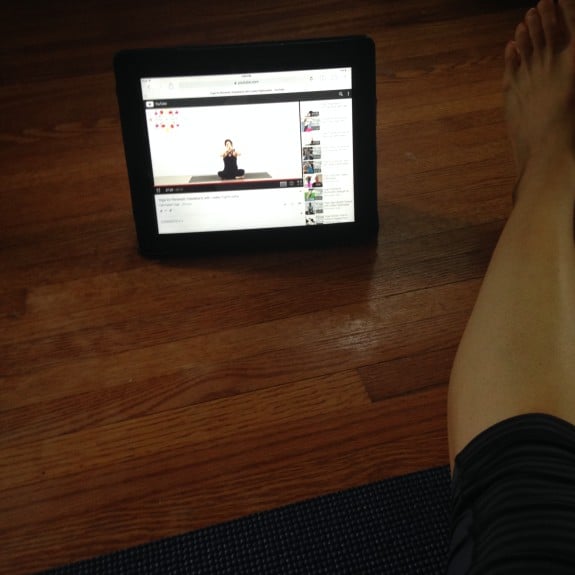 3:30 pm – 25 mins vinyasa yoga with headstands.  Not sure this was the best choice in retrospect, considering how exhausted I was, but I had time for yoga and this was the new video uploaded on Fightmaster Yoga.  She really is fabulous though and I can't resist when she has a new video 🙂  The kids were mostly playing together upstairs, although they did come down to "chat" with me during yoga.  They mostly find it boring and stay away though.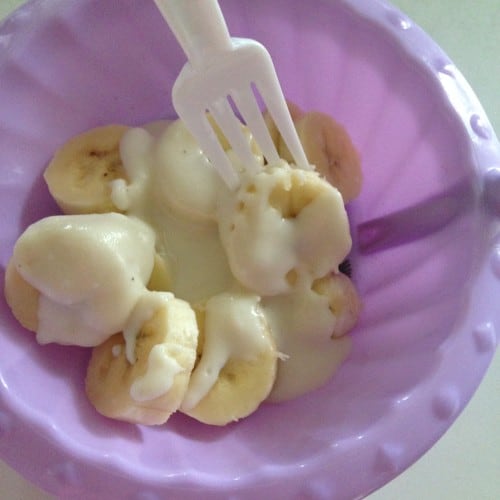 4:15 – Cut up a banana and topped it with coconut butter for a snack.  This has been my go-to snack lately as long as we're stocked with bananas.  Snacks are always in kid bowls for me.
I also watered Drew's plant, which I'm proud to say has been alive for about 2 months now, a record for plants in our house I think!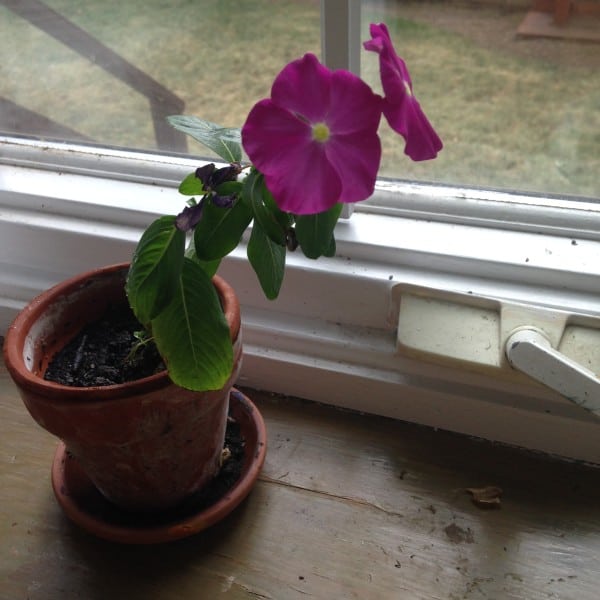 4:45 – More blog/social media/email time for me, I also catch up on writing notes for this post so I remember every 15 minutes of my day.  Please tell me that was necessary?  Or not, maybe it was not!  During this time the kids were all crowded around the iPad playing a game, and then they "practiced" for their "show", costumes included.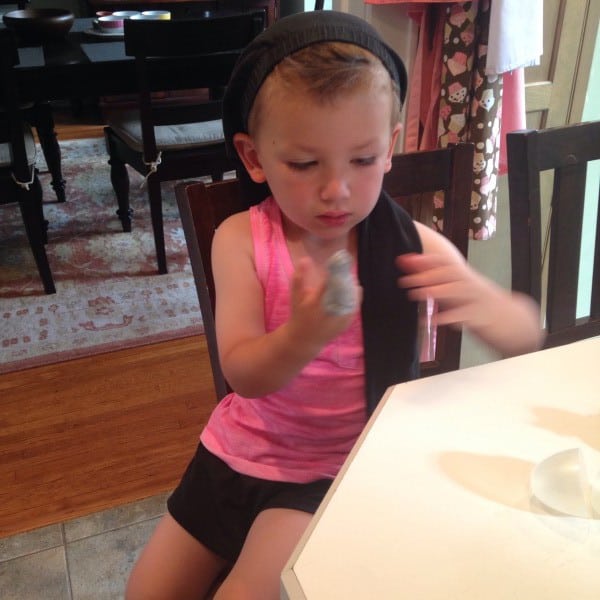 5:15pm – I start getting dinner ready and Drew plays with glitter putty in the kitchen while making up a very creative and detailed story involving Disney characters.  He won't let me "interrupt" to ask any questions about it.  Dinner involved my plantain chips since Adam would be home early and could actually eat them fresh for once.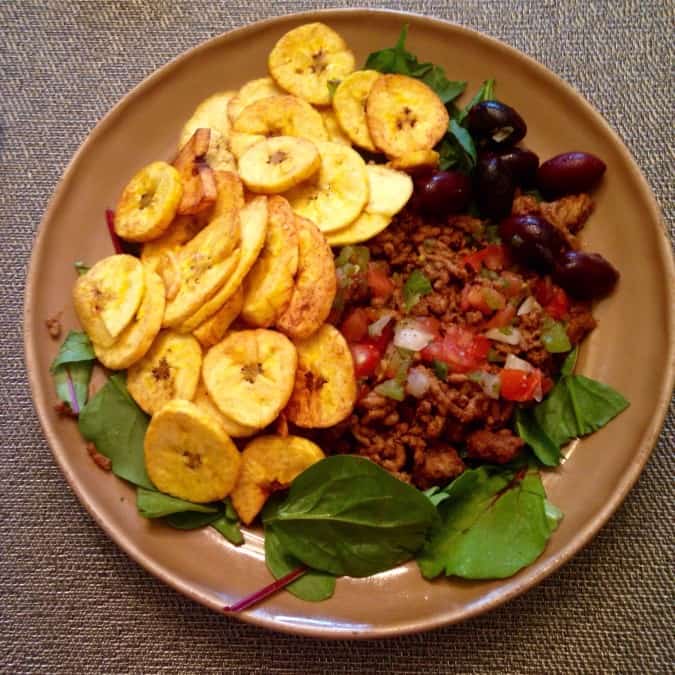 6pm – Adam gets home and the kids are super excited since he normally doesn't get home until bed time.   We get ready for dinner – taco salads for Adam and I and burgers with plantain chips and veggies for the kids.  So, really we all had the same thing, but the grown-up dinner was spicier 😉  Excuse the terrible lighting on my dinner photo!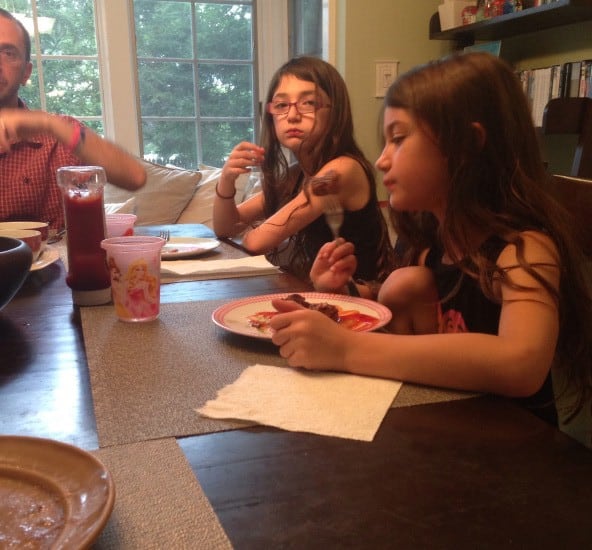 6:30pm – Clean up kitchen, get kids ready for bath/shower and put a load of laundry in. This is the time of day where I want to pull my hair out, and I "hit the wall" just like at mile 18 of a marathon.  It's almost worse on the days Adam gets home early, because I get that feeling of passing your house on a run when you're not done yet.  Your brain wants to think you're done, but you still have to gear up and finish the last stretch!
7:30pm – Make kids snacks (they have fudge and fruit) and they put on their show for us.  This one wasn't nearly as elaborate as Sunday's show.   I'm truly exhausted at this point.
8pm – PLEASE go to bed.  Please.  Everyone goes upstairs and I beg everyone to please go to sleep.  No nurturing bedtime routine – their snack/dance show has been the recent routine anyway.  I sit in Drew's room while he falls asleep.  At this rate I will be doing this until he's 15.  In reality, I figure he'll kick me out himself eventually so I'm not about to fight the battle now.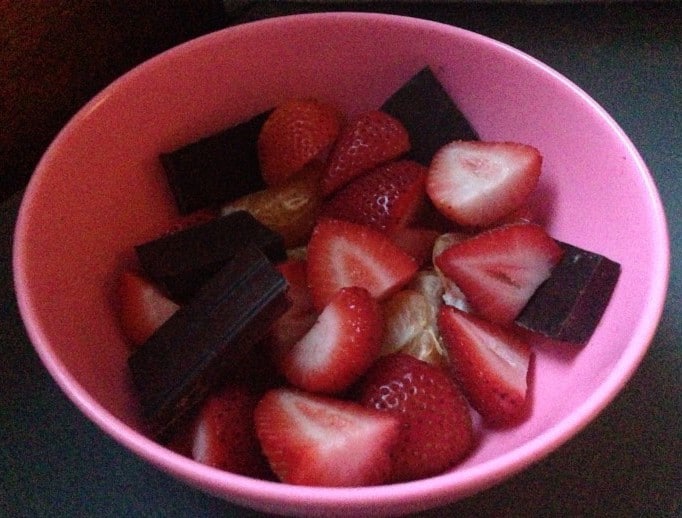 8:30pm – Now it's my snack time.  A clementine, strawberries, and chocolate.  I hang out with Adam and watch TV/look at my phone/chat with him until about 9:45 when I get ready for bed.  Even considering how tired I was, I still like that time at night to just sit on the couch.   Since I had another early morning the next day (another early work day) I wanted to get to sleep by 9:30.  Tonight's another night, right?
This was officially the longest blog post I've ever written, holy WIAW.  Please tell me you just skimmed it, now I'm starting to feel bad about putting us all through this!
Do you ever cringe at how you ACTUALLY spend your time? How your kids spend their time?  For what reason?