Mondays are hard, Mondays are easy.  They're hard because you have the transition from the weekend and it's back to business, with a big to-do list of things you put off on Friday and forgot about all weekend.
They're easy because, at least for me, they are predictable and there is no question of what I need to do – I have tasks pressing that must get done and this makes the time fly by.  I'm always taken by surprise how the hours pass faster on Mondays than any other day of the week!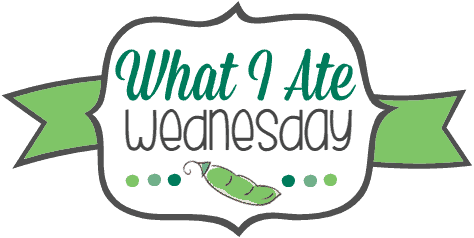 For today's What I Ate Wednesday, you'll see everything I ate and I'll tell you (and try to show you, with what pictures I have!) everything I did during the day.
WIAW – A Monday in the Life
5:30am – 7am – Wake up, read email, read a few blogs, get dressed to run and run, very slowly, for 5 miles.  I think I must run the slowest I do all week on Monday mornings!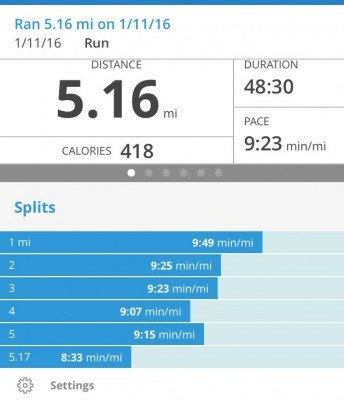 7:10 – 8:00 – Shower, get dressed, make my kids breakfast (scrambled eggs and ezekiel bread – their new favorite) unload the dishwasher, and attempt to cook for myself.
The first try at cooking a sweet potato hash failed when I realized I seriously charred it while scrambling eggs and putting dishes away.  Multitasking fail.  Adam was happy to eat my burnt breakfast (5 minutes before I told him he was on his own) and I made myself this: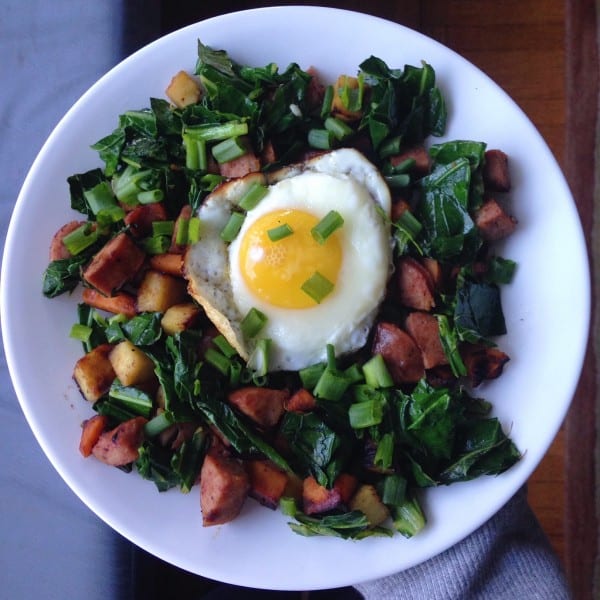 Sweet potatoes, chicken apple sausage, collards, and an egg all cooked in coconut oil. Plus green onions because I finally had some!  I obviously took a picture, then put it on Instagram, and then ate it, phew.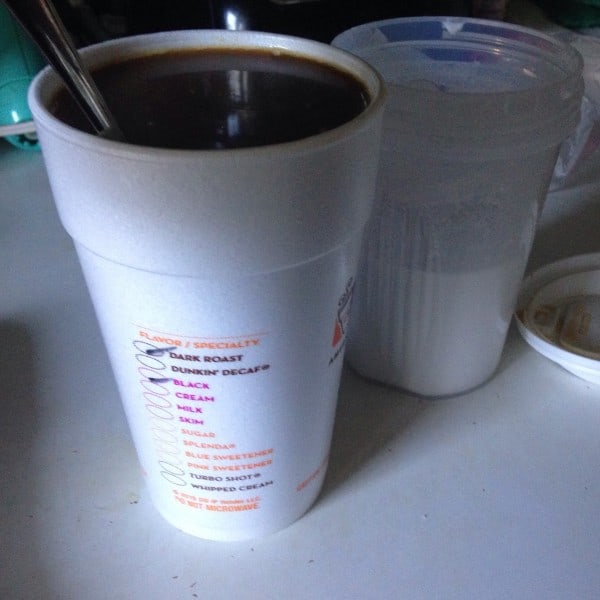 8:00-8:30am – Adam had gone to D&D and brought me back, at my request, a large black dark roast coffee, which is really something that I can only justify on a Monday.  I put coconut milk in it and started drinking while reading/commenting on blogs and doing a few more social media things on Facebook and Pinterest (likes and follows appreciated!  I'm only half kidding!  Go visit me!)
8:30 – 9:30am – Adam took the girls to school before work (awesome when he can) and I got Drew ready for school, dropped him off at 9:00, came home, and started making a new recipe for Friday.  I was also seriously praying it would turn out, because I wasn't in any kind of mood for a failure!
10:00am – I was still drinking my coffee and maybe I can blame that, but, while recipe #1 was in the oven, I decided to embark on an impulsive recipe #2, which I'll show you in a minute.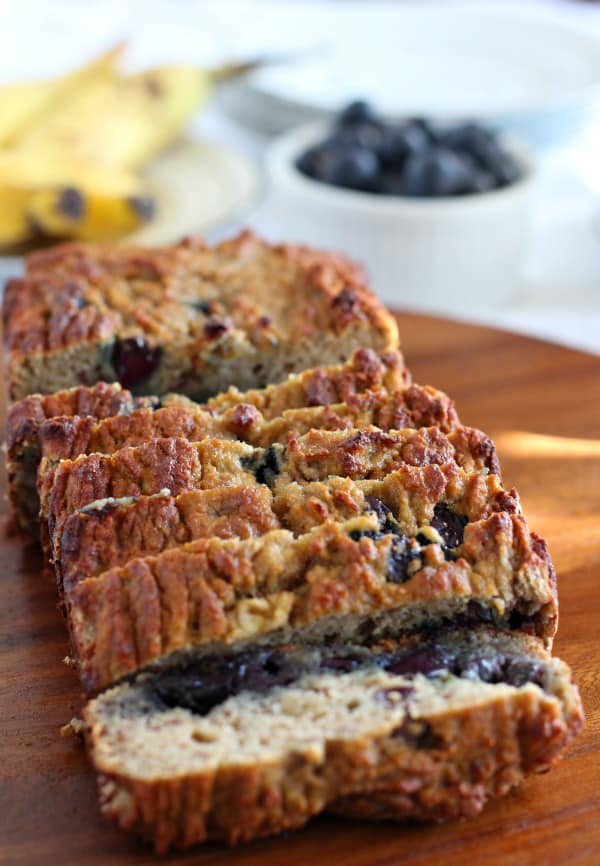 10:30 – 11:30am – Thankfully recipe #1 turned out well and I took pictures for the blog.  For a snack, I ate the front piece of this banana blueberry bread you're looking at right now.  Sigh of relief that it did in fact taste awesome!
11:30-12:30 – I cleaned up my mess and started writing up my recipe post for Sausage Pizza Egg Muffins. The elementary school had a half day, so I then went to school to pick up Emily (Diana had a playdate) and got home right before 1pm.
1-2pm – Lunch and I don't think I like recipe #2.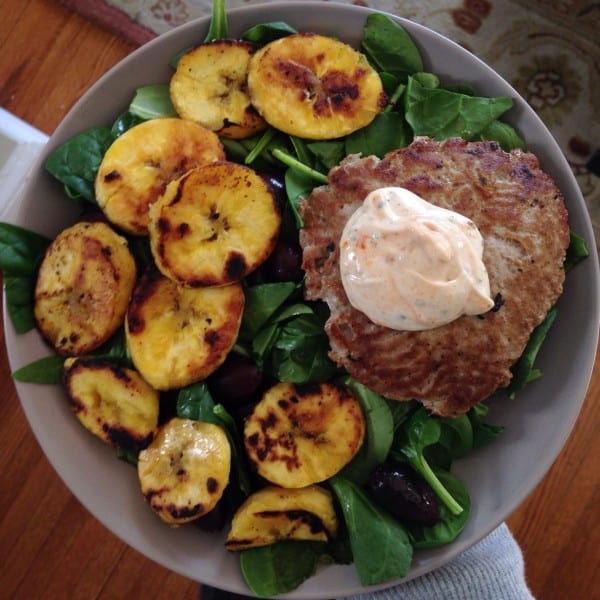 Emily had leftover mac and cheese plus maybe 3 pieces of the banana blueberry bread, which she loved.  And I had a leftover turkey burger patty from dinner the night before, topped with my zesty ranch , with spinach, olives, and plantains fried in coconut oil.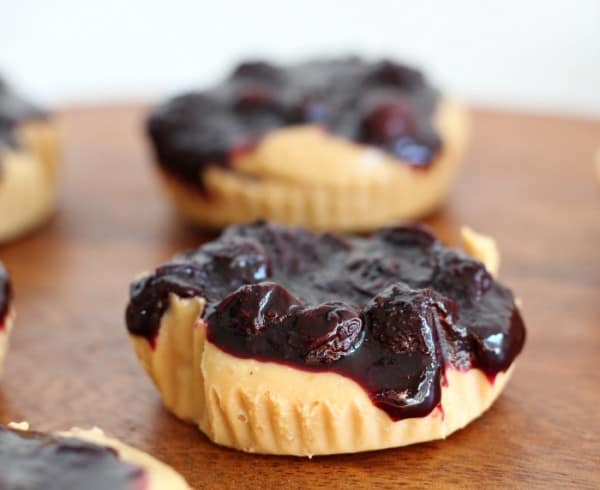 Recipe #2 had been in the freezer all morning, and, after attempting to take a couple of pictures of it I realized the texture was all wrong for what I was going for.  It was supposed to be a nut butter cup (cashew) with blueberry preserves swirled in, but, they were too frozen and then immediately too melty – not great, more like an ice pop consistency when I wanted a fudge bite.  I put them back in the freezer wrapped up, but not before eating half of one.
2-3pm – Drew's hip hop parent day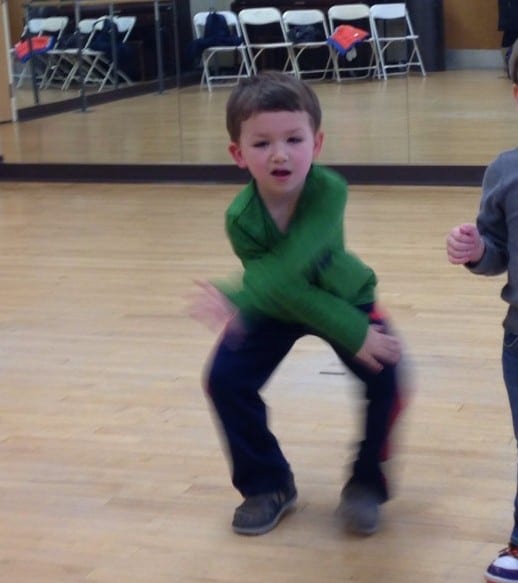 This week my kids have parent observation for all their dance classes – there were 3 to attend on Monday alone!  Drew was completely ecstatic to have me and Emily there to watch him dance.  After it was over, we picked up Diana from her play date and were home just after 3pm.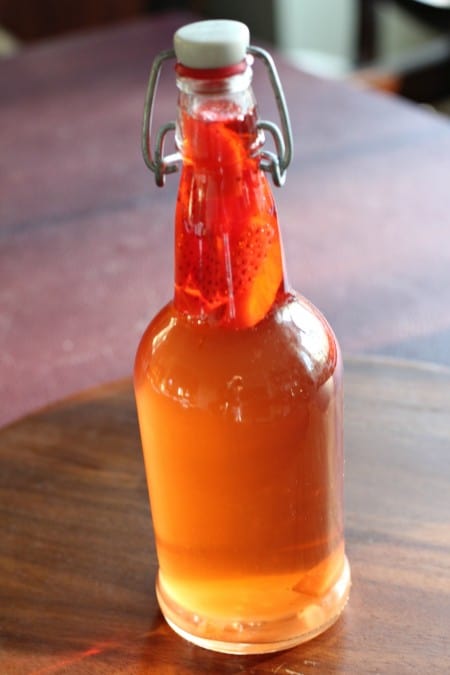 I celebrated my 3-4pm break by drinking a kombucha and finishing writing up my post for Tuesday.  The kids snacked on the banana blueberry bread, fruit, and tried out recipe #2 ("it's not your best, but not terrible") and got ready for their own dance classes.
4-6pm – More dance class parent day fun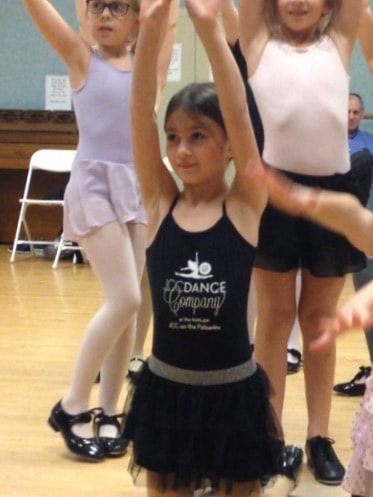 My girls' classes are almost back to back, overlapping by 15 minutes, so we all went to one and then the other.  Drew of course got to "see" both, although he didn't actually watch and played a game on the iPad instead.
6-8pm – Dinner, clean, bath, kids go to bed.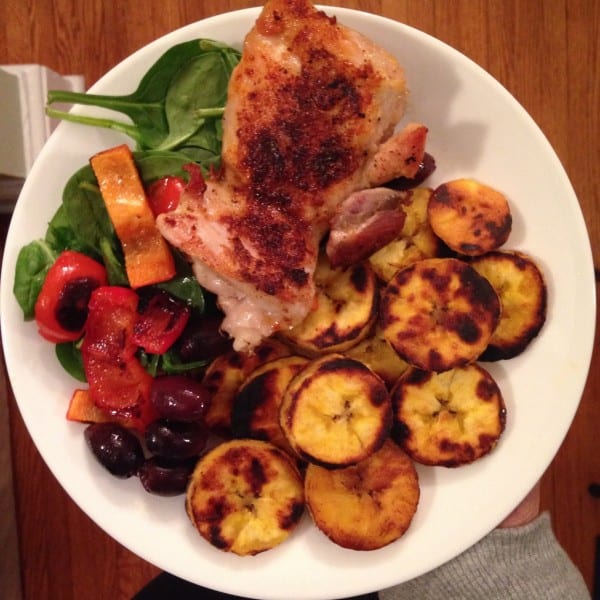 I started cooking dinner as soon as I walked in the door, and we ate right at 6:30.  I feel like I'm racing against the clock this time of day almost every day.  We had boneless chicken thighs cooked in a mix of butter and coconut oil, seasoned with sea salt, smoked paprika, onion powder, and black pepper.  This is currently my kids' favorite seasoning for chicken because they think it tastes like bacon!
I also had fried plantains, spinach, olives and roasted peppers.  The kids like their peppers raw and hate olives, otherwise they ate the same thing.
After dinner while I clean up, the kids are supposed to be cleaning up too but this just doesn't happen.  Instead, they scream, chase each other and someone always gets hurt, like clockwork.  While I cleaned up I ate the other half of that recipe #2 from earlier, not pictured.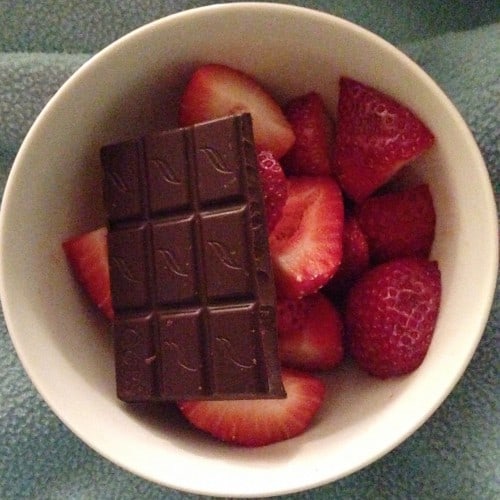 After showers and a bath, it was snack time, of course.  I peeled apples and cut them up with strawberries for Drew, the girls had grapes and strawberries and I made myself a bowl of strawberries and chocolate for after they went to bed.  Adam didn't come home until 9pm so the kids were in their beds at 8pm sharp.
9-10:45pm – Snack, and I'm not sure what else but I went to bed too late!
Whenever Adam comes home after 9 I wind up staying up late because it doesn't seem as late somehow.  He ate dinner, I had tea and we watched TV and chatted.  This is also the only "relaxation" time I get all day, and I find it hard to go straight to bed without it.
Do Mondays fly by for you?
How much time do you take to relax at the end of the day?
How much coffee do you drink daily? Dark roast or light?