Hi everyone!  A little more about the day of the Boston Marathon before my actual recap of the race, which will be up tomorrow.  So much to shows and tell!  And of course since today is WIAW, we'll be seeing my Boston Marathon Monday eats.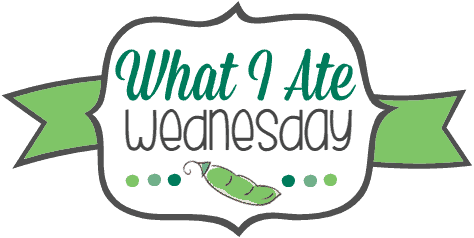 Spoiler – Marathon race day eats are typically plain, boring, and involve multiple bananas and this day was no exception.  The more basic, the better I suppose when it comes to the day of the race.  And if it works once, we repeat until we can no longer look at the food without gagging.
Since my race day eats were so NOT spectacular, I also included my next morning so you can see an actual meal here that is not yellow or beige.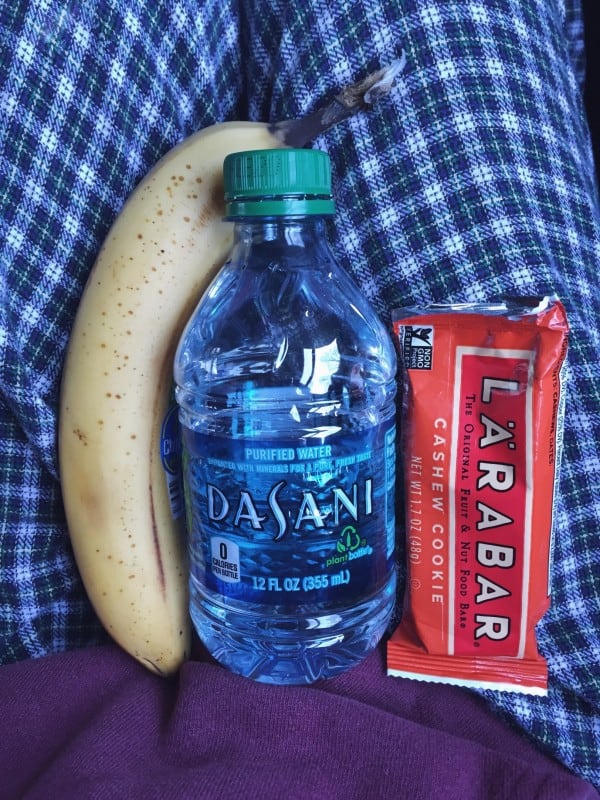 If you multiply what's in this picture by two, you'll see everything I ate and drank prior to the race start.  I woke up at 5am, and by 6am ate a banana and half of a cashew cookie Larabar.  I trained with this specific flavor Larabar and of course didn't want to mess with it at all!
This picture was taken on the bus to Hopkinton – I ate the second half of the Larabar on the bus at 8:30 and then the banana while waiting in the bathroom line around 9:30.  I drank two 12 oz water bottle over the course of the morning  and also a few sips of coconut water before leaving the hotel.
I carried exactly 1 and 1/2 of the same Larabars for fuel while running and only one was consumed – in EXTREMELY small bites, during the race, which by the way took me over 4 hours to finish.  Does a "time on your feet" PR count?  Because I just set mine on Monday.  Sure, some may call it a personal worst but honestly I was happier during this race than any other, so I think some sort of positively framed record should be assigned.
At mile 17 I also very slowly ate a small piece of a banana that someone handed to me.  I ran with water and filled my bottle often so I have no idea how much I had, but it was far more than I've ever taken in during a marathon or long run, even in the summer.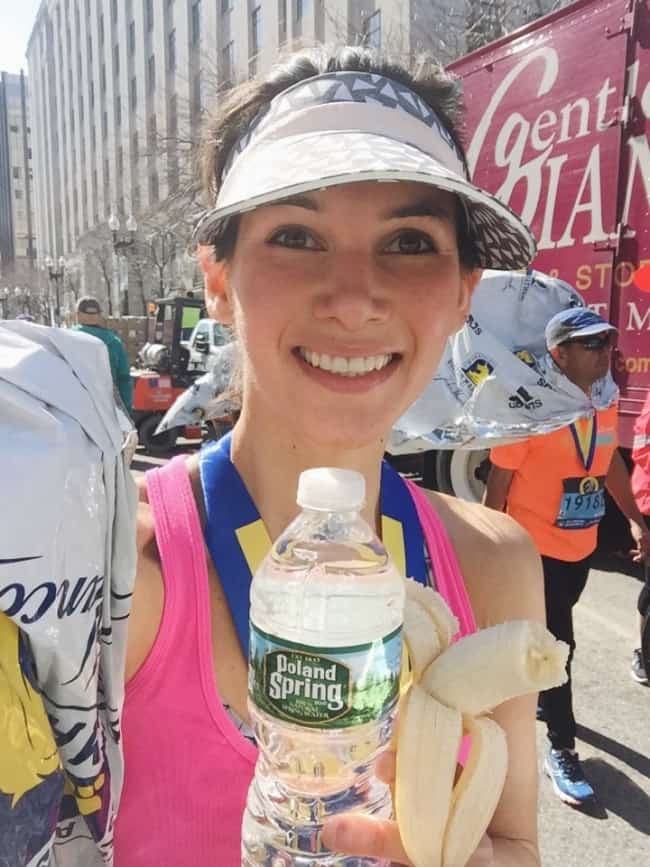 It wasn't like I had any desire to consume another banana, but, I also knew I needed to start refueling ASAP right after the finish.  Plus, volunteers were handing out already-peeled bananas so I could not turn that down.  So funny how post marathon is the only time you'll happily take and eat a peeled banana from a total stranger 🙂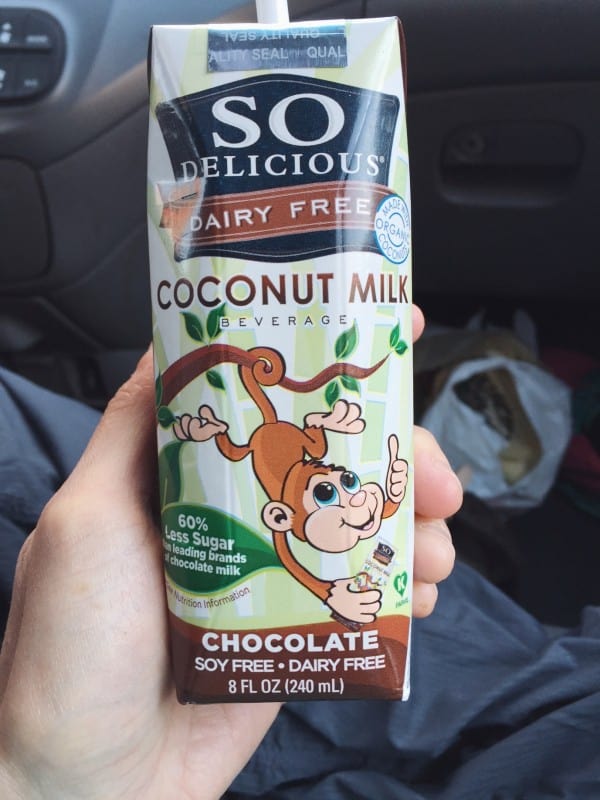 My remaining half Larabar was NOT consumed post race – I gave it to Adam and told him I never wanted to see a Larabar or banana ever again.  Honestly, it will be a long time until either one of those foods seems remotely appealing.
Instead, I had a pre-packed chocolate coconut milk ready for me that seemed a lot more palatable simply because it was completely new to me.
Follow by a rice cake.  Here's the package: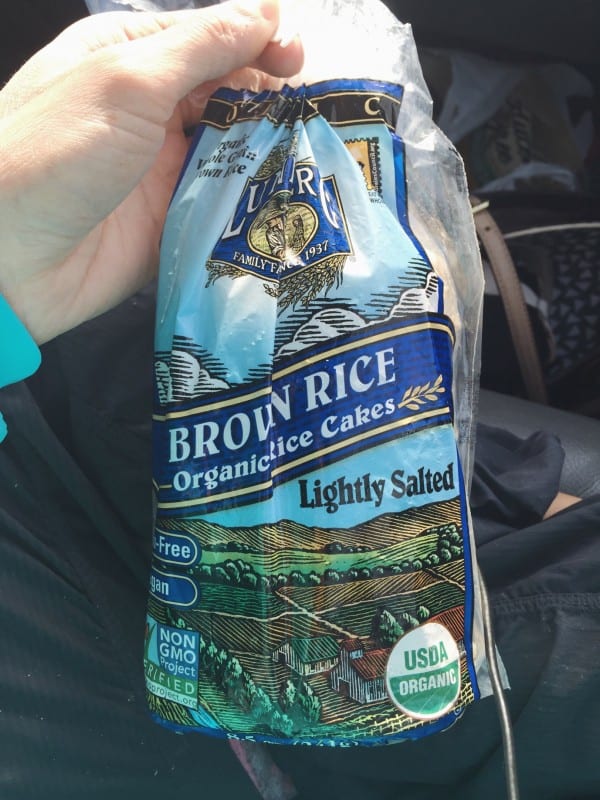 After my family had dinner I was feeling like I needed something salty and protein-filled and my only options that I'd packed were either canned tuna or sardines.  Adam begged me to go with the tuna so I threw some salt on it (I brought salt from home) and ate it plain.  Didn't quite finish it but made it about 3/4 in.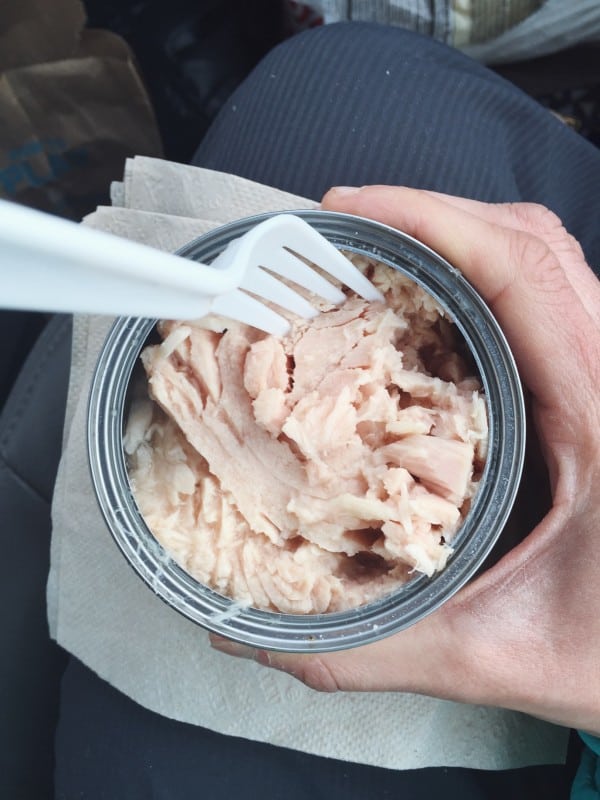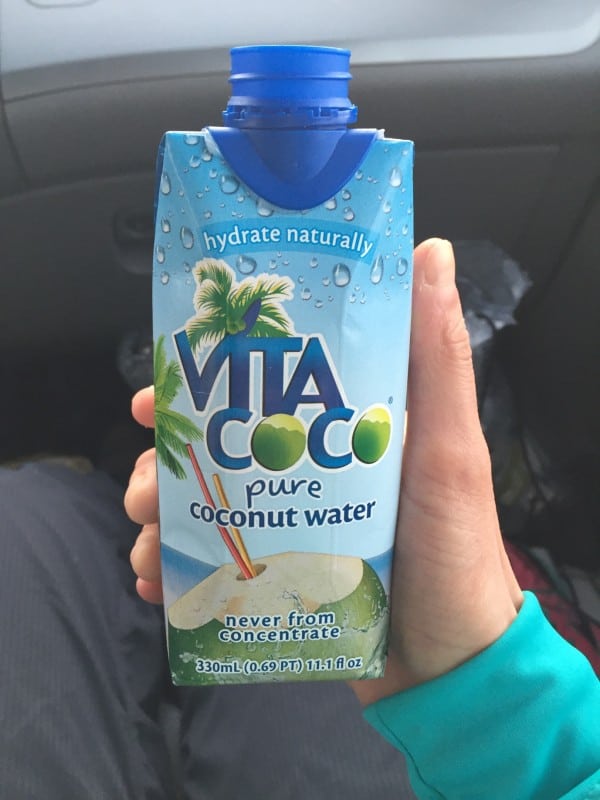 At some later point in the ride, I think about 7pm (we got home a little after 8:30) I drank a coconut water.  Warm coconut water is not my favorite (is it anyone's?) but I was thirsty and also wanted the sodium and potassium.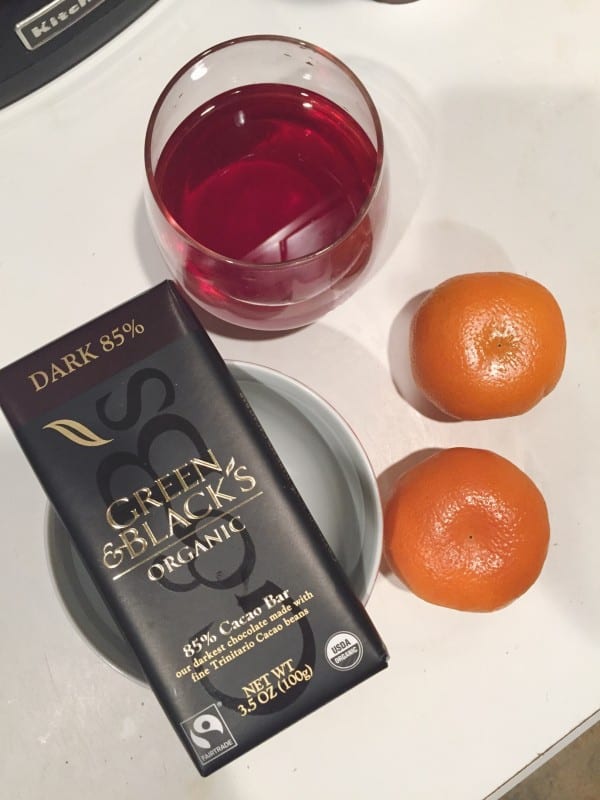 After getting home, showering, unpacking a little and getting the kids to sleep, I was craving my good old oranges and chocolate.  Since the idea of a banana horrified me and we had no strawberries, I had 2 mandarin oranges with some dark chocolate.  I also drank a little bit of water mixed with tart cherry juice but started to get too full and didn't finish.
I didn't sleep all that well unfortunately which is typical after a later marathon for me.  I also was sunburnt and was both hot and cold in the middle of the night.  I woke up around 5:30 crazy thirsty and hungry not too longer after!
My official "meal back to normalcy" was this, around 7am the morning after: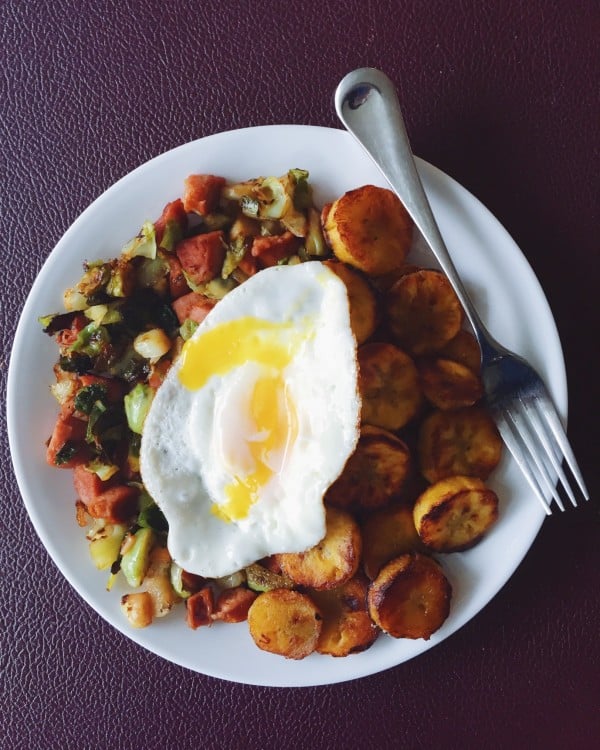 Welcome back veggies and meat!  It felt so good to eat a really filling meal – this was chopped brussels sprouts with spicy Aidell's sausage cooked in coconut oil with sweet plantain also cooked in coconut oil, plus a fried egg.  This was literally an entire (smallish) plantain and it was glorious!
Also, welcome back COFFEE!  I'm glad I went off of it prior to the race because coffee and running don't mix for me at all, but welcoming back the (literally) bittersweet love of my life was awesome.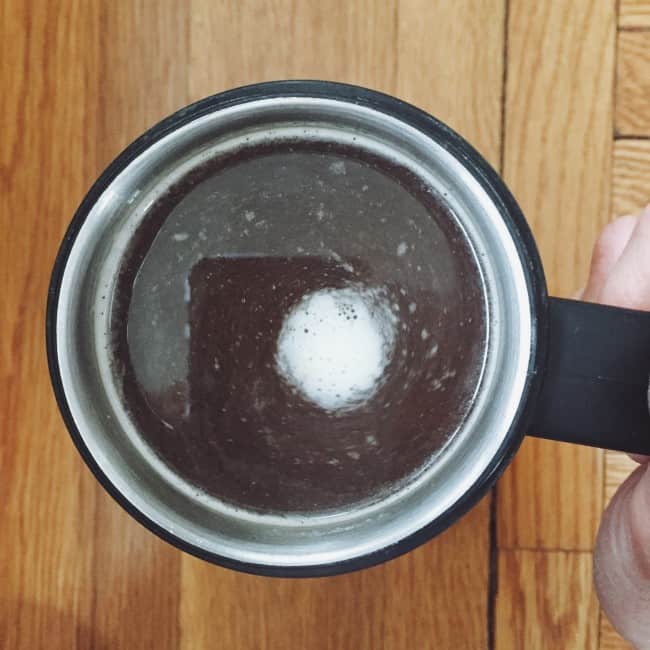 And that wraps up my day + a meal for Marathon Monday!  Check in tomorrow for the full race recap!
Do you eat mostly beige food the day of a race (or leading up to it?)
Are there foods/drinks you have to avoid in the days leading up to a big race or long run?
Anyone else get a banana aversion after a marathon?