Remember the whining I did about my late (9:30am) long run on Friday?  Just as a fun experiment I decided to do my WIAW for today based on last Friday.  And by "fun experiment" I mean I wanted to see if something maybe just a little different than my typical What I Ate on Sunday or Monday posts would pop out.
I'll let you decide if my Friday eats turned out to be any different than any other day.  I know what I'm thinking.  One thing I will say now is that it feels like a later long run leads to a bit less food overall on that day, and more the next!  I know I probably have one or two WIAW "recovery day" posts that would show me I'm right.  Good thing I run early most of the time, wouldn't want to miss out!
Let's Get Started!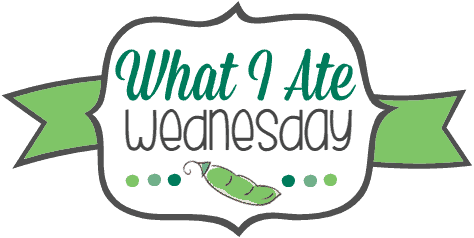 WIAW – Late Long Run and On The Go Paleo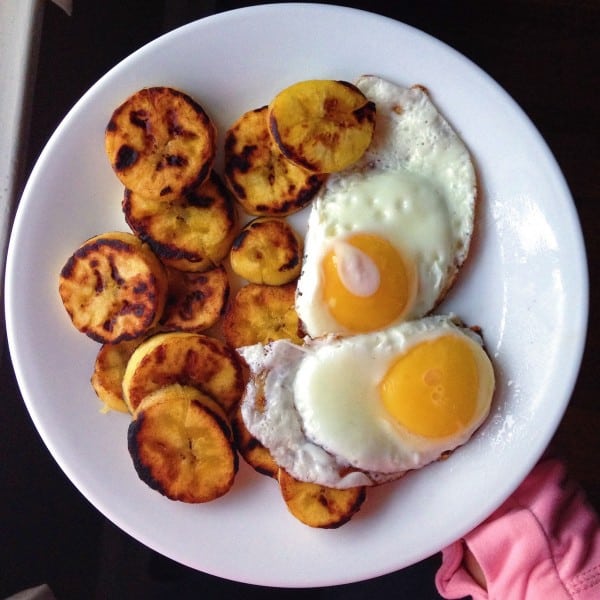 Breakfast: I do not eat green things or meat before I run, period.  Ideally, I would run early and not have to eat anything other than a nice ripe banana, but, for 9:30am that's not smart nor possible since I get up at 5:30 and by 7:30 I'm starved.
Since I also didn't want to eat right before the run, I had this around 7am (2.5 hours prior to starting) – sliced ripe plantains fried in coconut oil with sea salt and two fried eggs.  This was filling enough but easy to digest and I didn't have any digestive distress during the run or later in the day.
I do have to skip coffee before running to keep my stomach calm, so that just adds another layer to my late-run crankiness.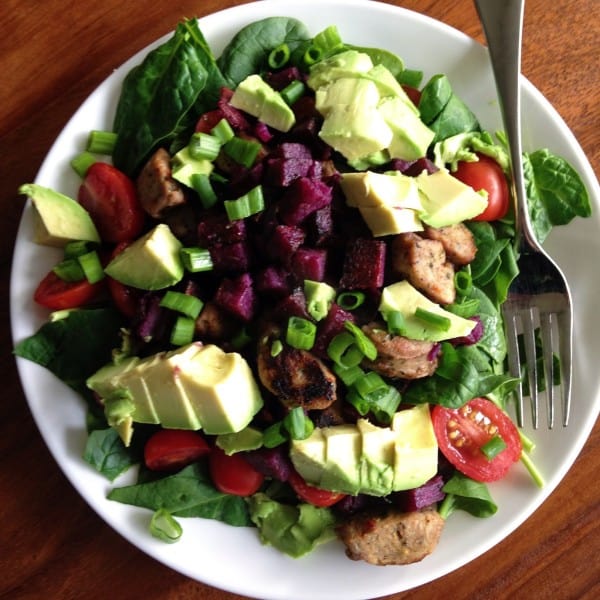 Early Lunch: I got home at 11am and showered right away, and by 11:30 I was hungry.  I will call this my "early lunch" because I also wound up having another meal later on that was bigger than a snack.  See?  This late run business has me all thrown off.
I sort of did a post long run breakfast, but with an avocado instead of eggs, to make it more lunch-ish I guess.  It was chopped purple sweet potato (my last surviving one) cooked in coconut oil with salt, plus chicken sausage over spinach and tomatoes and half an avocado.  I finished it with green onions sprinkled over the top.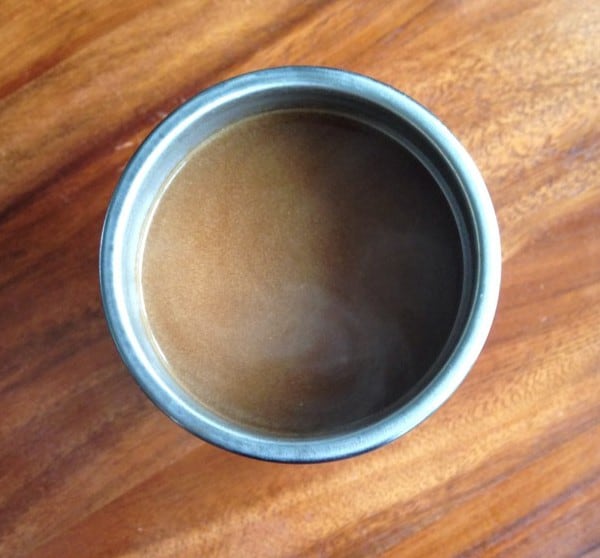 And because I was confused about the time of day plus coffee deprived – there was no way I wasn't having this!  My usual homemade coffee with the coconut milk – so yummy – especially after a morning without it 🙂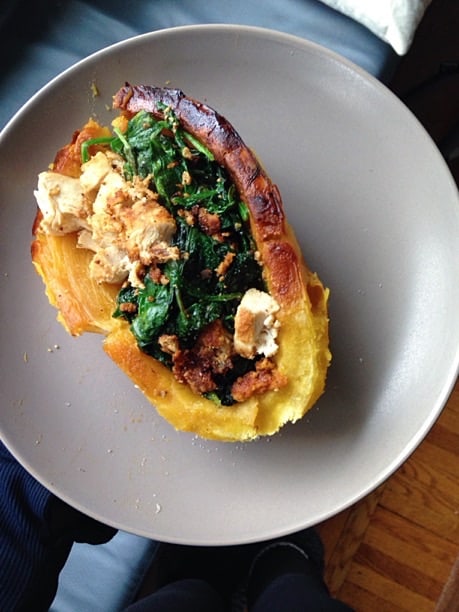 Around 2:30pm things got interesting.  I was hungrier than I thought I'd be and almost forgot that my day and eating schedule were thrown off.  I had oddly just roasted an acorn squash which I'd been "saving" for something that never happened, and decided to stuff one side of it with spinach and leftover chopped up crispy chicken nuggets.  I stuck it in the oven for maybe 5 minutes and BOOM – lunch #2 or snack #1 – whichever you prefer.  It was good, but with my acorn squash buying habits I probably won't have it again for another 5 months at least.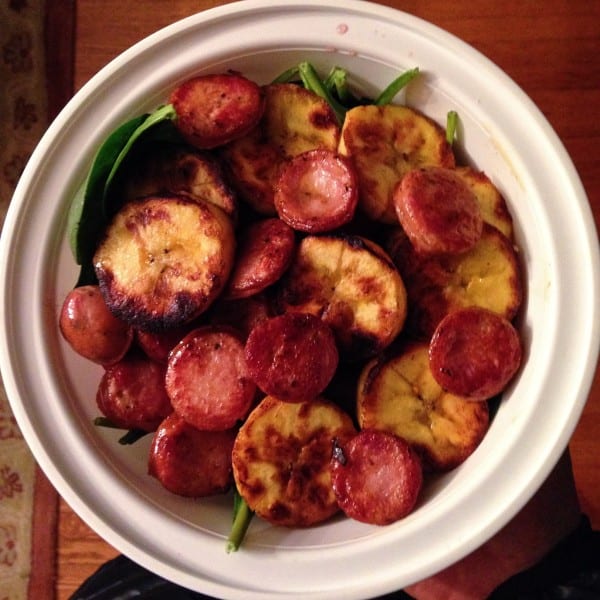 Remember, this was Friday and Friday means that I don't eat dinner at home.  Emily has gymnastics from 5:30 – 7pm and the other two kids and I drop her off and go to a nearby pizza place for dinner.  Yup, that's right, I don't torture my kids with fun Friday tupperware dinners, only myself.  I'm kidding, I actually like bringing my own dinner in a fun "to-go" container and hanging with the kids at a pizza place – it's a win-win.
I usually make myself something quick and tasty like I do for every other meal, but even quicker since I never leave myself time for anything else.  This was spinach, tomatoes (they're there somewhere!) olives (I didn't hide them on purpose) plantains again, and spicy andouille sausage.  Put a lid on it, grab my water bottle and a plastic fork and out the door we go.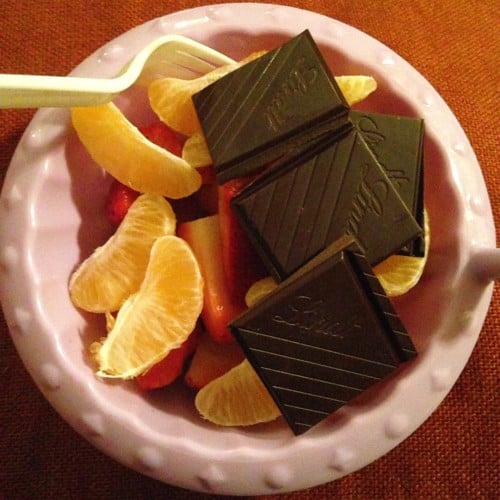 Well now this looks happily familiar.  And do you know what time it is right now?!  It's time for me to eat this again (9pm on Tuesday!) so don't be offended if I try to wrap this up quickly from this point on.  It's not you, it my fruit and chocolate cravings!  This was strawberries, a mandarin, and 85% dark chocolate.
Does the time of day you run or workout impact what or how much you eat?
Do you ever pack your dinner to go somewhere or just pick something up if you're out?
What are your favorite fillings for acorn squash?