I spent my first 6 years as a runner having not run even one organized race.  Okay fine, a good portion of these years were spent either pregnant (and not running) or with my palms glued to a jogging stroller.  For those years, I was just lucky to get out for a 2 mile run/walk, where I only had to give out 3 snacks each to get through the 30 minutes. But still, that does seem like a long time spent just enjoying running for the sake of it without considering "competition."
Competition is in quotes because, really, for those of us who run as a hobby, we are creating that competition.  That doesn't mean it's not real, it just means we are signing up for it for various personal reasons.   We have nothing to gain, except an experience and hopefully, a feeling of accomplishment.
I can't begin to guess ALL of the reasons that runners decide to race, and continue to race and compete against the runner they once were.  Hmm, I suppose I just touched on one of the reasons that I continue to race.  While I can't speak directly to another person's experience, in this post I'm going to answer this question for myself, and also look at how the relationship between running and racing has changed over time for me as a runner.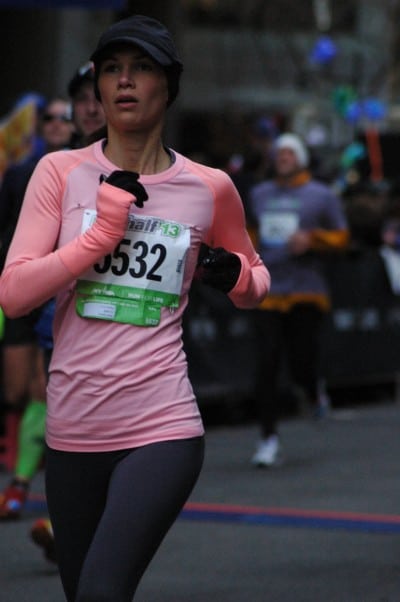 Before I raced
Before I ever ran a race I didn't even consider myself a runner.  I started running consistently, 5-6 days a week for 3-4 miles at a time, at age 23.  I didn't think or care to sign up for a race because I just enjoyed running alone in the dark before work.  It was the time I got the most thinking/reflecting done and I cherished it for what it was.
When I found out I was pregnant with my first daughter not even a year later, I stopped running completely because it never felt "right" to run while pregnant.  It turned out I had complications that led to early labor and hospital bedrest at 30 weeks, and, my daughter was born early at 34 weeks.  In retrospect, I think I sensed things weren't right the entire time which definitely led to less activity the the whole pregnancy.
I didn't run at all after she was born.  I was working full time and nursing/pumping, and fitness completely fell off.  My IBS was terrible and I was thinner, weaker, and more stressed out/anxious than ever in my life.
I wound up getting pregnant with my second that same year, and this time I knew in advance I would need to completely restrict activity due to the same pregnancy complications (a weak/incompetent cervix.)  After my second daughter was born, I invested in my first double jogger and began to go for run/walks with my two girls when the younger one was about 7 months and we had moved to the suburbs.  I became very consistent again with stroller runs about 4 times per week over several months.  No racing on my mind, I just ran to get some air, feel "fit" again and get through my day feeling more optimistic and more "complete."  I realized during this time how much I had missed running.
Yup, there's a third pregnancy!  And once again I didn't run due to being high risk (not sure I would have run if I had been "allowed" to anyway.)  This time though, I started running again consistently when my son was 3 months old.  It was all with either a single or double jogging stroller and I didn't think about racing for a solid year.
How the Change Happened
Part of the reason I didn't think about racing that year was that I was content with my running as it was.  I didn't time myself, did a rough estimation of the distance covered (which was still 3-4 miles at a time) and was just happy to be fit enough to feel good while running.  The mood boost was much needed as I adjusted to having 3 kids.  Running was my medicine at that point, not my "drug."  It was part of my routine, it made me happy, felt good, and was a manageable activity with easy access:  get the baby/kids ready and run out the door.
But I started listening and hearing things.  People talking about signing up for races.
The other part of the reason I didn't think to race reared its head:  I didn't think I was "good enough" to run a race.  Since I only ran solo, I had no idea how I compared to anyone else, speed wise, and that scared me and deterred me from signing up.
Until I decided to test it out and see what the hype was all about in the summer of 2012.
I signed up for a local 5k by myself and I was scared to death at the start line.   I hadn't eaten anything beforehand since I wanted my stomach to behave, it was about 75-80 degrees and I felt lightheaded as we all started running.  Next to me was a coach yelling (screaming) at his team to "break 20" and I was horrified.   No.  To be completely honest I was on the brink of a panic attack a half mile in.  To say I was completely out of my comfort zone is quite an understatement!
The words that rang through my head as I started to panic were "You're a runner.  You run every day.  Your body knows what to do.  Your body does this.  Let your body do this."  I repeated those words to myself until the anxiety melted and I did what I had been doing for years: I ran 3 freaking miles.
My time was not particularly impressive given the heat, but I felt completely different after finishing that race.  I wanted more of the same, I wanted to feel that post-race high again, and again.  Running was not just medicine anymore, it was becoming a drug.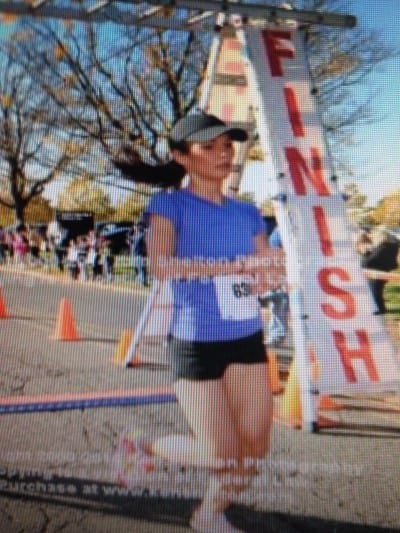 After that, I signed up for 2 10ks, a 15k, and two half marathons, all within the next 6 months.  Racing had a meaning for me now that changed my approach to running.  It wasn't just to relax, or to get through my day.  It was to assert my independence and an identity for myself after having 3 children over the course of my 20s.  It was to compete with myself and others.  It was to have SOMETHING that not only felt good, but that I felt I was good at.  It was about confidence, facing fears, pushing perceived limits and crushing self doubt.
In short, running races became about "coming out" and becoming who I had been all along, in private.
Just 9 months after running my first 5k, I ran my first marathon and qualified for Boston.  I was not kidding when I said that marathons and childbirth are basically the same thing!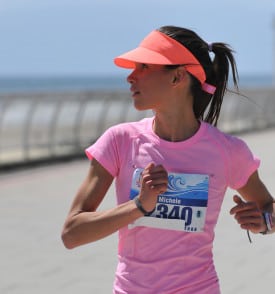 The "why" of racing has changed for me since my first marathon.  I saw the dark side of being so competitive and wanting so badly to be "the best" and do more when I dealt with my first injury from Sept-December 2013.  Once I recovered,  I developed a desire to run healthy and happy more than anything else, and it was reflected in how I raced.
Running the Boston Marathon in April 2014 taught me about the OTHER side of racing I hadn't paid attention to before – The energy from the crowd, the course, the atmosphere, the experience itself apart from pace and finish time.  I signed up for races that I knew would not be PRs, moving closer back to that initial feeling of accomplishment just from pushing myself and finishing.
This story doesn't have an ending really, since after running Philly in November my attitude toward racing is shifting again.  I came out of that race feeling not here nor there, since I didn't PR yet I felt I gained back all of the fitness I had lost while being injured.   I believe that now is a time when I will have to begin to answer the question "why race?" for myself before I sign up for anything later in the spring.  It's an issue of meaning over motivation, although I think these two really go hand in hand.
I know one thing:  I'll never approach racing the way I did when it was new, and although that might mean no new PRs, it's probably the healthiest thing for me.   I spent a long time being happy as a non-racing runner, and while I don't think I'll be going back to that completely, the days of "needing" to race are over.  Where this new chapter in my running life will lead?  I have no idea right now!
Why do you race?
Have you always raced or did you run for a while without racing?
Have your reasons for racing changed over the years?
Has there been any negative side to racing for you, or only positive?