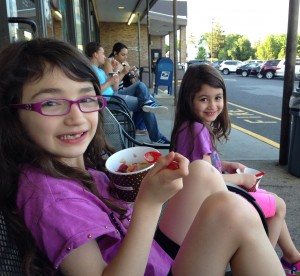 It's not because I think childhood memories are made of skittles and cheese balls. Or because I'm lazy. And it's not COMPLETELY because I use food as a reward when I drag them through Whole Foods for an hour. It's not even because I believe that gowing children need milk and fortified cereal. Or because I listen to the pediatrician's nutrition advice. It's a lot more complicated than any of those things. And yet it's also pretty simple.
I believe that the paleo way of eating is as healthy as you personally make it. I genuinely enjoy meat, fish, lots of veggies, fat, so much that I never feel deprived of anything at all. I feel energetic, happy, and I don't crave things that I'm not allowing myself to have. Within the paleo template there is more than enough for me to choose from to satisfy any type of craving or hunger that may arise. I am a grownup. I've lived in my body for more than 30 years and have a pretty good idea of how things work in there at this point.
My children, like most kids, are less open to the wonders of the paleo universe. Yes, I know that some people completely stop buying yogurt and cheese sticks and cereal and the kids come around. I've thought about it, and I'm not on board yet. Here's why:
1. I don't believe all grains are evil. Just because they make me feel like garbage doesn't mean my kids can't tolerate them. My oldest daughter is the "most paleo" of my kids by choice, and she doesn't feel or behave differently whether she has cereal or eggs and bacon for breakfast. She'll eat a sunbutter sandwich on organic white bread and some fruit or raw veggies and she's fine. She also eats more steak, broccoli and sweet potatoes than my husband and fried plantains are her current favorite. So why do I need to mess up all those great choices by telling her she can't have a sandwich or the donut/cupcake at the birthday party? If it ain't broke, don't fix it. That's her story. My other 2 are trickier.
2. My 3 year old does not eat anything but pizza, pb & j, yogurt, and fruit. Yes, the extent of what he will consume fits into less than one line on paper. He is picky with a capital PPPPPisses me off. Although to his credit he has finally decided he likes scrambled eggs, but I'm sure it will only last another day or two. Yes, he is healthy (big) enough that I could probably do the paleo cold turkey thing with him and he might eat after a week, but, he's 3, and he already feels like I'm trying to rob him of the pleasure of drawing on walls and playing outside in the rain. I will not take away his pb & j and yogurt. The paleo dinner goes on his plate and I love when he takes a bite, but he is happy, healthy, and I have plenty of other battles to pick. Which brings me to my middle daughter.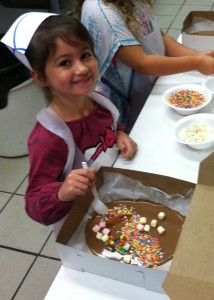 3. Some kids see "deprivation" in nearly every situation. My 5 year old daughter is the classic middle child in that she has 2 to compete with and from her perspective she usually has it the worst. I won't argue that because it's sometimes true. BUT she nearly always focuses on what she "can't" have or "doesn't get" with food and everything else. "Diana had a birthday party so I need a treat now." "Drew got a toy so I need a toy." She is the kid who complains that she "never gets what she wants" for dinner if there is one night where mac and cheese is not served. She has been a "carb kid" since the beginning of time (fruit included). She actually didn't eat any solid food until 15 months because she flat out refused it and would rather nurse until I weaned her at 22 months. She also genuinely gags on meat (loud sigh). She is a constant battle, nutrition wise, because she always feels deprived in some way. To ACTUALLY deprive her of food groups she loves, would be cruel, I feel, and the psychological repercussions for both of us are just not worth it right now. I try to go with the flow and feed her what she'll eat, have her "try" as much as she'll agree to, and sometimes, I make her eat the darn chicken. Being a parent man, NOT EASY. She was the inspiration behind my "No One Cries Turkey Meatballs."
So to conclude, this is why I don't feed my kids strict paleo:
I'm not really paleo because I haven't exorcised my house of grains.

I'm lazy and indulgent.

I prioritize mental health in my children over how "paleo" they are.
I guess it's up to you to decide what the real reasons are. Anyway, it's been fun chatting like this. Now you tell me:
What do you think about kids eating paleo assuming they have no known allergies or intolerances? Do you struggle with what to feed your kids?