I  was never one to endorse or participate in PDAR (Plublic Displays of Affection for Running.)  I always secretly and maybe not so secretly thought that telling the world how much you love to run comes across as obnoxious and I used to judge the heck out of those people. Oops.  But screw that for today I'll risk being obnoxious.  Plus I guess starting a blog about running in the first place is a bold PDAR anyway.  My bad!  So may as well go all the way at this point.  Sometimes you just have to talk about how much you love to run, right?
I had a splentastic run this morning.  The kind of run that makes you remember how it all began.  Not like the first day you ever ran, because that undoubtedly sucks but more like the honeymoon phase when you realize that you were an Olympic marathoner your whole life and just nobody told you.  Yup, a great run indeed.
It was my last "long run" during my taper which means it was only 8 miles but I set my mind to long run mode.  I didn't mean for it to be fast but secretly (having secrets from your own brain is weird), I kind of wanted it to be marathon pace or even a little faster, for an ego boost.  Here were my splits:
1- 8.25 (just warming up baby)
2- 8.07
3- 8.17
4- 8.01
5- 8.06
6- 7.47 (yes!)
7- 7.46 (don't stop!)
8- 7.39
Ok, so now you see I was most definitely kidding about the Olympic thing if you hadn't already got that.  But this was a great run for me, especially since it was completely pain free and amazing on all levels of all things.  Pace aside, I just felt like it was one of those dreams where you're run-flying and don't feel tired at all.  I guess the tapering is working.  I mean talk to me in a day and I'll tell you the taper is turning me into a beached sea-mammal but today, today I KNOW IT IS DOING ITS JOB.  There, said it.  Moving on.
So during my run I totally got caught being a creepy smiling runner.  Passing someone who's running, smiling, and apparently lip-syncing/interpretive dancing must be quite a sight on your way to work at 6am.  I mean chances are I wasn't having a great hands free conversation with anyone alive at that hour so I'm sure anyone who saw me just thought wow, crazy.  I guess I'm cool with it.
When I got home my husband told me not to make him any breakfast which made me even happier.  I love being domestic and cooking 7 meals each for 5 people every day but sometimes it's nice to not do that.  Plus I could make my own breakfast without burning any food or body parts, which makes for a great start to any day.  Here's what I made: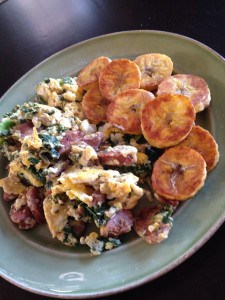 It was delish, as usual, and followed up with this coffee and coconut milk.  Coconut and I are in a pretty serious relationship at this point, as you'll see.
So, for all my readers (I think I have like 1.6 as I write this), when was the last time you had a "run-love kind of day"?  What was your last awesome run like?  What reminds you of why you started running in the first place?  How do you make the "runners high" last longer?  Did you ever get caught smiling/dancing/singing while running?  And last, how do you feel about PDAR?
Well, that was fun to write.  Obnoxious and happy might be a good look on me.   Apologies in advance 🙂