Today (or yesterday, as I wrote this) can be summed up as "that moment you realize your Whole30 is over but actually nothing has changed, at all."
Okay fine I'm lying.  I didn't waste any time at all getting my Valentine's Day chocolate game ON.  By 10am on Feb 1, my Whole30 was a thing of the past when I made these raspberry cream chocolate candy cups.  I break out my heart-shaped mold once per year, and this is how it went down for 2017.  No regrets here.
This also marks the first time I broke through my weird mental block about soaking cashews to make cashew cream.  Nothing like a completed Whole30 to get you to break new ground.   This recipe will be posted this Saturday, and trust me, you guys will love how easy it is!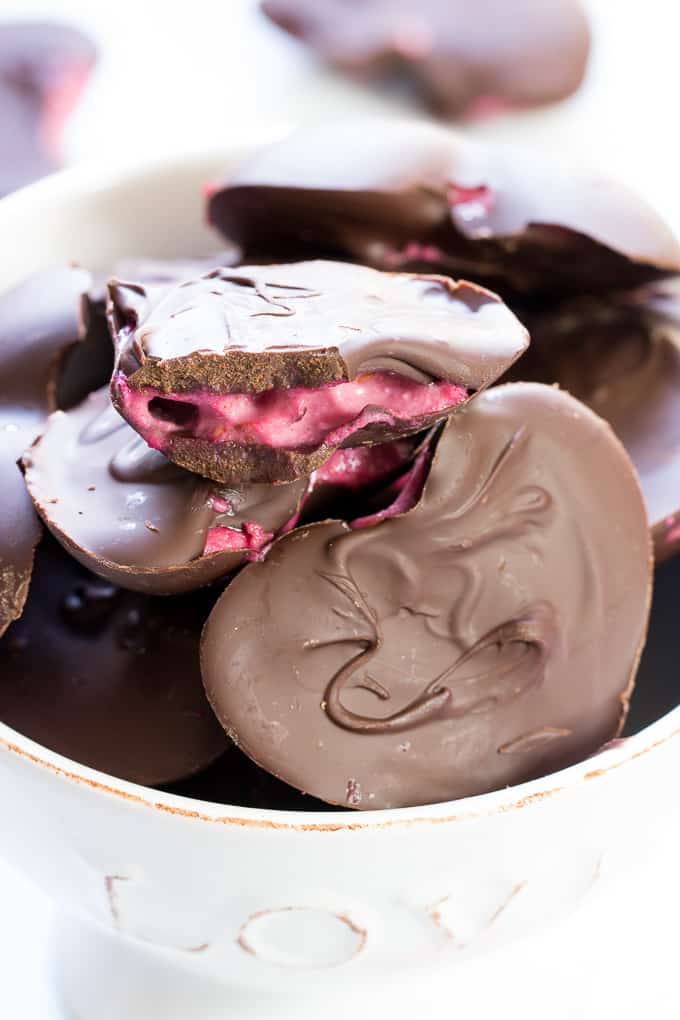 But let's rewind a bit and talk about the Whole30 experience.   I'll talk a little for Adam too, since we came from very different places prior to the Whole30 and therefore got different things out of it, e.g., he got a personal chef and I got a third full time job as a personal chef.
I'll stop kidding now, promise.  Let's get to the details!  I'll just outline our "results" with zero drama or exaggeration.  I'll also note the differences for Adam between this Whole30 and his first one 3 years ago.
The Whole30 is Over!  Whole30 Results and Outcomes
Energy
Me: Towards the end (like the last week) I noticed greater energy during my "low" period of about 2pm-7pm (eek that's a lot of hours) but other than that, no noticeable difference in energy levels.
Adam:  Small energy boost, but much less so than the boost he felt the first time around.
Sleep
Me:  My sleep definitely seems to improve while doing Whole30 – I have an easier time falling asleep (generally) and sleep longer, 6-8 hours versus 5-6.  I think this is due to less sugar, especially at night, and caffeine, since I'm a nighttime chocolate eater!  This sorta makes me sad – I like my chocolate at night.
Adam:  He seems to sleep well no matter what, so no difference.  One thing I noticed was that he wasn't falling asleep on the couch like he typically would, most likely due to lack of sugar coma.
Weight
Me:  I didn't weight myself before or after Whole30 since I wasn't expecting/trying to lose weight, so I'm useless here.  I will say that my clothes are fitting just a smidge looser, I think.  That might be my imagination though, so really, who knows.
Adam:  He didn't need to lose any weight, but lost 5 lbs as of this morning.  The first time, he lost 10-12 lbs but was 10 lbs heavier to start out.
Strength: 
Me: I've been running less (2-3 x week) and doing more yoga 3-4 x/week), and I feel stronger for sure.  I'm not sure if the Whole30 has anything to do with me wanting to do more yoga, but perhaps?
Adam: Not sure.
Digestion:
Me:  During this month I stopped taking my normal probiotic since I was curious how I'd do without it.  I did not eat low FODMAP while on Whole30 either.  My digestion seemed even better than usual despite these two factors, with the exception of Jan 2, since I was still "detoxing" from drinking too much wine leading up to the New Year!
Adam:  He typically has no digestive issues but had a bit of trouble adjusting to the amount of veggies during the first week.  It lasted maybe 2 days and then he was fine.
Headaches:
Me:  I actually had more headaches this month than I usually do, but I believe it had to do with the weather (I seem to get what I learned are "barometric pressure" headaches, anyone get these?) since we had a few weather fronts that brought unseasonably warm temperatures and rain.
Adam:  He never gets headaches.  No stomach or head problems, so lucky.
Skin: 
Me: I wasn't really expecting my skin to improve (acne-wise), but, it did – yay!  It did during my first Whole30 as well.  Which sadly means that sugar or chocolate or both probably aren't great for it.  I am not giving up chocolate, no way.
Adam:  He thinks his skin improved this month too.
Cravings
Me: I experience very minimal sugar cravings, and EVERYTHING started tasting sweet – like raw almond butter – by the 2nd-3rd week.   Despite my love for chocolate, I wasn't actually craving it aside from the several hours I spent putting together my Paleo chocolate roundup 😉  That was hard!
Adam:  He definitely craved sweets here and there (candy/sugar is his thing) but the sautéed apples (he ate with with almond butter) compliant Larabars and good ol' bananas were very helpful.  He says he doesn't miss sweetening his coffee and might be breaking up with Dunking Donuts.
Was it difficult?
Me:  No, it wasn't!  I LOVE Whole30 food and so many recipes have become my favorite meals.  That said, I wouldn't want to do another one starting today since I'm ready to bring some muffins, cookies, maple syrup, and pancakes back into my life.
Adam: Adam claims this Whole30 was a lot easier than his last for a few reasons.  1.) I am apparently a better Whole30 cook now (fair enough).  2.) White potatoes make a world of difference, and 3.) Tostones!!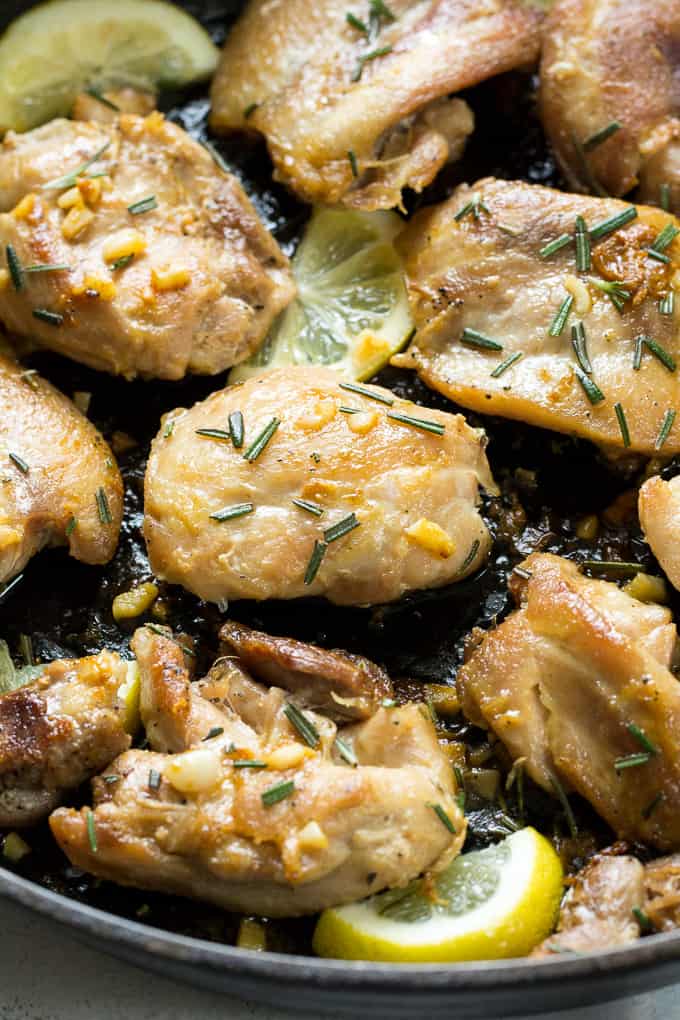 What's Next
So, reintroductions.  I originally thought I would jump into the reintros right away, but now I'm thinking the only reintro I'll be doing this week is sugar (via Paleo sweets!) and I'll have to give more thought into when/how to test out dairy, GF grains (rice, corn), and gluten-containing grains.  As I mentioned in this earlier post, the gluten definitely makes me nervous, but I feel like I need to test it out once again to see if it's worth getting tested for celiac.
As for Adam, he's planning to commit to eating Paleo for the long term, which will be a big change for him.   So, I'm thinking we'll mostly be continuing the routine we had going for meals this past month – with the addition of whatever I'll be baking for the blog.  Oh, and I can't go on forever as a personal chef, so, yeah, he plans to figure out how to cook at least a couple of Whole30 meals.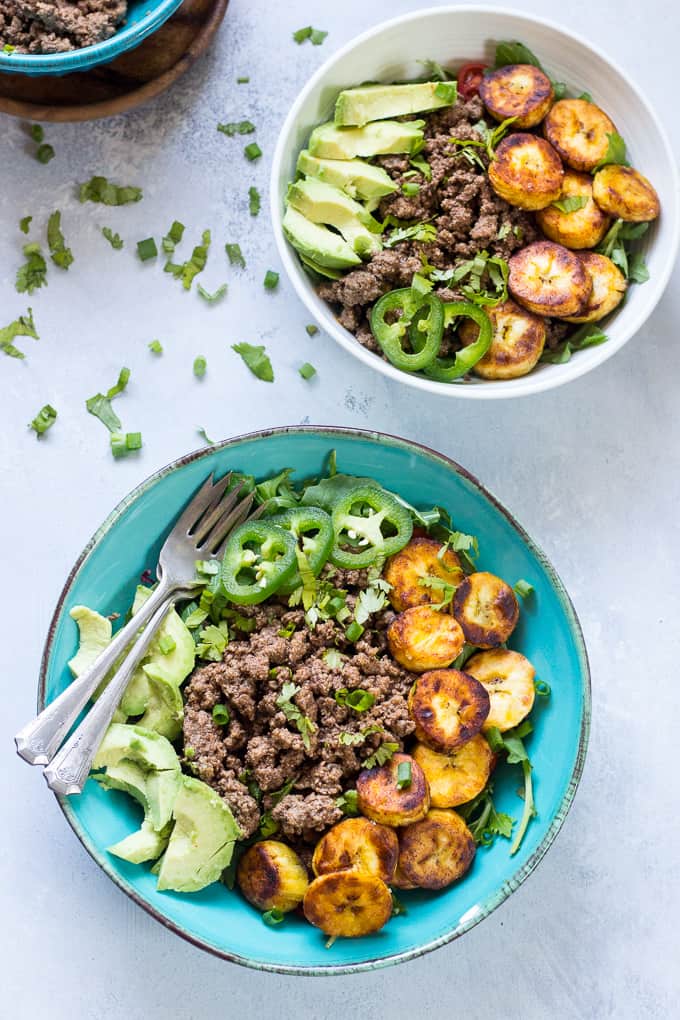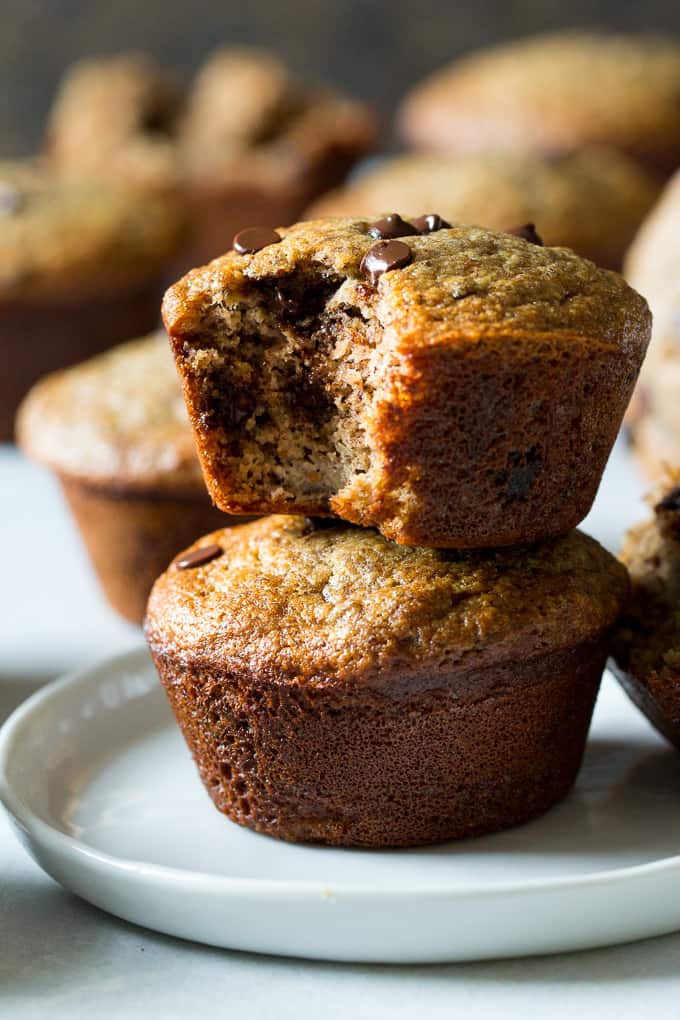 So what types of recipes will I be posting in the upcoming months?
I won't lie, there are lots of things I want to bake and share with you guys!  But I also want to keep with the easy Whole30 meal theme that has been a staple of the blog since the beginning.  After all – we eat 3 meals per day and I'm guessing most of us aren't eating dessert that many times – with the exception of days that I recipe test and eat 3 batches of cookies.   The three recipes shown above are coming soon in the month of February (Whole30 lemon garlic chicken, Whole30 5-minute taco meat, and banana chocolate chip muffins.)
Next week I'll hopefully update on the reintroductions, stay tuned!  Happy to link up with Amanda today to Think Out Loud about the past month.
Tell Me!
What types of recipes do you want to see on the blog?
How was your Whole30 experience?