I own the Apple ID, therefore I rule the house.  Not kidding at all, I'm not sure how your families work, but in mine, we have one key to the cloud and it all goes through me.  I can see your messages, emails, history, pictures, music and whatever else you have allowed to float up to cloud "rosenmichele."
Just, oh you know, thinking about what power means nowadays.  Look, I'm sure in a couple of years my kids will control the internet in my house, but, right now it's still all me.
Adam has no interest in technology whatsoever as long as he can keep the boatloads repetitive pictures   that he takes on a daily basis.  But I'll get to that soon.  I'm getting ahead of myself today, but that's okay!  It's Thursday, time to Think Out Loud.

First, I've been thinking this week about what I consider productive. Precisely since Tuesday when Adam took Drew to a baseball game for a day with my dad and I stared into space and paced around my house during the time I'd normally be driving with him, talking to him, playing with him, listening to his music, making him food, and cleaning up after him.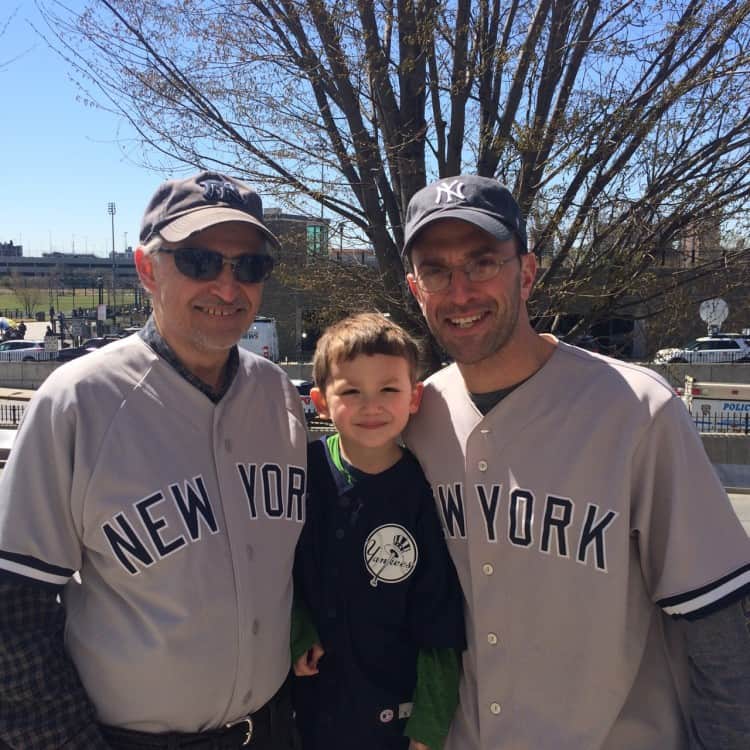 There they are, and I was at home certainly not being productive.  I should've planned better.  A recipe?  Getting ahead on my blogging, like, maybe even by writing this post? Yoga? Cleaning?  But no, I watched standup comedy on Youtube and didn't even do laundry.
It was fun, the day is done, and I'm probably more relaxed now because of it.  It made Wednesday feel super-duper productive though, because not only did I blog, go to the dentist, and create/photograph a new recipe, BUT I also supported Drew while he made this: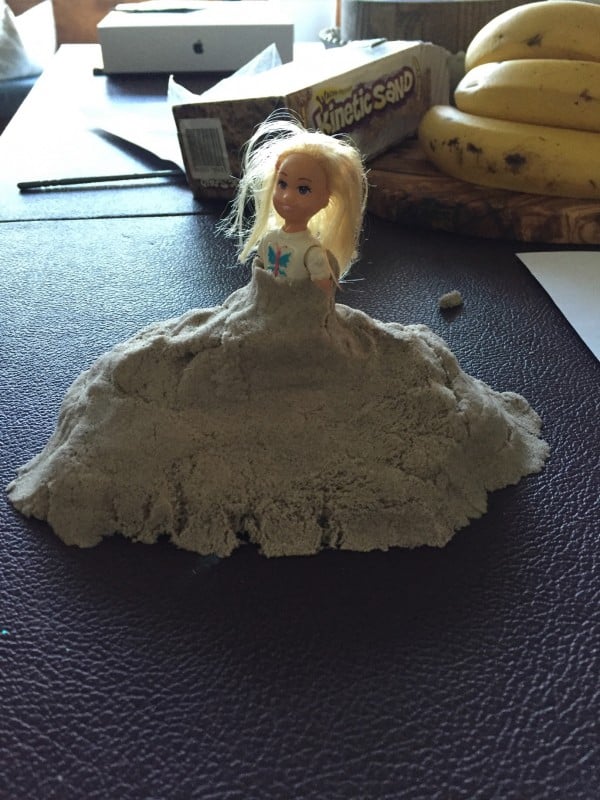 This is a small doll buried in kinetic sand for those of you unfamiliar.  It's amazing that basically anything I do with my children feels "productive" while anything I do alone feels like a waste of time.  Will this ever end?
Second, I'm thinking about food pictures, because what else is new.  Specifically this time pointless food pictures that I find in my phone and think WTF.  Like this one.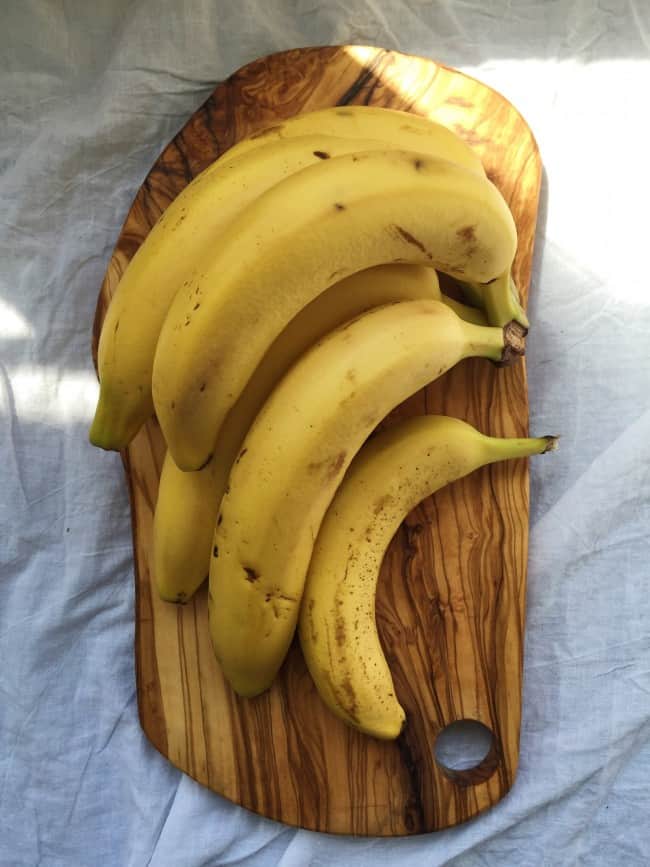 Yup, there are bananas lying on a cutting board and it looks like I'm putting them to bed.  Was I checking lighting?  Just loving bananas in that moment?  Or maybe it was more about my new cutting board?  I've no clue.  Something tells me this was part of my day of restless wandering, AKA the Tuesday I just told you about.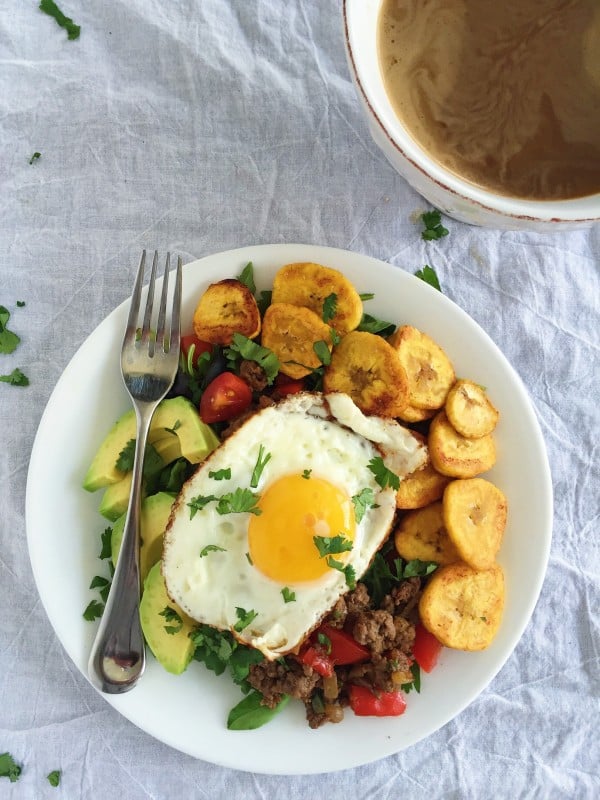 Now this one makes me happy.  It's a spicy taco breakfast salad, eaten for lunch because I'm not quite so on top of life in the morning, with all the yummies of life.  Or most – plantains, ground beef with onions and peppers, avocado, greens, tomatoes, cilantro, and a fried egg.  This will be an official recipe over the next couple of weeks and I will be making it again, for sure.
Third, I'm thinking about what I just saw on my phone, which circles back to me being the master of iCloud.  I think over the weekend Adam changed a setting on his phone or something because I am now seeing every single picture he takes when I look at my phone.
Let's just say it's amazing what he accomplishes when he says he's driving over to Dunking Donuts for coffee.  Items of interest were empty rooms, including a bathroom, in someone else's home at first glance.  As it turns out these are screen shots from Zillow, but still? Multiple pictures of the outside of many many houses including ours, probably 50 selfies with himself and the kids, and 20 variations of each of these: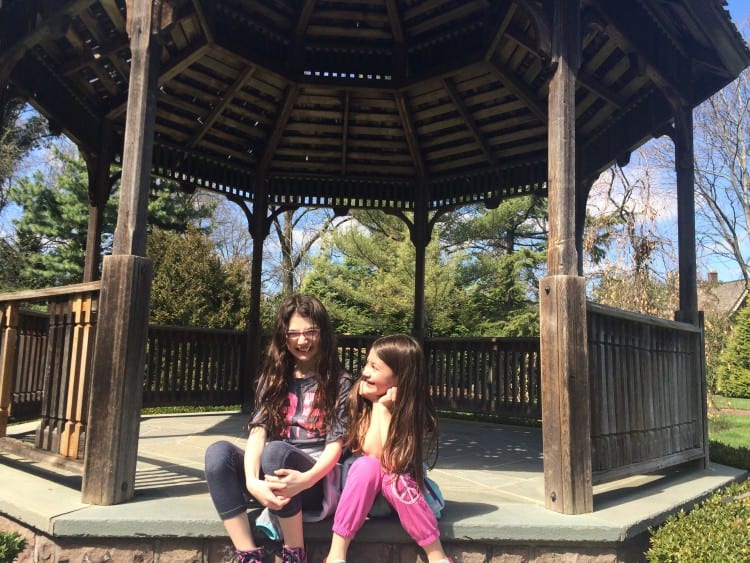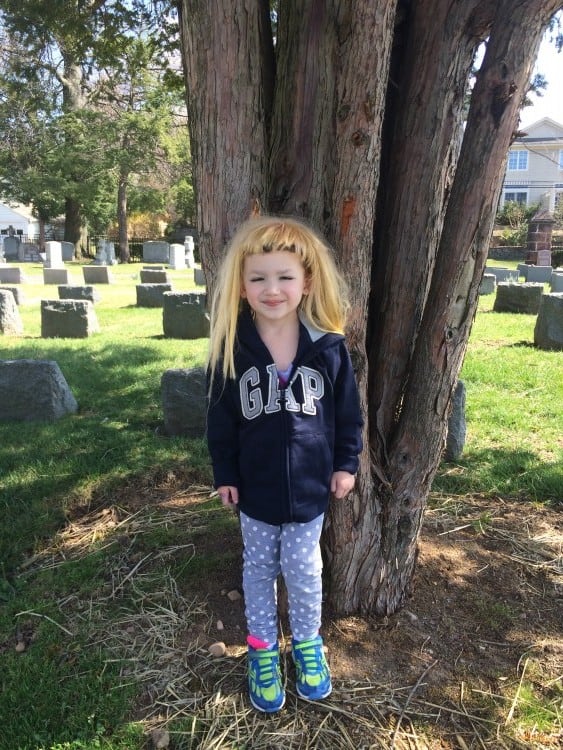 Yup there's Drew hanging out in a blond wig at a cemetery.  Just picture 20 of those, some bathrooms, garages, lots of screenshots of sports scores, and 300 selfies and that is Adam's life.  And I'm the one with the blog, mind-blowing!   His one downfall is no food pictures, I guess.  That might be a blog deal breaker.
3 things on your mind today – GO!
Do you see what your significant other takes pictures of?  Think it would surprise you?