Wednesday already!  Yes I'm going to mention that the NYC Marathon is just about THISCLOSE right now and in 24 hours I'll be heading into the city for the expo!  Insanity.  Maybe then it will finally sink in that I'm running it on Sunday?!
Not sure.  But here as a much welcomed distraction, is, food.  Because food and all that surrounds it is one of the best distractions I've come across in my lifetime.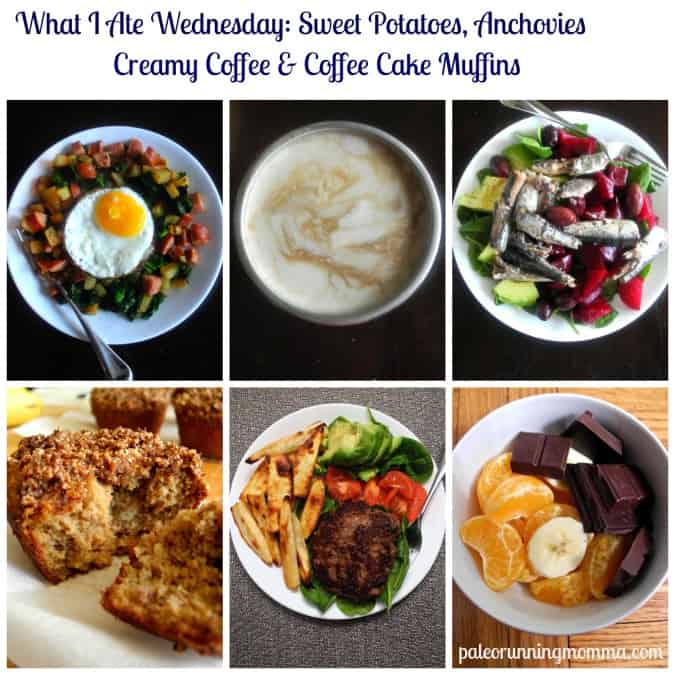 Today's What I Ate Wednesday: Some Old, Some New, is all about bringing back a few old favorites mixed in with my typical current staples.  Now, pretend I didn't just show you every meal up above, and, let's see/chat about what I ate!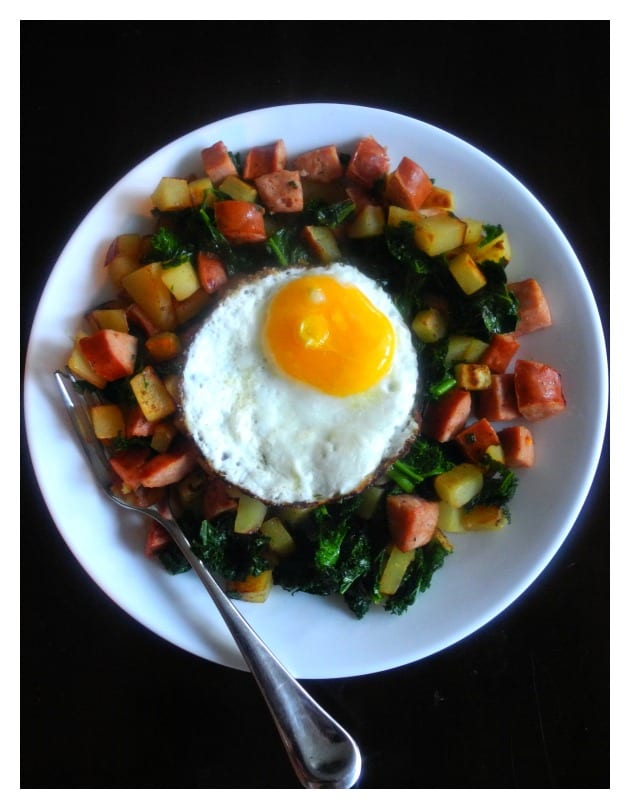 Breakfast.  Can you spot the old things?  For one, I used to eat kale pretty much daily and then at some point became majorly tired of it.  I brought it back this week since I was starting to feel the same about spinach and collards!
Second, I bought some chicken apple sausage – another thing I used to eat religiously that fell off.  So, I made a breakfast hash with white sweet potatoes, chicken sausage, and kale, then topped it with an egg.  Yum!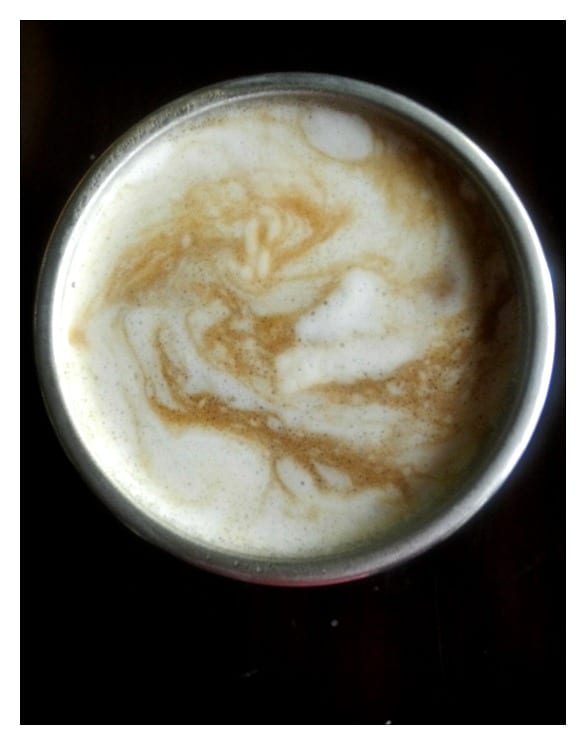 Coffee with sweetened whipped cream is a pretty new thing for me, since I used to either go totally black or with just plain coconut milk.  I go back and forth with sweetener (pure maple in this), but I'm on a sweet kick lately.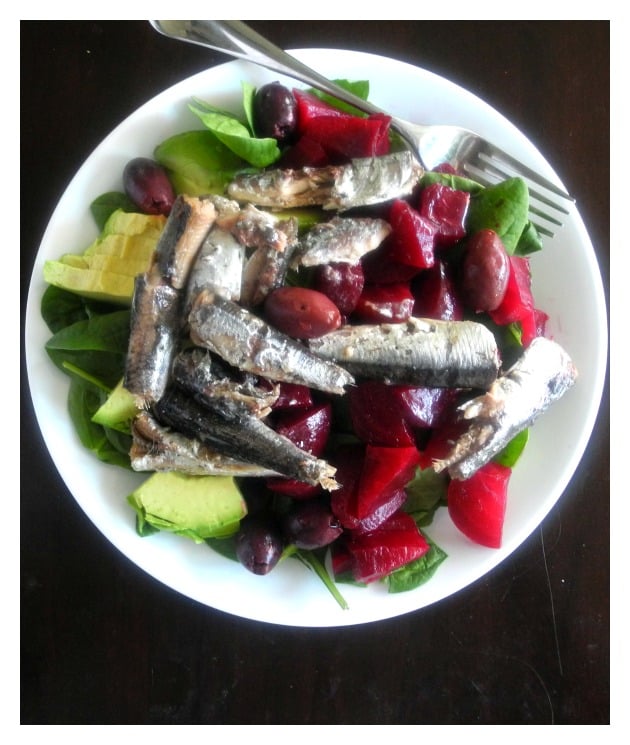 Lunch was total old school Paleo Running Momma.  Maybe it's the marathon coming up, or maybe it was the fact that I'd just slow cooked beets the night before and they were waiting for me.
I topped spinach with beets, Wild Planet Anchovies in olive oil, avocado, and kalamata olives.  I have to say, it's been long enough that I've lost my acquired taste for anchovies!  I was expecting something a little different based on my memories of eating this salad, but, it was still good enough and definitely nutritious.
This was  a salad I ate on the regular when I was in my Whole30/"hardcore paleo" days 🙂  I'm not sure when those days slipped away, but, I've moved on.
So of course, I followed that up with a Banana Almond Coffee Cake Muffin.  I wasn't dying for a muffin necessarily, but it's hard not to eat the food you're taking pictures of (or retaking, in this case), and in most cases the pictures call for you to take AT LEAST A BITE anyway.  But really, it's a good sign for the recipe if you can't take just one bite!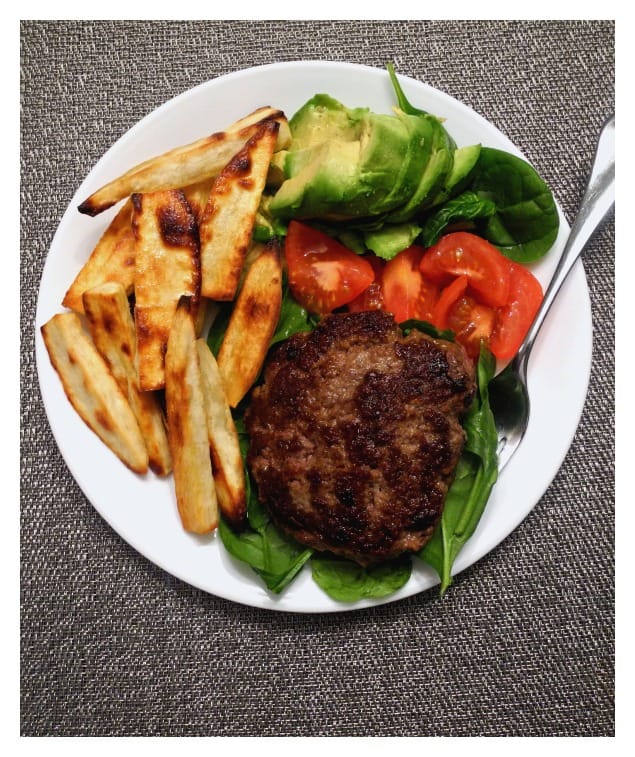 Dinner was a burger with Japanese sweet potato fries with spinach, tomatoes, and the other half of my avocado from lunch.  This has been a go-to dinner for at least 6 months-a year so I guess it's both old and new.  It will also likely be my "last meal", as in, ever, and I'm only saying this because I love it THAT much – not because I'm morbid.
I don't like to end my days without chocolate.  This is sort of new, except it's also one of those things I've been eating for possibly 6 months now, so maybe not.  It's just good – old or new!
Now, if I'd put coconut butter on the fruit, that would be very old school.  I haven't had coconut butter in so long – and why not?  Now I need to go buy some, I miss it!
Did you notice there was no kombucha?  Well, I certainly did!  With the colder weather my brews have been taking longer to ferment, and I'm left for about 2 days without any kombucha.  Surprisingly, I lived, and didn't even miss it that much.
Do you eat canned sardines or anchovies?
Anything that used to be a staple but you're just not that into anymore? (A food, not a man/person)
Sweet coffee or bitter?