What do you eat the day after you eat…a lot?  There was a time for me, somewhere between the ages of 16 and 23, when what I ate the day after a feast involved an "attempt" at a fast. Which really meant that I'd wait to eat until I felt like I was dying, and then have another feast, usually this one not quite as tasty as the first, since a spoonful of shame usually makes the rest of the meal taste like crap, don't you think?
Somewhere along the line, I dropped the shame/food thing, probably because I simply found bigger and better things to feel ashamed of.  Just kidding (sort of.) It's more likely because I realized trying to "make up" for overeating simply does not work – it's a waste of time and energy, and, my body seems to know how to regulate appetite – so now I let it work its magic.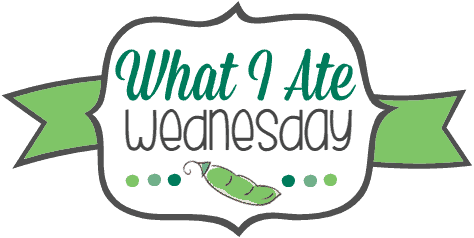 Fast forward to this past weekend, and my "day after" meals look a lot different than they used to.  While they're definitely a bit lighter than a day that I, say, ran 10 miles, they're still mostly typical for what I eat on a daily basis. Except with leftovers thrown in – because I deserve it after cooking for over half my waking hours on Saturday! WIAW here we come!
What I Ate The Day After The Feast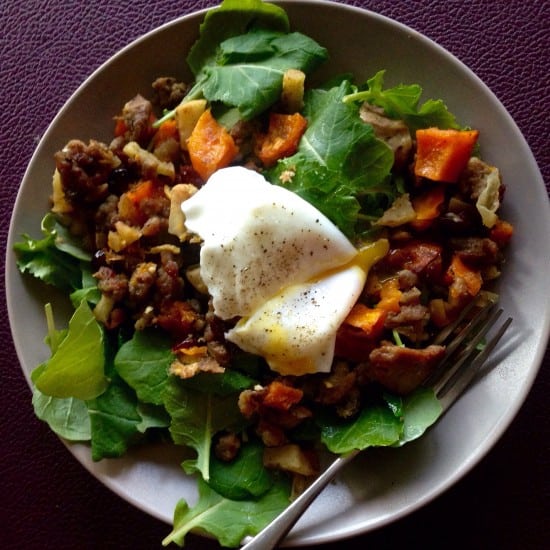 Breakfast: Hmm, just now realizing you've seen this picture already!  Sunday morning involved a later breakfast, because, let's face it – after stuffing ourselves silly on Saturday, pretty much all day long, no one was hungry until around 9am.  I had woken up around 6, run 4 miles, and was probably blogging/computer-ing, and NOT cooking while my kids sang karaoke.
Once I got hungry, I poached an egg (my new favorite!) and put it over my leftover Butternut Sausage Holiday Stuffing  and baby kale.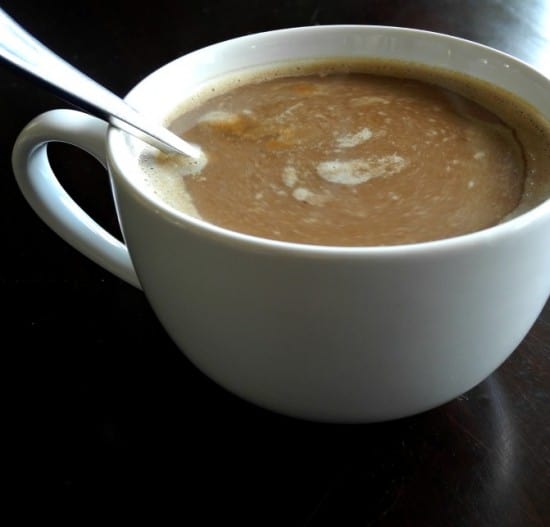 Typical coffee with coconut milk after breakfast.  I've actually been alternating almond milk with coconut lately – not sure what's gotten into me.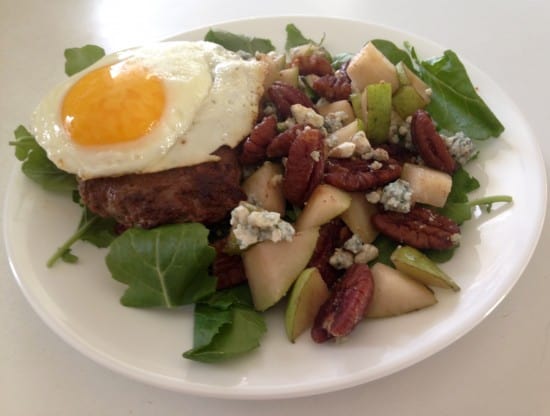 Lunch: Since breakfast wasn't until 9ish, lunch didn't happen until around 2.  The delay also might have had something to do with a certain someone (i.e. me) getting caught up singing Adele songs on karaoke with my kids.  Fun for the whole family in a nutshell.
My lunch was an interesting mix – a new one for me.  Some leftovers of Megan's Winter Pear Salad, a small-ish beef burger topped with a fried egg, and kale.  I could easily start eating this meal everyday.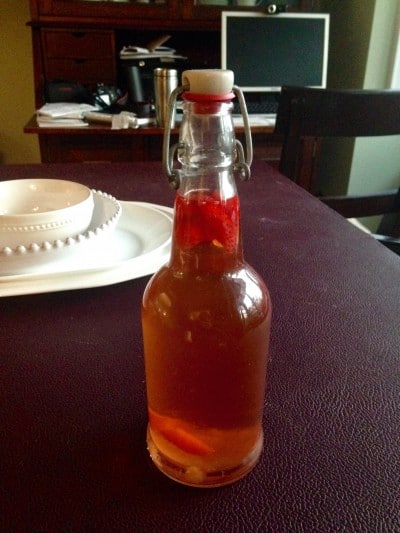 Snack: Not really a snack, since it's not food, but after grocery shopping I drank a homemade strawberry kombucha around 4:30.  Yummy stuff!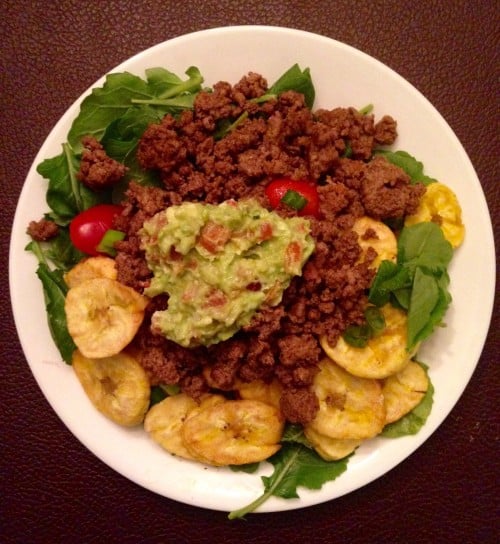 Dinner:  Seriously, why do the BEST tasting meals have to look the ugliest?  Is it the horrible bright yellow lighting in my house?  Partially, although I think beef taco meat is really hard even in good lighting.
Since I did almost no cooking all day, I decided to go a bit fancy for dinner.  Emily's been asking why we don't have plantain chips often anymore, and it's mainly because they take a while to make, so the weekends are the only option.
I was ready tonight, having just bought 3 large green plantains while out shopping.  I made taco salads for Adam and I, topped with guacamole, and the kids had almost the same thing, except beef burgers with tomatoes, plantain chips, and guacamole.  Easier for them to eat and no one complains about spice 🙂  We ate around 6:30pm.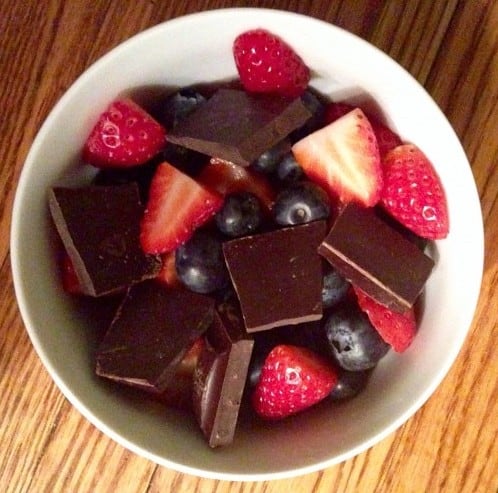 Dessert was my go-to fruit and dark chocolate, eaten after the kids went to sleep. Sure, I could've had a repeat of 2 pies, chocolate hazelnut cups and chocolate sandwich cookies, but I had no desire.  I just wanted my usual.
Not pictured is a cup of lemon ginger tea and a blanket.  The blanket might have been the most delicious part of my bedtime snack!
How do you eat differently the day after a big dinner/holiday/etc.?
Has your approach to "the day after" changed over time?