There's a whole lot of food this week on my blog and I'm not stopping now!
Did you catch my almond butter chocolate sandwich cookies and bacon quiche?  Both are products of a lucky-kitchen streak last week, which I believe I deserved after being sick for what seemed like a month (I think it was a week and a half.)
For today's WIAW, let's head all the way back to Saturday – when I was probably 80% back to normal – with the exception of my antibiotics tripping my stomach up just a bit. Always something.  Saturday was also the first day I ran after 9 days of not moving at all, so that helped my appetite get back to normal-ish.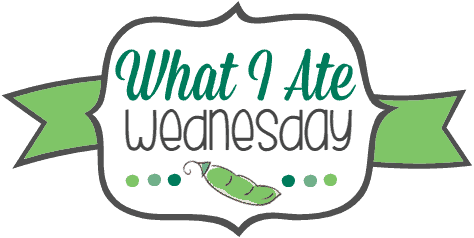 *Excuse the random great pictures and horrible ones, a few were taken with my fancy new camera and others clearly were not!
What I Ate Last Saturday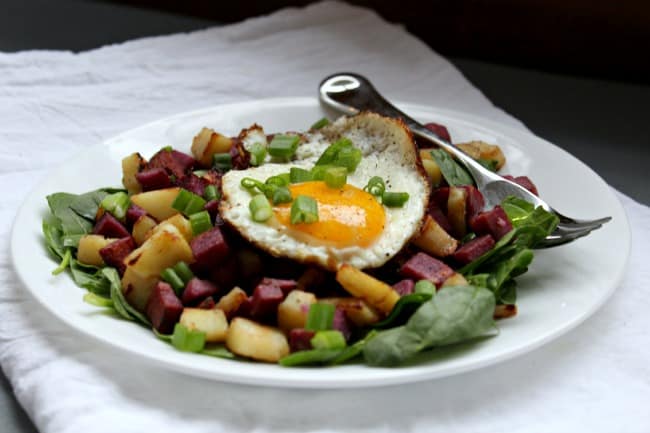 Breakfast consisted of a sweet potato hash – half purple (grocery store still has tons of them) and half Japanese.  The texture is nearly the same so it worked out great.  I chopped and fried in kerrygold butter , sprinkled with sea salt and served over fresh spinach, topped with an egg and green onion.  No meat!  My appetite wasn't quite up for it yet.  Luckily today it is 100%!
I skipped coffee since my stomach was iffy, and had tea instead.  I do not actually have a photo of the tea, so allow me to pain the mental image for you.  White mug, caramel colored water, tea bag, spoon.  Are we good?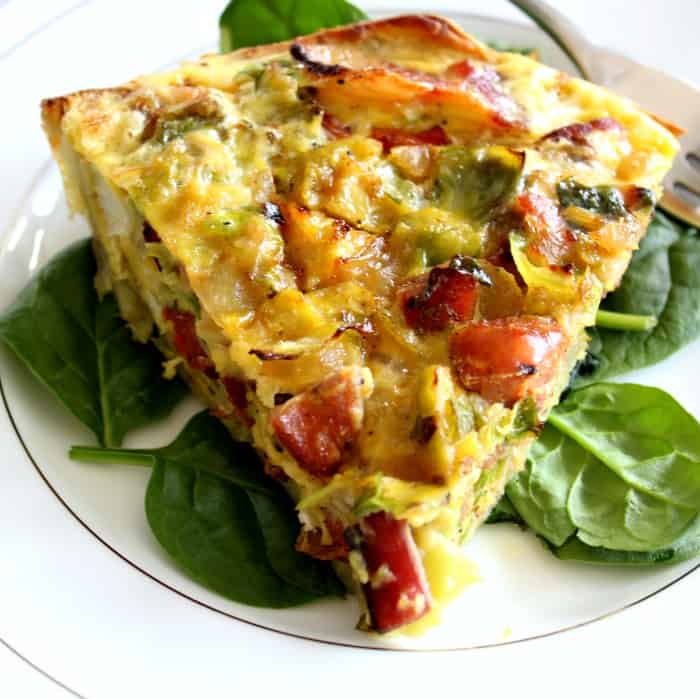 For lunch, I had the last piece of my Brussels, Sausage and Bacon Quiche.  This is not the picture of the piece I actually ate, although it's about the same size.  The real deal was reheated in the microwave in a plastic container, then eaten in the car on the way to a kids' birthday party.  Because it was Saturday, and that's how I roll when birthday parties happen smack in the middle of the day 🙂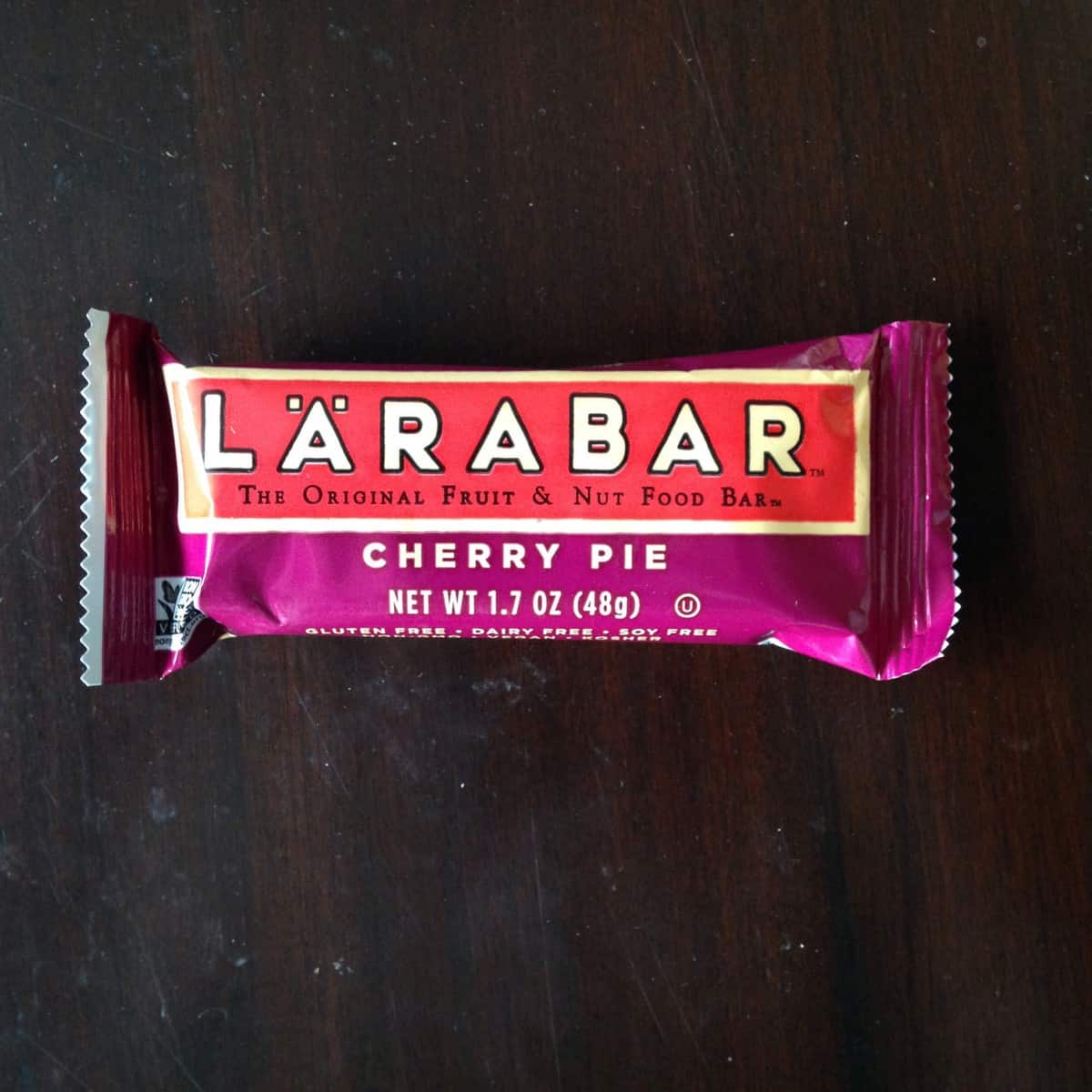 Somewhere around 3-4pm I had a Cherry Pie Larabar.  I haven't bought Larabars in so long, but we have an abundance of the cherry flavor that I'm not certain I'll ever work through!  I'm kind of dying for a little flavor variety at this point.
I was between kombucha batches due to the colder weather slowing down brewing time, so sadly, none was consumed.  I'm definitely going to have to go ahead and buy this heating strip finally so I don't have to wait so long for it.  Maybe a holiday gift? Sounds like fun to me 🙂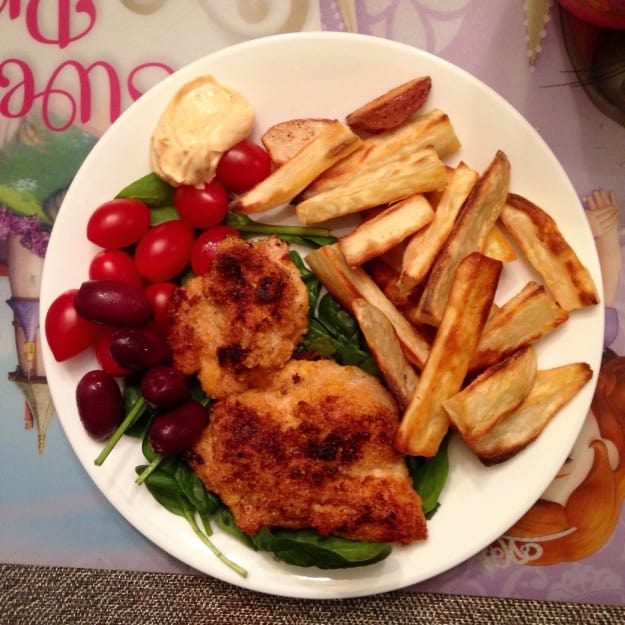 On Saturday morning, I'd posted my old recipe for Crispy Chicken Nuggets on Facebook and was inspired to make them again, since it had been a while and my family was begging.
Since I was lazy, I didn't cut them into small nuggets, so they wound up being more like chicken cutlets, at least for me.  I cut my kids' into smaller pieces because I was not in the mood for rejection or whining.  I guess I'm never in that sort of mood, but on Saturday nights  I especially like to avoid it if I can!
Also on the plate was Japanese sweet potato fries, spinach, olives, and tomatoes.  That is my version of a "salad" whenever it stays within our immediate family 🙂  By the way, do you like my upside down Disney placemat?  The kids help set the table nowadays so it's more than good enough for me.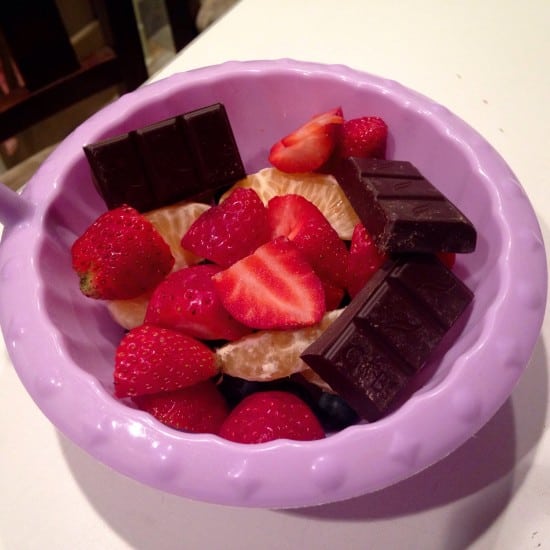 And we're back to fruit and chocolate!  It had been too long.  Strawberries, a mandarin, some blueberries hiding underneath and Green and Black's chocolate on top.  Yum!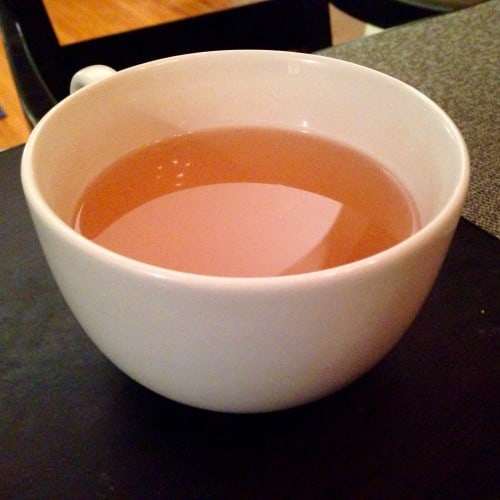 After that, it was more tea (lemon ginger) and a blanket for the rest of the night. Winter nights with tea and a blanket make me love winter – there's nothing like it 🙂
What was the best meal you had over the weekend?
Have you found purple sweet potatoes in local stores?