Of course my WIAW this week has to somehow relate to Sunday's marathon – it's still too fresh in my mind (and my sore body!) to move on.
I'll get right to the food.  This is from Monday when I was still a bit dehydrated, tired, and slightly nauseated.  All of that combined with raging hunger is an interesting feeling.  Although I did wind up eating a decent amount Sunday night, clearly there is a lot to replenish after a marathon, and I did the best I could.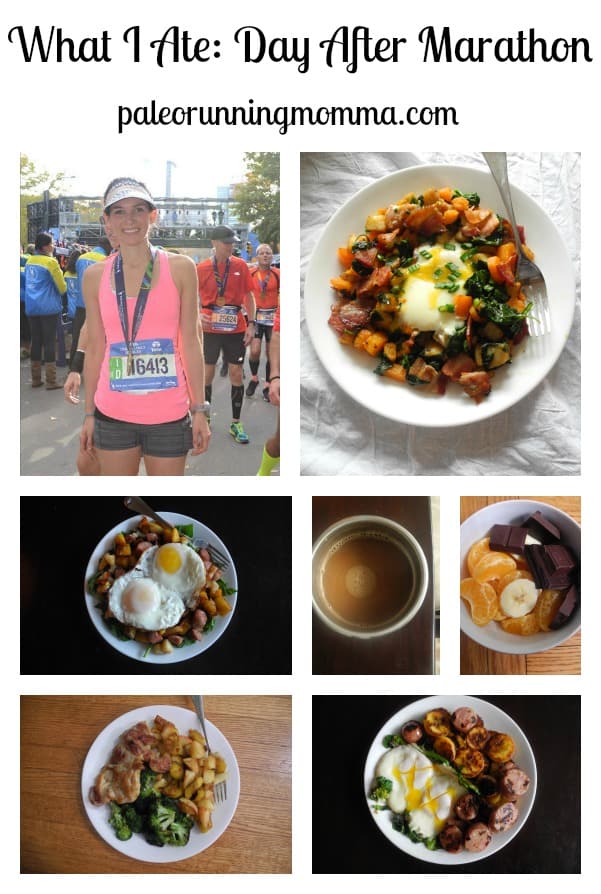 I woke up right around 5:30, which was probably really 6:30 for my body since I haven't yet adjusted to the time change.  I wasn't hungry, so just did a few things on the computer before showering and getting breakfast ready for everyone.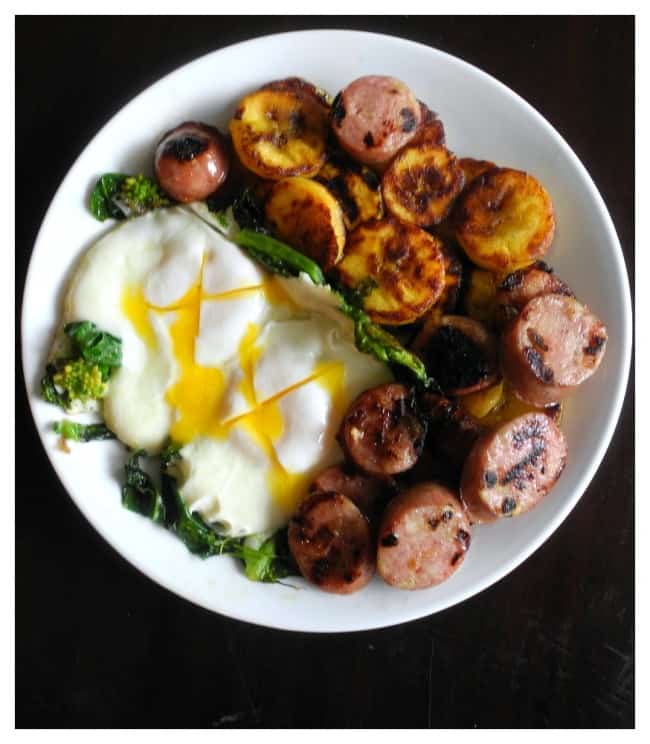 I knew I needed a lot of food but didn't want to cook a ton from scratch.  I fried plantain slices in one pan with Aidell's chicken apple sausage and in another pan chinese broccoli and two eggs.  It felt like a huge, filling meal, but I knew I needed it.
My kids had leftover frozen bagels with cream cheese and butter.  Yes, that sort of makes me feel selfish, but, at least they were happy about the "treat"!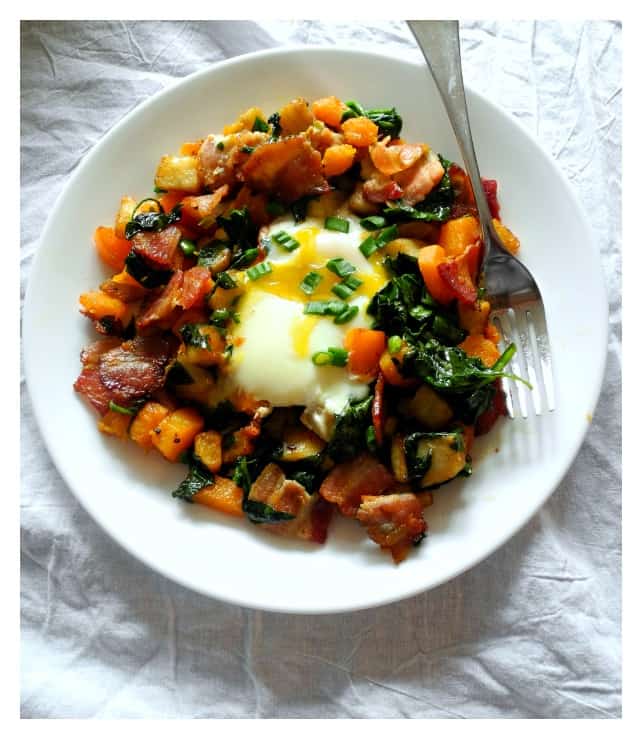 Since, as you guys know, I've been re-taking tons of old recipe photos, I figured I might as well pick a good one to have for lunch.  I chose to make my Sweet Potato Butternut Hash with Bacon & Spinach , which wound up feeding me 3 times, so it was definitely worth the effort, I'd say 🙂  Japanese sweet potatoes, butternut squash, bacon, spinach, green onions, and an egg.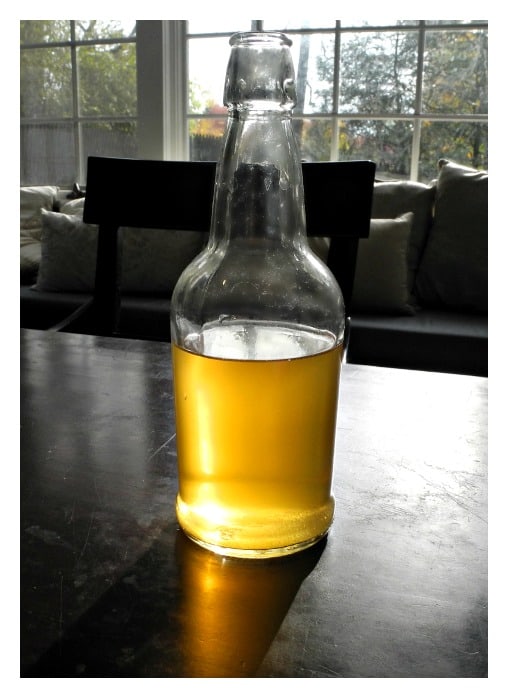 My kombucha was finally ready for bottling after I took a few days off from it, and I was happy to welcome it back into my afternoons!  This one wasn't flavored, but it was the perfect sweet/tart taste.
The afternoon was a struggle for me, energy wise, and I wasn't all that hungry for anything in particular.  I wound up having leftovers from lunch around 4:30pm – all healthy things and very nutrient dense.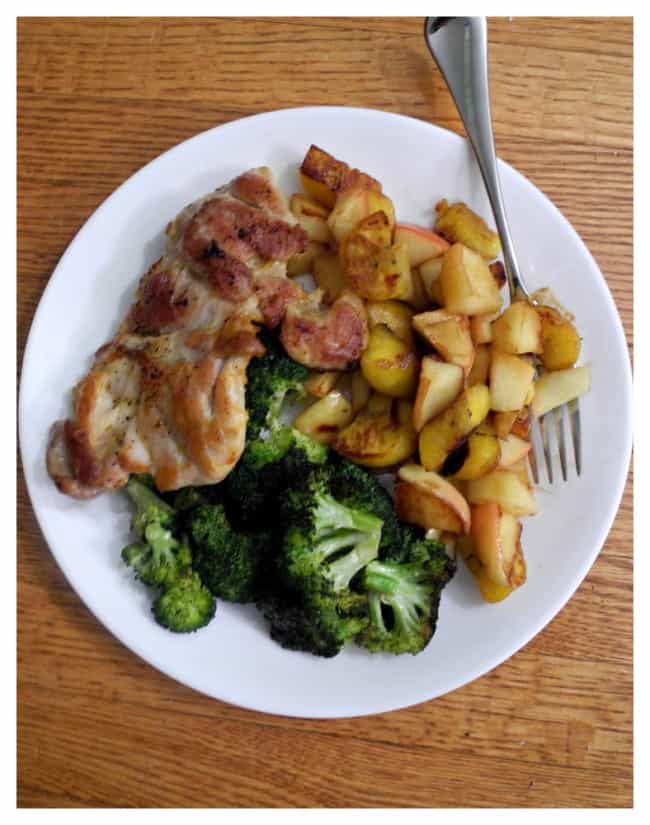 One thing that's a nice relief after a marathon is loosening up on what I eat afterwards in terms of FODMAPs.  For the days leading up to the race, I avoided all veggies except for a bit of spinach, and all fruits except bananas.
For dinner, I went "FODMAP wild" if there is such a thing.  Not completely wild, but as you can see there was roasted broccoli involved.  Also sauteed chopped sweet plantains with chopped apples, and a boneless chicken thigh cooked in Kerrygold salted butter and seasoned with onion and smoked paprika.  Yum!
And here we are, back to my regularly scheduled dessert, which I missed the night before the marathon!  A clementine, a sliced banana, and several squares of dark chocolate.  Will I ever tire of this?  It might take years.
Can you guys tell I'm still tired as you read this?  It's Tuesday as I'm writing, and I'm feeling exhausted today.  The post marathon high is slowly wearing off and I feel myself crashing.  I'm left with sore legs and a body that 1.) still thinks I need to wake up to run, and 2.) that we're still in daylight savings time – as in, I can't sleep past 4:30am!
I have to say though, it feels amazing to wake up at 4:30 knowing that I DON'T HAVE TO RUN, and instead, can snuggle in jammies, alone, until everyone else wakes up. This almost make the afternoon exhaustion worth it.
What are your meals like the day after a big race or marathon?
How long after a marathon do you feel "normal" again?
Do you get a post-race letdown after the high wears off?