Now that it's Sunday evening, races done and great day had, you are definitely getting a different version (the better one) of me than you would have if I wrote this yesterday.  There is just "something" about running races and spending an awesome day with family that erases just about any negativity in your life somehow.  Even all the female hormonal stuff, which showed up this weekend in a typical timely manner.  Such is life and female-ness.  That's what black Lululemon running skirts are for, aren't they?
But enough about that, I have lots of pictures to post from the weekend!  First, let's look at my week of workouts:
Monday – 6.5 miles easy pace early morning, 11:30am the Lululemon Seawheeze 2013 practice.  I've done this a few times now and the 35 minutes length is perfect to squeeze in late in the morning for me.
Tuesday – 5 miles easy pace, later on Yoga for Runners – Injury Prevention with Fiji McAlpine.  I had a lot to get done and could only squeeze in a 20 minute practice, this one covers all the best stretches for me in that amount of time.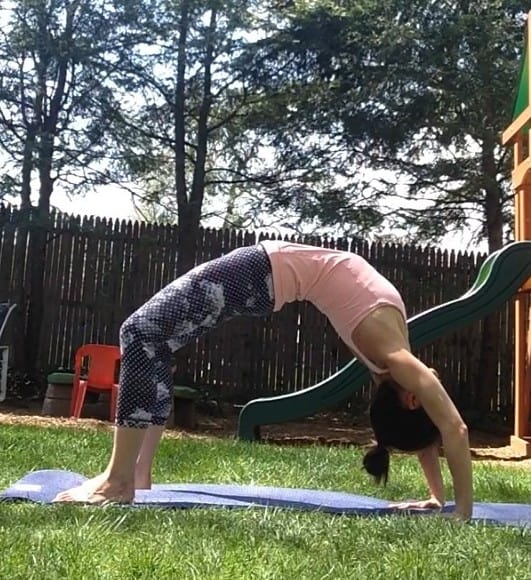 Wednesday – I was considering doing a "workout" today but that turned into a 6 mile run with a 7:15 mile thrown in the middle.  Oh well, I think I'm ready for that break I've been going on about!
Later on I did Vinyasa Flow to Middle Splits with Lesley Fightmaster because I like her and I like middle splits 🙂  This was 36 minutes and you can do it even if you're nowhere near the ground in a middle split!  I just like stretching out those muscles since they get really tight, especially after attempting to run fast.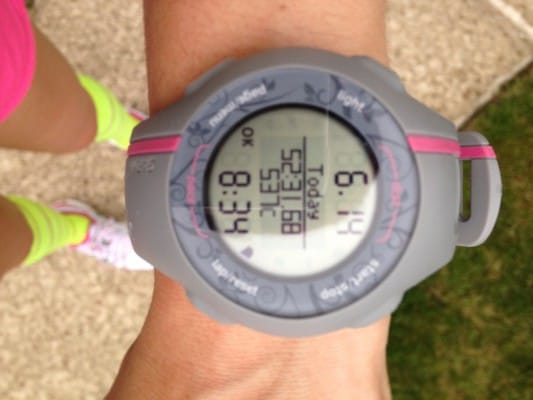 Thursday – 5 miles easy pace followed by Yoga for Runners  with Esther Ekhart.  She's the instructor who does the hip opening practice I initially loved so much.  This was a quick 20 minute flow and honestly I needed a bit more hip opening, I thought there could be more going on here even considering the 20 minutes.
Friday – No running, did Yoga for Strength with Lesley Fightmaster.  Loved this and it was the perfect length for what I needed – 40 minutes.  Extra chaturangas and planks, plus longer holds meant it was definitely a strong flow.
Saturday – 4 miles easy to get my legs going before race day!  20 minutes post run yoga plus playing around in the backyard with poses but no videos.
Sunday – 10k race followed by 5k with Emily!  I'll be recapping both races tomorrow, but first a spoiler – I did in fact "race" my 10k.  I decided I couldn't let the humidity win!  Not my best time, but I layed down what I had.  The 5k with Emily was a ton of fun, plenty of pictures coming…
now 🙂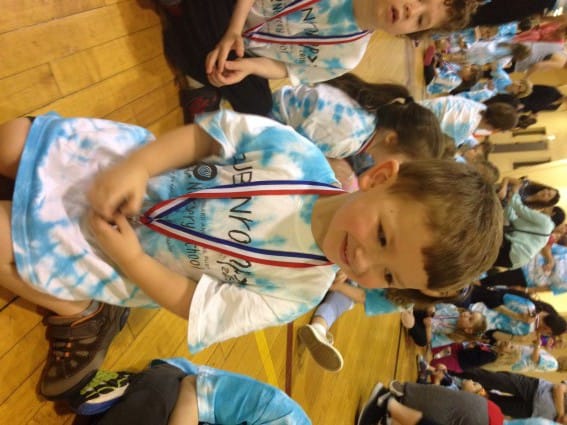 Going back to Friday, Drew was super excited about his "Rubin Romp" with his preschool class.  He was all about the medal.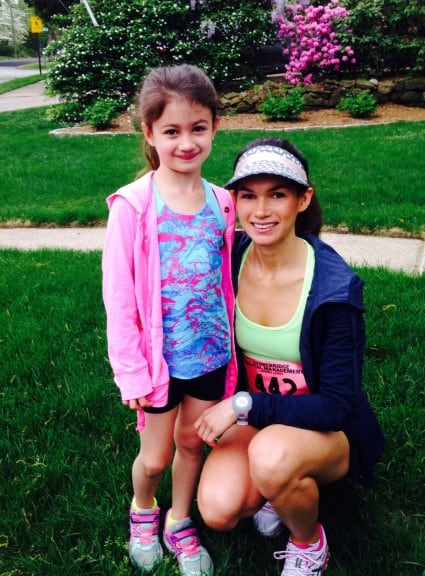 Super excited to start out the day!  For real, the most excited I've been for a race day ever probably, since I wasn't feeling pressured at all, and I knew Emily would do awesome.  Plus 5 minutes from our house and no bathroom anxiety or waiting in freezing temps 🙂  Adam taking care of the kids, pictures, and videos was a big relief as well!
I am certain my face was NEVER redder at the end of any run than it was after the 10k.  Not even that crazy hot half marathon last September.  Seriously.  I think it's still red now at 5pm.  Almost time for the 5k now!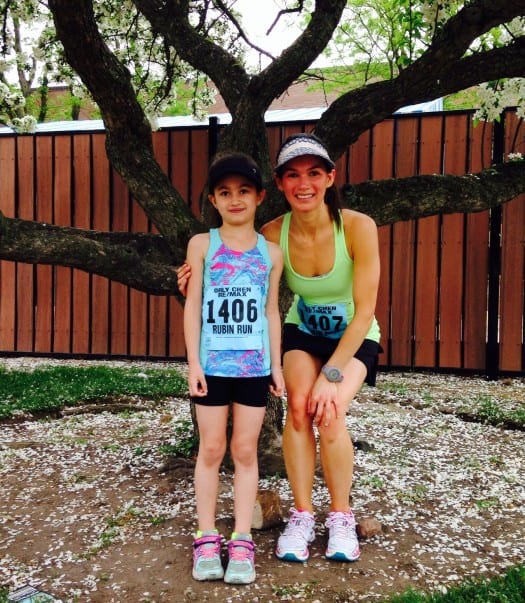 And we finished!  Emily was pretty determined to beat me up the last hill to the finish, and she totally did!  Between running together and crossing the finish line seeing Adam, Diana, Drew and my parents, it was the happiest and least painful finish line I've probably ever seen.  At least much less painful than the first time I crossed it that morning.
The morning wasn't over yet though because now it was time for Diana to perform with her dance team.  Doesn't get better than all this, right?  Big thanks to Adam and my parents for entertaining Drew all morning, he had a long time to wait but really hung in there and was excited for everyone 🙂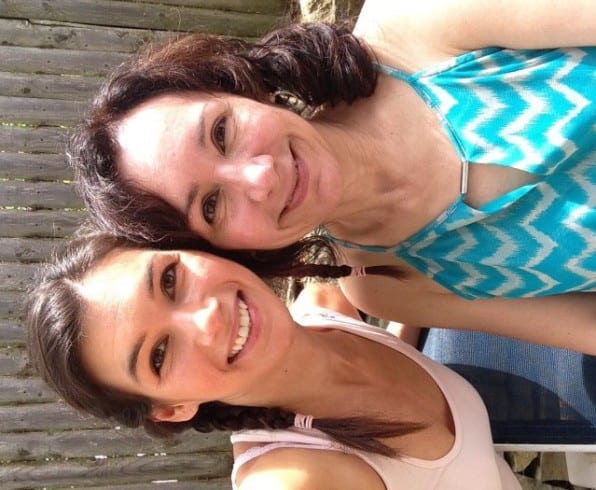 Then it was home to hang out with family in the backyard.  We ordered food so no cooking was needed.  Double french braids since I'm still flat-iron less.  This is me and my mom 🙂
And these are a bunch of random pictures of me opening up gifts and fun with ice pops (my kids gave me the cutest creative gifts!)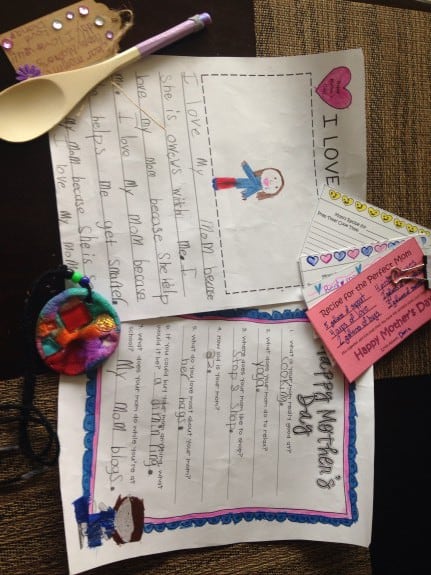 Reading this made me cry immediately…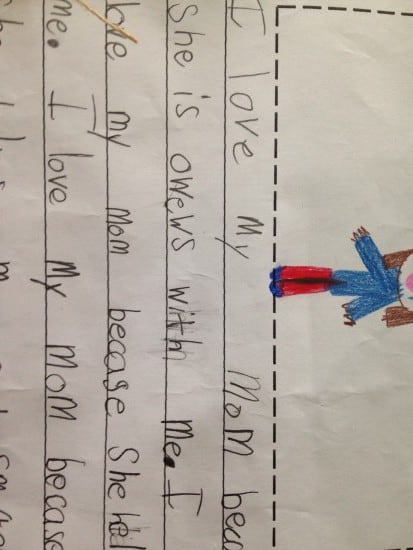 And these made me laugh!
And Diana decorated cute recipe cards for me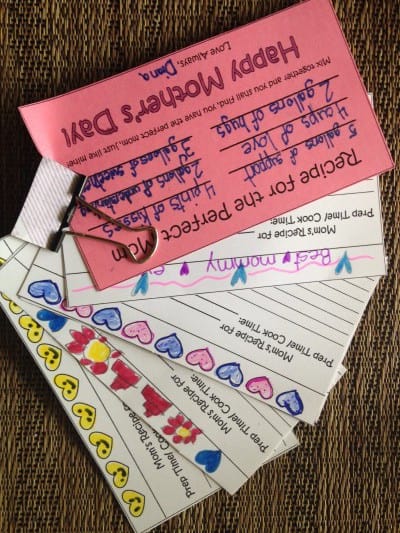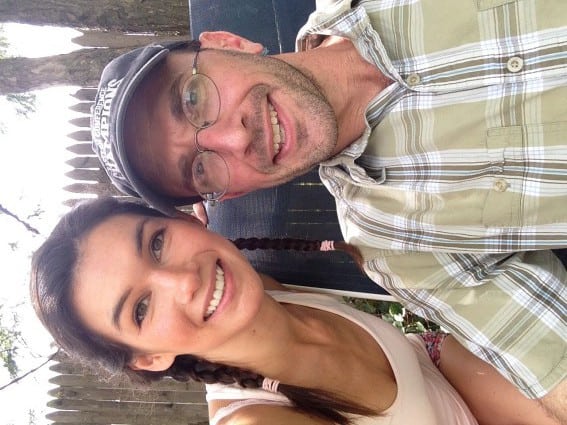 Adam did a ton of work to make the day really special for me and it completely paid off.   Also, his tendency to go way overboard with pictures made putting this post together really easy, so, he must get credit for this too.  The running pictures especially!
Check back in tomorrow for full race recaps of the 10k and 5k!
Hope everyone had a great Mother's Day!
What was your weekend highlight?