Hey guys – big news!  I exercised this week.  Okay, not exactly big exciting news for you most likely. But, after almost 2 solid weeks of nothing at all, I'm back to a fitness routine and here to bring you a Weekly Workout Recap, which is "breaking news", because "breaking news" = well, you know, nothing out of the ordinary.
Really, I'm only sort of back.  By "back" I mean I was genuinely sore the day after running 8 miles which hasn't happened since probably the first time I ever ran 8 miles.  One step at a time to return, right?  Let's see what happened fitness-wise this week, and then I'll share a few scenes from the weekend.
*Spoiler: one of those scenes involved wine, and yes, I do have to show you every single glass of wine I consume because it makes me feel better about my life –  #balance #breakingnews 🙂
Weekly Workout Recap
Let me preface this recap by saying that I ran the same 4 mile route 4 times this week.  Mainly because it's so dark outside now when I run and this route is my go-to comfy route.  It has the added bonus of being able to magically turn into a 5, 6, or 7 mile route if I want it to.  Clearly this week I did not make that happen!
Monday –   4 miles, comfortable pace.  The first mile of this route is uphill and the last is all down (it's there and back) which means most of my runs followed this pace pattern.
Later, I did 31 minutes Yoga Total Body Detox with Lesley Fightmaster (it was all Lesley this week!) which meant lots of twisting.
Tuesday – 4 miles once again.  This was my "tempo run" of the week, even though I didn't mean for it to be.  Basically, after the first mile the app called out 9:43/mile, which made me angry, and I decided to run the rest of it significantly faster.  Funny how random things can change a run!  I am definitely an emotional runner.
Yoga – 33 minutes Vinyasa flow with Pranayama  – I find Pranayama so challenging and need lots of practice with this!  I always feel great after I try it though, so it's something I'd like to stick with.
Wednesday – 4 miles, same route.  This run was slower at 9:04/mile although I felt about the same during the run.  No yoga today.
Thursday – No running, in the early morning I did 34 minutes Yoga for Strength with Lesley Fightmaster.  I've been trying to choose yoga this week to focus on strength and core, since I'm feeling really weak coming back after being sick.  I also really slacked on strength while marathon training and I generally feel out of shape when it comes to strength right now.
Friday – Back to my go-to 4 miles.  I had originally planned to make this 5 miles, but I've been having just a tad bit of a problem getting my butt out of bed and out of the house to run.  My schedule is just off, and 4 miles is all I had time for by the time I actually got out.  No yoga today.
Saturday – This was my "long" 8 mile run for the week.  I felt good, the weather was perfect and I'm definitely feeling back to myself while I'm actually running.  But, I could tell afterwards that I'd be sore the next day, and I was totally right.
After my run, I did 2 quick yoga videos: Quickie Stretch and Quickie Core.  Diana decided to do her own at-home yoga after I was done!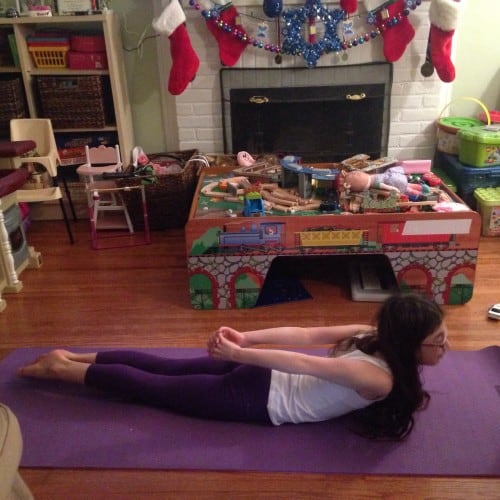 Proof you don't need any space to get in a workout, and that it's always a good idea to match your yoga pants to your mat.
Sunday – After a late night out Saturday (the wine, remember?) I did early morning yoga to strengthen the core – 30 minutes.  No running today.
Summary – 5 days running, 24 miles total, long run 8 miles, 5 days of 30 minutes yoga.  Consistency was my goal last week.  For this week, I'm planning to run 10 miles Saturday and increase my weekday runs to 5 miles, plus stay consistent with yoga.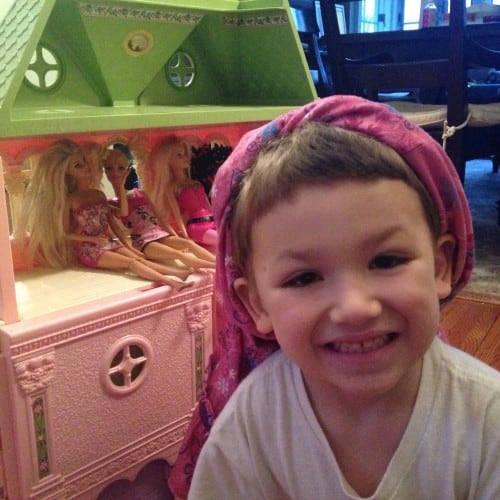 As for the weekend scenes, we had pretty typical daytime activities, including playing dollhouse in jammies (the pink shirt on Drew's head is his princess hair) and buying sweet potatoes.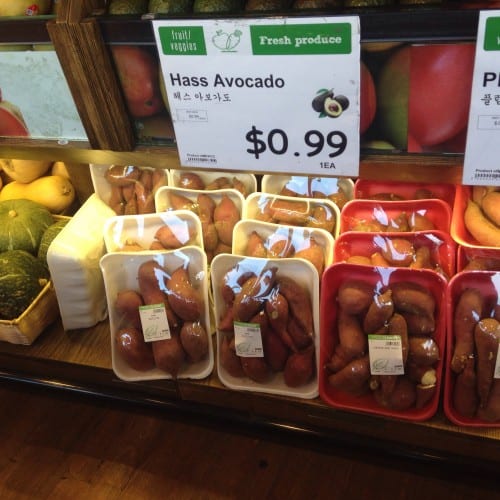 The girls' gymnastics is down the road from a great Asian market where I stock up on my beloved Japanese/Korean sweet potatoes and lots of fresh greens that are NOT spinach, (I eat far too much spinach!) like chinese broccoli.  I totally meant to buy avocados but somehow got way too distracted by the sweet potatoes and missed them.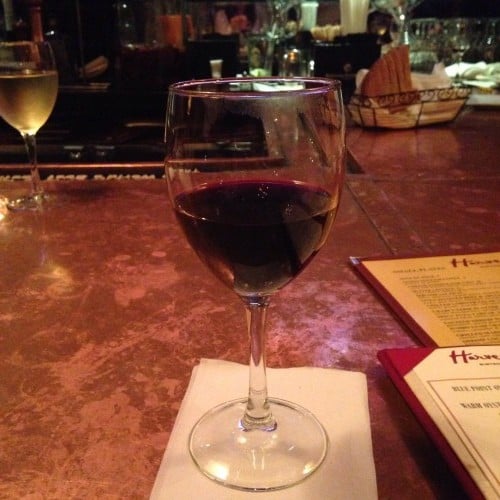 Saturday night we met friends out for dinner and drinks, and I drank not one, but two glasses of wine.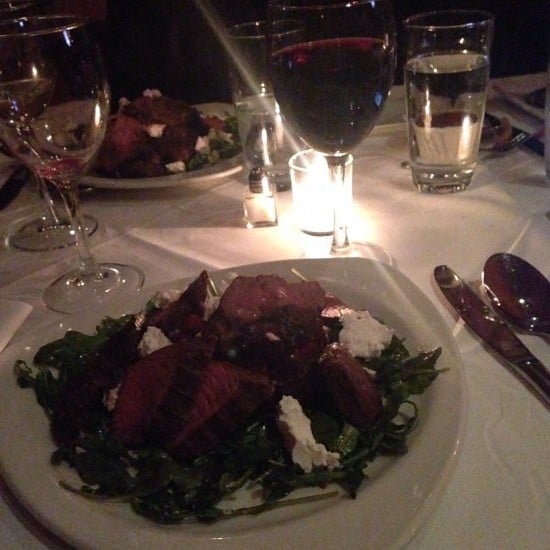 My friend Nicole and I always seem to order the same exact thing whenever we go out – tonight it was a beet salad with goat cheese, pears, and lots of steak on top.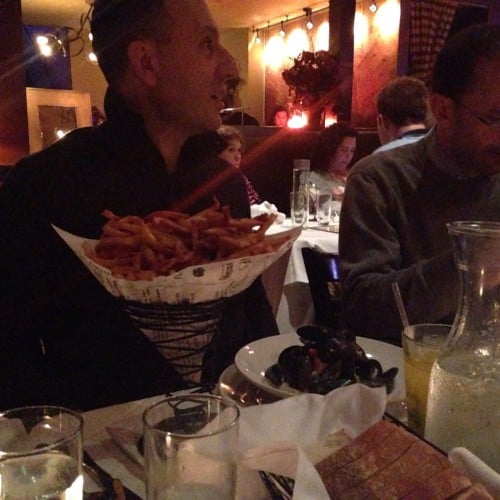 Her husband does not skimp on his side orders – this picture does those fries no justice.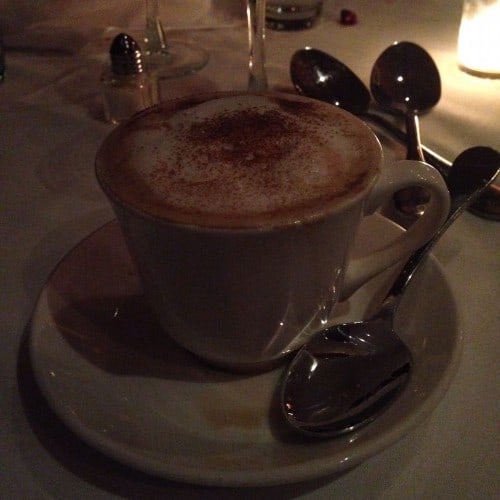 Decaf cappuccino to end the night, with whole milk.  No ill effects = yay.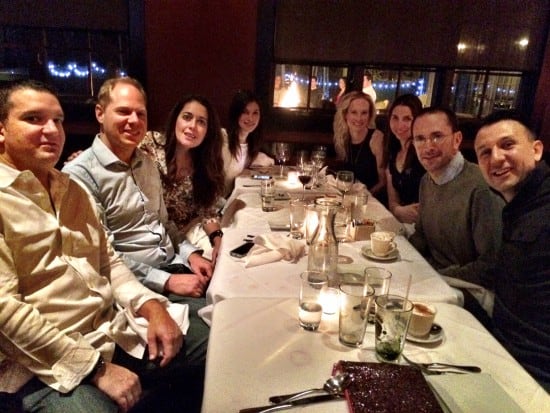 There we are – yup, that's us.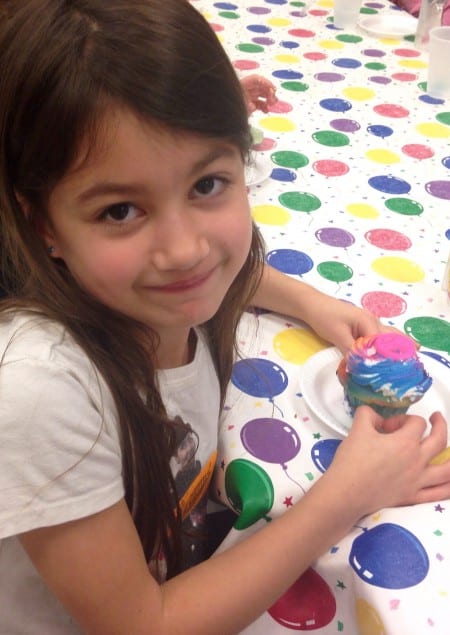 As for Sunday – I blogged, baked cookies, and took Emily to a friend's birthday party where she had not only a tie dyed cupcake but also cotton candy.  While she happily played and inhaled sugar, I snuck off to Home Goods to look for a cutting board.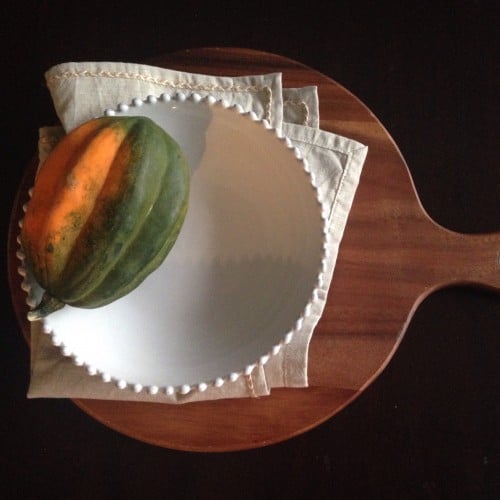 There it is.  And I'm not sure why there's also a bowl , napkin and old neglected acorn squash on top of it, but I think me needing more sleep might partially answer that question.
How were your workouts last week?  Goals for this week?
Do you vary your running routes less over the winter?  
Are you an emotional runner?