Turn that frown upside down!  It's Monday morning and the balloons are still on the ceiling.  The wrapping paper is still sitting on the floor and we've only worked our way through half of the presents.  Emily is still trying to figure out how to wear a balloon as a belt, and we haven't broken into the Legos yet somehow.  Probably because they aren't pink.*
*Legos were being built as I wrote this.  Still wanted to include pink joke.
I will talk about Drew's party first, mainly because the whole subject of my kid's parties gets me anxious.  I have said it before and it remains true that I'm more nervous for a birthday party than a marathon, and I do agree that makes me a little strange, but such is life.
Luckily I played it cool (at least I felt I did), he had a great time, and I live to show and tell.  Phew!  The spacing of my kids' birthdays though means that once one party is over I barely have any time before I need to start planning the next. We usually push Diana's until September to include more friends, so that gives me a bit of a break for now.
My daughters were hysterical/they were slightly embarrassed that Drew had asked for and gotten a Strawberry Shortcake characters cake (see above!)   He loves his dolls and doesn't pay any attention to anyone who says he shouldn't!   Not that anyone really says that, but the girls nonetheless are amused.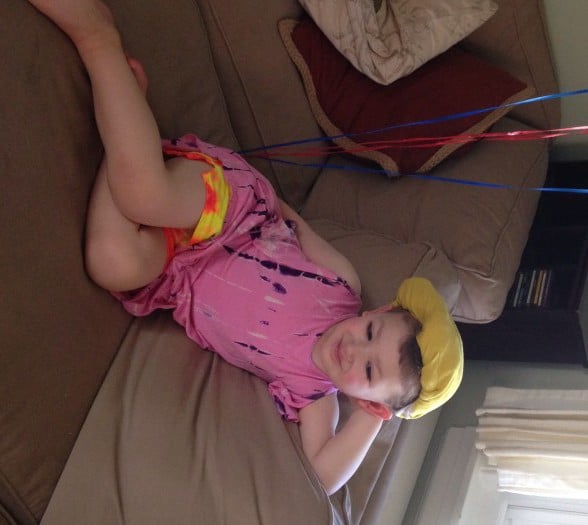 No point in arguing about his casual wear either 🙂
Onto the workouts!  This is for the week of Monday 4/20-Sunday 4/26.
Monday – 6 miles at 9ish pace in the early morning, with hills.   Later on I got caught up watching the Boston Marathon so my yoga was a bit interrupted.  I did Lesley Fightmaster's vinyasa to forearm balance but admittedly stopped the video a few times to check on the marathon.  Not exactly "present" in my yoga today, but it still sort of happened.
Tuesday – 6 miles at 9ish pace (different route though) in the early morning.  Later, My Favorite Flow with Lesley Fightmaster.  Her favorite flow and maybe mine too, at least for fitting all the good stuff into just under 30 minutes.  Really enjoyed this for a short practice and will do it again!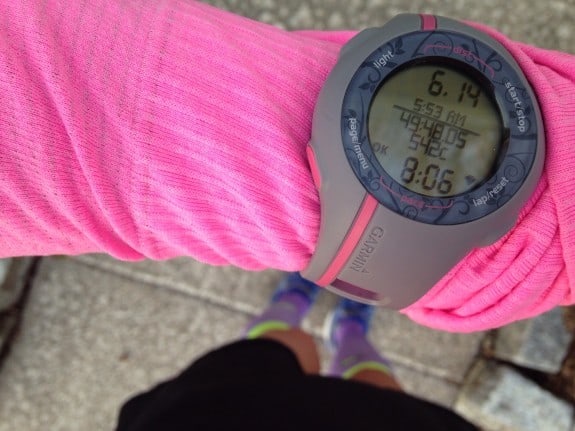 Wednesday – Workout day!  Since I'm sort of training giving what I have to give currently for my 10k May 10th, I decided to mix things up with mile repeats today instead of a tempo.  Unless I'm doing 800s I like to stay on the roads, since I like trying to maintain pace even on the rolling hills.  I did 3 x 1 mile at 7:20 pace with 800 jogs in between at about 8:45-9, plus a 1 mile cooldown and warmup.  I was hoping I could pull off 7:15 for the miles but it just wasn't happening, I felt good about 7:20.
Later on I decided on a hip-focused vinyasa flow with Lesley Fightmaster.  I love that she has so many 30 minute videos, which lately is all I'm able to manage if I'm practicing while the kids are in school.
Thursday –  My legs were actually a little achy after my workout on Wednesday, and 5 easy miles felt perfect.  Later on I did yoga for core strength which was a nice change from a regular vinyasa flow and I 100% felt it the next day!
Friday – No running, yoga in the early morning.  Adam left for work at 5am so I got up and did Power and Precision since I hoped I'd have the time for it before everyone woke up!  I actually got through savasana before being interrupted.  That is precious!  This is a challenging class and I really enjoy watching my progress as the weeks go by. Still a lot to work toward there though.
Saturday – 10.3 mile run with my friend Stephanie, we were both a bit annoyed about having to bundle up for 30 degree weather, but, by the time we started chatting I barely noticed the cold.
She told me all about her weekend in Boston with friends (she didn't run this year, but met up with lots of running buddies) including meeting Bill Rodgers, who's an old friend of her coach, randomly on a run, and the fun of a Boston weekend sans pressure.
I have no pictures from this run, since my Garmin was unresponsive to all the buttons!  Has anyone had this happen? It looks like it's charged but nothing on it works and the screen won't change.  I only use it twice per week, but still – I need it to work for me!
No "official" yoga practice, but 20 minutes of post run stretching.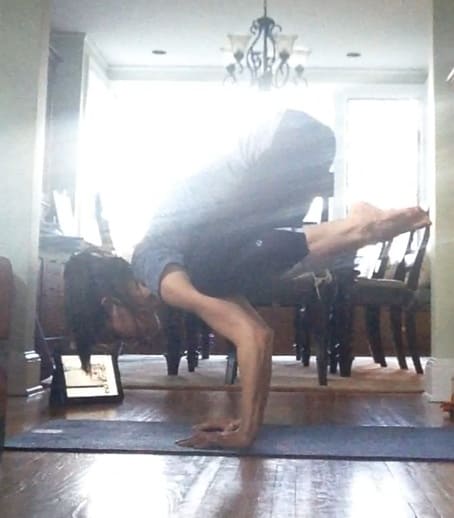 Sunday – 5 mile "recovery" run, which to me just means super slow and fun.  "Fun-run-Sunday" has become a thing for me lately.  True story – it took me 50 minutes to run the 5 miles.
When I got home I did Tim Senesi's 45 minute vinyasa flow.   Each time I do this I remember that it's more challenging than I'm going into it thinking.  Not sure why I forget this!  I think he somehow "sneaks" the hard stuff in, and, before you know it, it's done.
Diana has a cold again, and I'm nearly at a year no-sick streak.  It's incredibly bizarre and I actually just want it to end!  Can I please catch her cold and just get it over with?  I will likely regret that request but oh well.
How was your weekend?
How was the past week of workouts for you and what do you have planned for this week?
What's the longest you've gone without getting sick?