Monday!  Really day 3 of a 9 day weekend since the kids are off from school all week.
With the freezing winter weather I'm not complaining about having nowhere to go though.  I'll happily welcome relief from the pressure to get up and go to school and activities several times per day.  I'm not sure how I'll feel by Wednesday but there's no need to think that far ahead!
Our weekend turned out to be fun and relaxing for all of us, even though Friday was filled with busyness on top of a sick kid.  My daughter's ear infection cleared up quickly once her meds kicked in and she was back up and herself on Saturday.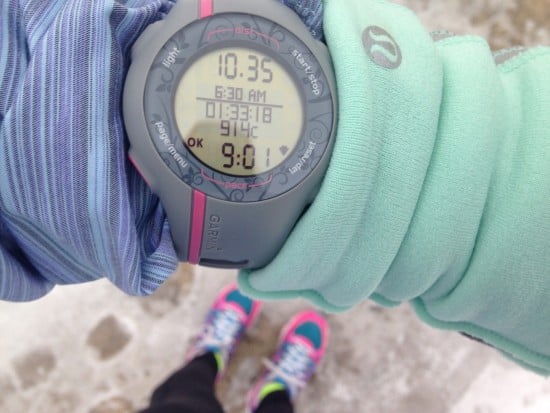 I started Saturday off by running 10 miles with my friend, and with some company I barely noticed that it was only 12 degrees.  The lack of wind really helped this run, no wind at all makes the cold so much more tolerable and the layers actually effective.  I started feeling that twinge in the back of my knee around mile 9 (I was wearing a compressive knee skin) and made sure to foam roll and stretch everything out after the run.
It seems to be right in the Popliteus muscle in my left side, on the same knee that had mild patellar tendonitis toward the end of my marathon training.   Almost every running pain I've ever had is on my left side, and it might be due to injuring my left hamstring as a teenager because it has never felt "right" since then – always tighter and weaker.  I'm also left handed and I'm sure that impacts where I feel things too.
A few more pictures from our Saturday/Valentines Day here, including Drew doing version his own of savasana wrapped up in his blanket on the yoga mat.  He thought this was just the funniest thing, and I thought it was a pretty good idea since I'm always freezing while in savasana 🙂
We had also planned to take Emily out for her birthday dinner on Friday, but since Diana was sick we postponed it a day.  As you might guess, we were the only family celebrating our Valentines Day dinner at IHOP that night.  We always leave it up to each kid to pick where we go for their birthday dinner, and, the answer is always IHOP.  Yes, it slightly pains me to see them gorging on sugar on top of sugar for dinner, but, this dinner is not for me!  And no, I am not strict about feeding my kids paleo 🙂 FYI IHOP is #notpaleo 😉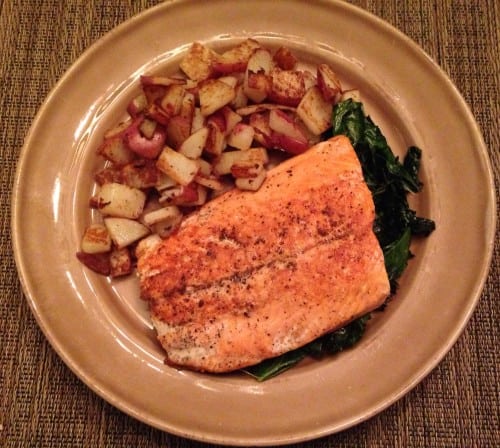 And now I'll tell you about my runner-mom oops.  It was a big one and I'm still kicking myself really hard for this and not sure how it will pan out yet.
I signed up myself AND Adam for a half marathon on May 3, the LI half marathon.  This was after I checked schedules and rejected two others races because we had conflicts.  Well, after getting an email from my daughter's dance teacher (she's on a team) I checked the performance calendar, and, boom!  Not only does she have a mandatory performance on that day, but, it's the biggest one of the year at Six Flags Great Adventure, and just about a two hour drive (AT LEAST!) from the race.
So, that race will not be happening for Adam and me.  I'm going to find out if we can perhaps do the 5K and kids race the day before instead, but, we likely have just thrown out our race fees and our "goal" race of the season.  Our April and May are pretty packed as it is, and I'm not willing to spend a lot, especially since I'm not planning to seriously train.   I'm still totally having a  Chris Farley "so stupid" moment over here.  Blaaagh!
As the kids get older and have more and more weekend activities, planning for races is getting tougher.  I was never one to want to race often, but, it sometimes seems like more of a hassle than it's worth.  I do still hope to find a half marathon to run this spring, but, I might just start looking ahead to the fall at this point.  Or maybe just look for 5ks. At least they are over quickly and don't require a big time commitment!
Well I just had to get that confession off my chest, but I'm done whining now.  I'll be linking up with Katie for MIMM today and want to wish everyone a strong start to the week!  Whether you're home, working, or away on vacation somewhere that doesn't require socks, let's all have a fabulous day!
How was your weekend/Valentines Day?
Have you ever signed up for a race on a day that couldn't work?
Runner-moms – do you find it tough to schedule races with everyone's activities?