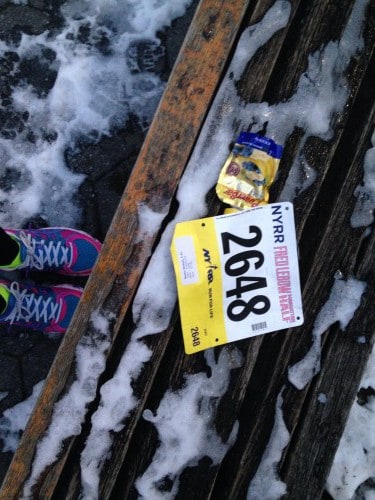 My full recap of the Fred Lebow Manhattan half marathon on Sunday will be up tomorrow!  I tend to get really wordy/detailed/annoying with my race recaps so it would not be right to try to squeeze it in to this post right now.  Why is it so tough to keep recaps succinct?  I often go into it, like, "it was fine" and then wind up with over 1000 words.   The recaps become just like the race once you get warmed up.  It's all coming back to me, and then some.
I will mention one odd thing that's happened to me since I started my blog, that's gotten progressively worse.  It's that I wind up driving myself nuts recapping a race in my head while I'm running it.  Not just taking note of what's happening, but full on grown-up-Kevin-Arnold Daniel Stern style a la The Wonder Years.   Yup, we kinda knew you wouldn't marry Winnie and I wouldn't PR before the whole thing started.  But still, we must tell our story.
Okay enough crazy stuff.  Rewinding back to Saturday when it snowed.   It didn't snow all that much (totally tricked us, now we are looking at a blizzard later today) and I personally had the perfect lazy day.  I slept until 6:30 and it felt like I was in college again sleeping until 9am.  Then I got really stressed out because everyone wanted me to cook breakfast and I was in lazy-mode.   Amazing what stresses me out when I'm in that sort of mood versus my high energy state.
Best part of my lazy day was that I got to stay inside while my husband played with all 3 kids in the cold wet rain/snow.   These pictures were taken from my window seat.  I could easily deceive you and say I was actually outside playing with my kids, but if I'm to be honest, that really never happens.  I will shovel snow and run in snow but I don't like playing in it.  It's too damn cold.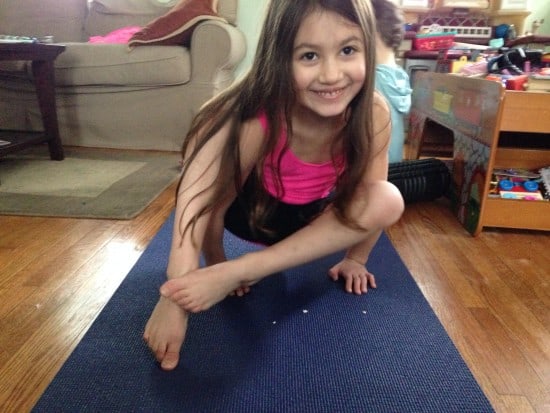 When she's not wearing her brace, my daughter Emily likes to take full advantage by doing yoga and gymnastics.  She was sort of almost holding herself up here.  She's very much into anything that involves putting her legs over her shoulders.  She and Drew have been asking to watch yoga videos on the iPad more and more lately so I guess I jinxed myself last week by saying they find it boring.   Now they see it as a new challenge.  We can't let mommy do handstands on the wall by herself, we must do this too.
By mid Saturday it was clear there wouldn't be a problem with the weather for the race Sunday, so I tried to get my mind in the racing zone even though I have been feeling less than race-y lately.  I didn't change my running this week and I was still sore from a tough yoga video Friday, but my goal was really just to push out of my comfort zone while still enjoying the run.
The weather Sunday turned out perfect and I even had to do a little last minute gear switch in the dark since it looked like it would get up to 35-40 with sun during the race.  I was probably still a bit overdressed and could have pulled off shorts, socks and a long sleeve especially if I was really looking to race.  Gloves and ear warmer were off by mile 5 I think, crazy considering the freezing temps we've been having, and will have this week!
Yes, I am now that person taking iPhone pictures while running races.  Never thought it would get to this point, but I guess after blogging for a while this begins to come about quite naturally.  I am still not ballsy enough to actually take an "action shot selfie" in a crowded race but I will not rule out that it could happen one day.
All you running-mommas out there know that after you complete a race, even a half or full marathon, the post-race party doesn't happen at a local brunch place or pub.  No, the party starts in the laundry room about 5 minutes after you step inside your house.  Then it's juice cups, making snacks and lunch, and hitting the grocery store.  I was planning to not have to party hard at the store Sunday, but the whole "blizzard watch" thing for Monday->Tuesday threw me off and I figured I'd suck it up and stock up.  Good thing, because pretty much everyone else had beaten me to it.  I joked to Adam that the grocery store run was tougher than the 13.1 in the morning, but, it wasn't really a joke.  That place gets wild.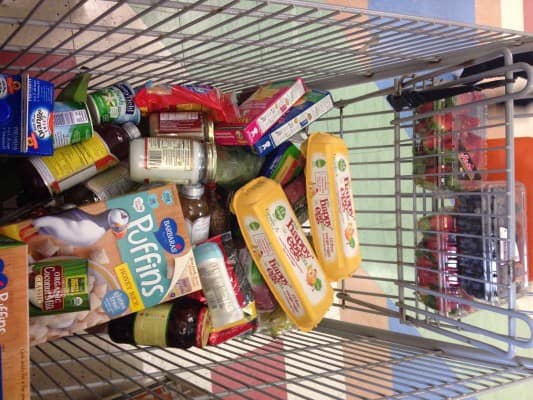 And now I rest.  Just kidding.  I'm going to eat play food cooked for me by Drew while foam rolling.
How was your weekend?  
Will you be getting a crap-ton of snow that probably won't melt until April like we are?  Just when I thought I was going to pick up my training…
The bright side?  A snow day is always a good time to drive my family nuts by dusting off my acoustic guitar and trying to learn a new song.   Sorry, no baking paleo donuts today, mommy's rocking out T-Swift style.  And it's awesome.
In that positive spirit I'll be linking up with Katie for MIMM – a big thank-you for hosting!
Stay warm and happy people!