Cold is a state of mind.
Yeah freaking right.  So not true.  Cold is 5 miles in a 14 degree windchill after a night of NO HEAT in the second week of spring.  That was cold.  I had to break out all my winter gear that I'd happily shoved into closets last week and layer up the socks and gloves again.  At least it's getting light out at around 6:30 now, something to look forward to.
Our heat wasn't broken or anything, the furnace was low on water and shut off probably a minute after I fell asleep Saturday night judging by how it felt.  I think Adam and I were both too tired/delirious to get up and check it out in the middle of the night and by the time I got up, I was up for the day!  Really hoping this is the end of the cold though.  I am being patient, but more record lows might really break me.
Shut up about the weather!  I know, I'm annoyed by this discussion as well.
Some weekend stuff now.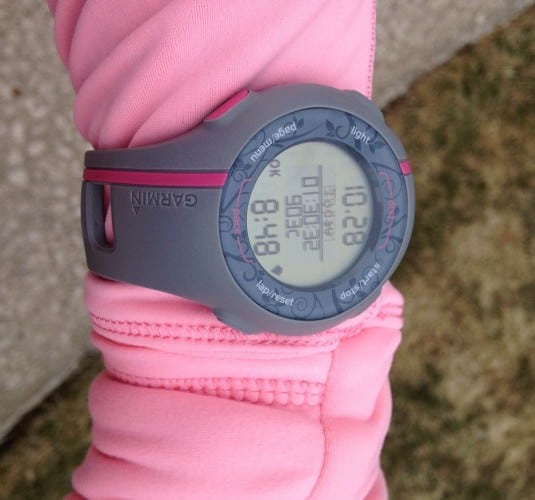 I started out on a high with a 10 mile run in the company of my running partner and remembered how good it feels to get the long run out of the way first thing Saturday morning.   I've been doing my 10 miles on Sundays lately and REALLY prefer Saturday if the conditions are cooperative.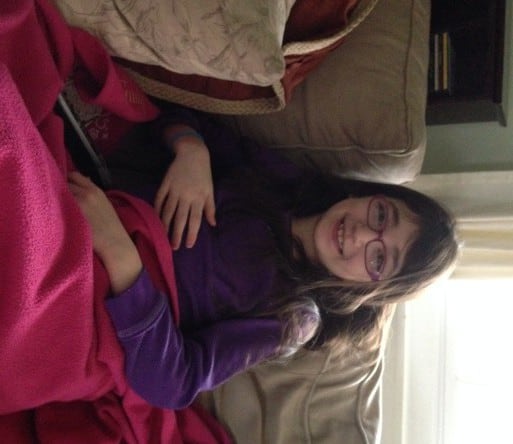 Then I came home to a sick child, but not the kind of sick I've been fearing.  Instead it was your standard sore throat/cold and fever.  This actually alleviated my stomach bug anxiety somewhat  since my internal panic calculator must have figured chances are pretty low to have both of these bugs at the same time.  But who knows, I'm still waiting.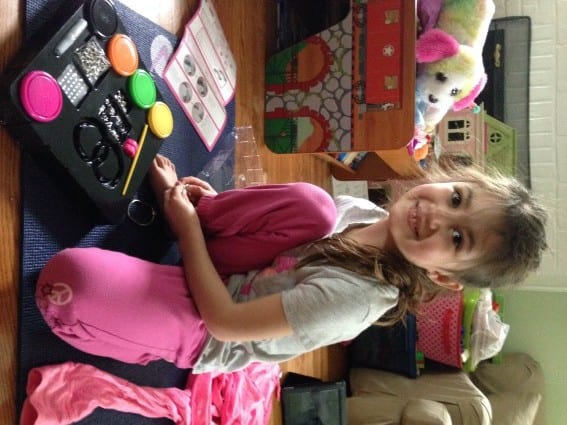 I completely forgot to take of picture of Emily and I "training" for her first 5k that we'll run together on Mother's Day.  I put "training" in quotes so I don't sound like a psychotic controlling sports parent, but, I actually have a very basic and realistic training plan in mind 🙂  I mean, you can't just put a 6 year old in a 3 mile race with no prep, right?  She is very into running and is taking the lead, so it's all good.
The plan for Saturday was a 1 mile run at what I thought would be a 12ish pace.  Uphill there and downhill back.  We came back in under 11 minutes for the mile and she could have kept going so I'm feeling good about us completing the 5k.  It's tough to pace kids that young because they are eager to RUN, but she seems to understand the concept of it and is good at saving energy.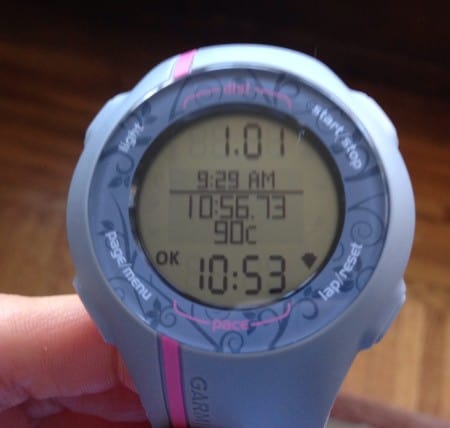 Of course then I got all excited and went online to shop for new running shoes for both of us and a race outfit for her. I definitely think half of the reason she wants to run this race is for the fashion and swag (she steals all my medals) plus she clearly loves her post run high, which is funny to see in a young kid.  She went right to her bracelet making as soon as we got home.
The rest of Saturday we all took it easy and it really felt wonderful after a busy last-weekend and past week.  It was gray outside and actually snowing so staying in was an easy choice!   I DID accomplish going from crow pose to headstand which I thought was pretty cool.  Puzzles, jammies, yoga, food, the usual.
On Sunday morning after NOT losing my sh*t over being frozen solid, I decided to listen to a podcast on my run which I found inspiring.  It was all about the fear of rejection, and "rejection therapy" as a way to face and move past that fear, which is very real and crippling for many people (I raised by hand.)  Jia Jang was interviewed about his 100 days of 100 whacky requests designed to invite rejection, and ultimately learn and grow from it.
It made me think about my own fears and how much I fear the "yes" as much as the "no."  Both really do stem from the fear of rejection, and sometimes the "yes" can be even scarier than the "no."
While asking for something and hearing no forces you to feel the rejection right away, asking for something and hearing "yes" opens up new doors that MIGHT lead to more vulnerability and in the end a deeper and more painful rejection.  I plan to dig into this concept a bit deeper in an upcoming post, since it definitely hit home for me.
Other plans for my Sunday include creating a paleo recipe for chocolate dipped macaroons, taking a shower, and doing a little bit of food prep (chopping, lots of chopping) for the week.  Nothing too intense and that's the way I'm rolling this weekend 🙂
What was your weekend highlight?
Are you an unabashed "asker" or do you fearing hearing the "no" or even the "yes?"