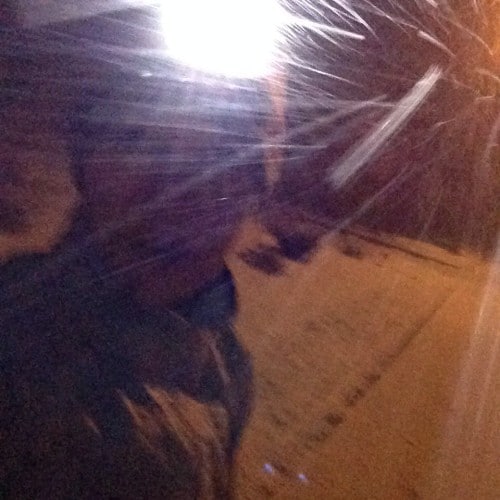 This post probably wouldn't have the bitter tone to it that it will if I hadn't been that person in the above photo this morning.
There was no mention of a violent snow storm happening between 6 and 7 am on my weather app.  At 5:30 I checked the hourly forecast as I always do before a run, and, it was supposed to be cloudy and about 20 degrees up until 7, when "light snow showers" might begin.   I had 7 miles planned and right around the furthest point from my house, about halfway through, some innocent little flurries started falling.  How friggin precious it was.  Really, at that point the snow was just darling.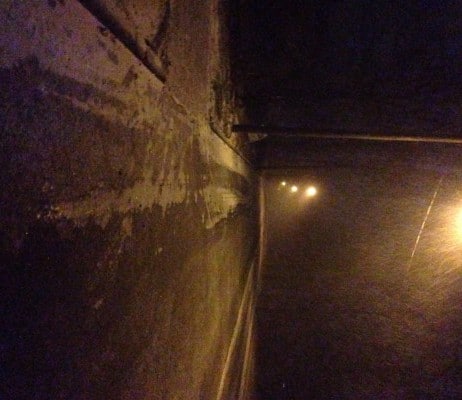 Approximately 45 second later the buckets of snow hit the fan, AKA the cold wind directed at my face.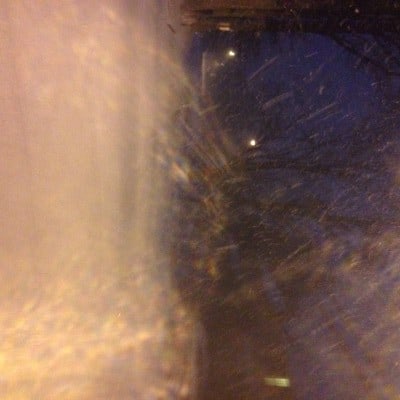 I just had to get that off my chest so thanks for staying with me.  It was one of the worst runs of my life, at least weather wise.  Between raw skin and being nearly blinded, I ran most of the way home with my hands on my face, thank god for those mittens!
Now to reflect back on the week, and talk about plans for the weekend.
Sunday – Early morning – 70 minutes yoga – loved this class, I like doing things that are a bit more advanced than where I'm at and then modify the poses if I need to.  Recommended by Rebecca again!  So many great home practice resources on her blog!
Monday – Early morning – 7 miles, easy pace.  Felt pretty good here, nothing stands out.  Late morning (11am) I did 50 minutes of yoga at home.  This was great, right at my level and not too much for having run in the morning.
Tuesday – Early morning – 6 miles, hilly route.  One of my favorite hill routes done at an easy pace, felt good.  Later, I did the same hip opener class from last week.  The best one I've found in the least amount of time, and I really like the instructor.
Wednesday – Early morning – 6+ miles, middle 4 attempted an 8 minute pace and came pretty close, give or take a bit.  The snow/ice on the ground made it slightly more challenging in some spots, but, overall the roads were pretty clear during the faster part of the run.  I felt surprisingly good considering I haven't run that fast since the marathon, and also considering the freezing weather.  I was actually overdressed for this, if anything.
Later in the morning I attempted to do an online barre video, but, about 10 minutes into it I realized it was not at all what I was looking for (more of a cardio-barre class) and so after 15 minutes of it I switched to a quick 20 minute yoga for runners video that I have found very effective in addressing all the "hot spots" that runners might have.
Thursday – Early morning – rest day from running, did an 75 minute yoga video  that was described as "multi-level" although it was definitely beginner/intermediate vinyasa class, which was good for me.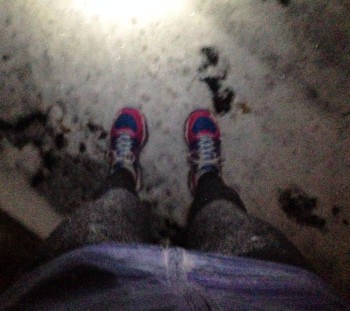 Friday – The snow run!  Things didn't go so well with yoga either.  Ch0se a new video that was described as "yoga for athletes" but it was really just some long, drawn out gentle stretching and core work that was not challenging.  I should have read the reviews from others – everyone had the same reaction to this.  I think it was probably just mislabeled and would be fine for someone else.
Saturday –  Planning for 4 miles and 30-40 minutes yoga.  My long run this week will happen Sunday with my friend (the only runner friend I have!) and I'm looking forward to having some company to distract from the cold, dark winter miles.  I am glad that I'm not signed up for a marathon this spring, meaning my long runs are capped around 13-14 miles.  Mentally, it just seems more manageable than 20!
Sunday – Okay, technically not part of this week, but, planning for 13.
How I'm scheduling all this yoga
A reader asked me last week how I fit in all of my runs/workouts.  It's not easy and requires discipline on my part, especially the yoga because I've been experimenting with different times to find something that I can be consistent with.
I have been dedicating mornings when my son is at school to working on the blog and/or grocery shopping, but this past week experimented with doing yoga at 11am (I pick him up at 12:45.)  I have to drag myself away from whatever I'm doing at that point, but, it's been working well.
Even though I'm a stay-at-home-mom, that time is not always available to me though.  For example, next week I have a couple of days where the mornings aren't free due to school events, and that means both blogging time and yoga time will get bumped.  Sometimes I might decide to take a rest day from running and practice yoga in the early morning, other days it might make more sense to squeeze yoga in before I go to bed.
Admittedly the evening is hardest for me, but I don't actually feel bad once I'm in the middle of it.  I will definitely switch around the type of video for evening and haven't done anything strenuous because I just can't take it at that point!  That said, it can still be quite beneficial once in a while, and it's great to know I don't have to go anywhere to do it.  Home yoga practice is turning out to be the best thing since sugar free bacon.  Sort of.
How have your workouts been now that the year is in swing?  
Has anyone gotten caught in an unexpected bout of snow?  Have you moved runs to the treadmill due to the freezing temps?
If you do more than one workout in a day, how do you schedule it?