Today is Saturday, which means hopefully I've already run the 12 miles planned and I'm now stretching, or, even better, on the couch being comfy and catching up on reading.
As I'm writing this exhausted on Friday afternoon, the whole scenario seems awesome yet light years away.  Especially since this 12 miles will be run in what is predicted to be 14 degrees and possibly a bit of wind.  Let's be real though, any wind feels crappy when it's 14 degrees.
The other thing on my mind right now is that darned half marathon I'm signed up for next week!  I definitely haven't forgotten about it – it's pretty much been my motivation to keep up with my running lately since dragging out of bed has been a challenge, and I'm not one to show up to a half marathon without having at least SOME fitness to bring with me.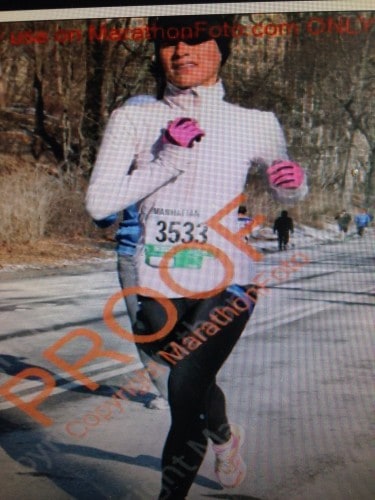 I ran this half two years ago (the NYRR Fred Lebow Manhattan Half) and it was my first ever half marathon.  I was probably over prepared for it.  Not really overtrained, just over-prepared.  What does that mean?  Well, after reading that the race would be hilly, (two full laps around central park has two decent hills) I decided I would train on hills for 75% of my runs.  That translated into a surprisingly impressive (to me) time for my first half ever.
I'm feeling that little competition bug surge up a little, like I spoke about this past Tuesday.  I know that based on the last couple of months I'm not in a position to match my old time for this race (1:41:36, a 7:46 pace) but I can't help but wish I were!  As much as I want to pull away from time mattering, I guess it's hard not to compare when you're about to do the exact same race, and you're about to run it slower.  If I can run it under an 8 minute pace though, that will feel like an accomplishment, given I'm just not in the best running shape right now.
The whining is done.  Let's move on to my workouts from this week.  Yoga has become a part of nearly every day in some capacity, which feels really, really good after neglecting stretching and quiet focus for so long.   Last Sunday was my long run last week of 12.4 miles, so I'll begin with Monday.
Monday – No running, hour long online yoga video called Heavenly Hips.  Silly name, awesome class.  Especially now that I'm a bit obsessed with opening my hips.
Tuesday – 7 miles, easy pace in the early morning, plus 45 minute yoga: Foundations in Flow.
Wednesday – 6 miles on a hilly route, plus a 30 minute yoga video: Rise and Shine. It wasn't the morning but I needed something about 30 minutes in length and this was perfect.
Thursday – 6 miles of what was "supposed" to be a faster paced run, perhaps a tempo run, that my heart was not in!  First sign that I wasn't that into it was not bringing any sort of indicator of pace, like my Garmin or even my phone.  Oops on that one.  I made it into a fartlek run with hard efforts for a minute or two randomly throughout the run.
Later on I did two short yoga videos for runners.  These are both a beginner level and great for any runner, yoga experience or not:  Post run and Injury Prevention.  When doing these back to back I leave out the Shavasana in the first one and it turns out to be 40 minutes total.
Friday – 4 miles, easy pace plus an hour long Shoulder Stability yoga video.  It met my need to focus on my upper body strength a bit, which has been neglected lately!
Saturday – 12 miles planned.  I'm running with a friend and she has mentioned throwing in some one-minute pickups so we'll see if that happens!   After that I'll be stretching and spending time on the couch, for at least a couple of hours I hope!
Sunday – Planning for an hour of yoga in the morning and no running 🙂
In other running news, I just signed up for another half marathon May 3, along with my husband (Adam, we know his name now!)  
Knowing that he'll be running the same race somehow is more exciting for me, or at least a bit more motivating.  I'd love for us to run together at some point, but, this might not be the race for that.  But we'll see.  Maybe he'll let me write up a training plan.
And if that's not enough running news don't worry, I have one more thing.  The NYCM.  THE NYCM.  Not so excited because I'm not actually in.  I've only applied three times in three years hoping to get lucky, and I'm really hoping this is my year.  I was disappointed each time I didn't get in, and if I see the "sorry" message on my NYRR page in March I actually might cry.  Cross your fingers for me in the lottery!
What were your runs/workouts like this week?  
Did you do a long run this weekend or do you have one planned?
Any races coming up?