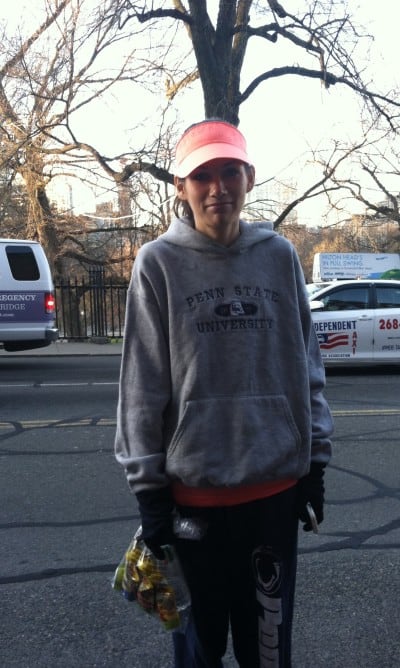 I started writing this post and it was not feeling like me at all.  I lost my sense of humor.  I was taking myself way too seriously. Clearly I'm distracted by nerves this week and my writing will be taking a hit.  If I can formulate some sentences that most people will understand then the blog is one step ahead of my brain.  It's kind of a whirlwind up there as the BIG RACE looms large at the end of this week.
Since I'm just a little preoccupied with the marathon and I don't feel like writing about race tips (you don't need that type of advice and it kind of feels boring anyway) I'm going to write about some thoughts that you probably want to avoid if you'll be running a marathon at the end of the week.  And since I'm pep talking myself, I'll also give you a more positive thought to replace the bad one with.
So if you're like me and you find your mind wandering to the dark side pre-marathon, just stop, replace those bad thoughts and then go bake some cookies or something.  Since you can't run to clear your head.  Because you're resting up for the race!  Is all I do run and cook?
Thought Not to Have #1 – I should have planned my training differently.
Too late now.  But really just don't have this thought because it's just your self doubt and nerves talking, and none of that stuff is real.  You could have trained a lot of different ways and you'd likely still lose your sh*t during the taper.  I mean is there really something you could have done so you wouldn't be nervous to run 26.2 miles as fast as you can?
Thought to Replace With:
Trust Your Training!  For 14-16 weeks you thought it was good enough, maybe great, so just trust it!
Thought Not to Have #2 – My marathon pace feels hard.  
Without the adrenaline of the race your marathon pace should probably feel a little hard, and that's normal.  Plus when you're running you will be giving it everything you have, more than you did with all your training combined.  This is the last stop, and by mile 16 "hard" will be a very relative term anyway.  "Hard" will not keep your from your goal.
Thought to Replace With:
My marathon pace is challenging but I am more than capable of keeping pace.  Plus, I did not sign up for this marathon because I wanted an easy walk/jog in the park!
Thought Not to Have # 3 – I'm losing fitness as I'm tapering.
It might FEEL like you're a slug because you're not running the way you were 3 weeks ago, but that's kind of the whole point of the taper, so REST UP and don't look back.
Thought to Replace With:
This is what being RESTED feels like, and it will serve me well for the race!
Thought Not to Have # 4 – I have gained 10 lbs.  How will I run this race 10 lbs heavier?!!  
Relax, because you didn't gain 10 lbs.
Thought to Replace With:
If I'm doing the taper right, I might gain a couple of lbs (but not 10) and that's GOOD for the race!  A little extra glycogen and water are what you want going into this thing.
Thought Not to Have # 5 – I have so much to do after the race!  
Maybe this is just me?  But I bet other busy moms/people who have jobs can relate.  All of a sudden during the taper you realize that the world will not stop after the marathon and you will be in high demand and required to function normally.  This always stresses me out!
Thought to Replace With:
One step at a time!  This is a big, important goal race, and although life will go on afterwards, there's no need to think about any of it before crossing the finish line.  For your purposes NOW, nothing has to exist after the finish line!
Thought Not to Have # 6 – What if I don't succeed at my goal?
It's not worth entertaining this for a second.  You will give everything you have to move toward the goal.  You will do what's in your power to GET THERE.  No room for the "what ifs."
Thought to Replace With:
If you want this, you can and WILL do it!  There's nothing to add to that right now.
Thought Not to Have # 7 – My (XYZ body part) hurts!
I can't say for sure if your pain is real, but, I know I notice like 15 random pains from the waist down the week before a marathon and most of them aren't real pains.  At this point if you are healthy enough to run the race, there's no point in analyzing these random pains.  I've always found it curious that they never occur in my upper body, and I believe a lot of them are almost entirely psychological.
Thought to Replace With:
I am strong and ready to do this!  Just because you are!  Get your mind believing that your body can do anything you tell it to!
Since I have major running thoughts on my mind this Tuesday I'll be linking up for the first time with MCM Mamma Runs, My No-Guilt Life and Run the Great Wide Somewhere for Tuesdays on the Run.
What are your unwelcome thoughts before a big race?  How do you keep calm/sane when you're anticipating something big in your life?