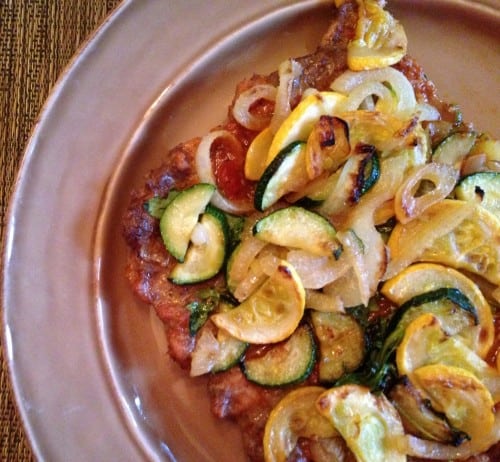 If you're new to paleo lingo you might not yet know what a "meatza" is.  Or you might be able to figure it out – it's a meat-crusted pizza!  And I'm a fan, I really, really am.  More pizza burger-ish than pizza-ish in my opinion, but you get the flavors in there and it's way more satisfying and filling than typical pizza.
Meatza is one of the very first paleo-esque recipes that I tried, and it definitely was one that took some practice to get right.  This has been the best I've made so far, but the possbilities are really endless with meatza.  You can experiment with anything you want, but there are a couple of key things you'll want to get right in order to get the flavor and crust texture you're looking for.
First, you want the crust to be thin, a little crisp and sturdy enough to hold the toppings. Second, you need to consider the cooking method for the toppings you'll be layering on. I've undercooked the toppings as well as overcooked, so figuring out what will make for just-right toppings might take some trial and error. Or maybe that's just me layering on ridiculous amounts of toppings. Either way, this recipe is a good jumping off point for figuring out what works.
Okay I'm going to digress from meatza talk for a minute so sit tight. It's Sunday, my husband and I had a fun, kid-free overnight trip to hang out with a bunch of his college friends at their gorgeous lake house. As you might know from my blog this is very unusual, as my weekends are generally really similar to my weekdays, read lame. And I really, really rarely consume more than one alcoholic beverage at a time. And apparently I'm getting older and grumpier, because god help me I feel like a complete wreck today, and I do not have what I would consider a "bad hangover"- I'm just out of commission. I feel like I can barely formulate a sentence or type in a straight line, let alone do something productive like go up the stairs and fold laundry. Between my brain not responding and my body hating me for attempting to water ski (regrets, regrets) I feel like I need to get my sh*t together ASAP. I'm really not used to that feeling and I'm not a fan. Sure, we had a lot of fun and a much needed get-away-from-the-kids-get-away, but I'm paying for it like whoa. I know I'll feel better tomorrow. So I'll be done complaining now. Here we are all bright and bushy-tailed on Saturday.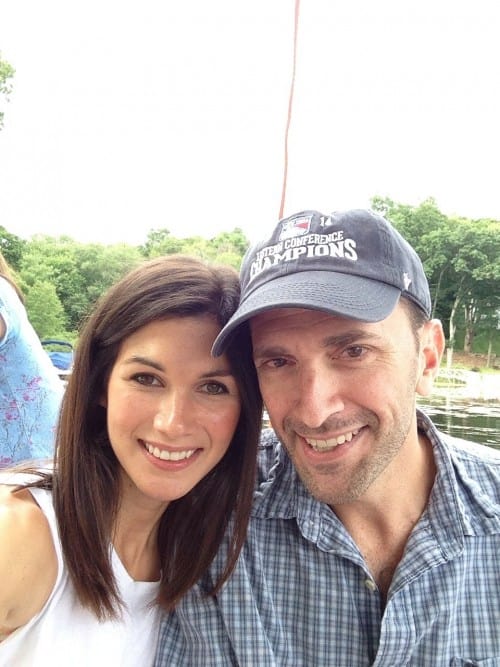 And here is a picture of my random attempt at a paleo breakfast after scrounging through our friend's fridge. A paleo first for me for sure:
Are you impressed? You shouldn't be. Well now that I've thoroughly bored you and driven you away from my blog forever, I'll get on with this veggie packed paleo meatza recipe purely to humor myself. But really, if you're still here, it's a good one, try it and make it your own!
Ingredients:
1 lb grass fed found beef
1/4 lb spicy italian sausage (or sweet depending on spice preference)
1 egg

1 tsp Italian seasoning blend

1 small yellow onion, halved and sliced thin

1 small yellow squash, halved and sliced thin

1 small zucchini, halved and sliced thin

1 handful arugula

1/4 cup pizza sauce (no sugar added, check ingredients)

Fat of choice (for sauteeing veggies)
Directions:
Preheat your oven to 425 degrees. Combine the ground beef, sausage, egg and italian seasoning in a large bowl.
Spread the meat-crust mixture in a 13×9 inch baking dish so it covers the bottom and goes up the sides of the dish about 1 inch. The meat will be spread out thin and will shrink in the oven so make sure you spread it out enough!
Bake in the preheated oven for 15 minutes or until the meat is no longer pink and it has shrunk in size. Now, CAREFULLY, drain the excess grease from the dish while making sure the crust doesn't slide out! I usually alowly pour the excess in the sink while gently holding the meat to prevent sliding.
While you were baking the meat-crust, heat a large skillet over med-high heat. Put about a tablespoon of your cooking fat of choice in your pan and let it heat up for sauteeing. Add your sliced onions, yellow squash, and zucchini to the pan and saute for just a few minutes, until they have softened up just a little! Not too much so to prevent them from getting soggy!
Once the meat-crust is ready and the grease is drained, spread the pizza sauce over the meat evenly, then sprinkle on the arugula and finally the lightly sauteed veggies.
Put your broiler on the high setting. Put the entire meatza under the broiler for 5-10 minutes, or until the veggies on top are nice and brown and crisp.
Remove from heat, and let sit for 5-10 minutes before digging in! Now might be the time to snap those instagram photos and tag me in them of course! (kidding, kidding…or not)
Cut the meatza as you would a pizza and serve. I dare you to eat it with your hands! Or whatever works, whatever works for you my friend 🙂
After a "fun-filled" weekend (oy) do you have an overwhelming need to getcho-self back together Sunday night?