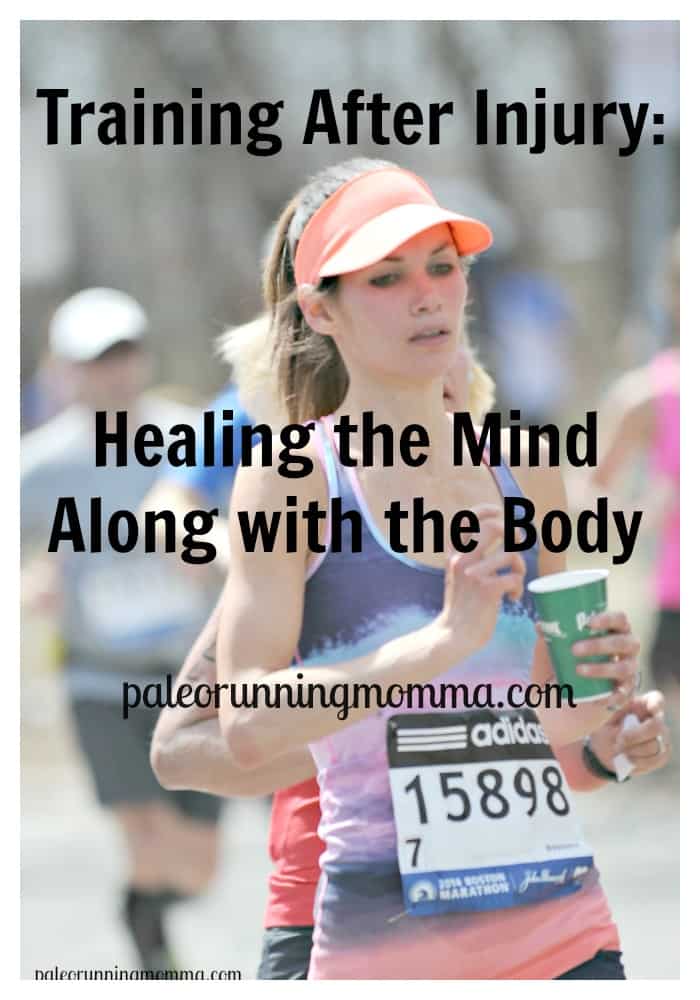 One year ago at this time, I was in a ton of pain and very deep denial.
I was training for the Marine Corps Marathon that would take place October 27, 2013 and I had completed my longest run of 22 miles.  Running has been hurting with every step for a couple of weeks by that point but I told myself tapering would clear it all up.
It wasn't until my 16 miler the following week that I had that "moment."  The one where you realize you've completely screwed yourself and there might not be a way out.  I can remember being 8 or 9 miles into that run and finally knowing I shouldn't be running.  Stupid stupid stupid.
When I got home I finally LOOKED at my left foot and ankle, something that I had been completely avoiding somehow the entire time.  Bad news.  The inner side of it had swelled to at least twice the size of my right.  I had had a previous short (and much more mild) bout with tendinitis in that area (posterior tibia) that cleared up with a couple of extra days of rest/reduced mileage.   This was definitely not that anymore, and I knew it, but I still had every intention of running the marathon.
I had trained for months (overtrained) and there was nothing that could have stopped me.  My plan became to ice, wrap, and not run at all for the last weeks leading up to the race.   I wrote a little bit about my experience here, but, in a nutshell, my plan didn't help me and the injury was, of course, that much worse after running 26.2 miles.
After the marathon I saw an orthopedist who diagnosed severe posterior tibial tendinitis.  This was the beginning of November, 2013 and he told me I would have to take 6-8 weeks off completely from running.  I told him about my plans to run Boston in April and he felt confident that I'd be able to do it.  He gave me custom inserts which I had to wear all the time in "good" (not minimalist) running shoes, told me to ice as often as I can and see him in 6 weeks.  It was straightforward, it seemed easy, I was on the mend.
Except, I was sort of panicked.   No running for 8 weeks and then train for Boston?  That meant go from zero to Boston shape in something like 13 weeks.
I was up for the challenge and as usual I got serious.  Nutrition overhaul, multiple daily ice packs, hours on the elliptical and spin bike, ugly shoes 4 life.  I treated injury recovery like I treated marathon training – I was 500% committed and wouldn't allow anything to hold me back.
My tendon healed exactly how the doctor said it would.  I even tried a short run 4 weeks in and immediately realized it was still a no-go and backed off.  by 6 weeks it was feeling better and I added in one run per week.  By 8 weeks into recovery I began training for Boston.
As far as injuries go, mine was very straightforward.  I knew what had caused it, what had resulted and how it healed.  There were no surprises or setbacks.  Still, mentally, this injury had had a major impact on me, one that I didn't begin to discover until well into training for Boston.
And now, nearly a year later, I'm still feeling the mental effects of that injury:  self doubt and wavering confidence, over analyzing my training plan, obsessing over various pains while running, and "expired PR angst."
Training After Injury: Healing the Mind Takes Longer
Self Doubt
After an injury it's easy to doubt yourself.  For me, realizing that I'd made some major mistakes in my training that really hurt me made me question if I knew what I was doing at all.
I doubted that I knew how to train and I doubted that my body could stand up to my training plan.  Additionally, the amount of denial I experienced during the progression of my injury made me question whether I could trust my own judgement of how I felt in the moment, the amount/intensity of my training, and my goals.  This self doubt largely contributed to the other effects I experienced.
Over Analysis
Because I didn't trust myself anymore I was constantly questioning my instincts and analyzing what was going on with my body (is my foot hurting again?  is it serious? why am I tired?  am I improving? am I hurting myself without realizing?) to the point of exhaustion.  The pressure of training for a big race like Boston, and now, training for Philadelphia with an intimidating time goal in mind, intensifies this type of thinking.  Even when I'm feeling pretty confident, I know I'll never quite get back to the feeling of confidence I had in my running pre-injury.
Obsessing Over Pain
As far as recognizing and worrying about pain, I went from one end of the spectrum ("that'll clear up with an extra rest day/good taper") to ("OMG what if the pinch in my toe is the beginning of a fracture?")
Mentally I really liked being at the denial end of it because driving yourself crazy about every little ache, random shooting pain, cramp is not conducive to marathon training at all.  As I used to know inherently, a few aches and pains here and there are just part of training.  I just see my body as so much more fragile now since being injured, and I DON'T have the superhuman delusions I had when I was younger and before my injury.  My goal now is to get to a place where I know what's worth worrying about, and not catastrophizing every twitch.
The Expired PR
Between running a marathon injured, training for another right out of an injury, and getting back into racing over the summer months (don't get me started on my heat excuses!) my PRs are aging at this point.
I kind of feel about my PRs the way normal people feel about actual aging.  The youngest is my marathon PR but all the others are going on two years and I'm starting to feel like Fall 2012 might have just been my claim to fame and it will be all downhill from there.  I don't want to think that way, but the feelings of doubt creep in, and I start to question if my PRs reflect the runner I am now.
Even though PRs still exist, in that they did HAPPEN (and you can even look them up on the internet as needed for validation!) clearly they don't always reflect the present or future.  I'm really not sure if I'll ever beat my old PRs, and at this point I don't feel okay with that.  I want to improve my times still, and want to believe that it's still possible.
If you've been injured or had a major setback in training, what effects did it have on you mentally?  
How long did it take your mind to recover versus your body?  
What effect has been the toughest to overcome?