If I were a barbie doll I would be sold in stores attached to a kitchen counter and surrounded by lots of paper towels.  "Mom-with-hungry-messy-kids-barbie" might be the name on the box.  The only reason even one of these would sell is that it comes with plastic cookies, pink cupcakes, and and small cat who meows every 5 seconds until you put tiny plastic food in its tiny plastic bowl.
Barbie-me would have little grooves at the hip-points meant to snap right in there for hours of chopping, cooking, baking, and CLEANING.  Of course due to poor manufacturing, or fate, my hips would get stuck right on the counter and I'd be useless from then on for anything other than kitchen counter activities.  No braiding my hair or putting on short skirts and heels with the other Barbies since the kitchen would be on my stomach and nothing would fit over it.
This is a joke because lord knows (and Drew knows, he reminds me often) that  no one confuses mommy with a barbie doll.  Silly mommy, Barbie dolls don't yell, wear sweatpants, or write blogs.  But, it's still appropriate since being strapped to the kitchen counter is my real life for many, many hours of the day.
I'm linking up with Amanda for Thinking Out Loud, and I'mma bout to think the kitchen to death so be warned, I'm feeling rant-y!

You can see my real-time living quarters above are pretty cluttered, but, it is "my space" and at least I have a window.   And a slow cooker, and a food processor, and, no sh*t is that an ice cream maker?  Totally forgot I had that, never mind the fact that I stare straight at it for 5 hours a day.  Maybe it's time I make some ice cream, ya think?  Life is good after all, brought to you by my kitchen gadgets.
The truth in all this is that I'm conflicted about all the time I spend in the kitchen.  Is there one thing in all of life that you're not conflicted about Michele?  No.  I'm conflicted, let's just leave it there.
Anyway has there ever been something that you feel you could easily cut back on until you actually put in an effort to cut back?  You try, and sadly realize you actually are NOT able to do this because LIFE is telling you (or whining, screaming, or tantruming at you) that you have to?
Like, well I THOUGHT I had control of the time I spend cooking and cleaning, but then I decided not to do it for a day, and, whoops!  Forgot I had 3 kids who eat!  And don't prepare or cook food for themselves!  And haven't mastered the art of cleaning up crumbs!  Or cleaning anything at all, ever.  And who really enjoy rubbing ketchup into furniture.   So actually I can't leave the kitchen for a very long time even if I wanted to.   Surrender Dorothy, yup, I have.
So now I simply CHOOSE to live in the kitchen and try to do occasionally awesome things in there.  It works mostly, until it doesn't.  Like when it's 7pm and to any observer I'm just cleaning up dinner, while my brain is having an existential crisis about the time I'll spend on earth caring for cast iron pans.  Love the pans and all, they are extremely functional and wonderful, but they are pans and I'm cleaning them all the freaking time.   What am I doing with my life?  This only happens at 7pm.  I'm much more cheerful about kitchen things in the morning.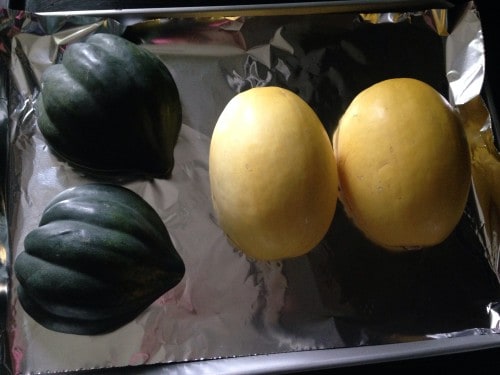 In the morning I can do things like roast a bunch of squash or prepare a slow cooker recipe and feel productive and organized with my kitchen time and thus my life.  I can make coffee, drink it, bake muffins and feel like all is well.  People have limits though, and with kids those limits are easily pushed and knocked down, until you reach the point in the day when you stick a fork in yourself, possibly literally, and you are done.  You are very much DONE.  Kitchen endurance training isn't really a "thing", but my goal is to not be completely done until 8pm which is the point I'm needed until.  Lately around the 7pm mark I've been hitting the wall and find myself actually welcoming bath time as a break from the dang kitchen!
Can I end this rant now?  I'm sick of myself and this topic already.
How much of your life is spent in the kitchen?
If you were a Barbie doll, which one would you be?
Ever try to cut back on something and realize you CAN'T?