Save me from myself.  Yup, it's the peak week in my training plan and all I can think about is running.  And my crackling joints.  But that relates to running.  Yes everything leads back to running.  When I started this blog I was in my first week of tapering for the Boston Marathon, and it was a no brainer for me to describe myself as "a little obsessed with running."  Well I'm here to announce today that for this week, and probably the rest of the 3 weeks leading up to the Philadelphia marathon, I'll be VERY obsessed with running, more than a little obnoxious about it and doggonit I'm not censoring it.  At least not once a week on Thursdays, because my friend Amanda @ Running With Spoons told me that Thursdays are for Thinking Out Loud!

So here are some thoughts, from my wacked out peak of training brain, in whatever order they demand.
1. My knee hurts and that means the Apolcalypse could be underway.
Refuse to apologize for the drama.  My knee decided to start hurting, seriously of all times, after writing a blog post on Monday in a kneeling position.  Now, I'm not blaming the blog or my kneeling, clearly this has to do with my training and staying in that position for too long brought it out, but really?  Meh.  No swelling or anything and I'm sure an extra rest day will help a lot.  But no I'm not sure because I have a 22 mile run scheduled for Saturday and to say I'm not worried would be a big, fat, lie.  The truth is, the world might end on Saturday if I can't run my 22.  Really, I might completely lose it.  And yes, if I was really that worried why did I do my speed workout Tuesday even though the knee was bothering me?  Because I like to be stupid and in denial sometimes.  And because any kind of pain during peak training scares the crap out of me after being injured last year.
2. Buying stuff is a sad and desperate attempt at calming the crazies.
In case you hadn't notice from my blog, I have a pattern of alternating being really cheap with just about everything and buying a bunch of running gear out of a desperate attempt to calm my nerves.  For some reason though, one thing I stay really cheap with is my running shoes.  Maybe that reason is that I just cannot accept that I need new running shoes basically every two months while marathon training.  Every two months!  That's a lot of running shoes and there are only so many Amazon gift cards I can scrounge up to justify these purchases.  I remind myself getting injured is more expensive than running shoes.  Still, I usually wait 1-2 weeks too long before replacing my shoes, and when I'm in the peak of training this usually means I start feeling A PAIN somewhere.  So thankfully I had my birthday recently and some Amazon $$ and purchased my new shoes.  I'm still sticking with the Asics Gel-Kayano 19 since these really helped me after last years injury, and, as long as I replace them often enough they keep me feeling well.
I also threw in more of my Powerbar Performance Energy Blends since I'll be using these for the marathon.  They are a little bulky but have been the best thing I've found that works with my stomach during long runs.
Believe me, I'm tempted to buy other things as well but I'm holding back and just going with what I need for now.  No product can run the marathon for me, I must remember this!
3.  Aside from the knee issue, I'm really excited to do my 22 mile run.
Oh the range of emotions during peak week.  As nervous as I am about my body holding it together, there's something about doing that final long, very long run that gets me excited.  It's like the turning point in the plot of my training.  Oh the suspense!  I'm really hoping for something uneventful, like my 20 mile run a couple of weeks ago, but you just don't know.  I DO know that based on my history, this is a very sensitive time for me and more than once I've gotten sick with various bugs shortly after the final long run.  Marathon training is A LOT on a person's system, even if she/he isn't doing crazy high mileage.  For me, the combination of several weeks around 50 miles plus increased tempo and speed work means I'm right around my breaking point.  The goal is to get there without actually breaking, so you can absorb the effects of training and recover in one piece in time for the race.  Every training cycle seems to throw a new curve ball for me, so we'll see how the weekend goes after an extra day of rest.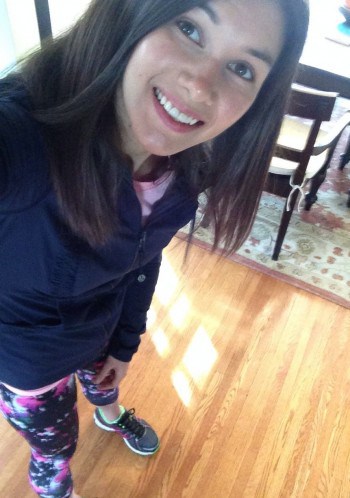 4.  No clothing exists beyond athletic wear.
During peak weak (and let's face it, the past several weeks,) I only wear the appropriate nylon/spandex blend on my body round the clock.  True, I may only be actually running about an hour a day, but with all the random stretching that needs to be done throughout the day I need clothes that can move with me!  Now that it's peak weak, I'm also wearing running shoes all day too.  ESPECIALLY when I'm not running (huh?)  I probably won't even look at my boots, flats, and anything that resembles actual fashion until a week or more post-marathon.  All I see is extra stress on my joints and potential pain when I look at cute shoes.
5. I am very protective of my feet and legs.  
I know I've said this before but now more than ever, I am paranoid about random injuries, like tripping on stairs, one of my kids falling on me or stepping on my foot, and toe-stubbing.  Look, you just don't know, and when all you're trying to do is remain in one piece, the world becomes a scary place!  I bumped my foot on the coffee table and almost cried.  Be careful is my mantra this week!
So be careful guys!  There are lots of sharp edges out there and things to trip on.  What do you think about when you're at the peak of training?  How about some non-running related thoughts to get me out of my head?