A secret of mine?  I like that rainy days take off the pressure to DO a lot of stuff.  As much as I like running outdoors, for some reason other outdoor possibilities feel like a whole lot of work.  Plus, there's the shopping thing.
Is there a more perfect excuse to go shopping at the biggest indoor mall in the area other than a full-on rainy day? Without a pang of guilt that you're depriving yourself and your kids of all that's healthy in the world.  I mean, it's raining, what else are you supposed to do?
Thanks Amanda for the TOL link-up!  4 rainy days this week and this is what I've come up with 🙂

Seriously, think about all the awesomely guilt inducing things you get to do on rainy days with maybe only half the guilt.  Shopping is my favorite but there are tons of others, including not getting dressed, having bad hair, BAKING A LOT, watching movies (not my fav but I hear people like this) snuggling on the couch, reading, and potentially not walking out your front door the entire day.
Doesn't everyone need days like this once in a while?  Or even two or three of them?  I have to say I think my climate has just the right amount of rainy days for my liking, but don't quote me on that the next time I complain.  To get really specific the best rainy days for me are those that still allow me to run in the morning unsoaked.  I like rainy days for the inside part and I'm not a fan of running in pouring rain unless it's hot out.  This means the best days have the rain starting right around 9am.  If it wants to rain early on a planned rest day I'm cool with that though 😉
One recent rainy day peeve I have that has nothing to do with running, is a #foodbloggerproblem (just stole that directly from Amanda's WIAW but it totally fits.)   It's the lack of decent lighting to take pictures of food!  This might seem like a small problem but since I completely rely on the natural light in my dining room for food pictures, it CAN be the difference between a recipe being of the must-make-now variety or downright disgusting.  Overcast days are tough to work with if they are recipe days!
Can you tell which were taken on rainy days?  Well, I can and it bothers me!  My hint is that on rainy days I desperately stick my food next to the window to let any and all light shine down.  I know what I'm saying is ridiculous.  Okay, pity party ended.
So what are the rest of my plans for this rainy day funday?  You know it's supposed to rain tomorrow too, so I have to space out my shopping trips and not put all my $$ and energy into one store or trip.   I have an outlet mall nearby with Target on one end and Whole Foods on the other that is definitely a favorite of mine.  I've been wanting some sort of cheap glasses/cups/mason jars for smoothies because as of right now if I make a smoothie it goes in a plastic princess cup, just like this one.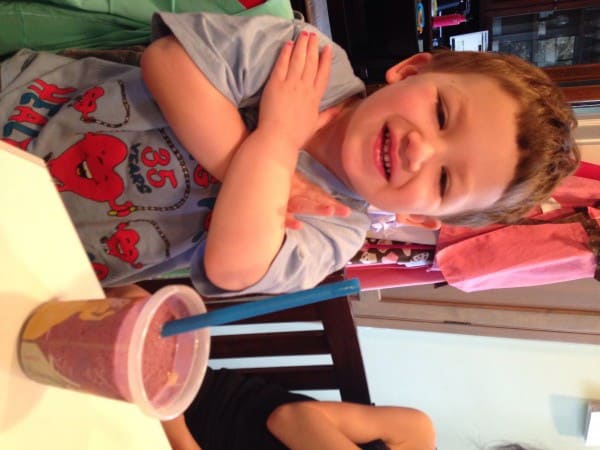 I'm thinking of swinging by Target to look for something, getting my kids frozen yogurt if they're good in Target and don't ask for toys, and then swinging by Whole Foods to see what Kombucha they have in stock.  Yes this sounds like an awesome plan to me, don't judge 🙂
And a final unrelated thought as I got my mail yesterday.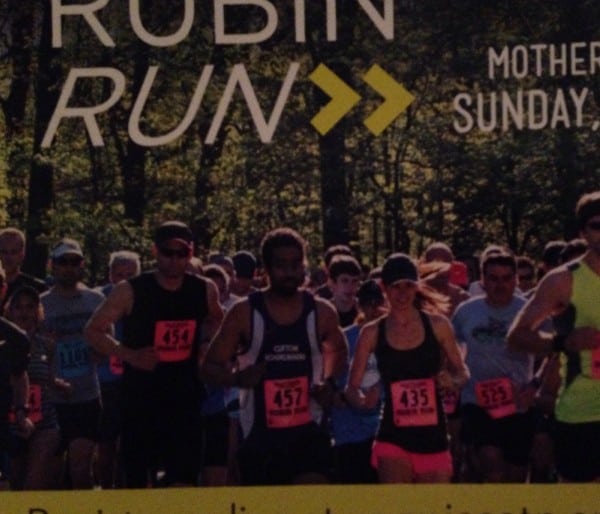 Well whaddaya know!  Look who's smack on the front of the Rubin Run flyer I received in the mail!  It's me, #435 if you can't see, looking just a bit too happy considering I was starting an extremely painful 10k.  If I wasn't already signed up for this year's race, this totally would've convinced me to do it 🙂
Favorite rainy day activity? 
Biggest rainy day peeve?
Do you have a favorite mall/shopping center near you?