I hate when I want to start a blog post and nothing comes to mind except generic, cheesy, and dumb stupid wow-I'm-an idiot opening statements like, "summer's here!" or "hi everyone!" or "can't believe it's Thursday!" Especially the last one.  Of course you can find it in yourself to believe it's Thursday, it's been Thursday once every freaking week since the beginning of your memory, you dumb stupid fool!
I guess what I'm saying here is welcome to thinking out loud.  It's the only day I really let my quirks, no, charm, crazy? er, sad attempt at wit hang out all over the place.  Except that's not even a little bit true, and darn it lay off the cross-out button for godsake, it's getting annoying.
Gosh I'm over this intro right now!  Let's get into a few of this week's happenings.  They're mighty exciting, and by exciting I mean I went on 3 outings, 2 of which I believe were to the drug store.

I didn't take a picture of the drug store since I haven't yet completely spiraled into blogger psychosis.  I will tell you that I still have this cold and while it's not really affecting my days, it's making my sleep crappy and that irritates me.
As you know, I'm not a great sleeper to begin with, and when I have a cold it just gets a whole lot worse.  I can't take cold meds either because they cause me stay up and hallucinate, as in see things in front of me and talk to those things.  It's terrible.  I wish I could just take Nyquil and get "the best sleep with a cold" like those people on their commercials 🙁
But that's quite enough complaining, fun things have happened this week too…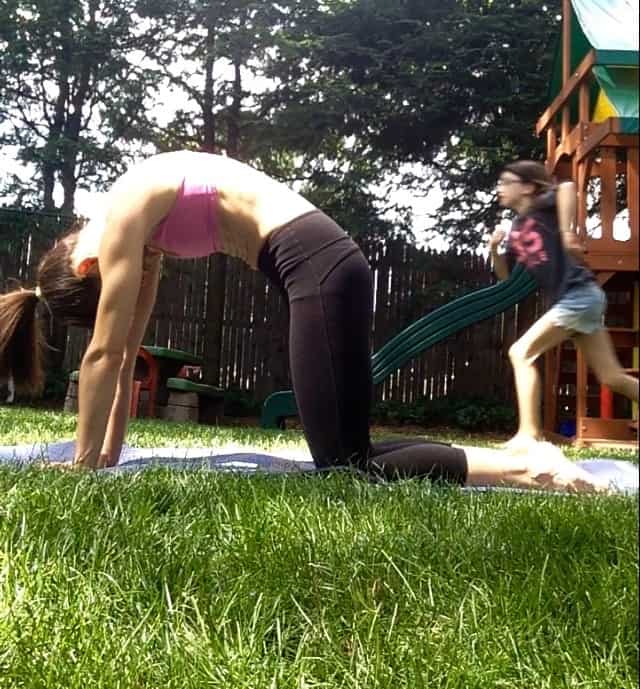 Like my girls being home and running around the backyard while I attempt to do yoga.  They also provide a running commentary on my poses, like "what's mommy doing now?  She's upside down!  Wow that looks hard.  How do you do that?  Oh I can do that one."  And then screaming about bugs and fighting with each other.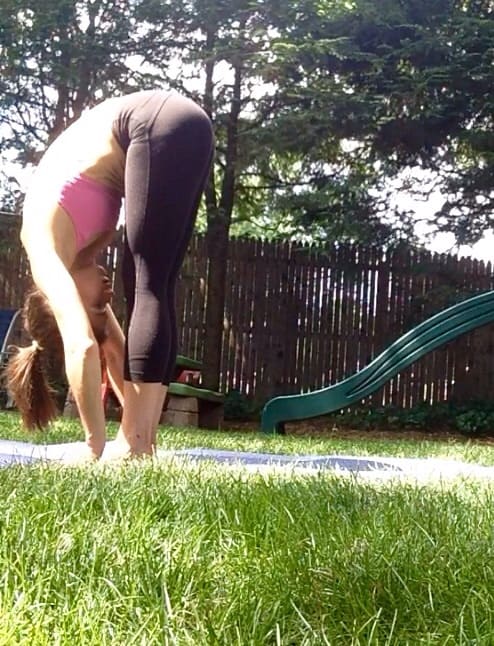 Speaking of yoga, it's been kicking my butt after a week without it, and I spent Monday and Tuesday sore all over, especially my core.  I was still stretching every day but did no actual practice and this was a little wake up call to how powerful yoga really is, even if I'm only practicing 30 minutes per day.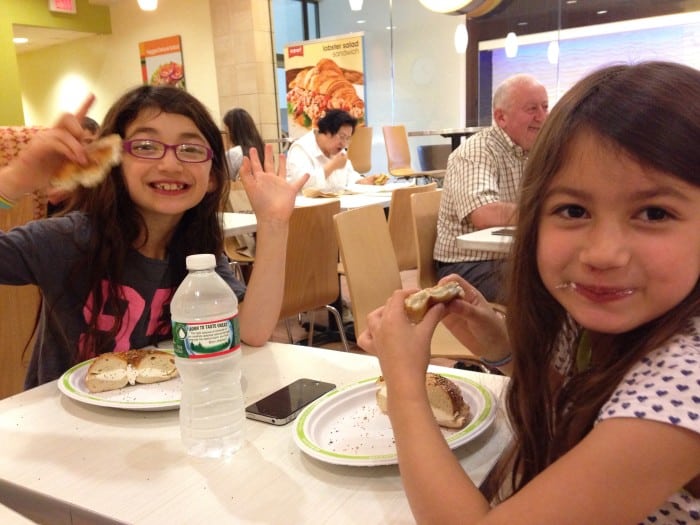 Back to my girls.  I'm trying to be "fun mom" this week and take them out for lunches and to the bookstore and park while Drew's at camp.  Yes, they will be in camp starting next Monday but I still feel like I need to show them a good time.  Plus the tap dancing above my head while trying to blog gets old after an hour or so.  And yes, that's happening right this very minute.
Fun mom can only be fun for so long until she gets back into productivity mode and the kids want to go back to painting with nail polish on the bathroom floor.  At least I have a couple of winner recipes to show for this, otherwise I'd be one sad angry parent scrubbing the floor with non-acetone nail polish remover.
I know I told you about this already: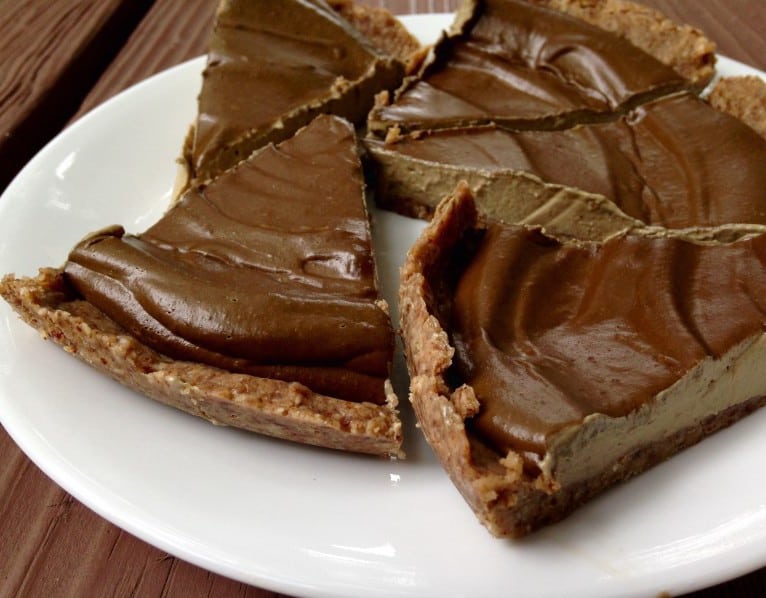 And the recipe for this banana sunbutter ice cream pie will be posted tomorrow!  BUT I haven't told you about this one, a surprising first-try slam dunk, although I've been contemplating it for a few days now.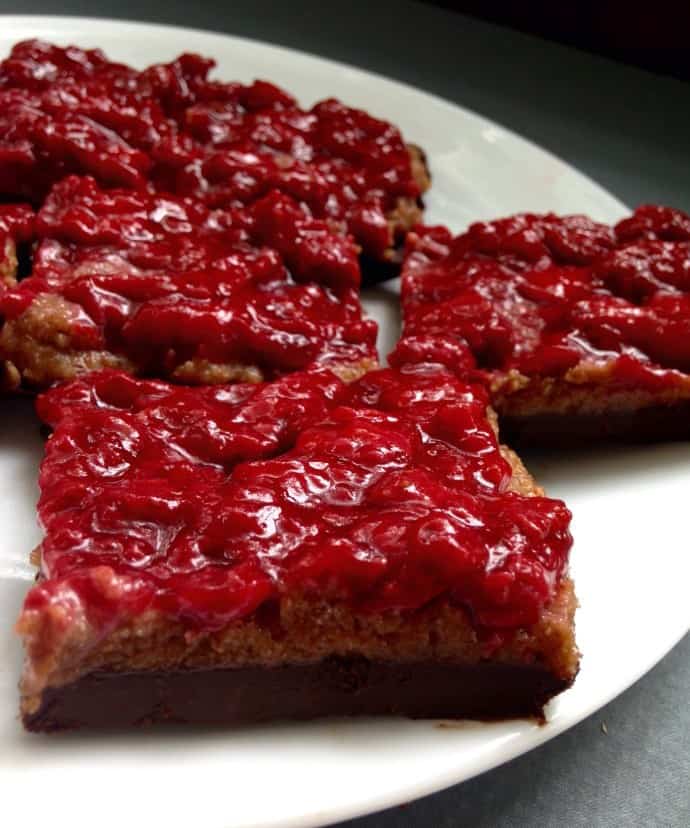 I will have to post these three layer dessert bars next Tuesday.  They're even better than they look, and yes, that would be homemade strawberry preserves on top!  I'm just a bit hooked on treats this week if you haven't noticed!
Well that sums it all up I guess!  (See, I let that dumb closing statement stay, I have decided to go easy on myself.  The dessert bars might have something to do with that.)
What have you been up to this week?  Are your kids in camp or home?
Do you have a long July 4th weekend?  What are your plans?
Anyone else react terribly to nighttime cold medicine?