I'm actually loving this freezing June we're having so far, how about you?  Okay enough with the awkward weather small talk,  let me tell you now what I'm thinking about today.  Not surprisingly my thoughts are all over the place, and this is a good thing – it reminds me I'm still alive and my brain is able to produce new stuff now and then.

As usual, I'm linking up with Amanda today for official permission to think out loud on this blog, and I welcome you to join me in the fun!
First and foremost I made the most amazing treat today for my weekly Friday recipe!  It's a tweak/remake of the cashew butter blondies I made 2 weeks ago and finally got around to round two.  The first ones were good, but they could've been better.  I really feel like I nailed them today and can't wait to share the recipe tomorrow.
This is going to be a stupid question but I'll ask it anyway.  "Blondies" are just not-chocolate brownies right?  Like do chocolate chip bars count as blondies or do they have to have a certain kind of butterscotchy flavor?  When I was younger I used to make what I would consider REAL (non paleo) blondies and they were very butterscotchy, and I've come to think of blondies being this way.  I love how I'm dissing paleo treats by saying "real", but oh well.  I think I'm going to call these blondies anyway because I want to.  To make up for the cognitive dissonance I'm experiencing I promise to work on a more butterscotchy version for next time 🙂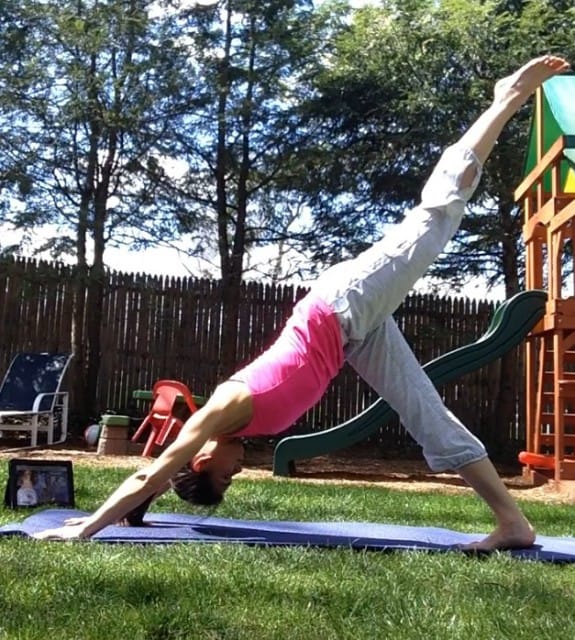 So about mid-day yoga.  The way my schedule is with the kids it makes the most sense for me to fit my home practice in around 11 or 11:30 am if I run first thing in the morning.  Sure, I could wake up at 4am to fit everything in before 7am but that won't be happening anytime soon, I need to break up my activities and NOT wake up any earlier than I already do.
After being at the computer from 9:30 -11:30 most days, it really is the perfect time for yoga, but lately I've been finding it tough to break away from blog stuff and transition to a "quiet mind" the way I want to.  I find myself practicing yoga with my head half on other things, whereas just a few months ago I was able to mentally separate.  I don't think I'm actually any busier, I just can't shut my mind down.  I'm still getting the stretching and other physical benefits which is great, I just find it really tough at this point in the day to embrace the mental side of it.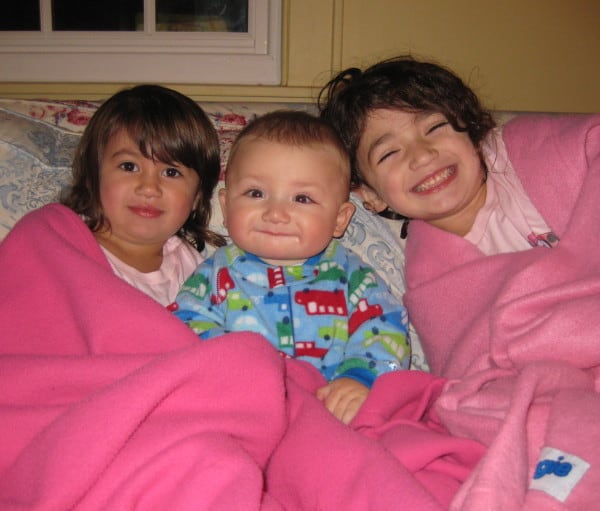 Lastly today I'm thinking about separation anxiety.  My two younger kids had severe separation anxiety up until around age 3, and it was traumatic for me.  So traumatic that I can't seem to really GET that it doesn't exist anymore, that's it's not a problem at all!  It's mainly focused on Drew, since he's the youngest and my experience with him is still really fresh in my mind.
He's going on a play date today without me, and I kept "prepping" him for mommy not being there to the point where I realized that I was no longer prepping him, it was all about me now.  The tables have turned, and I'm the one with separation anxiety!  It's a strange transition to go from just DESPERATELY NEEDING them to separate, to feeling like you don't want them to go.
I don't know how I'm going to manage the pre teen/teen years which will inevitably sneak up and punch me in the face, so I'd better start prepping myself for them now.   As I write this there are no kids in the house with me, I'm totally alone, and as much as I like some alone time, I'm so attached to my kids and prefer the feeling I have when we're all together.
It's a comfort now, not the hassle it was two years ago.  And although I might be strapped to the kitchen counter half the day, that's ultimately what I wanted and it's where I want to be.  Bonus points if they're yelling (happily) in the background.
Do you find it more difficult to practice yoga at certain times of day?  Is it difficult to mentally separate?
Did your kids have separation anxiety?  How long did it last?  Do you get mom separation anxiety?