Just so you don't think I'm trying to trick you, "the 4th child" does not refer to an actual human child or even an animal one.
I'm way over that sort of thinking and have been ever since Drew made his first appearance almost 5 years ago.  Don't be fooled by my recurring pregnancy dreams that happen on average once per week – they're really about something else entirely nowadays.

No more baby-momma-drama for me, unless we are talking about my actual 4th child, the one in the dreams – the blog that sits before you right now – (hopefully!) up and running at mostly acceptable-ish speed.  This has been the theme of the first part of the week and has consumed all my thoughts, so now you'll be joining me on my emotional blogger-coaster.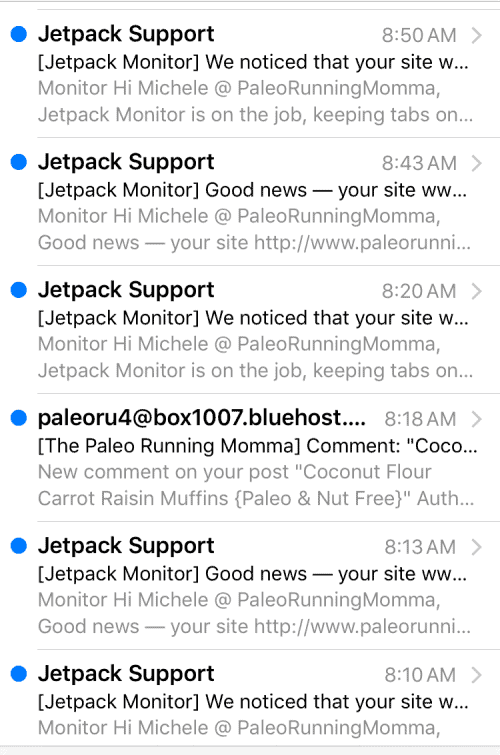 It was a rough 48-ish hours from Monday – Wednesday morning while I received probably 300 notifications that my site was down, up, down, etc.
I couldn't even get into Jetpack to shut off these notifications so I had to live through them while I waited to switch to a new server, hoping that would be the cure.  Luckily I had Meredith there for moral-text-support – one really good reason to have blogger friends!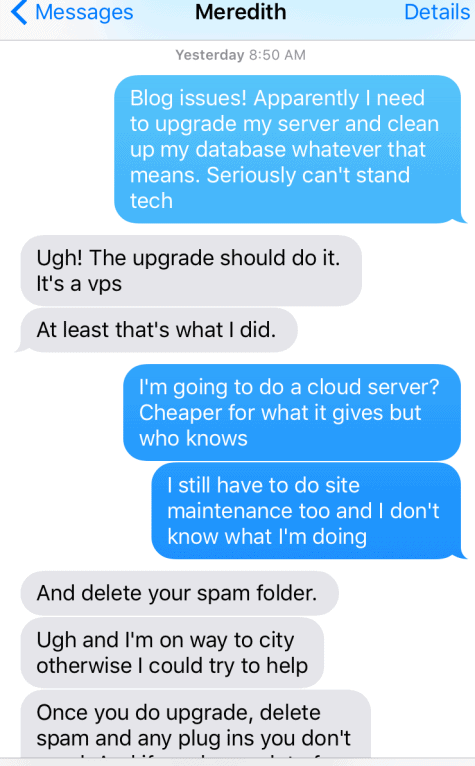 Apologies to anyone who waited 10 minutes for my blog to open on Tuesday only to receive an error message as your reward!  That was basically how I spent my entire Tuesday, well, that and questioning the meaning of everything while in a fetal position, waiting to see if my blog would live through the night.
Completely insane, yes, it totally is.
Yet that did not stop me from crying tears of joy Wednesday morning, cradling my laptop like it just came out of a coma when I saw my site load at normal speed and did not see one Jetpack email all night since the server switch.  I even took the morning off of running just to be with my blog, and THAT is saying something.  Priorities are what they are, I suppose!
(Just like last week, I'm knocking pretty f-ing hard on wood as I'm writing this, JUST IN CASE.)
Yes it sort of scared me that my blog has become this important to me, but at the same time, it's not surprising at all.  I basically spend all my (extra?) time and energy on growing and improving it, and it's been paying off for the most part, although it doesn't necessarily feel that way every single day.
You see, if the blog goes down, I go down.  My blog and I don't just have a typical parent/child relationship – it's an enmeshed one and probably codependent on my part.   Yes, I'm talking about myself and my virtual space on the internet.
It's a mysterious presence and I don't understand how it actually works, which makes it all the more horrifying when it doesn't work, you know?  Is it weird that I think of Bluehost support in the same way I think of my Pediatrician?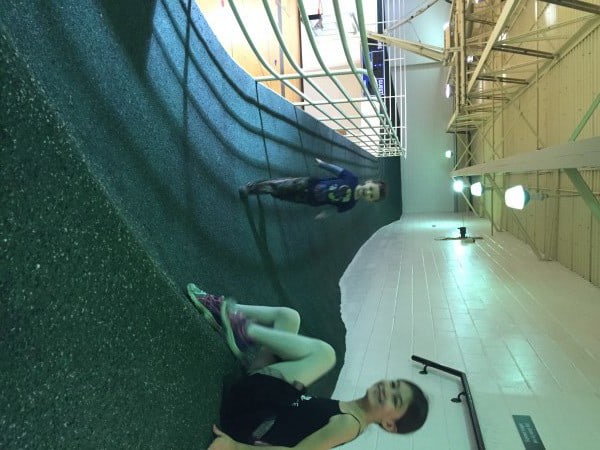 Speaking of my human children and their health, I'm definitely relieved that for about a week now, everyone is 100% healthy!  It's amazing how you can easily forget (while they're sick) the great quantities of food they consume and the level of energy they maintain hour after hour when they're healthy.
Believe me, it makes me happy to see, but it also highlights how tired and old I feel by 5pm daily.   After an hour of dance at 5:30pm, Emily and Drew wanted to race around the track, followed by practicing gymnastics in the tumble room (this is all at the local JCC.)
Granted, they don't have to come home to cook dinner, clean up, fold laundry, etc, but still – who am I kidding?  I'd still be tired at 5pm regardless.  I think.  Really, who knows?  Maybe someone can come cook for me, clean, order me to take a bath every night and make me go to bed by 8pm for a week and then we'll see how I feel.
What's one thing in your life that's your "child"?  
Any website nightmare stories?  
How do you feel at 5pm?