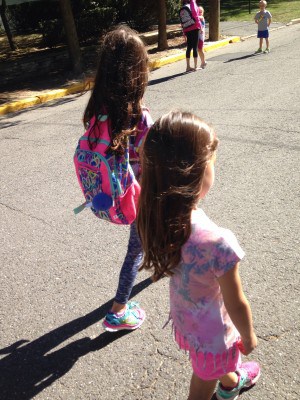 Of course it's obvious that you can't actually, physically run away from problems.  Problems will find you if they want to no matter how many miles you run, no matter how many marathons you finish, and no matter how fast and efficient a runner you are.  I know this.  But that hasn't stopped me from trying to run my problems away, or rather, run my feelings away.
My best running year to date, but also the one that led up to burnout and injury was also the year that my older daughter had major surgery for juvenile scoliosis.  Basically, her doctor found a double curve in her spine, and, despite wearing a brace the curve worsened dramatically over the course of 6 months.  She had surgery which attached 2 titanium rods to her spine that are supposed to lengthen with it as she grows.  She was 5 1/2 at the time, and it was 2 weeks after I qualified for Boston at the NJ marathon.  The timing of this was no coincidence.  Running helped me manage my feelings in a way that wasn't scary.  Running helped me not feel some of my feelings at all, and provided a much needed distraction from thinking the worst.  Setting the goal to qualify for Boston meant I had something other to think about than what I feared.  I am not saying this was the ONLY reason I set this goal, but I do realize now how it worked for me while I dealt with stressful life circumstances.
It worked, but then it didn't work.  I found that I relied on running too much and was using it to create distance from my feelings about the scoliosis and what my family was going through.   When you realize something like that you hope that you can prevent it from happening in the future.  At the end of the day – I want to live my life and be present for my life – even the bad times, especially those involving my kids.  It's a lot easier said than done, however, and at the moment I'm faced with an all too similar challenge.
I knew this was coming, because I've been looking at my younger daughter's spine for 2 years now, comparing it to her sister's.  I finally made the call that I couldn't ignore what it looked like anymore about 2 months ago.  I'm ashamed to admit I didn't get her checked out sooner, but something in me wasn't ready to deal with it.
So here we are again at the beginning.  Scoliosis.  I cringe writing it because I still don't want to believe this is happening again.  She's 5 1/2 right now and it's not as severe as her sister's was at this age, but, it still means X-rays, an MRI, and a brace to wear 22 hours a day.  If I didn't know the last ending I might not be so much of a wreck, but I honestly don't feel like I have it in me to go through the entire thing again, especially because my older daughter is still being watched closely and she may need another surgery over the next few years.
I tell myself it could be a lot worse.  I feel guilty for not being able to pull it together, because, after all it really COULD be a lot worse.  I feel guilty for not having been thankful for every single healthy moment we had.
I feel ashamed for not being a stronger person.
So, I take those feelings and run them into the ground.  Because I know they're not changing anything and I know they're not helping.
But, they are there.  I know I can't straighten my daughters' spines just by forgetting about them, and, ultimately I know there's really nothing I can do if there's really nothing to be done.  Whether it's scoliosis or something far worse, there's really little we can do to change what's already happening.
What I can do differently from last time is change my own behavioral reaction to the circumstances.  I don't have to make myself sick and injured just because I'm struggling emotionally.  I can use running to help me de-stress and relax, but not abuse it by escaping into it and overtraining.
I hesitated to put this issue out on my blog.  But, it's something that's been constantly on my mind and winds up involving my running as well, as it did 2 years ago.   I have a feeling I'm not alone in this either – isn't there always something we're trying to "run" from?  Doesn't our running life mirror our "real" life in some ways?
How has real life influenced your running, fitness or nutrition?  What have you tried to avoid in your life that you eventually had to confront?