I woke up this morning at 5am and peeled myself out of bed for the usual – bathroom, blog reading, and running – in that exact order.   And yes, I had to literally PEEL myself out of bed, one vertebrae at a time, just like they say in exercise videos.

I find that often on the days I have an "easy" run planned, my motivation is lacking.  My mind has gone into rest-day mode without my realizing it and I don't have the jolt of nerves and adrenaline that I have on the mornings where I plan to run long or hard.
Luckily though, this morning, the first blog post I opened was this one by Tina, a talented and extrememly hard working elite runner who seems to read my mind sometimes with what she posts.  In short, she wrote about shifting your running mantras from the "pushing through pain" kind to a more positive "make things right" focus.
This 100% resonated with me, someone who's viewed running success for way too long from the perspective of "doing hard things" and continuing even when it hurts.  And hurts a lot.
After all, I was the idiot, no,  lost soul, exercise addict(?) who ran through an obvious and very painful injury for over a month in 2013, and even ran a marathon this way, hobbling along, both injured and sick.  Even still, it took me months after that to realize that running should not be a pain game we play to atone for past sins or anything else really. Running is a hobby and a sport that might involve SOME pain, sometimes, but doesn't have to be ABOUT pain.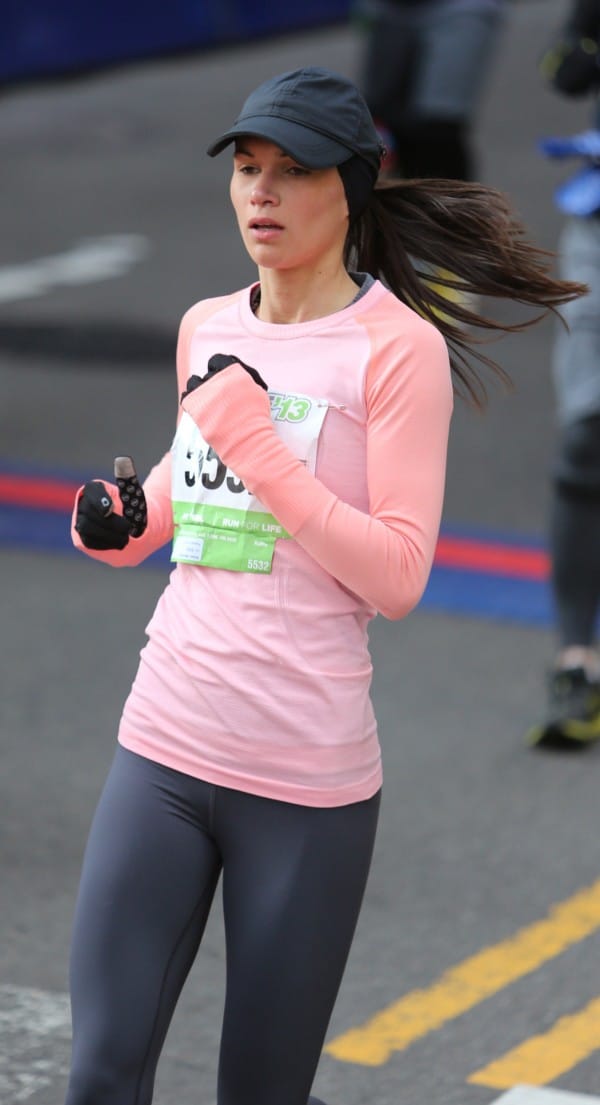 So, after reading what Tina had to say, I went out for my easy 5 miles and did some thinking about what's on the other side of motivation, and how I can make it work for me to create some new, positive mantras as I train for the NYCM.
I'm linking up with Amanda today to think out loud, and hopefully get some of your thoughts on the positive side of motivation as well!
My Old Motivation
I've found both in real life and online that there are others like me who at one point felt, and believed, that sheer determination and a very high tolerance for pain could get you anything you wanted in life.  Or maybe we convinced ourselves that this was true, that we could somehow tolerate more pain than other people and this would lead us to great things.
I hate to write this because it stirs up memories for me of my younger, more insecure and naive self, but this is the truth and it's where I'm coming from.
While training for my first marathon during the winter/spring of 2013, I held tight to the pain game.  I had jumped into running long distances too quickly, and, although I was faster than I am now for the most part, my runs were more painful.  My knees and hips ached, my whole body ached the day following a long run.  I took this as a good sign, even though I now see it as a warning that I was doing too much too soon.
The more painful a run was, the more exhilarated I'd feel mentally, afterwards.  It truly did become an addiction, to the point that I associated the pain of pushing hard or even of running on something that hurt with success.  My mantras were all pain and determination focused, all telling me to push myself until it hurts and then go further.
That first marathon remains my PR, and so at least for that time, I was rewarded by actual success from this mental framework, which has made it very difficult to shift away from.  The rewards pretty much ended there, though.
The Conflict
Eventually, I wound up injured and my IBS was punching me in the gut worse than ever before by October of 2013.  More pain didn't work, I could no longer "just do it" and I couldn't force improvement.  I was falling apart and it was no longer acceptable or desirable to me.  My recovery process leading up to the Boston Marathon 2014 led to the beginning of this blog.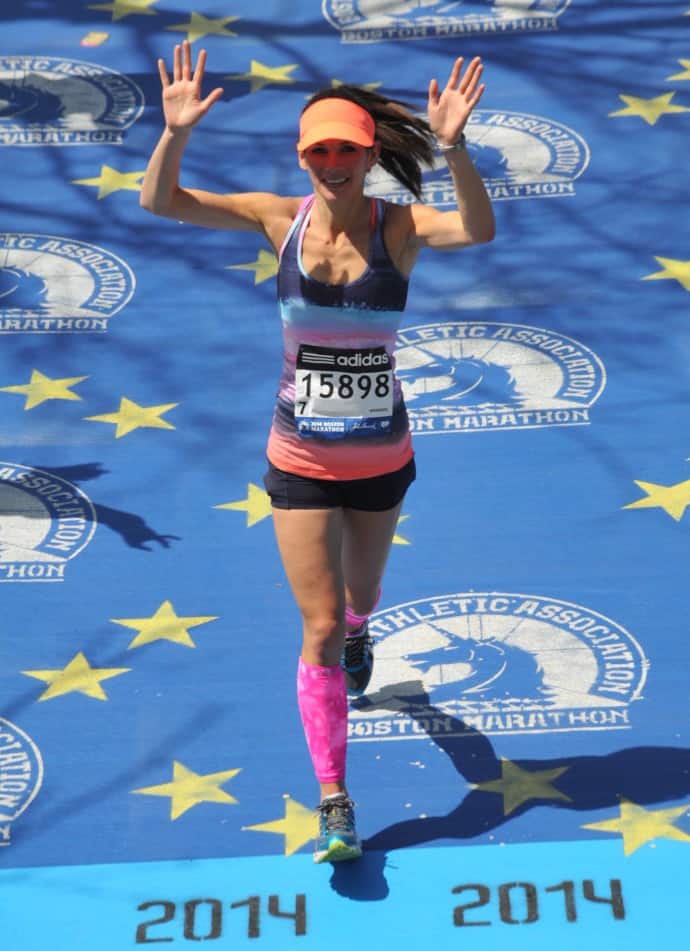 New Motivation?
I approached Philadelphia differently last year, yet almost felt guilty for not "wanting" to be in pain!  Yes, this is a very hard thing to get over.   Admittedly I still feel conflicted now even though I truly don't want to subscribe to the "no pain no gain" mentality, yet it haunts me and I often feel like I'm not working hard enough.  In running, and in life.  The crazy thing is that not a fiber in me even BELIEVES in it anymore, yet there's still that sick little voice that wants to align my worthiness with how hard I push my limits.
As I get into training for the NYCM, as I said in my post last week about goals, this is my dream race and not a measure of my worthiness in any way as a runner or anything else.  It's my HOBBY, I love doing it and I want to celebrate running my dream race while still pushing myself.  After reading Tina's post, I know I need new mantras to take me through the tough moments.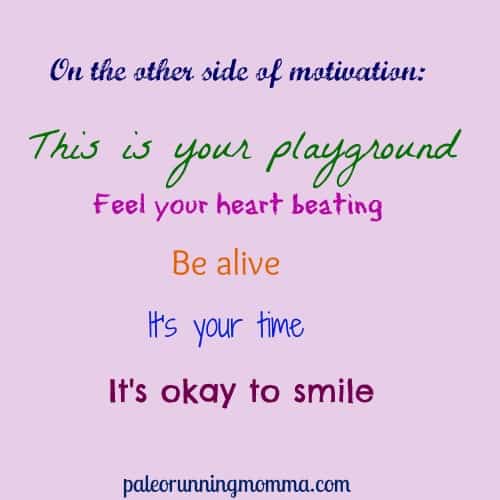 Some of these thoughts that come to mind feel and sound very uncharacteristic of me, since if you know me in real life and on my blog, you know that I'm pretty sarcastic, not a unicorn, and don't drool over rainbows.   BUT I want to be kind to myself, set a positive example for my kids, and once and for all, STOP putting pain on a pedestal.  Lord knows I won't be on my death bed wishing I'd experienced more pain.
This is your playground.
Feel your heart beating.
Be alive.
It's your time.
It's okay to smile.
I'd love to hear some of your thoughts!
What's your favorite positive mantra?
Have you struggled with the "no pain no gain" mentality?