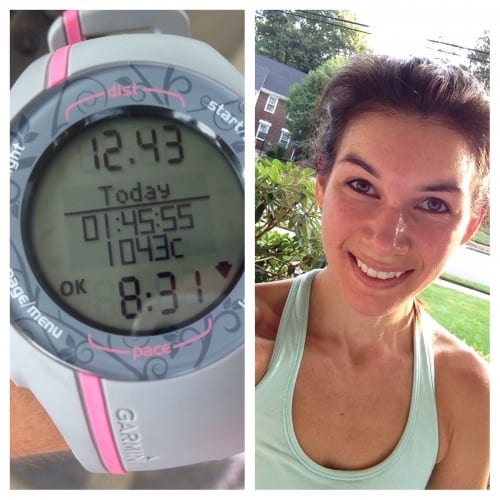 Saturday was just 'bout perfect as far as days go for me.   It started with a 12 mile run.  Now as I've said I don't wake up raring to go run 12 miles and it usually takes me a few miles to really buy the whole long run thing no matter how many times I've done them.  No matter how many great memories I have from my various long runs I'm never truly excited to start one.  Because you just don't know what will happen, and well, I get nervous.  I'm a nervous type and these runs are no exception.  But the "what ifs" can drive you nuts and it's just pointless to go there if you'll be doing your run anyway!
But oh this run was one of the good ones, and that feeling makes any of the bad runs all worth it anyway for me.   A weather geek at heart, the forecast for low 60's, low humidity and high pressure system had me quietly giddy.   I freaking love weather, but that's really another story entirely so back to the running.  Almost every time I do a long run of 12 miles or more I'm reminded that I really am a distance lover.   I almost always do an out-and-back route for my long runs and there have been many times where I just don't want to turn around and add an extra mile in there.  Of course half of those times I regret it on the way back at some point but generally between miles 6-12 something happens to me that makes me remember why I love running long.  I guess scientifically this would just be the "runners high" kicking into but from my perspective, it's the emotions I experience that make long runs my favorite.
It's around 6 miles that I first start getting in that zone.  My mind wanders to various parts of my life, experiences, hopes, dreams, people, places.  Only when I'm running do these things come to me and only when I'm running am I open enough to feel everything that goes along with them.  It's really possible that I'm normally emotionally repressed in my daily life (no time to feel!) and that running is truly my therapy and emotional outlet for everything that goes on in my life.  My time to process, appreciate, cry (yes that happens), feel love, sadness, joy, and get perspective.  It's the emotional experience I get from these runs that ultimately keeps me coming back for more.   I have mixed feelings about this because I wonder why I can't access that state, like, whenever, but then I guess the runners high is kind of a special thing.  And yes, I know this is a chemical reaction going on in my brain that's allowing me to feel this way, but the feelings that come out of it are completely real.   I mean, aren't chemicals involved in everything to some extent?
So I came back from this run in an incredibly agreeable and pleasant mood.  Happy mommy = good times.   I made myself breakfast, which is the best thing ever after a long run as you know.  Seriously – long run, breakfast, no words – just take a moment.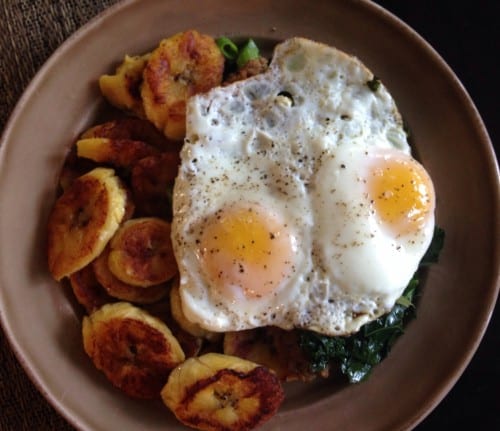 Well thanks for that.   Since my husband gets his "runner's high" from driving over to dunkin donuts for coffee, he wasn't yet in a great mood.  But with a good run behind me all grumpiness is easily forgiven.   Coffee and running win the award for "better and cheaper than couples therapy" in our lives.  You remember we have 3 little kids right? Perspective does not always come easy!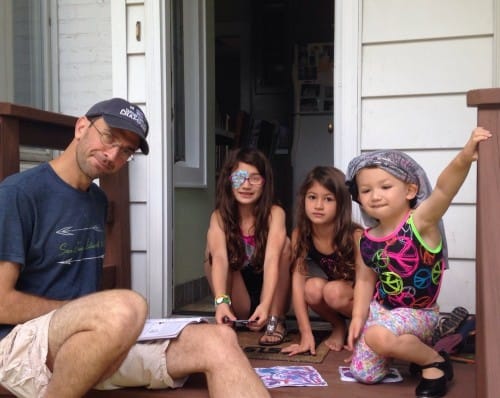 Later we had a small family celebration for my daughter's 7th birthday.  We hung out in the backyard all day and I made burgers, hot dogs and a salad.  Nothing fancy but lots of fun.  Of course in my real non-blogging life I'm really bad at taking pictures.   Actually I'm terrible at taking pictures meaning I can barely remember to take any that are non-food.  It's nice to disconnect on the weekends and it seems like every Saturday my phone is MIA for hours on end and I don't miss it at all.
Having a great first long run of my marathon training has gotten me hopeful about the next 14 weeks.  I'm currently not having any kind of pain and my biggest goal is to keep it that way and also to see improvements in how I handle the marathon paced runs.   I've also continued the "no garmin" for the easy runs and that has continued to be a really positive change for me.  I'm not worried about not knowing my exact "easy" pace, and, based on my long run and tempos I feel I'm on target with where I need to be right now.
Are long runs therapeutic for you?  Do you think the runner's high is "real" or more of a drug-like experience?  What puts you in a great mood on a Saturday?  Anyone else have a son who dresses himself in girl's leotards at home?