Our bodies are each individual.  There is no general "right time" to do any particular activity, but, there IS a right time for YOU to do things to maximize what you accomplish.
For as long as I can remember, I have been a morning person.  Every Saturday and Sunday morning growing up while my family members slept until 8 or 9, I spent 2 hours doing homework, writing stories, reading books, and often just sitting, thinking, and planning.  Thanks goodness I became a runner because it fits into my repertoire really well!
Early morning until about lunchtime is when I feel the happiest, the strongest and sharpest both mentally and physically, the most social, the most fearless, the most confident.  When I plan to get things done during the morning hours – running, writing, phone calls, laundry, cleaning, meetups with friends – they not only get done, but I feel good about doing them not wiped out after I'm done, and often am able to accomplish more than I planned to.   I get excited for activities and events during morning hours.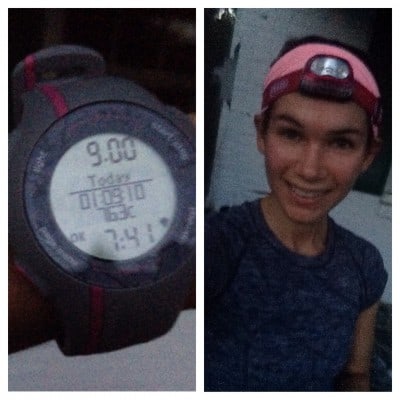 What happens to me after lunch?  Over the course of the afternoon, my energy wanes along with my mood, my focus is off, I'm prone to feeling overwhelmed by small things, less social, less motivated.  By the time I make it to the kids' bedtime at 8pm, I'm often convinced I'll never feel "up" again.  But, I know that once I'm up and running (or writing, or cleaning or laundering) early the next morning, I'll have my mojo back.  This is how it's always been and as often as I can, I attempt to schedule important things into my day during the time I know I'll be naturally more productive.
Maybe you have noticed really clear signs from yourself that tell you when you're up for challenges versus when your body wants rest.  Like if every time you try to run at 6am it's a disaster – your body is saying it needs rest at this time –  or when you sit to write a blog post past 8pm and you can't formulate a coherent sentence (that one's mine,) your body is saying go to sleep.
Or maybe you notice more subtle signs – that you often want to be alone at night, or feel overwhelmed at the beginning of the day far more than at 5pm.  Although they are not so obvious; changes in mood, outlook and energy at certain times of day are clues from your body as to when you should schedule activities in order to be the most productive and successful.  These activities can be fitness related, work related, or social – really anything that requires focus, intent, energy and follow through.
The problem with trying to change your natural inclination is that your body will fight you on it, and fight until it wins.  You will wind up accomplishing less, having more self doubt, feeling defeated and possibly even depressed and/or anxious, and wondering "what the heck is wrong with me??" when, what's really wrong is you're just not doing things at the right times.   You just haven't yet figured out the right time for you to get the most done.
Here are some questions to ask yourself to get a better idea.  Is there a time of day that I…
Consistently feel happiest?
Feel the most social?
Feel physically strong?
Feel mentally sharp?
Absorb information without much effort?
Feel more anxious about getting a task done?
Consistently feel overwhelmed?
Doubt my abilities more?
Feel "down?"
Find it difficult to absorb any information?
When you have a pretty clear sense of the time of day that you are at your personal best, you ultimately have a lot more control over how much you get done.  For me, it means I run, write, and get house work done in the morning. Although I still have plenty of responsibilities as the day goes on, I know not to put much pressure on myself later in the day because it's just not my time to be productive.  I can still get things done if I need to, but I don't question why I'm not at my best.   Later in the day is when I "power through" but don't really expect much in the way of greatness!
Obviously we are all going to have responsibilities that don't always line up with what our bodies want.  That's part of living and working in our society.  What we CAN do for ourselves is to get creative with our time.  If we know that our workouts are the strongest in the evenings after work, for example, and getting in strong workouts is a priority, we can arrange our schedule to make it happen.  Maybe that means doing crock pot dinners 3 days a week, or always having meals prepped and ready to go to make room for getting home later.
If on the flip side, you know you are strongest in the morning, you will want to prioritize going to bed early and leaving plenty of time early in the morning to get your workout in then.  Sometimes it will have to be about choosing the lesser of two evils if your schedule gets really out of hand.  I have been known to choose to run at 4am versus 3pm.  I know that sounds strange but it completely works for me!
Do you notice there is a distinct time of day you are "on" and therefore more productive?  Does your natural time for productivity align with your schedule or are they out of whack?  Have you tried to be productive at the wrong time for you and had problems?