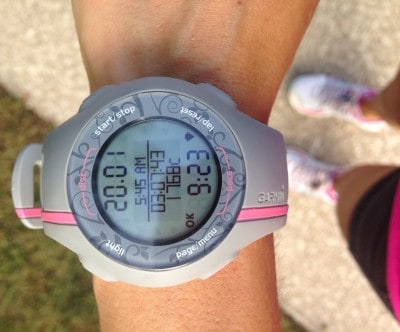 The pre-dawn hour ain't always pretty but for me it's the only way to go.  Here are my 10 best reasons to run at 5am (or 6am, I hear you) in no order:
1.   No time to talk yourself out of what you planned to do.  Just put the darn clothes on and start running!
2.  Besides your own brain, there are just less obstacles in general at that time of day.  I mean there's no one else awake to stop you.  If you have kids and/or a full time job this is precious time.
3.  You get to be alone!  By yourself, outdoors, the world looks a lot better.  You might even see the sun rise.  Not a bad way to begin a day.
4.  Complete freedom to rock out and run-dance to your playlist.  Chances are it's too dark for anyone to see you practice your Broadway duet with Idina Menzel.  Just go for it.
5.  No worries about eating a too-big meal beforehand.  I do most of my runs within 20 minutes of waking up and in a fasted state.
6.  Your body learns to burn fat more efficiently.  If you run in a fasted state you inevitably train your body to be efficient even while depleted.  However, for long runs fuel is always necessary!
7.  You begin the "real" part of your day feeling awesome.  Nothing like a runners high to get the day started right!
8.  You can sit on your butt/go shopping/read/go out for coffee after preschool drop off in non-workout clothes!  And still feel awesome and way productive, of course.
9.  People think you're hardcore.  And you are, sort of, or maybe just really anal about getting the training in.  Is there a difference?
Because wearing a headlamp is cool.  Well, no, it's not, but there is something about going out for a run with a headlamp that makes you feel a tad extra dedication to the entire endeavor.  And I like dedication and it's cool 🙂