Maybe one day, for one of these "What I Ate Wednesday" posts, I'll actually show you what I ate on a Wednesday.
Because trust me, what I eat on a real live Wednesday is way different than what I eat any other day of the week.  Just look at my Instagram.  I don't even eat eggs or plantains or anything on Wednesdays.  Wednesdays are for fried pizza dough, margaritas, and chocolate chip cookie dough from a plastic bucket, in that order.
Just kidding.  I eat the same paleo sh*t on Wednesdays that I do every other day, and I love every minute of it 🙂
So you're getting Sunday.  Because, I managed to take a picture of everything I ate that day through sheer focus and determination.   Thanks Jenn for the link-up!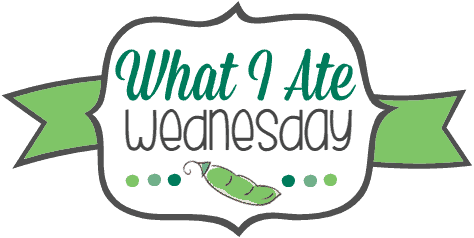 When I set out for a run between 10-13 miles, the question is always "to eat, or not to eat." I usually choose the not, because it's so early in the morning that hunger hasn't kicked in yet, and I don't mind the empty stomach feeling.
That said, I probably could have used a banana before my 11 miles on Sunday, because I left the house at a whopping 6:30 (lazy) and that 45 minute difference, well, makes a difference!
Needless to say, I hobbled straight to the stove when I got home to cook me some breakfast.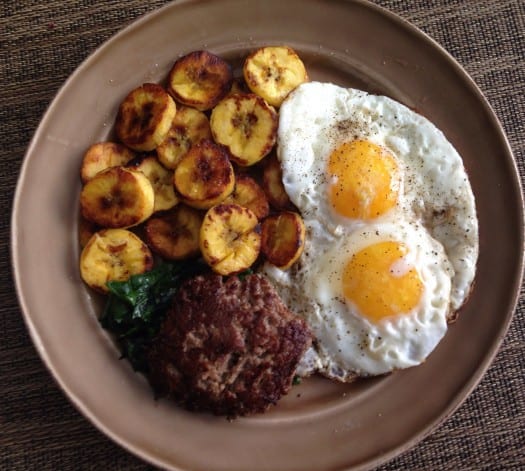 Sweet plantains are almost always on the post-long-run menu for me.  They are sweet, filling, delicious, and go with all the other stuff on my plate.  Which today was kale, a ground lamb slider, and eggs fried in coconut oil.  Actually all of it was fried in coconut oil, including the burger, because how many pans do you really want to dirty up just for yourself?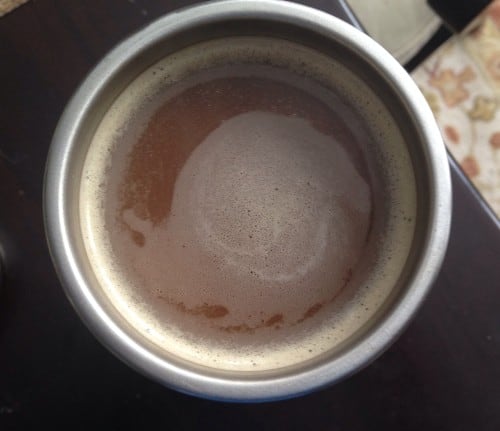 By the time I stretched, showered, had coffee (delicious with frothy coconut milk), cleaned up, and blogged it was practically time for lunch.  I always make food for my kids before myself, not because I'm nice, but because it means there's a much better chance I'll enjoy my food if the kids are fed or being fed.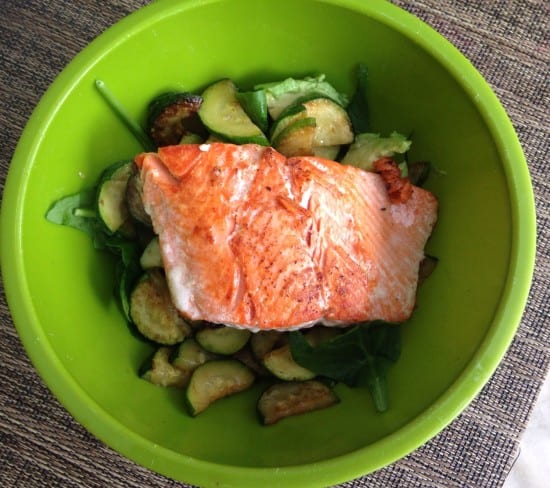 Once everyone else was taken care of it was probably 12:30.  I sauteed some zucchini and pan fried a wild caught salmon fillet in coconut oil to get the skin really crispy (splurged on 2 frozen portions-sized fillets, very worth it.)  I put that over baby spinach, avocado and sprinkled everything with sea salt – delicious.
Around 3:30, watching the snow fall down in heaps once again, I had a snack.  Sliced banana with blueberries and coconut butter, plus a passionberry flavored GT's Kombucha.  One of my current favorites!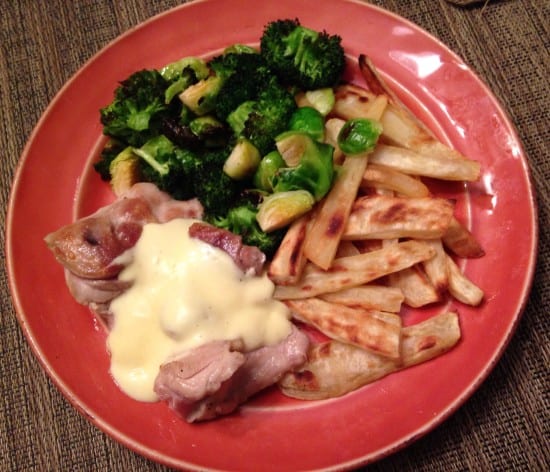 For dinner I was daring and wild.  Really, I ate brussel sprouts and lived to tell about it.  I've been really sticking to low FODMAP for the most part, and with that, avoiding the sprouts.  But like I said in the FODMAP post, for me, it's the accumulation of too many high FODMAP foods that gets me in trouble.
So I promise myself I won't roast my sprouts with chunks of garlic like I used to.  That sounds good right?  Wrong, I can hear the spasms already.  Anyway, I just try to be moderate with the amount of higher FODMAP foods I eat, and give myself more leeway AFTER a long run.
The rest of my dinner was baked white sweet potato fries, boneless chicken thigh pan fried in coconut oil and sea salt, topped with a more lemony version of my homemade mayo, and some roasted broccoli along with the sprouts.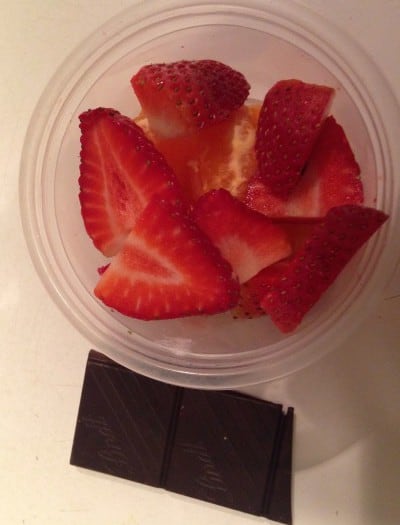 If that is not the ugliest picture of a piece of dark chocolate.  With my dark chocolate (Lindt 85%) I had a clementine and a couple of sliced strawberries.  Night time kitchen lighting makes all food look sad, doesn't it?
And that was it, everything I ate on my Sunday runday.
If you do "what I ate" posts, which day of the week is the food from usually?
Do you find that you eat the same things on specific days of the week or do you mix it up?
Do you always eat before a 10 mile run or go on empty?