This post was sponsored by TULA Probiotic Skincare and all opinions are my own, as always.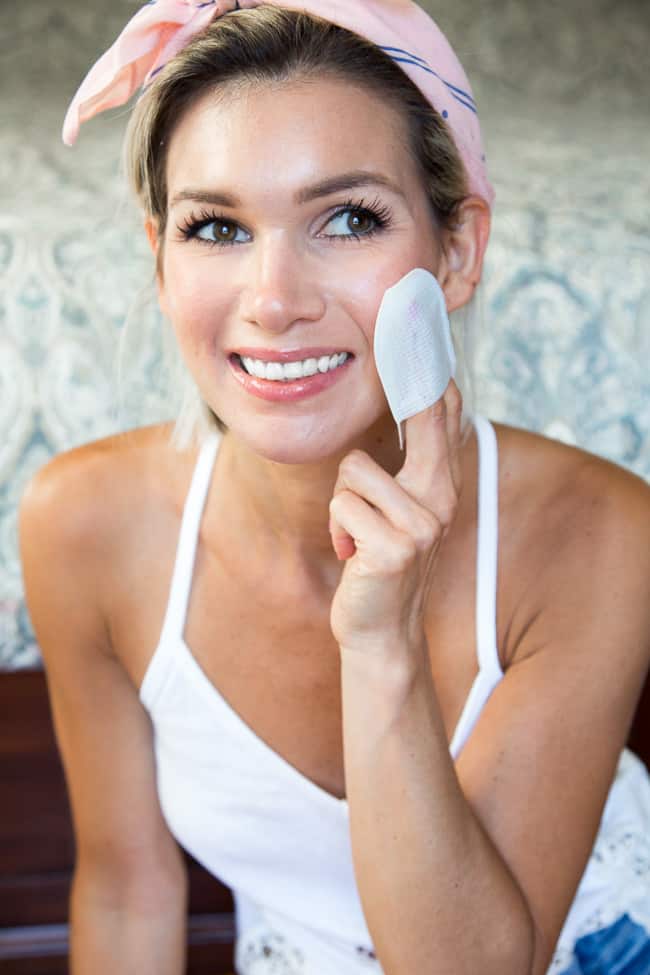 We're deep into the hot humid summer days and nights that I LOOOVE so much (sarcasm, seriously) and that means a few things for me and my skin.
You see, I have always had oily, acne prone skin and it seems that isn't going to change anytime soon as I once thought it might!  Raise your hand if you're in that wild zits+wrinkles stage that I've found myself in – not the most fun, but we're making the best of it!
Anyway, I used to basically give up on taking care of my skin during the summer because there seemed to be no way to control the oil and moisturize at the same time.  What I was left with was doubly-damaging – more pimples snd shininess and also more fine lines and wrinkles from lack of hydration.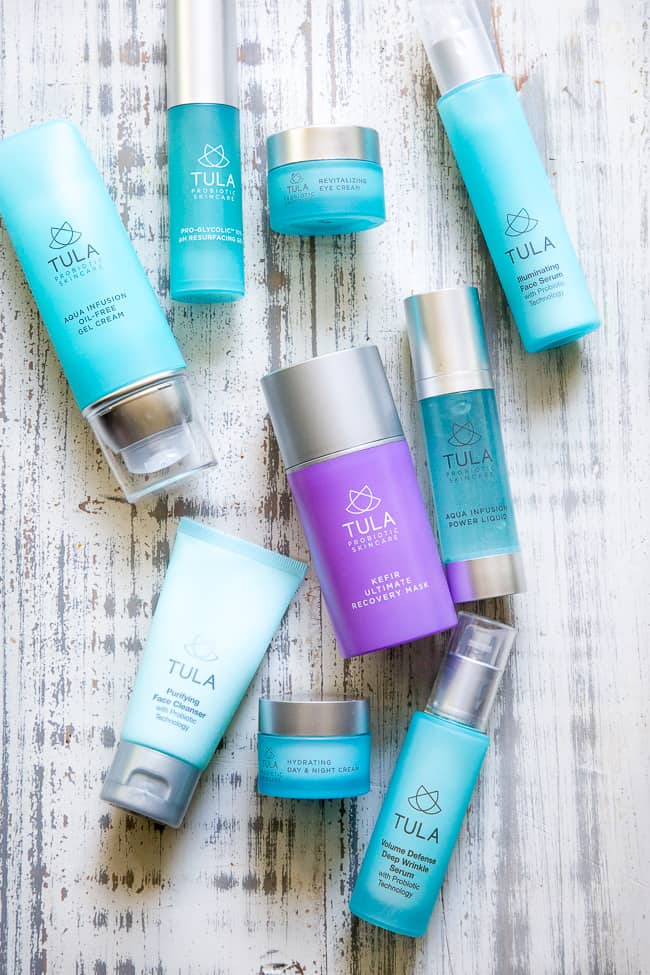 Luckily, since using TULA I've found several products that actually balance my skin during the humid summer months in a way I really thought wasn't possible.  All TULA products use probiotics as the foundation for their formulas.   To learn more about my skincare routine with TULA, see this post.
These same bacteria that are best known to help balance your digestive system are also clinically proven to help promote the look of skin's natural balance, locking in moisture to leave your complexion more hydrated and reducing the appearance of inflammation.
So, it's no surprise that TULA products help me so much through those months of crazy summer skin issues!  Today I'm sharing my current favorites that have been keeping my skin baby-smooth, hydrated, and (mostly!) clear this summer!
I also have a discount code for you all – just type in the code PALEOMAMA at checkout for 20% off your order.
Summer Beauty Favorites with TULA Probiotic Skincare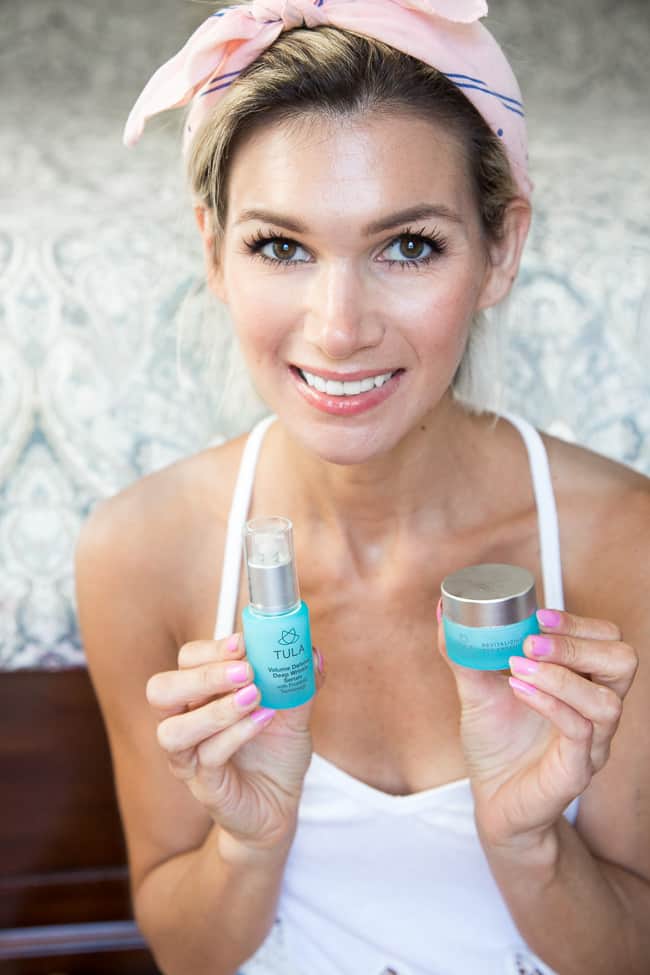 First, the wrinkle front.  Being in my mid-late 30's now there's basically no avoiding those lines that seem to start forming around and between the eyes, forehead, and around the mouth for me as well.
More exposure to the sun during the summer seems to exacerbate this for me (or maybe it's just being another year older!) so I've been religiously using the Volume Defense Deep Wrinkle Serum – and with great results!
It's a milky, concentrated serum that specifically targets the look of deep wrinkles and lines by combining natural probiotics with retinol and Vitamin C.  It's suitable for oily, dry, normal, combination, and mature skin, so it's pretty perfect for just about anyone!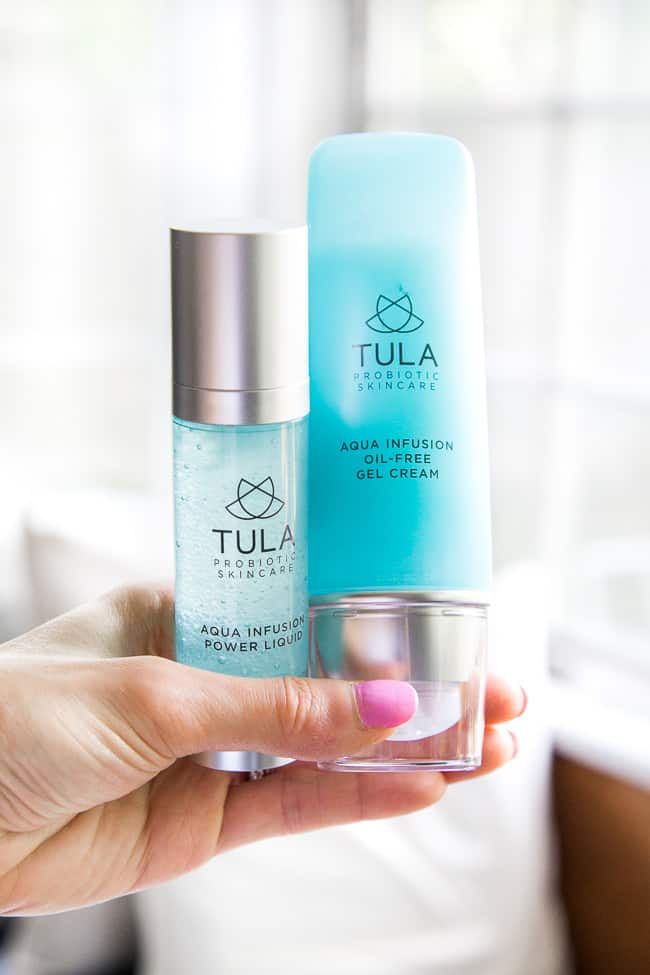 I'm also continuing to love this duo for moisturizing my oily skin – the aqua infusion power liquid + oil free gel cream!  If you're skin gets oily and more acne prone in the summer then this is the perfect answer to hydrating it this summer.
You can see two photos below just how light and clear the power liquid is.  I've been using it after cleansing in the morning and feel like it really helps avoid excess oil and shininess during the course of the day, all while leaving my skin super moisturized.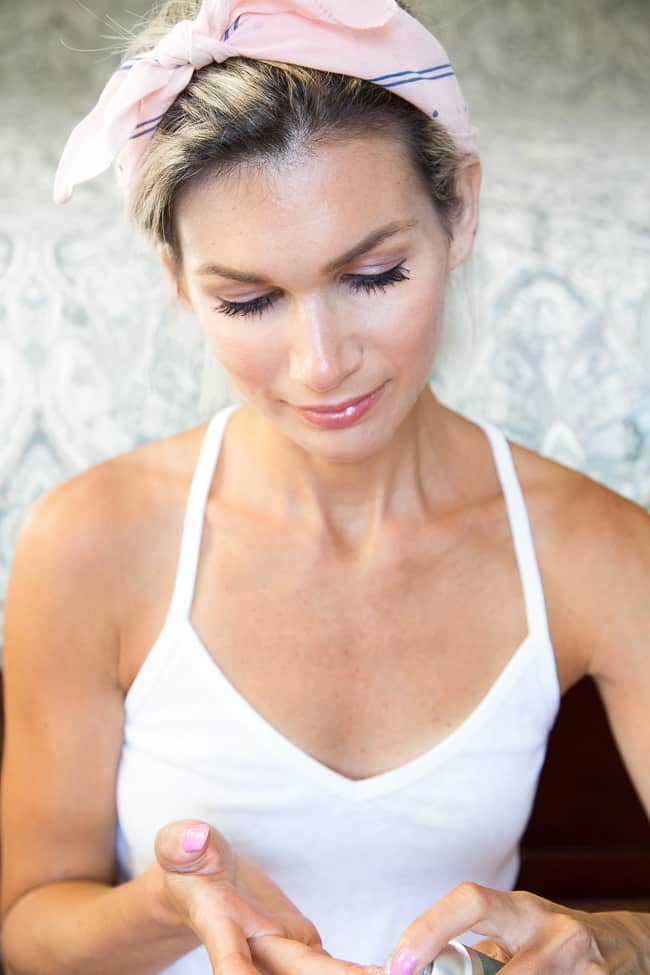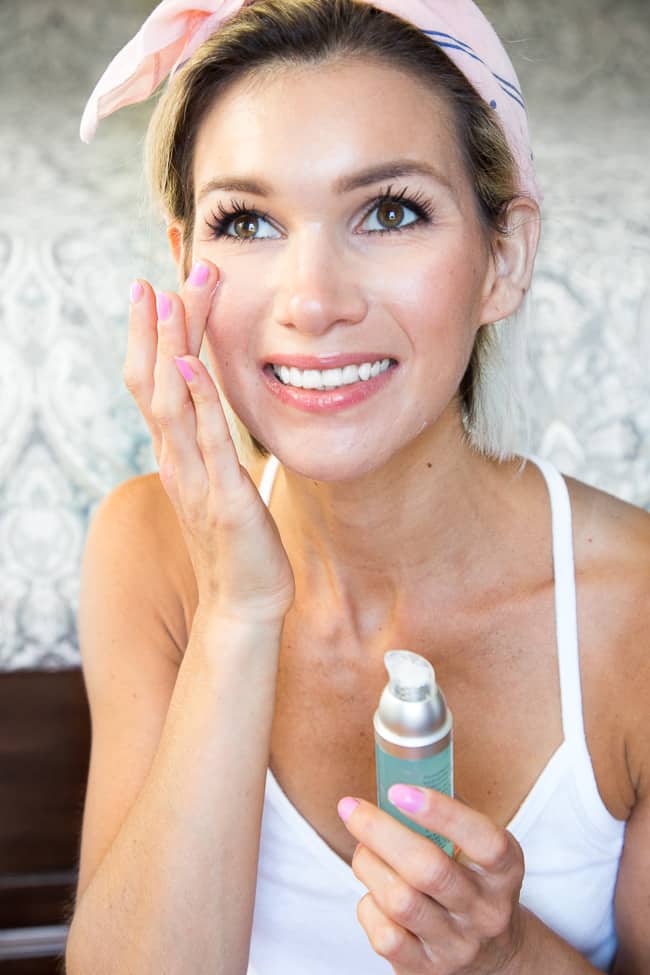 Next, the dual phase skin-reviving treatment pads are SO perfect for getting excess gunk out of your pores and combating summer breakouts and overall lackluster skin.
It's 1 Pad, 2 sides, and 2 minutes to baby soft, smooth and brighter looking skin.  It's sort of like a 2-minute facial to remove junk and refresh your face!
The pads are once again suitable for oily, normal, combination, sensitive, and mature skin.  I've been using them about twice per week right after taking off my makeup at night.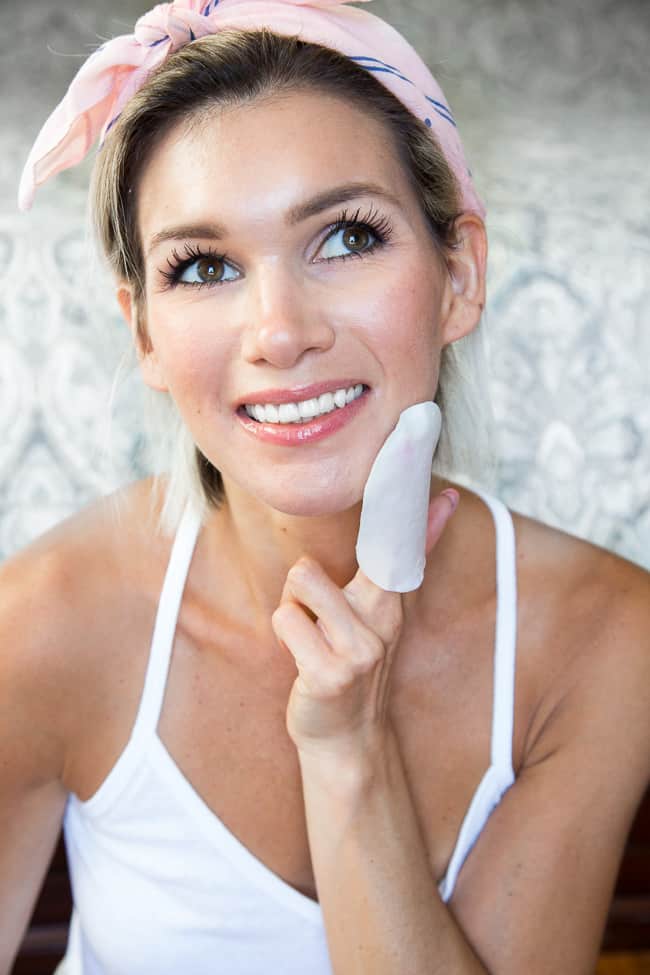 I definitely can't discuss summer favorites without taking about eye cream!  If you're like me, you wind up pushing your limits over the summer and wind up paying for it with less sleep.
For me, less sleep SHOWS on my face (puffiness, dark circles, and lines!) in a way that it really did not just 5 years ago.
Anyway, I've been using and experimenting with two eye treatments from TULA – the revitalizing eye cream and the Multi-Spectrum Eye Renewal Serum.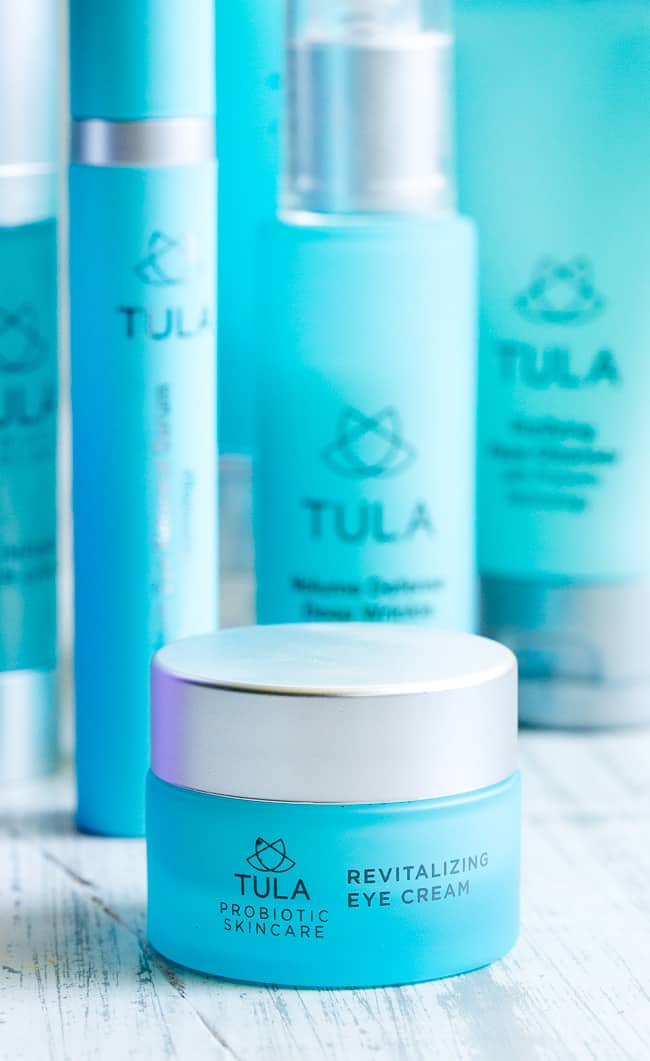 The revitalizing eye cream is a super creamy moisturizing formula that really helps with lines and dark circles around the eyes.  You can use it morning and night and a little bit really goes a long way!
It contains antioxidant-rich squalene cream that penetrates to deeply nourish the delicate eye area plus 100% natural probiotics and jojoba oil that lock in moisture.
It's once again suitable for all skin types and all ages – perfect for eyes in need of an anti-aging boost.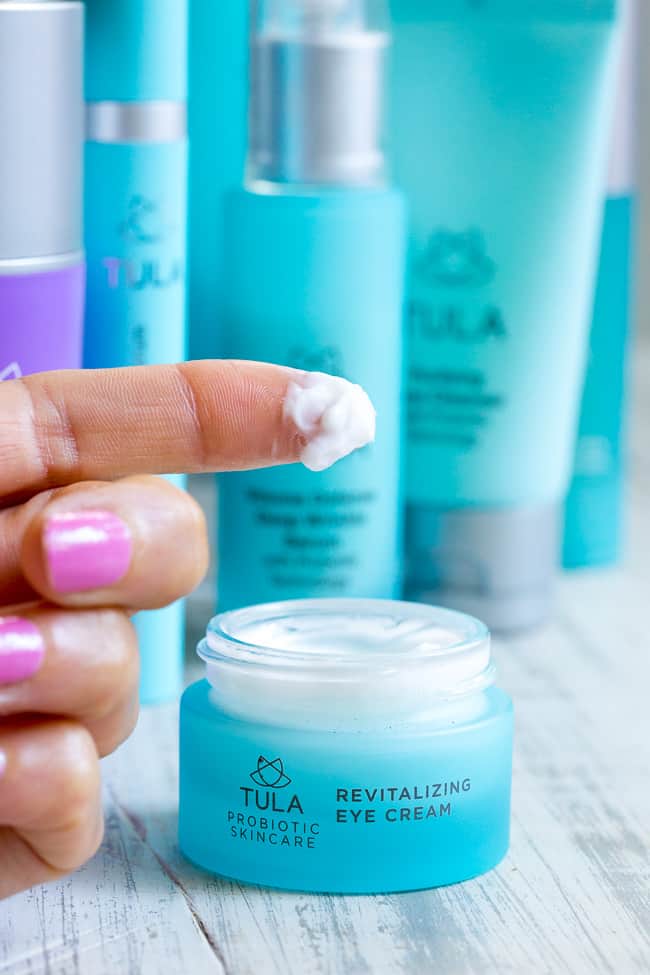 The second eye treatment is PERFECT if you're getting less sleep and waking up with puffy eyes in the morning like I am!  The Multi-Spectrum Eye Renewal Serum blurs and relaxes the appearance of lines and crow's feet, and helps to reduce the look of puffiness in the eye area.
The Peptide Complex targets the appearance of fine lines and wrinkles while the cooling metal applicator (see below) delivers the perfect amount of product.
It's ideal if you're looking for a truly powerful anti-aging eye treatment (hand raised!) to awaken the look of tired eyes.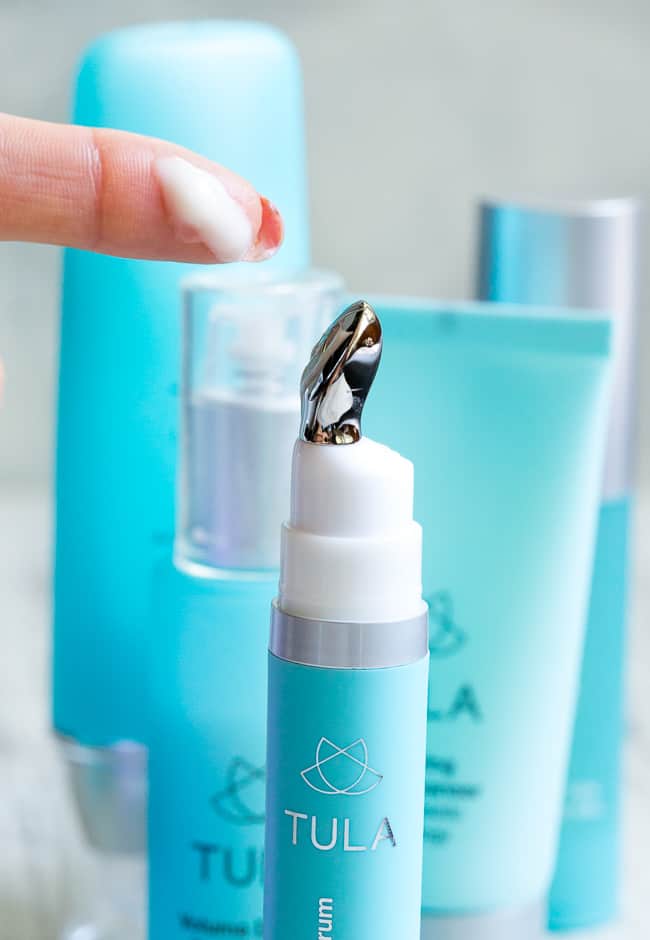 If you're looking for a great soothing mask to moisturize and comfort your skin in the heat of summer, the Kefir Ultimate Recovery Mask is your best friend.
While this one isn't for oily skin, it's deeply moisturizing, revives dry and dull skin, and soothes irritated and distressed skin which can often be a result of more time outdoors during the summer months.
The recovery mask
is also great for balancing combination skin and helps your skin hold onto moisture as well.  I've been using it once per week and love how it feels while it's on – it has a wonderful cooling effect that feels amazing!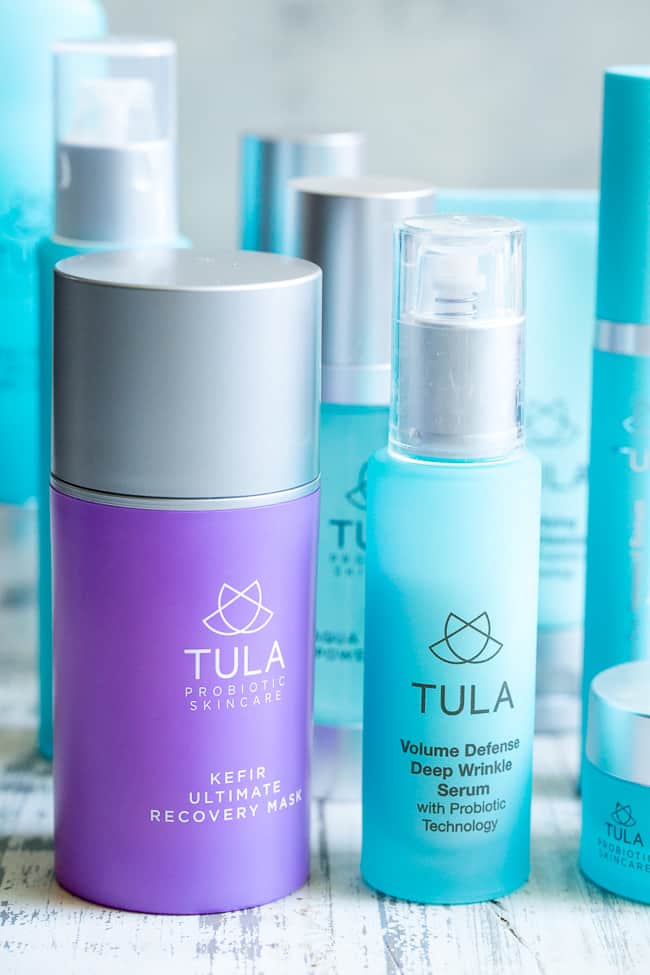 Lastly, the Daily Probiotic & Skin Health Complex is worth mentioning since it's just as great for gut-health as it is for skin health!
This probiotic supplement is formulated by a gastroenterologist with 3 clinically proven strains of bacteria to address digestive issues.  It also contains a daily dose of vitamin C and ceramides to help boost immunity and the appearance of healthy skin.
If you're looking for a probiotic supplement for overall digestive wellness that also happens to specifically target healthy skin – then this is the probiotic for you!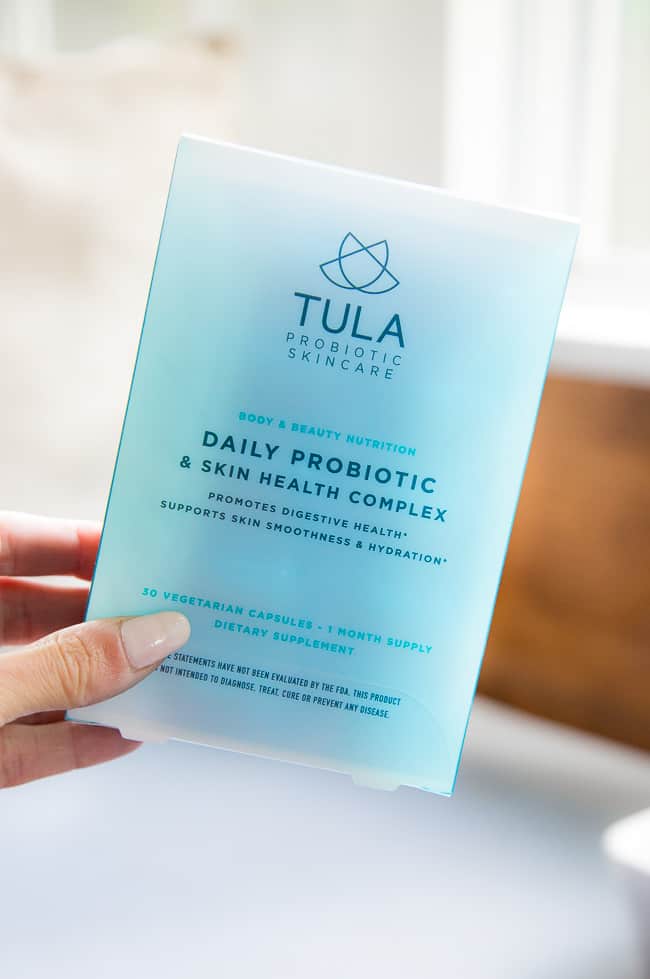 Remember to use this awesome discount code so you can try TULA for yourself!   In addition to the specific products above, TULA also has starter kits so you can pick the one to target your skin's specific needs and test out the products that would be perfect for your skin type.
Check out the Clear Complexion Kit, Anti-Aging Discovery Kit or the Original Discovery Kit to try out TULA's tried and true core products.
Use the code PALEOMAMA on the TULA website for 20% off your order.  
I hope you're all enjoying the summer (in all its hot sweaty glory), getting in some R & R and maybe a little ice cream making too!  I'll be back later this week with new Whole30 recipes, see you then 🙂