The title of this post makes it seem just a little bit more intense and negative than it really is, and no, I don't want any of YOU to stop emailing me!  Maybe I should just get into it to explain myself so you can see it's not all bad. Because apparently I'm not just negative today, I'm also defensive and feeling misunderstood right off the bat.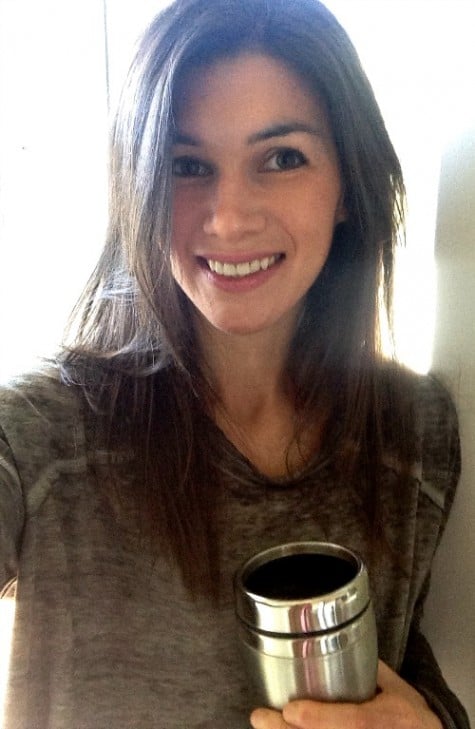 Funny, I look happy enough as of 5 minutes ago having coffee and taking this selfie.
Anyway, it's Thursday and I'm ready to Think Out Loud about the random happenings of my week, and probably not show you any pictures of food, unless one decides to upload itself by accident.  Unlikely, but these things happen sometimes.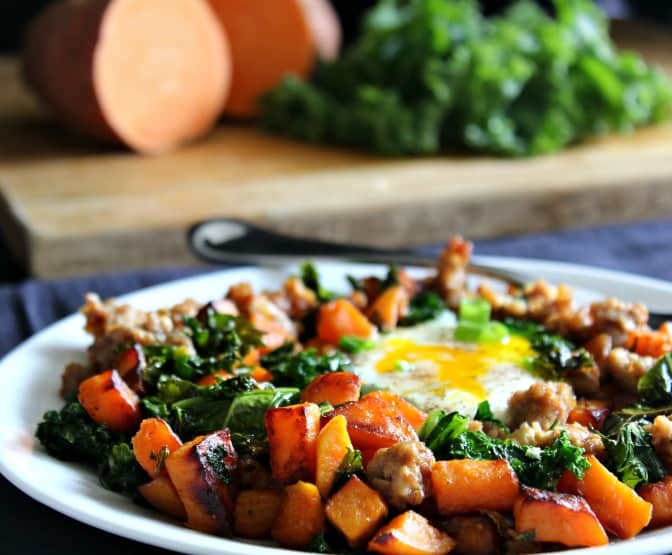 So weird.  I say it and then look at that – it happens.  Just kidding – I finally re-took pictures for one of my easiest go-to recipes ever, and one that I just happen to eat really often – sweet potato sausage hash with kale.  Now moving on to what's really on my mind!

1) I NEED Lululemon to stop emailing me their new stuff every Tuesday.  This is what I meant when I said "stop emailing me" and really, I mean it.  No, I can't hit the unsubscribe button because that would traumatize me for life and make me question everything, plus I seem to not be physically capable of doing it.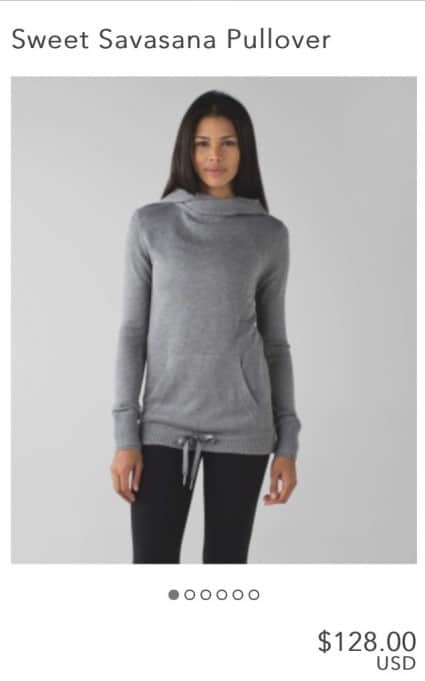 But seriously, I really do need to unsubscribe from their emails, because I wind up spending a good 30 minutes looking at the new stuff, then fighting with myself not to buy a single thing.  Lately I've been winning at that game luckily, BUT the whole thing sucks pointless energy from me and is just plain stupid.
I could spend those 30 minutes or so doing something far more positive, right?  Maybe.
If by positive you mean stalking random people I don't care about on Facebook, pretending the republican debates are old SNL skits, or googling various celebrities to find out how old they are and then acting surprised (You mean Leo Dicaprio isn't 25 anymore?  What the hell happened?!  And SNL really isn't as funny as I remember it..) then okay fine, I'll do those things instead to pass the hour of 9-10pm.
2) So, I always feel sort of ashamed to have to say this, but, I already said it in the title so here we go.  I have ZERO motivation to run this week.  And, I have a feeling this lack of motivation might continue into next week, and the week after, and so forth.
I think it comes down to my old source of motivation losing power for me.  I could probably write several posts just on this, but in a nutshell, I think blogging has become for me now what running used to be.  My old focus on improving my running times has now become a desire to grow and improve my blog.  Funny, right?  And ironic maybe, since this blog started as an outlet for my obsession with running!
Understanding the shift helps me accept what I'm feeling right now, while at the same time I'm trying to keep up with running, since there happens to be the Boston Marathon to think about and start training for in a month or so!  Let's just say my training for Boston 2016 will not look anything like my training for NYC did.
3) The things that cause me anxiety nowadays have quite a great range.
Exhibit A: Some things will never change, like the FEAR of my kids catching a stomach bug.  When I'm faced with the threat, it literally terrifies me to the point where I'm talking myself down from a panic attack.  The threat this time was Adam texting me that his stomach didn't feel right yesterday.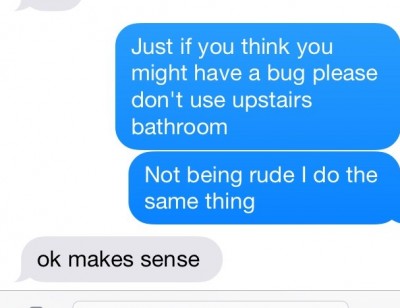 I am now at the point where I will gladly take a bug myself if my kids are spared.  And I do genuinely lose my mind temporarily if they come down with one – it's not pretty and I'm not proud of it!
Exhibit B: On a completely different note, I also experience far too much anxiety over what I need to send into school on what day.  Especially this time of year.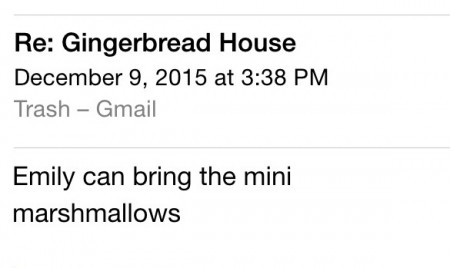 Searching through my gmail trash at 5:30am to find out when I needed to bring those 4 bags of mini marshmallows.

I'll probably be doing the same about the butter next week.  Forgetting something as simple as bringing butter to school would kill my mom self-esteem, which is typically on shaky ground anyway.  It's little things like this that will forever leave me feeling like I just can't get it together!
So to conclude, I made a sweet potato hash, took a selfie, fought with myself to not buy anything from Lululemon, had a panic attack over Adam's stomachache, and faced my fear of failing as a parent because of mini marshmallows.  All I need is a hashtag now to sum it up.  #livingthedream – I think that's fitting.
What the most ridiculous thing you experience anxiety over?
Are you tempted by shopping emails?
What motivates you to run/workout lately?