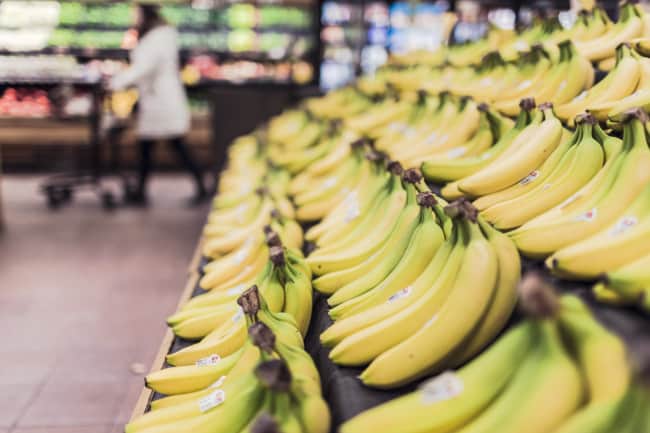 I understand I am making a bold statement here.  "Paleo diet on a budget" is a topic that has been covered in countless blogs, books, web forums and amongst friends who are trying to stick to the lifestyle.
Then why, if there are so many answers, do people continue to struggle with the "paleo on a budget" question?
Having obsessively searched for answers to this question for my own family, I have come across A TON of advice that DOES NOT APPLY TO MY SITUATION WHATSOEVER, but might work for someone else.  I think part of the problem is, there is so much variability and personal preference when it comes to what we actually eat, how we prepare and cook meals, what we are willing to spend money on and what we are NOT willing to sacrifice.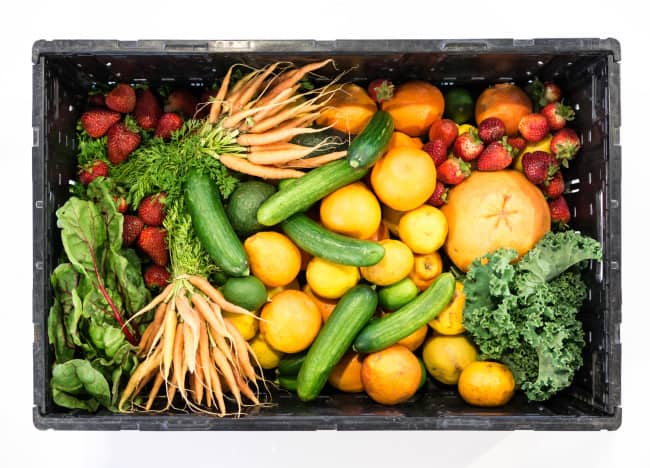 For example, a tip I have often come across is buy lots of bags of frozen mixed veggies since they are less expensive.  Well, I FLIPPING HATE FROZEN MIXED VEGGIES!  And so I would not prepare them and they would sit in my freezer for a year while I went and bought my yummy fresh veggies roasted in the most expensive oil in the health food store.  And nobody wins.  That tip did not pass MY test.
So while I don't know YOUR situation, I will share with you the 10 things that have passed my test (a couple may surprise you, a couple may seem to have nothing to do with paleo) and I will explain how you can expand on my experience to make it work for your own life.  And I will attempt to do it quickly as to not waste your time (time=$). Spoiler alert: none of these tips involve purchasing half of a cow.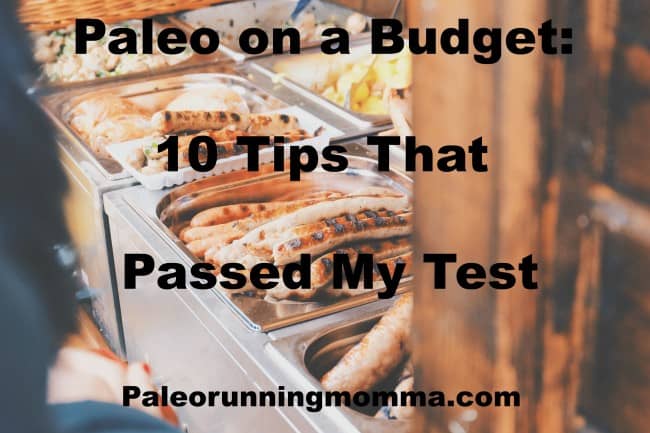 TIP # 1
STOP FOCUSING SO MUCH ON ORGANIC PRODUCE
Blasphemy!  But seriously, you have a tight budget right?  Quit focusing on higher priced organic produce and just look for "good enough" produce from (GASP!) the regular old supermarket.  Look, I love me some Whole Foods organic produce like anyone else, but what's the point of being healthy if I'm gonna be a broke old lady living in a dumpster?  Look at the whole picture of your life, and decide that if you need to save some $, skip the organic, which leads me to the next tip.
TIP # 2
STOP GOING TO WHOLE FOODS (or high-priced market of choice)
Sorry to break the news, but Whole Foods be hustlin' you my good friend.  Stay far away.  Need I explain?  Yes I'm a fool as well, I bought some trail mix there last week that cost me like $12.00 and all I came in for was sausage and plantains.  Not cool.  It's like I go in there and I lose myself to the seductive charms of the "365 everyday value" and before I know it I've spent $200 on trail mix, bananas, coconut oil, baby spinach and sausage. If you are on a budget and you have zero willpower against the genius marketing, just quit it.  However, if you can exert SOME self control, there are a few things they have that really ARE budget friendly that may interest you.  I'll explain in tip # 3.
TIP # 3
THINK CHEAP AND DELICIOUS
You can turn the tables against Whole Foods and hustle them instead.  While they are calling your name over to the $10 suja juice and $15 almond butter, check out the plantains for $.50 and stock up, and check out the meat on sale.  You can find good deals on ground meat (grassfed!) and store made sausage (which my regular grocery store has none of).  What you want to do is make a list of the things that you LOVE TO EAT that are NOT SOLD AT THE REGULAR GROCERY STORE, and find them as cheap as you can at Whole Foods (or similar store).  If you buy things that are straight up delicious, you are going to have an easier time sticking with paleo and your food will not go to waste.  Even if a couple of these yummy foods come from a higher end store, they do not have to wreck your budget.
TIP # 4
EVALUATE AND ANNOUNCE YOUR PRIORITIES (to yourself)
Why isn't this tip # 1? It could've been but I wanted you to read at least half of this blog post. But yes, this is important beyond emphasis.  Chances are that unless you are living a minimalist lifestyle, you spend a few extra $$ on hobbies (running shoes anyone?), dinners out, trips, and the like.  You are the only one who knows what these things are, and if you are looking to save money you need to be honest with yourself about what you spend money on.  Over the course of the past 6 months or so I have (painfully) analyzed my spending habbits and have come to terms, for now, with what I will and won't spend on.  Running is very important to me so I do spend money on races, (some) gear, and shoes (as need basis).  Nourishing, delicious food is important as well.  On the flip side, I've decided that dinner out and frivolous fashion and beauty purchases are NOT in line with my priorities as they do not enrich my life and make me healthier.  Before implementing any of the other tips, I do believe priority evaluation must take place.  Your priorities act as the foundation for a budget that you can (happily) live with.
TIP # 5
BUY GROUND MEAT
Ground chicken, ground beef, ground pork, sausage, ground turkey.  The amount and types of meals you can make with ground meat is astounding.  This is one of those really commonly heard tips that actually works really well for me!  Burgers, meatballs, egg scrambles, chili, meatloaf are just some of the types of meals you can whip up with ground meat.  Plus I really love this stuff.  Just yum.  Bonus if you can buy it on sale.
TIP # 6
INVEST IN A PRETTY WATER BOTTLE AND THEN DRINK LOTS OF WATER
I used to HATE water.  I was addicted to diet soda and only drank water after running in the summer.  Not even in the winter.  It had to stop.  I bought myself a really cute, durable water bottle that holds a lot of water and made sure I liked the "flow".  Now I drink lots of water and don't spend money on beverages (okay fine, kombucha is a treat and it's pricey and yes I drink it!) But the point is sometimes all it takes is a pretty water bottle to get you in the habbit of drinking lots of water.  Not bottled water I mean actual FREE water.  FREE water will save you money 🙂 Splash it with a touch of orange, cranberry, or lemon juice if you must.
TIP # 7
BUY COOKING OILS IN BULK
Extra virgin olive oil and coconut oil go the distance when bought in bulk.  Since you are using these things all the time you will get your money's worth.  I LOVE ghee, but, haven't found a way yet to get it cheap, so it's a real splurge for me.  I know some people make it on their own but I'm not sure I'd want to do that to our family's butter since my kids eat it.  So when trying to save I stick with what I can stretch the furthest.
TIP # 8
MAKE YOUR OWN DRESSINGS AND MARINADES
This is huge for me since even pre-paleo I was always buying a lot of organic salad dressing.  Now, I use my mayo as a base for creamy salad dressing and use extra virgin olive oil with vinegar, lemon juice, mustard and some herbs and spices to create marinades and other salad dressings.  They taste better in my opinion than bottled dressings and you are completely in control of the flavor and the amount!  Score for yummy budgeting.
TIP # 9
SHOP "BIG" TWICE A WEEK
For my family of 5, I've fallen into the trap of hitting the grocery store every day (impossible to save money this way) as well as attempting to get everything we need in one big trip (always needed to go back resulting in no money saved).  I found a sweet spot by doing 2 larger trips (monday and friday) as well as one small random one because I always forget something.  The key is to stick to a list and not to let the third small trip become a bigger one.  You don't even need to meal plan if you're not into that, just stick to a basic list that covers the foods everyone eats and figure the meals out later.  That third trip is there in case you need something to complete a meal.  For example, if you want to limit your budget to $300 for the week, spend about $125 Monday, $40 mid week for extras and $125-135 Friday to get stuff for the weekend.
TIP # 10
DON'T BRING THE KIDS TO THE STORE!
I made this mistake for SOOOO long mainly because I didn't realize how much extra I was spending with them there.  It was also hard for me to NOT take them, since I was with them all the time, but I assure you, you will SAVE MONEY IF YOU LEAVE THEM HOME.  They are distracting, they beg for stuff, they stress you out, they induce "mommy guilt" and, strangely, having them there with you makes the grocery store more of an "event" and psychologically this translates into more money spent.  Even if you have a list and stick to it, I have found just having my kids present at the store puts me in a position to compromise priorities just to keep the peace.  My priority is no longer to intelligently budget my groceries, but to avoid disaster.  So, if there is any way you can make grocery shopping a solo project, DO IT.
I have more, really, but the reason this is the subject of entire books is because there really are SO MANY WAYS to save money on food, paleo or not!  So spread the love! Tell me some of YOUR food budget tips! 
…I can't promise you won't spot me snooping around in Whole Foods, BUT I give you permission to rip the darned gogi berries from my cart and stick them back on the shelf.  And then tell me to leave the store and never come back.   I'm a work in progress, you know?