I'm feeling lucky today.  Why?  Because running fast gets me excited (see tagline) and I have Jamie here today to let us in on all her best secrets!
Jamie, who blogs at I Don't Eat That  (gotta love that blog name, right?) is an incredible runner (she's crazy fast!) and a truly inspirational running blogger who can teach us all so much!  Today she's going to show us how she made big improvements to her speed, and seriously, I'm listening.  I've been feeling like I need a boost of motivation and confidence in the speed work department and I'm so happy to have her as a guest!  Take it away Jamie!
How Speed Workouts changed my Marathon (and Half Marathon)
When Michele reached out regarding guest posts for her blog, I jumped on the opportunity. When I started to get interested in diet and fitness in 2011, I began reading healthy living blogs, Paleo Running Momma being one of the first!
I wanted to share some training tips regarding speed training. I'm not a certified coach, professional, or anything that requires degrees or training. What I AM is someone who loves to run! I spent a long time figuring out what works best for me.
I have successfully dropped my marathon time down from 3:58 to a 3:18 in two years, and my half marathon PR down from 1:36 to a 1:30 in 4 months.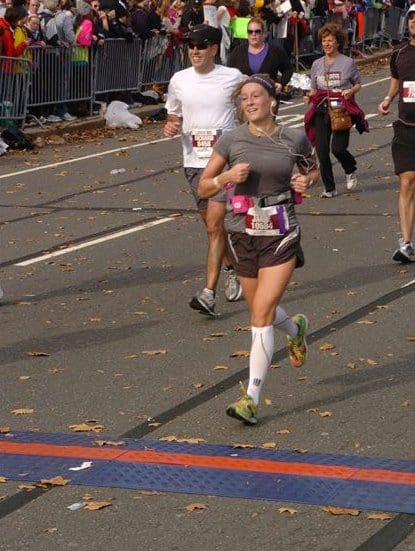 It may seem simple, but it took me a long time to figure out – to run fast, you have to train fast. While the spirit of a race and adrenaline can give you an extra boost, the work you've put in before is what will ultimately lead you to be a faster runner.
Now I am by no means saying you need to run every single run hard. Speed training is HARD. It's supposed to be. In the beginning, focus on one run every other week. It took me almost two months to get used to my interval workouts before I was at a place to train hard once a week. I usually do my speed work runs on Tuesdays or Wednesdays. The day before and the day after, I do NOT try to hit certain paces. Sometimes these runs are longer in distance, but they are a minute, if not minutes slower than my speed work.
I had never incorporated speed work into my training until I the Chicago Marathon. Three weeks out, I ran a local half marathon as part of my long run. I PR'ed by 2 minutes with a 1:34. Three weeks later I ran Chicago and PR'ed by over 18 minutes. After Chicago I took a week off and decided that I wanted to try to PR again in November at the Philadelphia Half Marathon. I incorporated a speed workout every week and was able to obtain a PR of 1:30.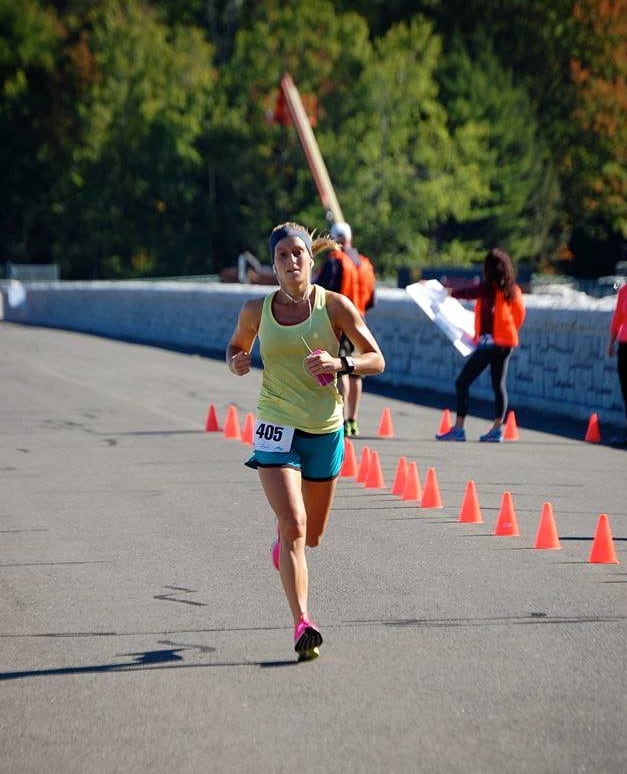 Here's a list of things I've done to increase my speed.
1. Do something different: I never, and I mean NEVER focused on pace during my training runs. Not once. If anything, I would occasionally look at my watch and see how fast I was running. Once I incorporated tempo runs, interval workouts, and progression runs into my training, I was able to notice a difference in my long runs and races within a month.
2. Learn to be uncomfortable: I found it easy to remain "comfortable" while I was running. What I mean by this is I would go out, run at whatever pace, come in, and barely feel fatigued. While this is aerobic training is GREAT for long runs, it was not going to help me get faster. After, or more appropriately during, my first tempo run I thought I was going to fall off the treadmill. Honestly. To the point that I ran slightly like a T-Rex, arms ready to catch the railings in case I crashed and burned. Literally. But believe me when I say it gets easier.
I also want to talk about being uncomfortable while racing. You're not going to run faster if you start out at the same pace as you always do. I don't want anyone to go out there and "fly and die", but you need to start the race aggressively. To run a 1:30 marathon, you are averaging at about a 7-minute mile. You cannot run the first 4 miles at a 7:30 pace and the last 9 miles at a 6:40/6:45 pace.  That would be extremely difficult. Start your race aggressively and over time you will learn what it means to be comfortably uncomfortable.
3. Race and race often: This ties in to my second point. There will be races where you go out too fast and struggle to make it to the finish line. I've absolutely been there. But you need to practice racing. You need to get comfortable being outside your comfort zone. Now if you want your goal race to be a marathon, you don't need to run marathons to practice. Start out short and race a bunch of 5Ks. Build up, focus on 10Ks, 15Ks and an occasional half marathon. Learn what that pace feels like for an extended period of time.
4. Prepare to be sore: There is nothing like a speed workout. The morning after a particularly tough run I feel it all the way from my glutes into my hamstrings, and down through my calves. I don't recommend doing speed work right before a race. It usually takes me about two days to feel fully recovered.
5. Recover properly: That being said, you need to recover properly. Take the time to stretch, foam roll, and ice after these runs. I usually experience tightness in my calves so I will throw on a pair of compression socks. Do what you need to do to help your body recover.
Now here's the interesting part – you can incorporate speed in a few ways. During marathon training, I usually rotate between two workouts, a tempo run one week and an interval run the next.
A tempo run is a faster paced workout which helps improve your anaerobic and metabolic fitness. Basically think of it as a comfortably hard pace. I was told that if you take your most recent 5K time, add 30 seconds to your pace, and hold this for a medium distance run, think 5 miles.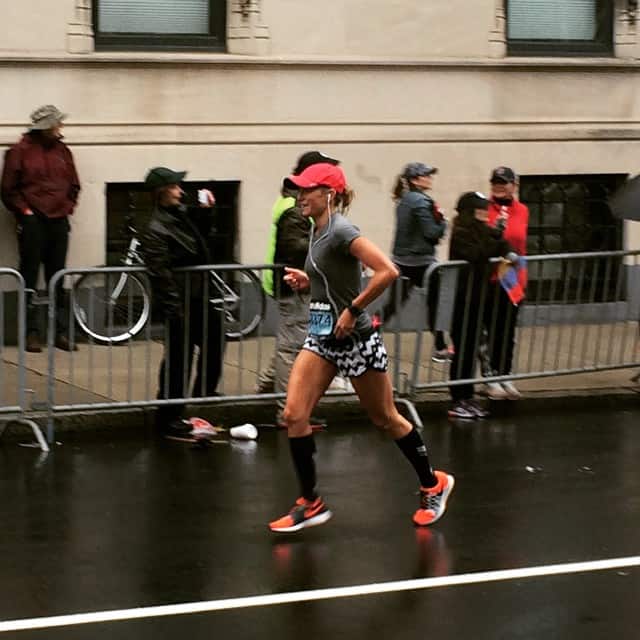 Since I'm not currently training for anything, I've been completing tempo runs once a week. I like doing these at Run Club on Tuesday nights. I get the extra push from my peers, and it's nice training outside instead of a treadmill.
An interval workout that I like to do on the treadmill is for 6 miles. Changing the incline and pace helps the miles go by more quickly.
Warm Up:
0.5 Mile, 1.0% Incline, 7.5 mph (8:00 pace)
0.5 Mile, 1.5% Incline, 8.0 mph (7:30 pace)
Workout:
1 Mile, 1.5% Incline, 8.9 (6:44 pace)
0.25 Mile, 1.0% Incline, 9.5 mph (5:56 pace)
0.25 Mile, 1.0% Incline, 8.0 mph (7:30 pace)
0.25 Mile, 1.0% Incline, 9.5 mph (5:56 pace)
0.25 Mile, 1.0% Incline, 8.0 mph (7:30 pace)
1 Mile, 1.5% Incline, 8.9 (6:44 pace)
0.25 Mile, 1.0% Incline, 9.5 mph (5:56 pace)
0.25 Mile, 1.0% Incline, 8.0 mph (7:30 pace)
0.25 Mile, 1.0% Incline, 9.5 mph (5:56 pace)
0.25 Mile, 1.0% Incline, 8.0 mph (7:30 pace)
1 Mile, 1.5% Incline, 8.9 (6:44 pace)
Cool Down:
0.5 Mile, 1.0% Incline, 8.0 mph (7:30 pace)
0.5 Mile, 0.5% Incline, 7.5 mph (8:00 pace)
Runners World also has some great resources regarding certain interval workouts that can be done on a treadmill.
Start slow and start short. Learn what your body can handle and modify as needed. Just with an increase in distance, incorporating speed work is hard on your body.  And remember that it will only get easier as time goes on!
Again, a big huge thanks to Michele for featuring me on her blog! If you have any questions about speed work or anything in general, please feel free to reach out to me at idonteatthat21@gmail.com .
What type of speed training do you feel has most improved your half or full marathon?