This week has been filled with…a whole lot of the same stuff as always.  You know, business as usual.  Am I even allowed to say that on a blog?  I'm not taking it back.  Sometimes all the Paleo Running Momma does is, you know, run, eat paleo stuff and do mom activities.  I guess that was the point.  So never mind then, this is exactly what I'm supposed to blog about.
Thanks Amanda for the fabulous Thinking Out Loud link-up!  I totally feel like I'm cheating today.  I'm actually really truly thinking out loud.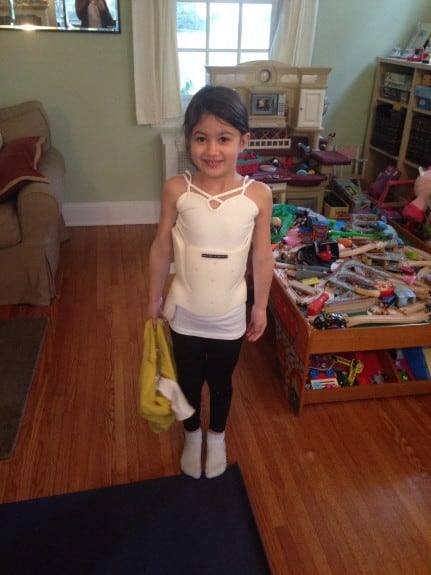 1.  Scoliosis is the word of the decade.   For those of you who've been reading for a while, you know that both my daughters have juvenile scoliosis, which just means scoliosis (side to side curvature of the spine) with an onset in childhood.
Diana, who's now 7 1/2, had surgery at the age of 5 1/2 and has titanium rods in her back that are supposed to lengthen as she grows.  So far this is going really well  and she has no pain or limitations.  She had a double curve with the bigger one being upwards of 65 degrees at the time of surgery which is now down in the 20s.
Emily, almost 6, has a 30 degree single curve right now and just started wearing a brace this week.  So far she's happy enough but she is not at all looking forward to sleeping in it!  She is really sensitive to how things feel and it will be a miracle if this transition happens without a hitch.
The worst part for me is that I hate to see it restrict her movement during the day since she is normally a really active child.  The other bad part is that there is no telling whether this bulky orthotic is doing a darned thing anyway, and there will never be a way of knowing if it is!  A curve does not straighten once it's there, so the best that happens is that her spine just stays where it is – which it might do anyway without a brace.  And if it does stay put, she will be wearing the brace 18 hours a day for the next 5 years at least.
I hate not knowing things.  Such is life I suppose.   I'm comforted by my girls both dealing with the same thing and not feeling alone.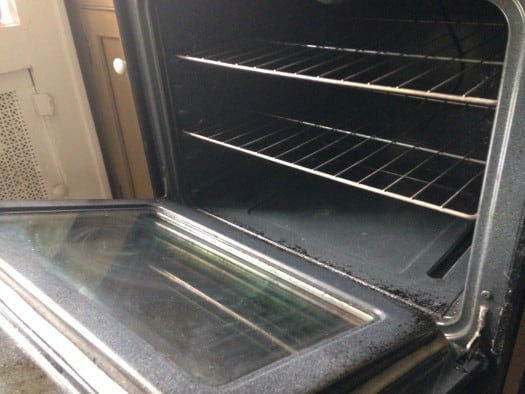 2.  I was feeling brave yesterday.  So brave that after dinner I just FELT it was the right time to use the self cleaning function on my oven which I've been avoiding for over 5 years.
The above picture is the after and even though it's still grimy it's very much improved.  In fact the whole process was so easy and uneventful I might do it again real soon.
My main concern was starting a fire or blowing up the house. None of that happened, and, other than an ashy smell while it did the cleaning it did not disrupt my evening routine.   I'm not quite over my fire fear but this was a step in the right direction.  Celine Dion had it right with "Taking Chances."  Sometimes you have to jump off the edge and set the oven to "cln."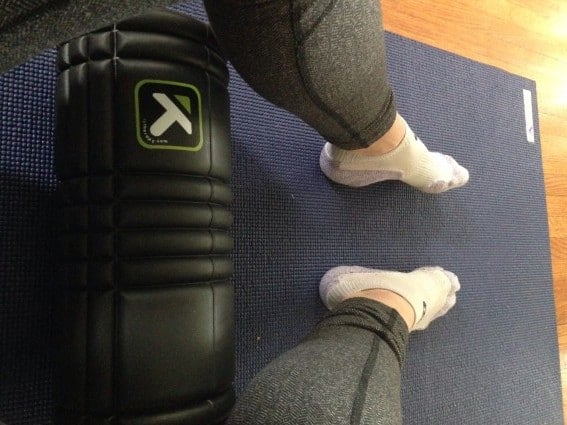 3.  I'm addicted to daily dates with my yoga mat and foam roller.  11am is my time for yoga lately, even when the kids have been home!  Apparently they find my doing yoga so utterly boring that they just entirely avoid the whole scene and I'm left mostly by myself.  I do anywhere from 30-60 minutes of yoga depending on what I have time for, followed by some foam rolling with a concentration on hamstrings, glutes, and hips.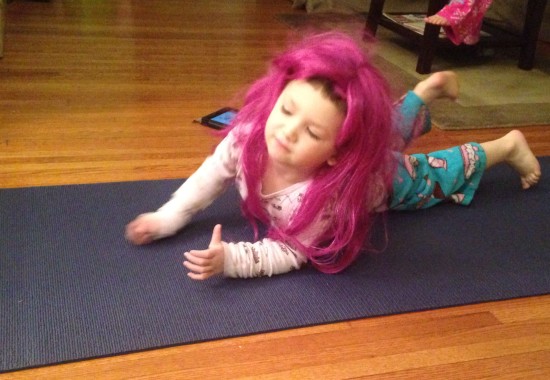 Everyone takes their turn too.  Drew has created a new yoga pose that is a variation on downward dog where he crosses his legs.  I'll try to get a picture for next time.   I don't know what he was working on here but I had to try to get a picture of him in the wig when he wasn't looking.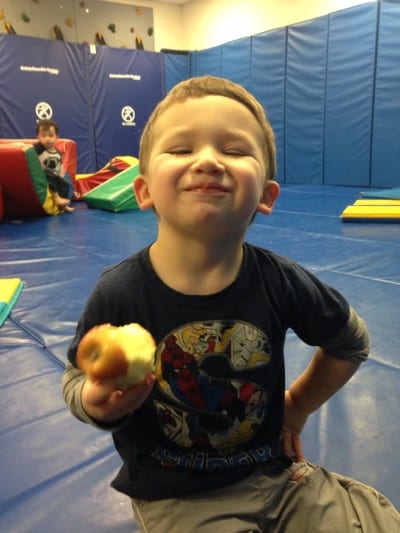 4. Mommy-ing is only worth $5 for a lifetime.  Drew's favorite number (and only number he tolerates at all) is 5.  If you say 10 minutes he screams "no 5!!" and everything has to be 5-whatever.  Yesterday he was bossing me around as usual and I asked him how much he's going to pay me to work for him.  Of course he said "5" and then I asked him if that meant $5 per hour or day?  He said "no, just 5, until I grow up." I thought about it and couldn't really argue. What do you mommys think – are we worth $5 for a lifetime?
And that's it for today, it's time for my yoga mat date and then on with school pickup and lunch.
What's been on your mind/in your life this week?