As I said on Thursday, running hasn't been coming easy lately.  I just don't feel like getting out of bed and jumping into my running shoes the way I'm used to.   My old reaction would be to second guess this feeling and attempt to power through anyway, but I don't see the point right now.
I'm signed up for a half marathon January 25 (NYRR Fred Lebow Manhattan Half) and I want to be able to somewhat enjoy the race of course, so completely taking off from running is out of the question.  I lose running fitness pretty quickly so keeping up a schedule is important in order to feel good enough to race at all.  But, there will be no 40 mile weeks in the near future, that's for sure!
Let's take a peek at the past week and see what's planned for the weekend!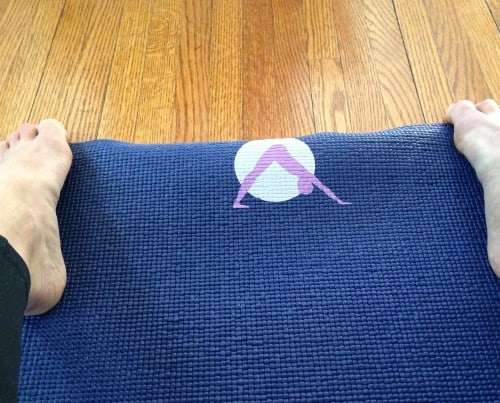 Sunday – Eek it's my feet.  Rest day from running with 45 mins of yoga at home from 25 days of yoga.  I love the feeling in my muscles after doing yoga!  Such a necessary complement to the effects of running.
Monday – 6 or so miles, untimed, but I felt that I was pushing more than "easy" pace.  Not to a tempo pace, but I'm guessing I averaged 8:15-8:20 ish.  It was after this run that I started wondering why I was pushing myself to run when I wasn't feeling it.
40 minutes vinyasa yoga to open hips from My Free Yoga.  It was the second time I did this particular video and I loved it even more this time.
Tuesday – 4 miles, a little hilly.  Really struggled to get out for this one, which was odd being that I only had 4 miles planned of one of my standard routes.  Plus it wasn't even cold.
Wednesday – 5 miles, easy pace.
Quick 25 minute barre routine from Barre Workout HQ.  I didn't love this workout because it was really rushed, but considering how quick it was, it did work every muscle group, with a concentration on the lower body, I felt.
Thursday – 6 miles, "climb and fly" (first 2 steep uphills)  I felt more energized to run than I had all week, which is often how I feel once I get up the big hills on this route!  A definite mood booster for me.  I decided to time this on my Nike app with my phone in my pocket so it wouldn't bother me.  The 8:50 avg pace is standard for me on this route, which was interesting to see!  So even though I'm not timing myself, I think I've been running the same paces I had been during marathon training, minus the tempos.
Friday – Rest day from running and 35 minutes yoga in the basement, using 25 days of yoga again.  Of course on my rest day my cat woke me up at 5am sharp with his terrible whining and I couldn't go back to sleep.  Would I expect anything else?  No, not from this cat.
Saturday – Plans to run 10 miles with my friend Stephanie.  Well, this hasn't happened yet, but it will be in progress as you read this.  Miles always fly by when I run with her, it's like a great coffee date and a great workout at the same time.
So, assuming the 10 is completed, the numbers for the week are:  31 miles, 120 minutes of yoga, and 25 minutes of barre.  It's becoming clear what I'm starting to love doing, I think.  If I can find some better at home barre workouts, I would love to have a full hour of it per week in my routine.
Goals for Next Week
 Since I'm not working off any sort of plan, I figured setting some basic short weekly goals might help me feel more directed with fitness.
The rough plan for next week is – 25-30 miles of running, 3 days including yoga (2-2.5 hours total) 1 hour barre.  So, pretty much the same thing that I did this week.  It's the holiday break for the kids so all of this will be a bit of a challenge to fit in.  But, it could happen with some strategic planning.  I will most likely run only 4 days to have an extra early morning free for yoga.
What has your week in fitness looked like?  Do you have to switch around your routine during the holiday break? How do you work around the change in schedule?