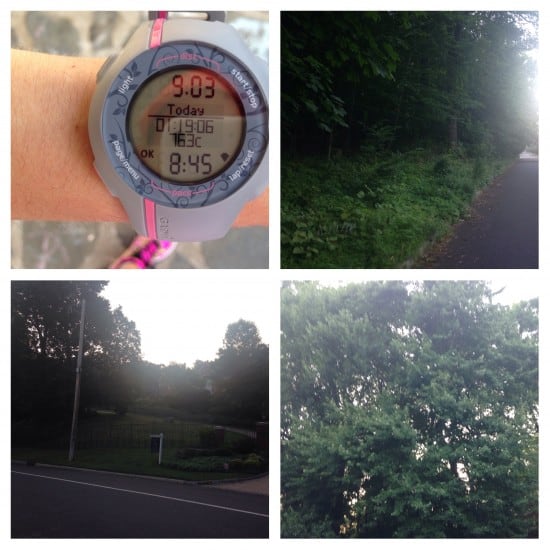 I am not feeling funny today at all. Or creative. I sucked all my funny juice out and I need to refuel I think. See none of what I'm saying is amusing. I'll stop now. Or not. It's my blog and I'll make it suck if I want to. Please don't stop reading. I'm about to tell you all about how much fun I'm having running through pure hot liquid air (?) every morning. It's great. I feel like superman. Like post kryptonite superman.
Anyway, I am kind of going with the lack of air and just breathing what's around, the best of what's around (reference?) and then coming home happy that it's done for the day. I'm sticking to the pre-marathon plan I wrote about here and it's going well and I'm actually feeling well, much better than I was 3 weeks ago. Here's what my days have looked like:
Mon 7/7: 5 miles 9:15 avg pace
Tues 7/8: 5 miles total, 4 at 7:45 pace (goal MP)
Wed 7/9: 6 miles 8:54 avg pace
Th 7/10: 4.2 miles with husband 9:30 avg pace (his pace!) Here I got to "coach" him which was fun
Fr 7/11: Rest
Sat 7/12: 9 miles 8:45 avg pace
Sun 7/13: 4.4 miles, first half uphill second downhill 9:12 avg pace
Mon 7/14: 5.6 miles 8:56 avg pace
Tu 7/15: 5.2 miles total, 4 at 7:50 pace. Supposed to be more like 7:45 for MP but weather made that too much.
My plan is to do basically the same thing for the next week and a half or so before transitioning into a marathon training plan for Philly that is still yet TBD! I will be working on a general plan for myself over the next week that will be based off of both my own experiences with what works for me as well as the RRCA course I completed in June.
In addition to the running I listed above I have also been really consistent with 60-80 pushups a day and a plank of 2 minutes or longer. My almost-7-year-old daughter has forced me out of my comfort zone with planking lately since she is now up to 4 minutes! I don't get it. I mean she is really thin so maybe it's that she doesn't have to hold much weight up. She keeps setting a new goal for herself and then crushes it. If she winds up doing 5 minutes I'll have to just let her win. Update A few hours after I wrote this she did 6:30. Insane. No way I'm beating her now!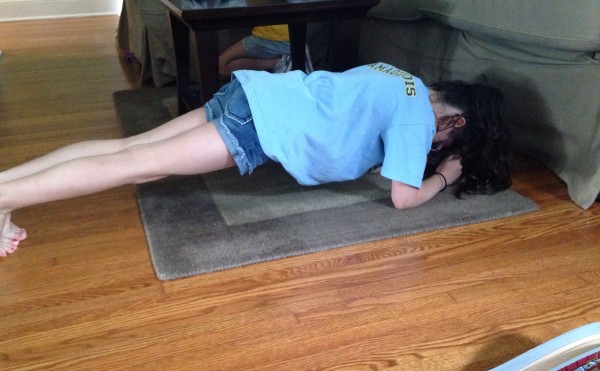 So much of planking seems to be mental! The other day when we were both at 3 minutes she said "I'm not going to die, it's just exercise" and that might just have to be my new inspirational motto when it comes to strength because I can really be a baby about it. Believe me she did not hear that from me, my son was obsessed with Jillian Michaels (long story) for over a year and I'm guessing her go-to line was taken from Ms. Jillian. Whatever works I guess!
So I'm really not lying about being a baby when it comes to strength training. I'm seeing results from doing pushups and that is motivating but every single day I try to talk myself out of doing them. I make excuses like "My muscles need rest to get stronger" except that really doesn't apply to me because I'm barely doing anything to begin with! The other day on my run I was thinking to myself "do runners really need to do pushups?" and so I decided to google that when I got home. I have what I call "googlescapades" on a daily basis, and this was the topic of the day. So what I found was even more interesting than what I was looking for. I found an article talking about how your pushup form can tell you a lot about your running. Cool, right? Here's the article and a quick excerpt:
"You're probably wondering, "But how can good pressing mechanics improve my running?"
Pushups tell us a lot about how we run. It's important to have good posture when performing the pushup in order for the shoulders to be strong and stable. A "soft" butt and belly destabilizes the pelvis, the low back arches, and our shoulders become unstable. Remember, you play how you practice. Runners who perform "soft" pushups with overextended posture also tend to run soft and overextended. This disconnection contributes to a whole host of problems, including low back pain, IT band pain, collapsed arches and a clipped running stride. Performing a better pushup addresses these issues."
If you are a runner who does pushups, or really just any runner, I highly recommend checking out the article. I am going to apply the priciples to my pushup form since form is really, really important with strength exercises. Some food for thought because no doubt I can see a lot of what I read applies to me.
How is your summer running going? What kinds of exercise/running related stuff do you google?