Confession number 1 – I have zero desire to take pictures before during or after running.  In fact, half the time I don't even bring my phone, and, when I do – it's to listen to a podcast and what my shoes look like when I come home is of no interest to me.
A post-haircut selfie is another story.  Haircuts are monumental in my world.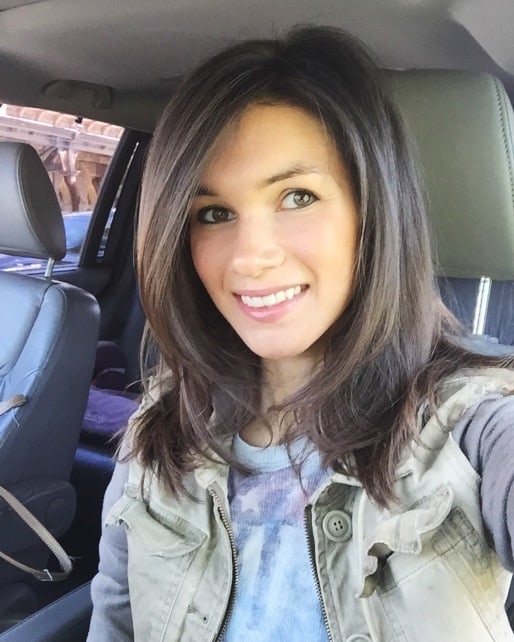 Yup, I'm gonna just jump right in there today to Think Out Loud, partly because the goal is to "Think Out Loud" and the other part being that Drew is here writing with me (no school!)
Or, rather he is drawing Minnie Mouse on a piece of paper.  Thank goodness for Kids Youtube AKA my babysitter.  He's doing pretty well so I'm not sure how much time I have!
Anyway, running confessions.
I confess that lately I can't seem to get myself to run more than 4 miles.   What happens is that I say "if I have time" I'll run 5 or 6 miles but then I only leave myself time for 4 (so sneaky.)  This has happened pretty much 4 days in a row at this point, so clearly I'm rebelling against the 5 or 6 miles.
I confess that lately I can't get myself to go to sleep before 11:30 and that might be contributing to the just-4-mile thing.  I do realize that I ran 6 marathons in the past 3 years and I just want to be a "normal" person now, at least for a while.  So 11:30 bedtime and 4 mile runs it is!
I confess that my motivation to run is to have uninterrupted time to listen to various podcasts.  Loving the Food Blogger Pro one lately!
…I'm also motivated just a little by all the spoons I've been licking lately, like as in the sometimes non-stop dessert eating that comes with recipe creation.  Just saying.  Body love is great but a little exercise doesn't hurt either.
I confess that despite being in "break mode" I still love the feeling of getting lost in my thoughts on a run.
This morning I started thinking about the idea of following your childhood dreams to find your true passion, which is something that seems to be coming up a bunch lately on the internet.   Typically, I'd think about writing, music, and singing because for most of my childhood that was everything I loved.
But today what popped into my head was something totally different from before I could write or sing, maybe 3 years old.  And yes, it's relevant to what I'm doing now which is likely why it came to mind.
It was the day I decided I was going to make my own peanut butter with peanuts, aluminum foil, and a  hammer.
I think my mom must have been supervising this experiment, although she doesn't appear in this memory.  I just remember wrapping the peanuts tightly in aluminum foil on the kitchen floor and banging away, waiting for the magic to happen.
Needless to say, I got crumbs and no butter!  I remember thinking if I just had the right equipment it would've worked.  Anyway, I wasn't discouraged and I didn't stop.
I moved onto making "pretzels" with white bread, salt, and a toaster oven.  Has anyone else gone this route?  If only I'd had a camera back then, I'm sure there would've been a few pictures.   I remember being annoyed at how pale the "pretzels" were.  Probably should've brushed them with melted butter before toasting 😉
To sum up what I'm saying here is I think I need to try making nut butter and maybe cassava flour pretzels to fulfill my life's passion and purpose.
LOL.
Or just keep food blogging, generally speaking.
Any running (or other) confessions?
What were your favorite things to do as a kid?  Are you still doing them?