This has been my favorite fitness/running week in a long time.  I was feeling a lot more recovered from the marathon and just did what I wanted to instead of sticking to a plan.  As much as I like to create plans, I kind of hate sticking them.
I'm going to need to run/work out this way for a while, because I think I was feeling way too tied down to my marathon training plan, more so than I realized at the time.   I might even do wild things like run races without specifically training for them.   Oh the rebellion.   I'm going to run up a lot of hills too, really slowly and with no Garmin. Because that kind of running just makes me feel good about life!  There is nothing like running up and down hills without a thought in your head to make everything click just the way it should.
So here's what I did fitness wise this week: spoiler – it was not all running
Sunday –    4 miles easy, no Garmin
Monday  –  5 miles easy, no Garmin
Tuesday –  4 miles easy, no Garmin
Wednesday – 45 minutes Vinyasa yoga from My Free Yoga
Thursday – Early morning 45 minute barre workout from Barre Workout HQ and late morning 7 + mile run (no Garmin) with a friend.  Was not planning to run this far but while chatting away in perfect weather the miles flew by.  Counted this as my "long" run for the week.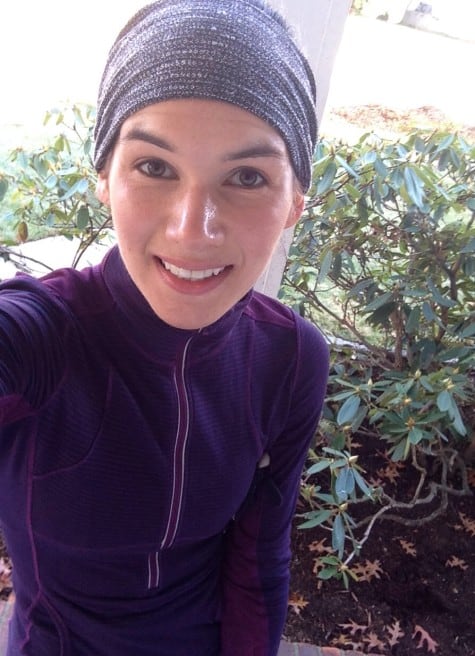 Friday – 4 miles easy, no Garmin
Saturday – Planning on 45 minutes Yoga
I swear, I used to be really flexible.  But now I'm not, and I WILL get my groove back for 2015!
Well, maybe you're asking yourself what was up with those online non-running non-cardio workouts.   Thing is, I've been meaning to do yoga for 5 years.  Like once a month I say to myself  "I need to look into doing yoga" and then it just doesn't happen.
I did gymnastics on and off from maybe 5 or 6 years old up until college.  I wasn't incredible at it or anything but I definitely was flexible.  Back bends and splits came easily and I could touch my elbows to the floor bending over with straight legs.  I didn't think much of it because it had nearly always been this way!
Through college I did some yoga, pilates, and stretched pretty often so I maintained a lot of this flexibility.  Then came running!  And what happened next?  My muscles suddenly aged 30 years within 6 months.  I would moan and grunt getting up off the floor like my grandma did at age 70.
The only time I regained any of that old flexibility was after having my second daughter, when I started doing yoga once a week to relax.  That was over 5 years ago now, and I've been meaning to start up again ever since.  Then came Wednesday!  I got the free video ready to go, and, armed with my new Yoga Mat I dove right it.
It actually felt great to do all that stretching, until about 3pm the same day when I realized I was sore in places I hadn't thought about, possibly ever.  Yoga had officially kicked my butt and I was pleased!  So I did what I typically do when I'm that sore – the good sore – I picked out a new workout to get me even more sore the next day.  What better than Barre?  If there is any workout that gets me nauseous within 10 minutes of starting it, it's Barre. Therein lies my weakness!  Which basement object would you have chosen for your "barre?"  I went with the easel. Just seemed sturdier.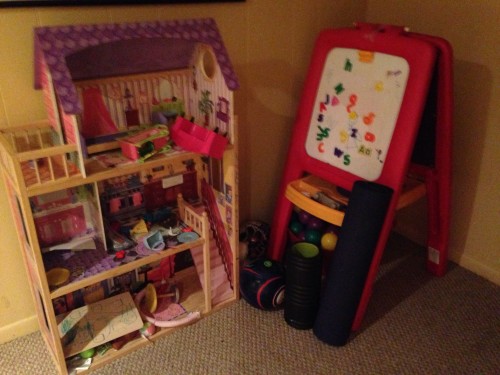 The friend I had plans to run with on Thursday (Stephanie) is a barre instructor as well as a 3:30 marathoner.  In honor of our date I really did try my hardest with this workout.  One thing that Stephanie has done that really works for her is to double up tough runs and strength so she can fully rest on rest days.  So, that means she might do a 20 mile run followed by an hour long barre class.  I don't know if I could mentally ever get there, but seriously, good for her! With this in mind, my 45 minutes of barre plus 7 mile easy run on Thursday felt pretty darned good!  Perfect running weather + good conversation + no knee pain = maybe the favorite hour of my week.
Up next for me is more yoga, because whenever I get sore from a workout, it means IT'S ON and I accept the challenge.  Plus yoga just feels good and reminds me of the good old days of my youth, walking on my hands and sitting in splits for fun 🙂
What was your favorite workout this week?  Do you do free online workout videos/classes and if so, which ones? How do you feel about yoga?