I think I always felt a little odd posting about my runs/workouts, but justified it when I was following an actual marathon training plan.  Now?  It feels downright awkward to talk about what I did each day fitness wise. I'm going to acknowledge the feeling and tell you about it anyway, but please, please.  Tell me in the comments if you have zero interest in the miles I ran (or didn't run) and the yoga I practiced.
I might just be projecting my own feelings about fitness lately onto you guys, so maybe I'll just meet you in the comments section to express the boredom.  Ha. Ha. Kidding.  I will do what I do every Saturday!  Tell you all about my week in workouts.
One cool thing that happened this week is that I figured out how to take self-timed pictures on my phone.  I know people have  been doing this since the existence of smart phones (maybe?) but I just figured this one out.  Although I still have no idea how people take pictures of themselves while running.   Anyone do this and what's the secret?
Monday – Snow day and yoga at home.  Did Power and Precision, or rather I attempted it once again.  It's very challenging and I hope to be able to complete the entire thing at some point.  During the snow day I practiced my headstand and it finally "clicked" somewhat.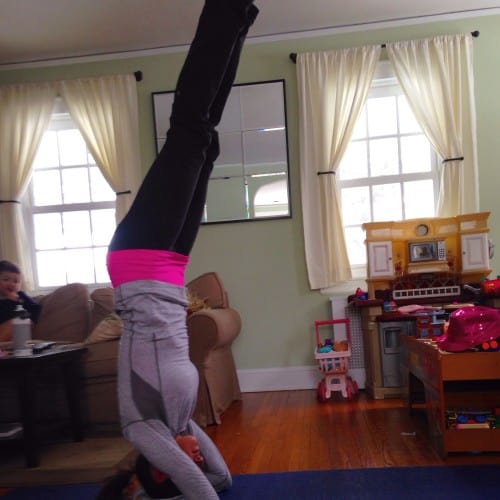 Tuesday –  The roads were still really icy from the day before and my gym wasn't even open, so running was not even an option.  I'm honestly not sure if I would have run anyway, and taking 2 full days off from running was good for me mentally.  I completed another challenging yoga video in the morning instead, and after a delayed opening for school, life mostly went back to normal.
Wednesday – Ran 6 miles on my typical hilly route and it felt great after the two days off.  It's a good thing I'm not thinking about pace, because with the ice and snow covering the roads it's challenging to maintain anything consistent.  Later on I did about 30 minutes of yoga focused on hips.
Thursday – I ran somewhere between 6.5 and 7 miles and had a little epiphany.  It was that I'm way too uptight about counting mileage and it leads to my running feeling less fun and more job-like.  The limited routes in the winter adds to this feeling.  I know the exact mileage of all my normal routes but on this day, I impulsively decided to run a different direction about 2 miles in.
Oddly, I came home to find that Lisa had posted about counting miles being similar to counting calories, and it really made sense to me.   Focusing on numbers isn't helpful for me with my nutrition/health and it doesn't seem to be with running, either.  I don't need to concern myself with the math every week.  It's a habit now but feels like a pointless one that I need to drop.
Later on, I did a 40 minute Vinyasa video on MyFreeYoga.  There's a lot in there for 40 minutes and the instructor is precise.  Highly recommend this!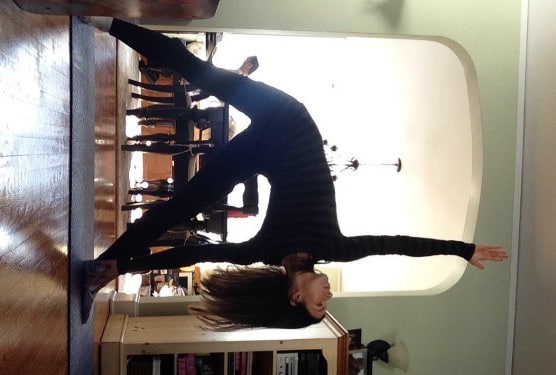 Friday – I think I would have run had it been more than 3 degrees and windy in the morning.  But it would have been a short run, and it did not feel worth it to get a few miles in.  Right, I'm not counting miles anymore.  So of course.
I still woke up early and did a long yoga practice (70 minutes) and was only interrupted once.  Of course, when I do this at home and I'm not alone I'm often interrupted, but it's well worth it for the convenience and since it's free!  This one also includes advanced poses that I'm not up to yet, but can modify for now.
Saturday – I have plans to run 12 with my long run partner.  I seriously haven't done a long run without her (aside from my race) since before Philly!  I feel pretty spoiled running with a friend and I'm pretty sure I wouldn't be doing 12 if she hadn't suggested it.  These runs are always enjoyable though so it's a win all around.
I'm guessing I'll do a bit of stretching after the run but no major yoga planned.  My yoga muscles must rest too!
Sunday – I'll be really surprised if I decide to run, but who knows.  If I do it'll most likely be 4 ish miles.  More yoga too, perhaps this killer core video.  It's actually called "Connections to Core" but that's on par with describing childbirth as "very uncomfortable."  Maybe not that extreme but you get the picture.
Okay I'll be going now.  Big weekend of taxes and a birthday celebration ahead (yup, Adam's again.) Enjoy your time, and think about making these if you have an hour to kill and could stand some chocolate in your life 🙂
How do you feel about counting running miles?  Ever obsess over getting to a certain number?
Have you or do you have a long-run partner who spoils you with endless great conversation and distraction?
What was the biggest challenge in your week, fitness wise?